Sunday Morning Book Thread 04-26-2015: Mostly Politics [OregonMuse]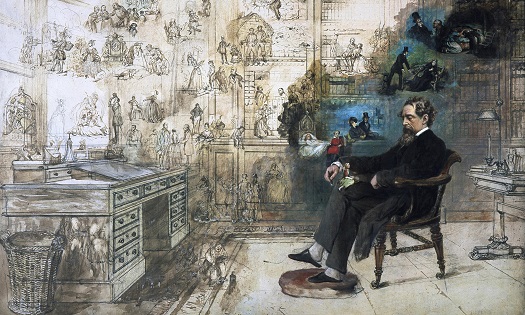 Dickens' Dream by Robert William Buss
Good morning to all of you morons and moronettes and bartenders everywhere and all the ships at sea. Welcome to AoSHQ's stately, prestigious, internationally acclaimed and high-class Sunday Morning Book Thread. The only AoSHQ thread that is so hoity-toity, pants are required. Or kilts. Kilts are OK, too. But not tutus. Unless you're a girl. I learned from watching the movie
Hereafter
that this 1870 watercolor painting depicting a sleeping Charles Dickens surrounded by the characters from his novels is on display in the Charles Dickens Museum in London. The small size here doesn't do it justice. You really need to see
a larger version
to get the full effect.
New Hillary! Book
The MSM is
all a-twitter
over the fact that Hillary! isn't being embraced by the masses.
In addition to the requisite political bio or manifesto by the likes of candidates including Senators Rand Paul and Ted Cruz and former Governor Jeb Bush, there will be a new category in the pub world: the anti-Hillary book.
Oh my. Somebody dared to write a book critical of Hillary! and her brazen grifting?
Le horreur!
So who is this nefarious bad person?
This man
. His latest book,
Clinton Cash: The Untold Story of How and Why Foreign Governments and Businesses Helped Make Bill and Hillary Rich
, is not even out yet, but are condemning it in advance because it asks the question
In 2000, Bill and Hillary Clinton owed millions of dollars in legal debt. Since then, they've earned over $130 million. Where did the money come from?
So it sounds like this book on the Clintons if of a piece with a couple of his earlier ones, namely
Extortion: How Politicians Extract Your Money, Buy Votes, and Line Their Own Pockets
and
Throw Them All Out: How Politicians and Their Friends Get Rich Off Insider Stock Tips, Land Deals, and Cronyism That Would Send the Rest of Us to Prison
. Incidentally, did you know that our senators and representatives in Washington DC are exempt from insider trading laws? Yes, indeed they are. Also, why does the article mention only Republican bios? Doesn't
Elizabeth Warren
count?
Whodunnit?
Or, more accurately, whosolvedit? Because IE decided to take one of its periodic dumps right when I was finishing up, I don't know what my score was on this
famous detectives quiz
, but I was doing so poorly, it couldn't have been much higher than 50%.
Is It Tuesday Already?
John
Into The Wild
Krakauer's
latest book
sounds like it's going to be a life-giving tonic to our betters in the MSM. They are, as you know bitterly disappointed that the whole 'rape culture' narrative they've been trying to peddle
has been dealt one setback after another in recent months
. But now:
"Missoula", which came out on April 21, was not supposed to be published for some time, according to the New York Times, but Krakauer decided to release it after Rolling Stone published and then retracted a story about alleged sexual assault at the University of Virginia.
Yes, we must beat some life into the dead horse. But even though
liberals are ecstatic
, one Amazon reviewer notes:
The bulk of this book focuses on the stories of two women, Allison Huguet was was raped by Beau Donaldson--he has admitted the crime--and Cecilia Washburn (a pseudonym) who alleges she was raped by Jordan Johnson, who was found not guilty of the alleged crime in a court of law.
Plus, Missoula's incidence of rape is lower than the national average. That's hardly a rape culture. Krakauer's solutions call for greatly reduced due process rights for those accused of rape and looser standards of evidence for the university administration boards. Which, by the way, he insists should be given even more power and authority to adjudicate campus rape cases and mete out punishment to those found guilty. After all, there's no possibility that such a system could ever be corrupted or abused.
Pamphlets
If you want some short, provocative reads, there is an absolute crap ton of pamphlet-length (15-25 pages) essays by a variety of conservative writers you can download to your Kindle readers for 99 cents each. Here are a few examples:
How to Debate Leftists and Destroy Them: 11 Rules for Winning the Argument
by Ben Shapiro
Stolen History: How the Palestinians and Their Allies Attack Israel's Right to Exist by Erasing Its Past
by David Meir Levi.
Government Unions: How They Rob the Tax Payer, Terrorize Workers, and Threaten Our Democracy
by Matthew Vadum.
Islam: Religion of Bigots
by Robert Spencer. Spencer has quite a few of these pamphlets published.
The Muslim Brotherhood in the Obama Administration
by Frank Gaffney
Why Nazism Was Socialism and Why Socialism Is Totalitarian
by George Reisman also by Reisman,
Labor Unions, Thugs, and Storm Troopers
. And of course David Horowitz cranks out these pamphlets like a monkey on crack. Here are three of his titles:
Why Israel is the Victim
Fight Fire With Fire
Barack Obama's Rules for Revolution: The Alinsky Model
And there's a lot more.
In Defense of Fareed Zakaria
Aaron MacLean's review
of the new book by Fareed Zakaria,
In Defense of A Liberal Education
starts out like this:
Just as some journalists have come to admire the Clinton family because, and not in spite, of the total lack of integrity apparent in their careers, so I have come to admire the writings of Fareed Zakaria because, and not in spite, of the total absence of shame manifest in their composition.
Ha ha. The rest of the review is equally complimentary. Zakaria is such a gasbag, he even made TNR's
most overrated thinkers list
back in the day.
Books By Morons
I probably should have a 'books by friends of morons' section, but in one of yesterday's threads, moron commenter RedMindBlueState wanted to take the opportunity to shamelessly plug the first novel of an old and dear friend. So, without further ado, here is
In a World Just Right
, by Jen Brooks:
Ever since coming out of a coma as a kid, [Jonathan Aubrey] has been able to create alternate worlds. Worlds where he is a superhero, or a ladies' man, or simply a better version of himself. That's the world he's been escaping to most since sophomore year, a world where he has everything he doesn't have in real life: friends, a place of honor on the track team, passing grades, and most importantly, Kylie Simms as his girlfriend.
Sounds great. What could possibly go wrong?
But when Jonathan confuses his worlds senior year and tries to kiss the real Kylie Simms, everything unravels.
Oops.
What I'm Reading
This week I decided to go old school with
The Big Sleep
, Raymond Chandler's classic, hard-boiled detective story featuring Philip Marlowe.
...The rain had started. I ran for it, with the wrapped book under my arm. My car was on a side street pointing at the boulevard almost opposite Geigerís store. I was well sprinkled before I got there. I tumbled into the car and ran both windows up and wiped my parcel off with my handkerchief. Then I opened it up.

I knew about what it would be, of course. A heavy book, well bound, handsomely printed in handset type on fine paper. Larded with full-page arty photographs. Photos and letterpress were alike of an indescribable filth. The book was not new. Dates were stamped on the front endpaper, in and out dates. A rent book. A lending library of elaborate smut.

I rewrapped the book and locked it up behind the seat. A racket like that, out in the open on the boulevard, seemed to mean plenty of protection. I sat there and poisoned myself with cigarette smoke and listened to the rain and thought about it.
I put up an extended quote to give you a good example of Chandler's writing, which I think is quite good. At least, the style fits well with the characters and story. I had to look up "letterpress", a term I was unfamiliar with. For those of you who are ignorant like me, it's basically a type of relief printing in reverse, i.e., the inked letters are indented into the paper.
Like this
, for example. Looks all high-class and hoity-toity, doesn't it? Anyway, so Marlowe had acquired himself a fancy-shmancy book of pr0n. What he says about it is interesting. He talks about it the way we would child pron ("indescribable filth"), even though later on, it seems apparent that the pictures are just nude shots. Of women. Sounds pretty tepid by today's standards. And second, he surmises that the existence of this book means that there is "plenty of protection" behind it, that is, the authorities have somehow been persuaded not to do anything about this obviously illegal activity.
The Big Sleep
was first published in 1939. The world has changed a lot since then. I sometimes find myself wishing we could go back to those days where pr0n was rare and hard to find, and in order to get it, you had to know someone who knew someone who knew someone, etc. Obviously, there's always going to be pr0n, just like there's always going to be prostitution, but the fact that it's available to everyone at the click of a mouse button can't be healthy.
___________
So that's all for this week. As always, book thread tips, suggestions, bribes, rumors, threats, and insults may be sent to OregonMuse, Proprietor, AoSHQ Book Thread, at the book thread e-mail address: aoshqbookthread, followed by the 'at' sign, and then 'G' mail, and then dot cee oh emm. What have you all been reading this week? Hopefully something good, because, as you all know, life is too short to be reading lousy books.