Sunday Morning Book Thread 04-19-2015 [OregonMuse]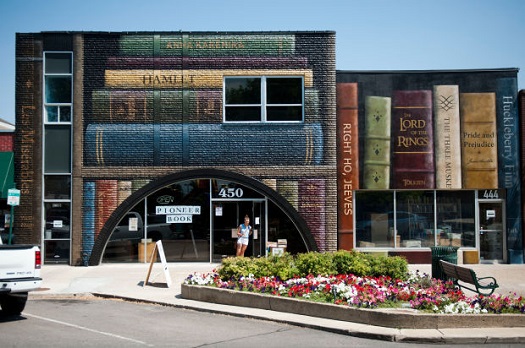 Pioneer Books, Provo, Utah
Photo stolen from
here
. I like the 'before' and 'after' photos of this bookstore.
Good morning to all of you morons and moronettes and bartenders everywhere and all the ships at sea. Welcome to AoSHQ's stately, prestigious, internationally acclaimed and high-class Sunday Morning Book Thread. The only AoSHQ thread that is so hoity-toity, pants are required. Or kilts. Kilts are OK, too. But not tutus. Unless you're a girl. [
Update
: Terrific. Pixy must've made some changes, because once again, I am unable to post comments. They just don't show up. And this time, I can't find a proxy server that works, so it looks like I'm pretty much screwed] [
Update 2
: I can now comment again. Not sure why I couldn't before, or why it's working now. Weird]
Book Quote
What you don't know would make a great book.

-Sydney Smith

Genocide? What Genocide?
The Armenian Massacres of 1915, where 1.5 million Armenians were slaughtered by the Ottoman Turks, will be commemorated on April 24th. Last Sunday,
Pope Francis called for international recognition
of what he has called 'the first genocide of the 20th century'. This year marks the 100th anniversary of this holocaust. Turkey's response was to recall its ambassador to the Vatican. The Turkish government has been in denial about this pretty much ever since it happened, and it really,
really
hates being called out on it. Which is what Pope Francis' statement did. Not many people know that the Ottoman Empire tried this earlier, in 1894-1895, but
managed to murder "only" 200-300 thousand
Armenians. But this was only a warm-up act for the Metz Yeghern, the 'Great Evil' as the Armenians call it, in 1915. The Turkish government likes to pretend that the slaughter was due to civil war and more historical research is needed, but the facts have been well-known since 1916, when the British historian
Arnold J. Toynbee
wrote:
In one way or another, the Central Government enforced and controlled the execution of the scheme, as it alone had originated the conception of it; and the Young Turkish Ministers and their associates at Constantinople are directly and personally responsible, from beginning to end, for the gigantic crime that devastated the Near East in 1915.
His full statement can be read
here
. There are
a number of books
on the Armenian Genocide, some are historical research, others are personal remembrances and memoirs. This one in particular caught my eye:
Operation Nemesis: The Assassination Plot that Avenged the Armenian Genocide
by Eric Bogosian:
In 1921, a small group of self-appointed patriots set out to avenge the deaths of almost one million victims of the Armenian Genocide. They named their operation Nemesis after the Greek goddess of retribution. Over several years, the men tracked down and assassinated former Turkish leaders.
Apparently, there was a bit of payback. I never knew this. See also the graphic novel
Operation Nemesis: A Story of Genocide & Revenge
by Josh Blaylock, which has just been released. Seem that that in 1921,
one of the Nemesis assassins
killed the former Ottoman Interior Minister Talaat Pasha in broad daylight on the streets of Berlin, in front of witnesses, and the jury acquitted him. He eventually moved to America, where he lived out the remainder of his life, and after he died, he was buried in Fresno, California, which is home to a large Armenian community. Also in 1916, another British historian, Viscount Bryce, published the primary source documents that Toynbee had assembled. His book is entitled
The Treatment of Armenians in the Ottoman Empire 1915-16
and you can read it online on Brigham Young University's web site
here
. Most Turks are Muslims. Most Armenians are Christians. Would the Turks have slaughtered them if they were also Muslims? Is the Armenian genocide an instance of ethnic cleansing or religious persecution? On the one one hand, this question doesn't matter: the Armenian victims are still dead, regardless of why were they killed, or how history labels the event. But on the other hand, it really does matter, in that we need to call things what they really are, and given Islam's propensity to murder and slaughter Christians, I'm not sure that 'ethnic cleansing' is a large enough concept to encompass all that is going on. But, as Dennis Miller says, I could be wrong.
Remembering the Fallen
They shall grow not old, as we that are left grow old:
Age shall not weary them, nor the years condemn.
At the going down of the sun and in the morning
We will remember them.
These lines are from Robert Lawrence Binyon's famous WW I poem
For the Fallen
, published in 1914. And they're the inspiration for this book I heard about from the publisher who contacted me and asked me to tell you all about it:
At The Going Down Of The Sun: Love, Loss and Sacrifice in Afghanistan
by Graham Bound. He said
Being a book of life stories of twenty of our dead from Afghanistan, it's obviously mostly of interest to Brits, but some of your military-minded readers might be interested in it too.
Each of these stories is a biography of one of these fallen soldiers, their lives, their deaths, and the grieving families and friends who now have to deal with the loss. Listening to them about the heartache and the loss is sometimes painful and I find myself being drawn in to the story, and I can well imagine what they're feeling. So I have to limit myself to one chapter, one life at a time. The only problem I had with this book is that I am not familiar with the everyday British colloquialisms that are sprinkled throughout, this being a British book for a British audience. I would like to see an American version of this book, with 20 stories of American's soldiers for American readers. I think such a book might do pretty well.
Character Counts
Columnist David Brooks is the NY Times "house conservative", their go-to guy when they want to have conservatives and conservative ideas criticized by a Republican just like their Democrat columnists so the newspaper can claim to be unbiased. As such, Brooks takes it on the chin a lot on this blog, not that I'm complaining. However, he has come out with a new book,
The Road to Character
, which might be worth a read. In it, Brooks argues that external success, what he calls 'résumé' success, is less essential than inner goodness. To us, this is 2+2=4 obvious, but if Brooks is pointing this book at the progressives he pals around with,
this is not something they're accustomed to hearing
:
"We're raised in a society called the 'big me' society...In 1950,Gallup asked high school kids, are you a very important person? Then 12 percent said yes. Asked again in 2005, 80 percent said, yes, I'm a very important person. We all think we're super important.

"That's great for your career if you're branding yourself...but if you want inner growth...the road to character is built by confronting your own weakness."
Further evidence that we're not the main audience Brooks wants to impress are the historical figures he uses as examples, notably far-left Catholic socialist
Dorothy Day
, labor activist
Frances Perkins
, and a couple of early civil rights pioneers,
A. Philip Randolph
and
Bayard Rustin
. Absent are some famous Americans who had a lot to say about attaining to a good character, such as George Washington, Thomas Jefferson, and Benjamin Franklin. I think Dwight Eisenhower is as close to that as this book gets. But his selection of examples isn't fatal to Brooks' argument asserting the importance of virtue over achievement and self-promotion, which I hope achieves wide currency.
After all, we all could use some self-improvement
:
As for himself, Brooks told NPR he is "paid to be a narcissistic blowhard, to volley my opinions, to appear more confident about them than I really am, to appear smarter than I really am, to appear better and more authoritative than I really am. I have to work harder than most people to avoid a life of smug superficiality."
And if Brooks achieves this personal goal, I doubt that anyone here would complain.
Great Books For Children
So when I came across
this list of the 11 greatest children's books
and saw that it was from the BBC, I immediately thought, oh crap, it's going to be a carload of PC nonsense that's come out within the last 25 years, and I'll not have heard of it. But no, it turns out I was wrong. Aside from one questionable book (and I'm not sure what I'd replace it with), the list, which was put together after polling a number of book critics, pretty much nails it.
Books By Morons
Randy Beck asked me to tell y'all that his alt-history novel
One Thousand Years
("Nazis, Time Travel, and a Tuskegee Airman who won't quit") will be on sale for 99 cents for the next week starting today. Also in the UK. Randy has written a sequel novella,
The Time Bridge at Orion
, which you can also get for 99 cents. He's also working on a "big" sequel which, hopefully, we won't have to wait too long to read.
___________
David Dubrow, author of
The Blessed Man and the Witch
offers his latest his short story,
Hold On
, which he says is about "about parenting, marriage, and loss in the not-too-distant future". And while I was over on the LibertyMag site, I also read
this one
, by
Frank Fleming
, and I thought it was pretty funny.
What I'm Reading
I'm about half-way through the military sci-fi adventure novel
To Honor You Call Us
by H. Paul Honsinger, which is the first of his "Man of War" series. It's 2315, and the Terran Union is engaged in an all-out interstellar war against the Krag, an alien race bent on the extermination of humankind. Lieutenant Max Robichaux has just been given command of a ship staffed wih an ill-used and ill-trained crew. The Admiralty does not have a lot of confidence in Robichaux (due to an as yet undiscussed prior incident), but the war is pretty tight and there's not a lot options. His orders are to harass and disrupt enemy shipping, and in order to do this successfully, Robichaux has to take all of the lemons he's been given and make lemonade. So if you're a fan of military sci-fi, you might want to put this one on your list. I'm enjoying it quite a bit.
___________
So that's all for this week. As always, book thread tips, suggestions, bribes, rumors, threats, and insults may be sent to OregonMuse, Proprietor, AoSHQ Book Thread, at the book thread e-mail address: aoshqbookthread, followed by the 'at' sign, and then 'G' mail, and then dot cee oh emm. What have you all been reading this week? Hopefully something good, because, as you all know, life is too short to be reading lousy books.