Sunday Morning Book Thread 10-12-2014: Troglodytes [OregonMuse]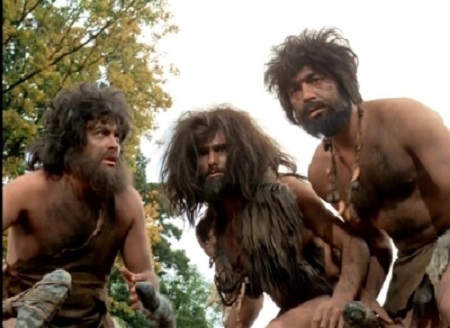 "What!? Nobel Prize For Literature Given To Unknown European Again? Ugh!"
Good morning morons and moronettes and welcome to AoSHQ's stately, prestigious, and high-class Sunday Morning Book Thread. The only AoSHQ thread that is so hoity-toity, pants are required. Or kilts. Kilts are OK, too.
Nobel Follies
This year's Nobel Prize in literature
was awarded to some French guy
whose name I had never heard until now and I have no idea of what he's written or what he's famous for. I think I should know enough about these things so I can at least make some intelligent remarks about them for you all, even though, perhaps, few of us would care. But, on the other hand, the L.A. Times article starts out like this:
We've read this story before: the contentious interview with the representative of the Swedish Academy, followed by the awarding of the Nobel Prize in literature to a European writer, largely unknown in the United States, who specializes in work that is small, interior, elliptical. Six years ago, it was Jean-Marie Gustave Le Clezio; this time, it is Patrick Modiano, author of more than 30 books, although only about a third have been translated into English.
Heh. So even the L.A. Times writer is at least aware of the perceptual problems here. But then he says this, and it really floored me:
...like many readers outside of France, I am largely unfamiliar with his writing, although what I've seen appears profound and engaged.
So, in other words, the author of this article, name of David Ulin, who was hired by the L.A. Times as a book critic, presumably to write authoritatively on the subject of books, admits he is "largely unfamiliar" with the body of work of the latest Nobel Prize winner. OK, so now maybe I don't feel so bad. Of course, we all know that the Nobel Committee is a bunch of lefty d-bags appointed by the full-of-lefty-d-bags Swedish parliament, so I think we can say that much of what they do, the selections that they make, is animated by a primal, visceral hatred of the United States (which is why they gave the Peace Prize to Barack Obama). Also, to promote the agenda of the international lefty d-bag community and and whatever their current favorite cause is. Any reason to stick it to the American troglodytes is good enough.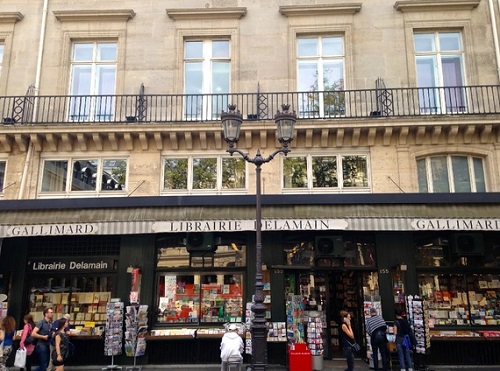 Librairie Delamain Bookstore, Paris
Another Old Bookstore May Close
Librairie Delamain, the oldest bookstore in Paris,
may be coming to the end of its days
:
Librairie Delamain's lease is up for renewal by the Qatari company Constellation Hotel Holdings, which owns the block-wide property that also houses the soon-to-be-renovated Hôtel du Louvre. The company plans to double the bookstore's rent to 100,000 euros per year - nearly a tenth of their annual revenue. With already slim margins, the shop would be forced to shut down or abandon the storefront where it has been since 1906 (the business itself dates to 1700).
Wow, 1700. That's over 3 centuries of book selling.
Book Covers
Who's up for some really crappy book covers? OK, how about
15 objectively terrible sci-fi book covers
? They're all of exceptionally low quality that ranges from Really Bad down to WTF? But I laffed at some of the accompanying commentary, and maybe you will, too. Mild NSFW warning for a couple of pics that are a bit "cheeky".
Bleg From an 'Ette
I received an e-mail from one of the 'ettes earlier this week:
Months ago I read on the book thread about a relatively new online book retailer (or maybe it was new to you then!), but I can't remember the name. It had a short name, four letters if I remember correctly, but it's been awhile. Can you tell me what it was?
I don't remember seeing this new book retailer referenced on the book thread, but maybe one of you can, and can help us out.
You Had One Job
Heh
. Thanks to NDH.
Books Of Note
I saw
Rolling Thunder
by Mark Berent advertised as a
BookBub
freebie this week and immediately snatched it up. This is why:
Rolling Thunder is an historical novel about the decisive role politics played during the Vietnam war. Its characters range from men in the field to the Pentagon and the White House. Fighter pilots and Special Forces warriors try to do their best but are hampered by President Johnson, Secretary of Defense McNamara, and their staff members who despise the military. Only one aging USAF general, who fought in Korea and WWII, is on their side. His clashes with his Commander in Chief, Lyndon Johnson, are epic in proportion and startling in content.

In Rolling Thunder, the time is late 1965 and 1966 in war zone places such as Saigon, Hanoi, Bien Hoa, Da Nang, and Tahkli. While back in Washington, LBJ sits over lunch and personally picks bombing targets in an attempt to fight a limited war. In Vietnam the war knows no limits.
So yeah, a novel like this, with obvious conservative leanings, I have to read it. The first chapter starts out with a fighter pilot doing his best to guide his shot-up F-100D Super Sabre jet back to the Bien Hoa Air Base with his fuel and hydraulic fluid leaking out rapidly due to the damage and will he make it to the runway in time? According to
BookBub
, Rolling Thunder is available for $0.00 until Oct. 22nd. It's the first of the "Wings of War" series. You can see the others by vising
author Mark Berent's Amazon page
.
___________
A number of years ago, I went to a job interview in a seedy law office in a not-particularly-good part of town. The firm was looking to hire a general-purpose IT person to manage their computers. I asked them what the firm did and got a very rambling answer which, when boiled down, meant "bad debt collection". It was the only job interview I actually walked out of (the pay turned out to be absurdly and insultingly low, much lower than I needed to support my family), and I had to wonder what kind of people would willingly go into this line of work, and what was it like? That's the topic of
Bad Paper: Chasing Debt from Wall Street to the Underworld
, which is being touted on "best books of the month" lists but won't be released until Oct. 14th.
The author interview is pretty interesting
, and he's trying to make the case that we need some sort of "national debt registry" so debts can't be sold 5 or 6 times to multiple parties. But then he says this:
HALPERN: In some ways, all of this sounds so crazy, so far-fetched, so aboriginal. But this is perhaps the inevitable in the absence of regulation, in the absence of close policing. When a guy like Aaron has to call a guy like Brandon to protect his own assets because he feels that for a host of reasons, the authorities can't do it. And these guys, weirdly, as crazy as this whole dynamic is, in the absence of kind of a court officer or a regulator there, they work it out.
Heh. "They work it out." Without any kind of local, state, or federal regulation, they manage to settle their differences and come to an agreement, as if they were rational, responsible human beings. Whoever heard of such a thing? But as for the author, he's an idiot:
HALPERN: Can you imagine if there was no Department of Motor Vehicles? There was no VIN number on cars, that every time you bought a car from someone, you were just buying it on faith that they really owned it? It would be insane
No, it wouldn't. We do have laws on the books against selling stolen property, or has he forgotten? So that would act as a disincentive against, you know, selling stolen property. So it would be just like any other private transaction. They're trying to make the case that debt collection is a wild, uncontrolled situation that cries out for a dose of heavy regulation. But from what I've heard so far from the author's own mouth, I'm just not seeing it. And remember, however bad it is, it's better than debtors' prisons.
What I'm Reading
I'm very much enjoying
The Viking
by Marti Talbott. It's the first of a series and is currently available for the low, low price of FREE for the Kindle edition. 15-year-old Stefan finally gets to accompany his father, the leader of a Viking loot-and-pillage expedition, to the coast of Scotland. But the raid goes horribly wrong, the Scots put up unexpectedly fierce resistance, and what's left of the raiding party flees for home, leaving Stefan behind to fend for himself. He meets up with a girl his own age, whom he takes an instant dislike to, and her mother, whose relationships to her absent husband and to the laird of her clan are complicated. There is a bit more suspension of disbelief that's required than I'd like (how can Stefan pass himself off as a Scot so easily, and isn't 'Stefan' actually a Christian name?), but I like the story, anyway, as it keeps me turning the pages. It almost could be a YA novel, and in fact, probably should be.
___________
So that's all for this week. As always, book thread tips, suggestions, bribes, rumors, threats, and insults may be sent to OregonMuse, Proprietor, AoSHQ Book Thread, at the book thread e-mail address: aoshqbookthread, followed by the 'at' sign, and then 'G' mail, and then dot cee oh emm. What have you all been reading this week? Hopefully something good, because, as I keep saying, life is too short to be reading lousy books.