Sunday Morning Book Thread 10-05-2014: Cry "Censorship!" [OregonMuse]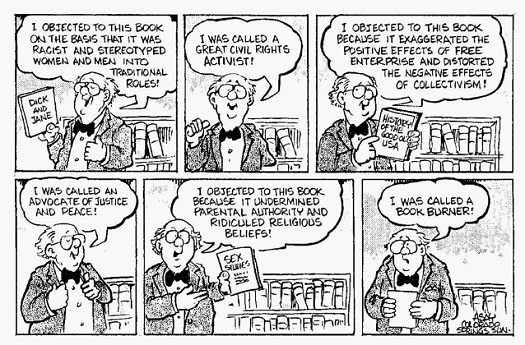 Banned! Er, Not Really
Here's a list of
30 banned books that may surprise you
, but they probably won't. Naturally, many of the banning incidents are mentioned without date or context, probably to make sure they look as ridiculous as possible. But some of them probably should be banned, or at least restricted from younger readers. Like, for example, the unexpurgated Grimm's Fairy Tales:
But on closer inspection, parental concern is less surprising. In these versions of "Grimm's Fairy Tales" Snow White almost gets killed by a corset and Cinderella's stepsisters cut off parts of their own feet.
Perhaps it's not so bad in the original German. And contrary to their pious platitudes, liberals aren't above banning books they don't like. Like 'Little House on the Prairie':
This installment in the wildly popular frontier series by real-life pioneer Wilder was banned from a South Dakota classroom because of comments the characters in the book made about Native Americans.
And then there's this:
London's story (The Call of the Wild) of a dog who lives the life of a pampered house pet until he gets a job pulling a sled was banned in Yugoslavia and Italy because of the author's socialist views. The book was also burned by the Nazis in 1933.
Heh. Everybody hates Jack London, socialists and anti-socialists alike!
That other Twain novel about Huck Finn has faced a raftload of controversy ever since the day it was first published. But "The Adventures of Tom Sawyer" was also banned when librarians said they found Mr. Sawyer to be a "questionable" protagonist in terms of his moral character.
Yeah well, I googled for, but couldn't find, the letter Twain wrote supporting the removal of 'Tom Sawyer' from a New York school library. He had to explain to a frustrated librarian that his novel was never intended for children. Also, 'Tom Sawyer' and 'The Adventures of Huckleberry Finn' get protested a lot by liberals who don't like Twain using the n-word or the i-word. Of course, the larger picture is that
all of this talk of "banned" books is nonsense
, at least in this country:
The thing is, a book hasn't been banned in the United States for decades. The ban on John Cleland's erotic novel Fanny Hill was overturned by the Supreme Court in 1966 because it did not meet the court's definition of obscenity. Since then, no book has actually been banned in the sense that there has been a government prohibition on its printing or sales...The "challenges" described above are requests based on the discretion of individuals or organizations, not mandated by the government.
But proclaiming that you're "against censorship" is a good way to score cheap political points and also to feel virtuous without really doing much of anything. Remember, it isn't censorship unless it's the government that's doing it. Only the government has the force of law behind it.
Cards
You can now buy
a deck of playing cards with caricatures of famous authors on them
. Go ahead, you know you want to. You'll be the hit of your writing group or book club! And some of those author caricatures look pretty funny, I must say.
"Trash"
I haven't heard the name
Harold Robbins
in years (which isn't surprising, since he died back in 1997), but back in the day, he was the king of the "trashy" novelists. But he never cared about the literary critics who reviled his books, because he sat so high atop his giant pile of money that he couldn't hear them. Robbins' novels are famous for two things, their (a) compulsive readability, and (b) sexual explicitness. If you can handle that,
Dreams Die First
, originally published in 1977 is available for a limited time at the
BookBub
99-cent sale price. I'll probably pass on this one, but I admit I'm kind of curious about his first novel
Never Love a Stranger
, published in 1948. Supposedly, Robbins' boss bet him $100 that he couldn't write a novel, so he did, and looky here, it became a best seller.
And Speaking of Trash...
You'll all be thrilled to know that Lena Dunham has a book out, her "memoirs", as it were. I'm not going to bother linking it, because none of us will be interested in buying it, anyway. Oh, what the heck, they paid Dunham a whopping $3.5M advance for
Not That Kind of Girl: A Young Woman Tells You What She's "Learned"
, (quotes in the original) so I guess I'll link it. This
TNR review
was mostly negative, which surprised me a bit. I mean, Dunham is supposed to be the voice of a generation of disaffected young women, so you'd think the cultural mavens at TNR would be all over that. But I, on the other hand, am not all over that, and in fact, my question is, why is anyone other than a therapist or qualified caregiver listening to anything this poor, disturbed woman has to say, much less pay her three and a half million dollars to say it out loud and in public? I mean, look at this:
Dunham's parents are New-York-loft-dwelling artists. Her father Carroll's work includes garish nudes of women with riot-red labia, some executed in crayon like the drawings of a particularly disturbed five-year-old. Her mother, Laurie Simmons, explores a miniature world; she poses dolls in strange, sometimes sexually suggestive ways, their heads replaced by guns or model houses. In the 1970s, Dunham says, her mother "invented the selfie," taking hundreds of naked photographs of herself.
Yeesh. Where are the intrusive child protection agencies when you need them? With an upbringing like that, Lena Dunham wouldn't know 'normal' if it jumped up and smacked her in the face. And actually, I kind of feel sorry for her, now that I know what she's had to grow up with. No wonder she's so messed up.
Mack Bolan: Progressive Tough Guy or Mystic Avatar of Healing Light?
So I guess author Don Pendleton, before he died in 1995, wrote about 35 or so or his "Executioner" novels featuring action hero Mack Bolan and the one advertised as a
Bookbub
freebie this week,
Artic Kill
, looks like it's not one of the originals, but one that came later when the Executioner became a franchise and was turned over to a consortium of writers. But whatever the case, the blurb on the cover, "White supremacists threaten to unleash a deadly virus" strikes me as being somewhat ludicrous. White supremacists? Really? Has the Executioner gotten all politically correct now? I haven't begun reading any Mack Bolan novels, but I shudder to think what they're making the series into, and if he's going to be all, you know, fighting evil corporations who are destroying the environment, like he's
Billy Jack
ver. 2.0, I don't feel particularly inclined to start. Best stick with the originals, maybe. Another thing I found out about Don Pendleton is that he wrote some non-fiction books, published after his death by his wife Linda, on various metaphysical topics, for example,
The Cosmic Breath: Metaphysical Essays of Don Pendleton
, and also
Whispers From the Soul: The Divine Dance of Consciousness
, which, according to the Amazon, blurb
synthesizes the most meaningful elements of human understanding and spirituality from the most ancient days to the present in an exploration of the profound wisdom of the ages through the arts and sciences, philosophies, religious and spiritual expressions, which have fashioned human consciousness...
So in other words, Pendleton is (or was) apparently a
New Age
kind of guy. That's something I normally would not associate with the creator of hard-boiled, "this-worldly" characters like Mack Bolan and Joe Copp. Maybe this shouldn't strike me as odd, but it does. Of course, perhaps I'm making the classic mistake in assuming that an author has to be like the characters he creates, and there's generally a lot more to authors than what you read in their books.
Books of Note
I've never heard of spy/espionage author
Noel Hynd
until one of his novels,
Truman's Spy
, got the
Bookbub
on-sale-for-99-cents treatment. Hynd has written a number of spy novels, one of which,
Flowers from Berlin
, is said a classic American spy novel. But not only spy novels. Hynd has also written about baseball, notably
Giants of the Polo Grounds: The Glorious Times of Baseball's New York Giants
and another book about a scandal that sounds like a beta version of the Joe DiMaggio/Marilyn Monroe hookup,
Ragtime Romance: The Scandalous True Story of Baseball's Rube Marquard and Vaudeville's Blossom Seeley
(warning for mildly NSFW vintage pr0n cover art). I wonder if moron commenter Mary Poppin's Practically Perfect Piercing, who's a veritable encyclopedia of the early days of Hollywood, knows any stories about these two?
What I'm Reading
I'm about half way through
Slow Boat To Purgatory, Book One
by Vernon Baker, and mostly enjoying it. It's a very good first novel, and Mr. Baker clearly knows how to write. It's hard to explain what this book is about without giving out too many spoilers, but the author uses figures drawn from both the Christian and the classical worlds to tell a story of the battle of ultimate Good vs. Evil, and the struggle of each side for the souls of men. It involves Heaven, Hell, and many points in between. The first chapter hooks you right away by dropping you smack bang in the middle of an urban WWII battle. It's not an "action" novel as such, but it does provide a fair number of suspense and thrills. I'm very much looking forward to the sequel,
The Arimathean
.
___________
So that's all for this week. As always, book thread tips, suggestions, bribes, rumors, threats, and insults may be sent to OregonMuse, Proprietor, AoSHQ Book Thread, at the book thread e-mail address: aoshqbookthread, followed by the 'at' sign, and then 'G' mail, and then dot cee oh emm. What have you all been reading this week? Hopefully something good, because, as I keep saying, life is too short to be reading lousy books.