Sunday Morning Book Thread 08-31-2014: Shake, Rattle, and Roll [OregonMuse]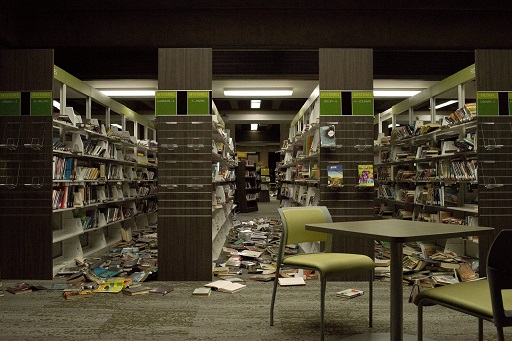 Napa County Library After Earthquake
Good morning morons and moronettes and welcome to AoSHQ's stately, prestigious, and high-class Sunday Morning Book Thread. The only AoSHQ thread that is so hoity-toity, pants are required.
Ah, Thread of Book
Peacefully great
With mood subdued
With pace sedate
Participate
Or lurkly look
Leisure learning
Thread of Book Thanks to moron "mindful webworker" for posting this fun poem in last week's comments. Another thing I like about the book thread is that I can come back to it after 8 or 12 hours and there may be new comments posted. On
last week's thread
, for instance, the comments extended into the evening, even to the next day. It takes a long time for the book thread to die.
Quake Damage
Last Sunday's earthquake in Northern California
really did a number on the libraries in Napa, my old stomping ground
:
"There is lots of work to be done -- lots of shelving to do! We are closed, but we hope to get back with you as soon as possible with the doors open," says director of Napa County Library Services Danis Kreimeier in a video posted on the system's Facebook page. "Be safe, take care of yourself, and we'll see you real soon."
All Napa County libraries were closed Monday for cleanup.
More On Superman
Last week, I mentioned that a pristine copy of Action Comics #1 was put up for auction on eBay. Guess how much it sold for:
An original Superman comic, sold for 10 cents at a West Virginia newsstand in 1938, was purchased at auction Sunday night for $3.2 million, making it the most expensive comic book ever sold.
I wondered how it survived for so long in such good shape:
Purchased off a newsstand by a man from West Virginia in 1938, the comic book was stored in a cedar chest "at high altitude" for four decades. When the man died, a collector purchased it from his estate.
The 3.2 million auction price far exceeding earlier purchases:
The previous record for a comic book was $2.1 million, for another Action Comics No. 1, sold by the actor Nicolas Cage in 2011.
America Under Attack
Holy crap
:
The German submarine glided through the icy water past New York City, its captain noting the glowing skyscrapers of Manhattan and then Coney Island's brilliantly-lit Ferris wheel. Soon his lookouts spotted a large oil tanker, steaming ahead without escort. Maneuvering into position, the captain easily acquired his target, framed by the city's lights, and fired a torpedo into the vessel, sending a fireball into the sky worthy of America's most dazzling city.
This isn't some "alt history" sci-fi novel, this really happened.
The Burning Shore: How Hitler's U-Boats Brought World War II to America
by Ed Offley recounts a rather sobering historical story, that WWII was not fought exclusively in Europe or in the remote Pacific theater, but at times, it came dangerously close to home. Far a period of time in 1942, German U-boats pretty much had their run of the Atlantic off the eastern seaboard, attacking and sinking shipping with impunity. Over 200 ships and tankers were sunk and hundreds of sailors were killed. I must confess my own ignorance of this. I knew that the U-boats had scored some hits over on this side of the Atlantic, but I never knew it was this bad. One of the Amazon reviews is by the son of Horst Degen, commander of U-701, who inflicted his share of damage to Allied shipping during this time. Offley has another book,
Turning the Tide: How a Small Band of Allied Sailors Defeated the U-boats and Won the Battle of the Atlantic
, that also looks interesting.
Nook: "I'm Not Dead Yet"
Even though Barnes and Noble is going to
spin off its money-losing Nook Media Division
early next year, they managed to strike a deal with Samsung to co-brand a color Android device. According to the
advertising-copy-disguised-as-a-news-story article
:
Samsung Electronics America and NOOK Media, a subsidiary of Barnes & Noble, Inc., today announced the introduction of the new Samsung Galaxy Tab 4 NOOK, a 7-inch tablet combining Samsung's leading technology and NOOK's extraordinary content and reading experience. This new co-branded tablet offers the best of both worlds: the first-ever full-featured Android tablet optimized for reading. The Samsung Galaxy Tab 4 NOOK is now available in more than 660 Barnes & Noble bookstores and online at www.bn.com and www.nook.com for $179 after a $20 instant rebate, and includes more than $200 in free content from the NOOK Store including bestselling books, popular TV shows, top magazines and more.
I think this is a great idea, and I hope it works, but unfortunately, this is most likely going to be too late to have any kind of a market impact. Like a tired and flagging long-distance runner, the Nook has fallen too far behind to catch up. I wonder if I could run the Kindle app on of those Galaxy/Nook things? It's an Android device, so I ought to be able to. Because, you know, that would be, like, ironic.
A Waterproof E-Reader?
Why Not?
Kobo announced Wednesday that it would launch a waterproof e-reader, the Kobo Aura H2O. The device will be available for preorder Sept. 1 for delivery beginning Oct. 1...It's the first official waterproof e-reader to be released (aftermarket waterproofed Kindles are available).
Just how waterproof is it?
The Kobo Aura H2O should take care of casual concerns of the e-reader getting splashed or dunked. As long as its port is closed, it can stay up to 3 feet underwater for up to 30 minutes.
More
here
.
I Did Not Know That
For some reason, I find linking to Buzzfeed distasteful, but I have to admit there are some interesting items on this
34 Facts You Probably Didn't Know About "The Lord Of The Rings" Trilogy
list, some have to do with the movie adaptation, some with the books themselves. For example:
21. Back in the '60s, the Beatles wanted to make a movie adaptation of Lord of the Rings, with Stanley Kubrick directing, but Tolkien killed the project.
The source for this is apparently
LOTR director Peter Jackson
, but I have no idea where he heard it from. A couple of others:
1. Nicolas Cage passed up the role of Aragorn because of "family obligations."
And I think we can all breathe a sigh of relief over that.
24. Tolkien believed Sam was the "chief hero" of the story.
I can kind of see this, I think. And by the way, Christopher Lee is a complete badass:
22. [He] has recorded and released several metal albums. Including a Christmas album
Dude's like 90 years old, and he's putting out metal albums.
Another One
So I might as well continue on the path of shame by linking to another buzzfeed list,
11 Things You Learn Your First Month As A Bookseller
The Case For Books
7 minute Youtube video on building a bookcase
. Excellent stop-motion animation that shows a number of nifty woodworking tools being used.
Traditional Publishing
If you're a book-lover (and really, why would you be reading this if you weren't?), you really need to check out the
Dover Publications
site. Mrs. Muse and I have bought books from them for years, and they've always had an interesting, eclectic line of titles that they publish. For instance, they publish a lot of older, classic books, so back in the day, back before the internet, and Amazon, and public domain books on Kindle, Dover is where you went to pick up cheap reprints. We used Dover a lot when were homeschooling our children. Here's a taste: on the home page, there's
The Early Science Fiction of Philip K. Dick
on sale for $4.98, also a collection of
World War One Short Stories
for $4.00 and
The Federalist Papers
for $5.50. Other categories of interest include
mathematics
,
clip art
,
military
,
chess
,
paper dolls
(!), and
engineering
. You don't get much of a price break on Dover's e-books, but I guess that's pretty much par for the course everywhere you go. And since I've never bought one, I don't know if they're actual e-books, or just scanned in .pdf documents. But the site is worth bookmarking and browsing every month or so.
What I'm Reading
I'm on the fourth and final novel of the 'Giver' series,
Son
, and here we're back in the colorless, attenuated world of the
first novel
. Here, parents don't have and raise their children, but rather, specially selected "breeders" are artificially inseminated, carry the pregnancy, but immediately after birth, the infants are whisked away to a hillary-clinton-it-takes-a-village type of "nurturing center" where they're raised by professional caregivers until they're old enough to be assigned to parents who aren't really married, but are assigned to each other. In this story, a birth mother finds out, due to some procedural sloppiness, that Baby #36 is actually hers. I don't think I want to let Mrs. Muse read this, because she might find reading about the heartache of a mother with empty arms, who has bonded with her child, but now the child is gone, too hard to take.
___________
So that's all for this week. As always, book thread tips, suggestions, rumors, threats, and insults may be sent to OregonMuse, Proprietor, AoSHQ Book Thread, at the book thread e-mail address: aoshqbookthread, followed by the 'at' sign, and then 'G' mail, and then dot cee oh emm. What have you all been reading this week? H