Sunday Morning Book Thread 08-24-2014: More Books, Less Politics [OregonMuse]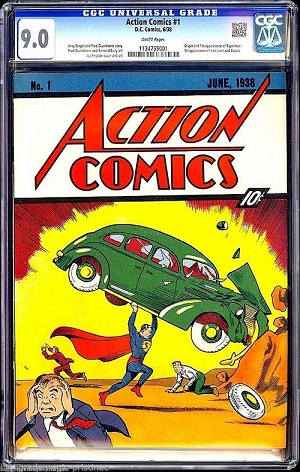 I'd Buy That For A Dollar -- But 2 Million, Maybe Not
Good morning morons and moronettes and welcome to AoSHQ's stately, prestigious, and high-class Sunday Morning Book Thread. The only AoSHQ thread that is so hoity-toity, pants are required.
Faster Than A Speeding Bullet
Someone apparently found, or had been sitting on, a pristine copy of Action Comics #1 from 1938, which is the one wherein Superman first appeared. It'a not too late for all of you morons to get on in on the bidding
here
. The auction will end today (Sunday) at about 6PM PDT.
How good a condition is this particular copy in?
[T]he copy soon to be auctioned on eBay was rated by the Certified Guaranty Company, a well-known comic book quality rating company, as having a condition of 9.0 out of 10, the highest quality rating a copy of Action Comics #1 has ever received. The colors are said to be vibrant, and it even has white pages where most existing copies have long since yellowed.

Only about 50 unrestored copies are believed to exist, according to Cnet. Of those, this one is considered the best.
I don't know what you have to do to preserve a copy that pristine for nearly 80 years, keep it covered in protective cloth inside a vacuum-sealed foil wrapper, perhaps. As I'm typing this on Saurday afternooon, the high bid is currently $2,193,919.38. No, that's not a typo.
Books Of Note
Science fiction writer Jerry Pournelle has a new one out, and it's not what you think. It's the
California Sixth Grade Reader
, and no, that's not some ironic joke of a title, it's the actual California Sixth Grade Reader from 1914:
The 1914 California Sixth Grade Reader with classical stories and poems that every high school student studied in that era. The same stories were read in most states, and the American culture of that era was profoundly affected by these stories. They remain relevant to those who care about civilization and are part of our cultural heritage. They're also good stories. The poems were once as popular as any TV series, and learning to read and enjoy great poetry, while hardly taught in schools now, was once another great part of our cultural heritage. The small amount of work invested in learning to enjoy poetry will last the rest of your life.
Bill Whittle's take on this
is how much our education has been dumbed down, and while that's certainly true, I think there's a larger point not to be missed, and that is that this literature was an integral part of transmitting traditional moral, ethical, and cultural values from one generation to the next. By this process is how normal life is maintained and how it continues. Of course, the lib-progs hate normal life and want it abolished, so their strategy has been to make sure those stories and poems are never taught, ever again. Instead, they're replaced them with rewritten fairy tales where boys get rescued by girls, or evil corporations destroying the environment, and stories wherein Christians and patriarchal males are always evil oppressors of ethnic minorities.
Neologisms
Neckbeard, mansplain
, and
bro hug
are words that have
just been added to the Online Oxford Dictionary
:
"We don't mean to humblebrag," OxfordDictionaries.com announced Wednesday on its website, but their list of new words and expressions is "bare good and nailed on to interest and impress you."
Sheesh. I can barely understand that last sentence. Has English usage really changed that much? I was watching the Revolutionary War spy drama
Turn
the other day, and at one point in the episode, Washington's security consultant/expert asked if the letters sent in by the spies were "encrypted". I thought, hmmm, that sounds a bit modern to me, so I went for the OED. Years ago, I had bought a copy of the OED for Mrs. Muse as a Christmas present, the one volume edition where every single page of the multi-volume set had been reduced down to tiny, tiny print and you need a magnifying glass (which came with the volume) to read it. What's great about the OED is that, as part of the definition of a word, it includes its earliest known use. So I whipped out the OED and the magnifying glass, and the word "encrypt" wasn't even there. "Crypt" was there, as was "cryptic", "cryptography" and "cryptograph", but not any form of "encrypt". I could hardly believe the word is that recent, but I guess it must be. Anyway, I was surprised the TV scriptwriters went for the anachronism, when they could have used "encipher", which carries the same meaning, and would have been more period authentic. Since then, I've heard (and seen) a number of other anachronisms in 'Turn', but I still think it's a pretty good show, anyway.
What I'm Reading
One thing about YA novels is that they tend to be short, so I can read them relatively quickly. Since the movie version just came out and was discussed here a couple of weeks ago, I decided to give
The Giver
a go and found out it was actually the first of a quartet. It's actually pretty good. The dystopian future society depicted therein reminds me of the one in Brave New World, only without the casual sex. Actually, there isn't
any
sex in 'The Giver' because everyone has to take pills to kill their sex drive. Perhaps
Pleasantville
might be a closer analogy to the colorless, attenuated social order where all the rough corners and sharp edges are covered with nerf
, where nobody gets hurt, but nobody really lives. I finished 'The Giver' a couple of days ago and I'm now well into the second book,
Gathering Blue
. It's a totally different book with a totally different cast of characters set in a totally different society and even though I'm about 2/3rds of the way through, I don't see any connection, however tenuous, to the first book. Maybe it will be clear by the end. And even if not, it's a good enough book to stand on its own.
Books That Could Be Interesting
Earlier this week I read an article written by a "political thrillers" junkie who argues that
the thriller genre he can't get enough of is different now than it used to be
:
During the Cold War, the conflicts that powered the thriller were rooted in ideology: Le Carre's Berlin and Greene's Havana were mainly backdrops against which the clash of the superpowers was played out. The new thrillers were not focused on ideology but on place; it was the peeling away of layers of culture and history that gave these novels their impetus.
This appeals to me very much; I've always enjoyed books that give the reader a sense of being somewhere really different. The article has some examples of this "new" type of thriller, notably
Bangkok 8
, where Royal Thai Police Force Detective Sonchai Jitpleecheep's investigation of a murder leads him down, down, down into the seedy bars, brothels, and cut-rate plastic surgery parlors of the Bangkok underworld sex trade. And if Thailand isn't an exotic enough setting for you, how about North Korea?
North frickin' Korea
, for pete's sake! Who knows what goes on in North Korea? Perhaps James Church does, who wrote
A Corpse in the Koryo
, which is the first of his "Inspector O" novels. Like Detective Leo Stepanovich Demidov in the novel
Child 44
, Inspector O must solve a murder while navigating though the conflicting (and potentially deadly) forces placed in his path by a brutal, repressive regime.
Modern Cover Art
You can look at these and tell me what you think
:
Recently, Penguin Essentials released a new swath of redesigned modern classics, with great cover designs from a wide range of artists. Richard Bravery, senior designer at Penguin said, "Our approach is different to the Classics series approach; we're trying to bring the books to a new audience so we've used contemporary artists from around the world and almost treated the titles as new books." The results are pretty great.
More examples at the
Penguin Essentials
site. I thought some of this new art looked interesting, even for the books I had never heard of.
Hugo Awards
The winners of the 2014 Hugo Awards were announced last Sunday, after the book thread had been posted, so
here they are
, a week late. I don't have anything witty or insightful to say about the results, so I'll just point you to Larry 'Monster Hunter' Correia, AKA The International Lord of Hate, for
the post-game analysis
.
Pussy Galore Wrote A Book On Self-Defense For Women?!?
Don't laugh. Yes, she did.
Here it is
. Honor Blackman learned judo for her roles in the
Avengers
TV series and of course, for
Goldfinger
. She apparently took the training seriously and became highly proficient at it. And speaking of actresses writing books,
Dana Scully
Gillian Anderson will soon be coming out with a novel and, hard to believe, it's a paranormal mystery/thriller.
A Vision of Fire
will be published in October, but for now, you can read an excerpt, available in various e-book formats,
here
.
Books By Morons
A (lurking) moron who's
nom de blog
is "Spike" decloaked in my e-mail box a few days ago to tell me that he has published a short story,
The Last Bridge
. It's about "an old knight making his last stand" after his village abandons him.
___________
So that's all for this week. As always, book thread tips, suggestions, rumors, threats, and insults may be sent to OregonMuse, Proprietor, AoSHQ Book Thread, at the book thread e-mail address: aoshqbookthread, followed by the 'at' sign, and then 'G' mail, and then dot cee oh emm. What have you all been reading this week? Hopefully something good, because, as I keep saying, life is too short to be reading lousy books.