Sunday Morning Book Thread 08-10-2014: Lenin Was Right [OregonMuse]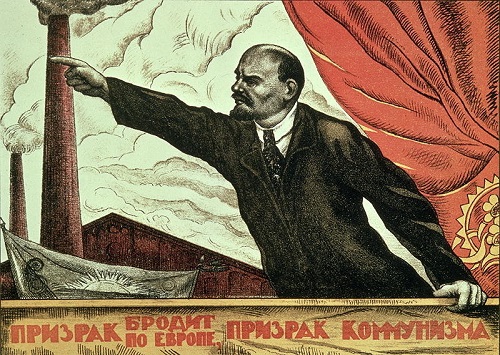 Translation: "Pull My Finger, Comrade!"
Good morning morons and moronettes and welcome to AoSHQ's stately, high class, and prestigious Sunday Morning Book Thread. All non-book discussion should go to NDH's fabulous sunrise open thread below, thanks.
The Determined Few
Karl Marx thought that communism was inevitable. He thought that working people would naturally achieve class consciousness, overthrow their capitalist overlords, and set up a dictatorship of the proletariat. This dictatorship would then eventually wither away, leaving a pure communist civilization, all quite naturally and inexorably. Faced with the particular circumstances presented by the rulers and nobility of Tsarist Russia, Marx's disciple, Vladimir Lenin, didn't think the revolution would "just happen". He thought that it needed a catalyst, in the form of a "vanguard of the proletariat", whose function was to direct, push, prod, cajole, encourage, and otherwise lead the working classes into the revolution that would bring about the establishment of a communist state. Lenin talks about this in his book,
What Is To Be Done?
I'm starting to think ol' Vlad was right. Most people are bystanders, and thus are irrelevant. Look at homosexual marriage. It wasn't even on the map in 1993. It was barely talked about in 2001. Most people were against it as late as 2005. But now it's legal in many states, and it looks inevitable that it will soon be legal in all states. So what happened? Well, a few people got together and determined to make it happen, that's what happened. They devised an agenda, goals, and the various courses of action necessary. They made no secret about it, it's all out in the open. In fact, they even wrote a book about it.
Redeeming the Dream: The Case for Marriage Equality
is the account of by some of the major players, the partnership of lawyers Ted Olson and David Boies, who ironically were the opposing attorneys in the infamous
Bush v. Gore
case from the 2000 election. And on the other side, the ones fighting for traditional marriage, had nothing comparable, not even close. Their opposition was ad hoc and disorganized, and thus ineffective: they were outflanked, out-argued, and out-gunned every step of the way. And that, boys and girls, is why Christian bakery owners are forced under threat of legal sanction to bake wedding cakes for celebrations they are morally opposed to. By the actions of a determined few, what was unthinkable a decade ago is now mandatory. However, just so you don't get too depressed, this sort of thing can work in the other direction, too: For example, one of the reasons why the "Equal Rights Amendment" did not make it into the United States constitution, despite the endorsement, or non-opposition, of most everyone in public office, was due to the efforts of one woman, Phyllis Schlafly, who campaigned tirelessly against it. And it was by mostly her efforts that it was eventually defeated and relegated to irrelevance. And one more example: in the 70s, liberalism began to infest the Southern Baptist Convention, like it had other denominations. In those other denominations, liberalism grew like cancer and pretty much ruined them, leading to conservative spin-off denominations. But in the SBC, it didn't happen that way. In the SBC, the liberalism got rolled back. This happened because a small number of SBC conservatives got together and said, "hey, you know, the SBC is being destroyed by liberalism, so we need to do something to stop it." And so they did. The conservatives determined an agenda, set goals, devised the necessary strategies, and were successful in ousting liberals from positions of power and influence in the Convention. One of the major players in this fight was Judge Paul Pressler, who wrote a book about his experiences,
A Hill On Which To Die: One Southern Baptist's Journey
. One more thing: I have heard that in the SBC fight against liberalism, Mike Huckabee was on the liberals' side. I haven't been able to definitely confirm that, but there's always been something indefinable about the guy that I just don't trust, and like many of you morons, I would never vote for him.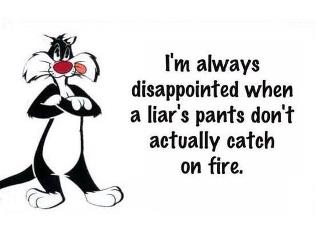 Lying Liars Who Lie
What would you do if your grandfather was an upright man and a decent human being, and someone wrote a biography of that misrepresented and omitted and twisted his words and events of his life to make it look like he was a repressed, closet homosexual and maybe even a pedophile? Well, this happened to Abigail Rockwell, granddaughter of painter Norman Rockwell, and what she did was to take to the pixelated pages of the Puffington Host to write
a scathing, yet fact-based rebuttal
of the offending material, which in this case was the biography Norman Rockwell,
American Mirror: The Life and Art of Norman Rockwell
by Deborah Solomon. We all had a fun time mocking Solomon's execrable biography of Rockwell in an earlier book thread,
here
. Some public figures like to maintain a persona of decency and rectitude, while in private, they drink, whore, beat their wives and abuse their kids, and many take pleasure in exposing these moral frauds. Fine, I get that. This appeals to the modern spirit of deconstruction. But some people are decent in public because that's who they really are, which means that, guess what, they're that way in private, too. To my knowledge, no one has stepped forward to corroborate any of Solomon's calumnies, and even the Puffington Host comments are running 9 to 1 against. So it looks like the progressive have overreached themselves quite a bit on this one and need to step back, retrench, and look for another target to smear.
One Is The Loneliest Number
Someone, I think it may have been Mark Twain, once said that everybody's got one book inside them. So with that in mind,
here are 5 books that can be classified as 'one-hit wonders'
. And I never knew this about
Wuthering Heights
author Emily Brontė:
[She] was 30 years old when she caught a cold during the funeral of her brother, Branwell. Her health rapidly deteriorated, and she died three months later.
Yow. This is quite a sobering reminder that life was a lot more fragile back then. I think it's amazing how much we take antibiotics for granted. Lastly, I will give a 'Get Out of the Barrel Free' card (good for one use) to the first moron or 'ette who has can honestly tell me they've read all 5 books on the list.
Sony We (Mostly) Hardly Knew Ye
The multinational business and consumer electronics megacorp is
getting out of the e-reader business
, at least in Europe and here in America:
The announcement signals Sony's final departure from the e-reading market in Europe and North America, after closing its North American and Europe e-reading store earlier this year.
I guess the suits at Sony had earlier
told their e-reader customers to go away
and buy Kobo books instead, so this probably doesn't come as a surprise. Also, I suspect this is not going to have much impact on the market. Have any of you morons bought or used one of the Sony e-readers? Thought not. When I was in the market for an e-reader, I briefly considered buying a Sony, but eventually decided not to. I forget what my reasons were.
Books of Note
Best-selling author
Jeff Shaara
has written a number of war novels, such as
The Last Full Measure
and
Gods and Generals
. Both of these are Civil War novels, and there are others. He's got a number of WW II novels out, too, but as far as I can tell, only one novel about WW I. The good news is that the Kindle edition of the WW I novel,
To The Last Man
, is on sale for $1.99 until August 16th. I can't give any details about it or a plot synopsis because the Amazon blurb is next to useless, and really doesn't tell you much of anything. Via
Bookbub
.
Books By Morons
Newbie indie author
T.K. Naliaka
has published the first two novels in his Decatur family series. The first one,
In Time of Peril
is based on this quote from an 1812 play:
If to be the son of him who served his country in time of peril, be that which you call noble, then I am of the noblest extraction, but if from pampered lord and vicious prince alone descend the gift, then I am not.
From the Amazon blurb:
'In Time of Peril' and its exciting international sequel, A Difficult Damsel to Rescue, are fast-paced tales of loyalty, faith and courage, fathers, sons and daughters, following a great cast of terrific characters in the continent-hopping exotic adventures of the tenacious and unconventional Decatur family. Written for all ages, these adventures were inspired by the likes of Louis L'Amour's fictional Sacketts, Alistair McLean, and the heroism of Stephen Decatur.
Sounds like good, wholesome entertainment. The third book in the series, 'Between Dunes and Hard Places', is coming soon, later in 2014, release date TBA.
A Difficult Damsel to Rescue
iis available on Kindle.
___________
Infrequent moron commenter 'longrunningfool' is, as his
nom de blog
implies, a long distance runner. He's also an author who has apparently taken very much to heart the classic advice for writers, "write what you know". Accordingly, he has just released his new novel
Trail of Second Chances
. Amazon describes it as "a high-octane adventure on a wild Montana mountain as one girl finds herself racing for her life against a malignant fire". 'Longrunningfool' is also the author of the novel
Finishing Kick
, a humorous look at a (fictional) year in girls' high school cross country.
___________
Moron Gnardo Polo is continuing his "Bard Without a Star" Celtic fantasy series I mentioned a few weeks back with the fourth installment,
The Curses of Arianrhod
. He tells me:
The Bard Without a Star series is based on the Welsh myth of Gwydion, found in the ancient tales of the Mabinogion...In this telling, Gwydion is a rogue, caring for little besides using his skill at the harp to help him seduce beautiful young women. His uncle Math, however, sees his potential to be much more, and begins training the boy to become his successor.
You can pick up
The Curses of Arianrhod
for $0 through the weekend. Also check out the other books in the Bard series on the
Amazon author page
.
___________
So that's all for this week. As always, book thread tips, suggestions, rumors, threats, and insults may be sent to OregonMuse, Proprietor, AoSHQ Book Thread, at the book thread e-mail address: aoshqbookthread, followed by the 'at' sign, and then 'G' mail, and then dot cee oh emm. What have you all been reading this week? Hopefully something good, because, as I keep saying, life is too short to be reading lousy books.