Sunday Morning Book Thread 08-03-2014 [OregonMuse]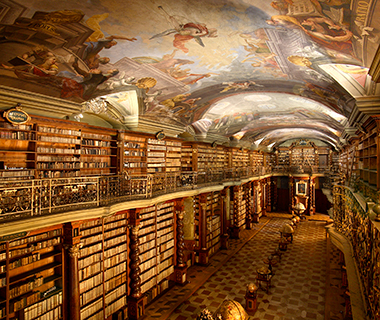 Clementium Library, Prague
Good morning morons and moronettes and welcome to AoSHQ's stately and prestigious Sunday Morning Book Thread. All non-book discussion should go to NDH's open thread below. Thanks.
Books No One Reads
We all know that
no one is reading Hillary! Clinton's book
. That's good news. Even better news,
no one is reading Thomas Piketty's Capital in the 21st Century
, either. Here's how Jordan Ellenberg, a professor at the University of Wisconsin, Madison, determined this:
Amazon's "Popular Highlights" feature on its Kindle books lists the five most highlighted passages by readers. Ellenberg figured that if readers were reading through the entire book, highlights would be scattered throughout the entire book. But if they weren't getting very far, highlights would be clustered at the beginning of a book.

That's how he came up with the Hawking Index (HI), a completely unscientific number that determines how likely readers are to have finished, or abandoned, a book. As Ellenberg explained in the Journal, he took the page numbers of a book's five top highlights, averaged them, and divided that number by the total pages in the entire book. "The higher the number, the more of the book we're guessing most people are likely to have read," he writes.
It's completely unscientific, of course, but fun nonetheless, mainly because it's books that appeal to liberals that are getting dissed.
Apple eBook Settlement: $450 Million
That's a lot of dough,
even for Apple
:
The judge in the Apple e-book case has given preliminary approval to a proposed $450-million settlement, Reuters reports. Apple was found guilty in 2013 of colluding with five major publishers to fix e-book prices.
And
The settlement will provide $400 million to consumers and $50 million to attorneys.
Yow. 50 million. So why does it look like the only purpose to these lawsuits is to transfer large sums of money from companies to the pockets of lawyers?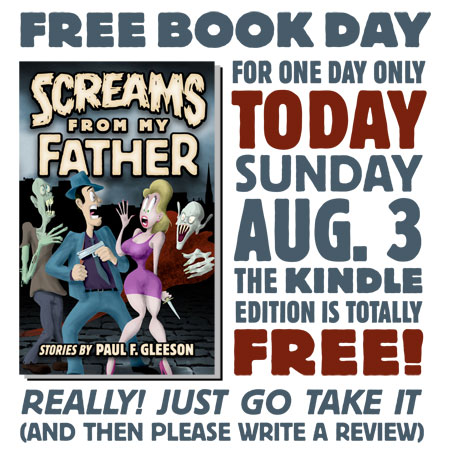 Such A Deal
Books By Morons
Moron Sean Gleeson wants you to read and review his new book. Well, actually, it's not his book, it's his late father's book. I'll let him explain it:
Paul F. Gleeson was a successful Chicago lawyer who died in 2012, at the age of 70. He was also my father. Among his belongings we found a boxful of typed manuscripts from the 1970s and 80s. It turned out they were short stories he had written...

Also in the box were rejection letters from publishers. Dad was unable to get past the literary gatekeepers of those days. Discouraged, he stuck to his day job, and gave up his dream of entertaining the readers of America. The stories sat, unread, for three decades in a dusty heap.
How cool is that? I mean, finding the stories after all these years, not that Sean's dad couldn't them get published. It's like discovering buried treasure. So Sean and his siblings bundled them up and published them as
Screams from My Father: Stories by Paul F. Gleeson
. Sean describes his father's stories as
Rip-roaring pulp-fiction tales, with ironic twist endings, like Alfred Hitchcock or Twilight Zone stories.
There's a lot more information at the Amazon link. In addition, Sean tells me he really, really wants you to read his book and post a review on Amazon. To facilitate this, and specially timed to coincide with the AosHQ Book Thread, the Kindle edition will be free all day Sunday. That's a great price. And I like the cover art, too. So what are you waiting for? It's sometimes odd what turns up after someone dies. When my mother passed a couple of years ago, we found some photos of her that were taken when she was about 20 years old. They were professionally done 8" x 10" portrait photos that none of us had ever seen before, and never knew even existed. We thought we had seen all of the old family photos, but these were a complete surprise. Why Mom had them taken, and why she had kept them secret all of these years, is a mystery.
___________
Moronette
artemis
has a new book out.
Murder In Retribution
(hardcover edition
here
) is the second book in her Scotland Yard series. This whodunit features an escalating turf war between the Russian mafia and Irish terrorists that may be something more than just a murderous turf war. Artemis is also the author of
Tainted Angel
, a spy thriller set during the Napoleonic era, and
Murder In Thrall
, her first Scotland yard novel. Her third Scotland Yard installment is scheduled for an 1Q 2015 release date, and I'll have more details as they become available.
Suess On the Loose
Some 'lost' material from Dr. Seuss
will soon be making a reappearance
:
This September, Random House will publish "Horton and the Kwuggerbug and More Lost Stories," a collection of four short stories that faded from public memory around 60 years ago and have not been seen since.
The stories originally appeared in Redbook Magazine between 1951 and 1955. More details
here
.
Books of Note
It used to be that Israel was almost universally admired in the world. Don't laugh, it's true. And then it changed, pretty much overnight. Author Joshua Muravchik provides the historical reasons for this in his new book
Making David into Goliath: How the World Turned Against Israel
. Spoiler: The Arab nations effected this reversal by making the shrewd decision to
sign up with the transnational global Left after they had their butts handled to them in the 1967 Six-Day war
:
However, after winning that war, Israel was no longer seen as existentially imperiled in a struggle with the whole Arab world. Yasser Arafat and his Palestine Liberation Organization (PLO), with the sponsorship of Maoist China and the Soviet Union, gained a place on the global revolutionary left by refashioning their cause from a pan-Arab effort to annihilate Israel progressive movement for liberation.
Judith Butler, a professor of "critical theory" whose books on gender, queer studies and feminism are widely assigned in American universities, declared, "understanding Hamas/Hezbollah as social movements that are progressive, that are on the left, that are part of a global left, is extremely important."
This is, of course, why you get mind-bending anomalies such as 'Queers For Palestine.' "So, tell me exactly why you're supporting the cause of people who want you dead?" I very much enjoyed zombie's 2010 treatment of this phenomenon
here
.
___________
Everything happened in 1919, specifically at the WWI Peace Conference at Versailles. That's the thesis of
Paris 1919: Six Months That Changed the World
by University of Toronto historian Margaret MacMillan. Shorter MacMillan: Versailles was an old-school cluster-f:
Although President Wilson had insisted on a League of Nations, even his own Senate would vote the league down and refuse the treaty. As a rush to make expedient settlements replaced initial negotiating inertia, appeals by many nationalities for Wilsonian self-determination would be overwhelmed by rhetoric justifying national avarice. The Italians, who hadn't won a battle, and the French, who'd been saved from catastrophe, were the greediest, says MacMillan; the Japanese plucked Pacific islands that had been German and a colony in China known for German beer. The austere and unlikable Wilson got nothing; returning home, he suffered a debilitating stroke. The council's other members horse-traded for spoils, as did Greece, Poland and the new Yugoslavia. There was, Wilson declared, "disgust with the old order of things," but in most decisions the old order in fact prevailed, and corrosive problems, like Bolshevism, were shelved.
But of course they couldn't stay shelved. MacMillan argues that what happened in Paris set the stage not only for WWII (both European and Pacific theaters), but also the Cold War and the Mideast conflict. I'm not sure why Japan was at this conference, as I don't recall her involved very much in WWI, but her representatives were definitely there. Also present at Versailles was a young Chinese leader named Mao Zedong. Yes, he was there, too. Anyway, my pastor showed me this book earlier in the week, and he highly recommends it. I haven't read it, yet.
What I'm Reading
And speaking of China, I'm continuing to work my way through
Wild Swans: Three Daughters of China
by Jung Chang. I'm up to the Red Guards and the Cultural Revolution, and boy, are things getting ugly. Chang has nothing but contempt for Mao, who encouraged China's yutes to embark on a nation-wide spree of vandalism, destruction, and violence, and she succeeds in conveying a sense of the chaos and absolute madness of those days. Also, this was when the deification of Mao shifted into high gear. And now, it looks like Chang's parents, who are themselves high-ranking party officials in Sichuan province, are about to get clobbered as the great and glorious people's revolution has reached the "eating its own children" phase. As I said, it's ugly, ugly, ugly.
___________
This week, I've been feeding my inner nerd with
Curacao 1962: The Battle of Minds that Shook the Chess World
by GM Jan Tinman. The winner of this tournament earned the right to play the current world champion (in this case, Mikhail Botvinnik). Coming off of his big win in the interzonal tournament in Stockholm, 19-year-old Bobby Fischer was a favorite. But his performance was underwhelming and sub-par (he finished 4th) and in response, he wrote his famous 'The Russians Have Fixed World Chess' piece for Sports Illustrated where he accused Petrosian, Keres, and Geller of playing easy draws with each other while going all out against other players, Fischer in particular. Also that he saw the Soviet bloc players openly discussing the games in progress, including their own, which is a huge violation of tournament rules. I've always thought that Fischer was a drama queen whose exaggerations detracted from the kernel of truth embedded in his hysteria, maintaining, for example, that Korchnoi deliberately threw a game to Petrosian, which is complete bullshit, but his complaints about Curacao were taken seriously enough by FIDE, the international chess governing body, that it modified the world championship cycle, replacing the "royal rumble" candidates tournament with a series of individual candidate matches. Tinman's book discusses the Soviet collusion in playing strategy, but not their blatant, open discussion of in-progress games. Given Fischer's penchant for overstatement, I wonder how bad it really was. Bleg: by the way, does anyone have a copy of, or an active link to, Fischer's SI article? I couldn't find one, and searching the SI vault yielded nothing.
Hidden Treasure
Ever buy a used book and then find something in it by a previous owner, a personal bookmark, a receipt, maybe a dollar bill?
Well, you're not the only one
:
Be careful what you use as a bookmark. Thousands of dollars, a Christmas card signed by Frank Baum, a Mickey Mantle rookie baseball card, a marriage certificate from 1879, a baby's tooth, a diamond ring and a handwritten poem by Irish writer Katharine Tynan Hickson are just some of the stranger objects discovered inside books by AbeBooks.com booksellers.
Read the whole thing. What people put in books is really quite remarkable. Perhaps this is the inspiration for books like
Found: The Best Lost, Tossd, and Forgotten Items from Around the World
by
Davy Rothbart
that covers things found not only in books. Thanks and a years' supply of ampersands to moron 'Mike Hammer' for this link.
___________
So that's all for this week. As always, book thread tips, suggestions, rumors, threats, and insults may be sent to OregonMuse, Proprietor, AoSHQ Book Thread, at the book thread e-mail address: aoshqbookthread, followed by the 'at' sign, and then 'G' mail, and then dot cee oh emm. What have you all been reading this week? Hopefully something good, because, as I keep saying, life is too short to be reading lousy books.