Sunday Morning Book Thread 05-25-2014: Memorial Day Edition [OregonMuse]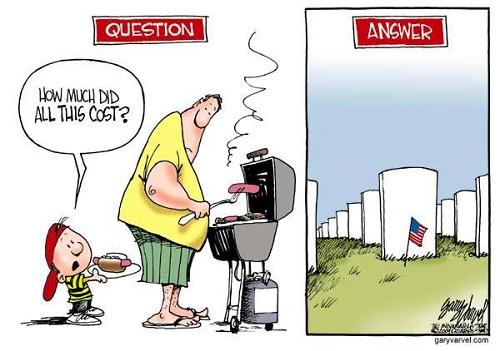 "We sleep safely in our beds because rough men stand ready in the night to visit violence on those who would harm us." --misattributed to George Orwell.
(interesting discussion of the misattribution
here
)
Good morning morons and moronettes and welcome to AoSHQ's stately and prestigious Sunday Morning Book Thread.
To Those Who Served
I thought this poem particularly appropriate for Memorial Day, for the veterans who have served and returned and are never again quite the same. "Back"
by
Wilfred Gibson
(1878-1962) They ask me where I've been,
And what I've done and seen.
But what can I reply
Who know it wasn't I,
But someone just like me,
Who went across the sea
And with my head and hands
Killed men in foreign lands...
Though I must bear the blame,
Because he bore my name.
Another Military History Book
This one came recommended by
BookBub
earlier this week,
This Kind of War: The Classic Military History of the Korean War
by T. R, Fehrenbach. I thought it was interesting that a number of Amazon reviews were by military men who were ordered to read it as part of their training. I am going to quote one of the reviews that notes that this book was originally subtitled "A Study in Unpreparedness":
T.R. Fehrenbach argues that the American armed forces were psychologically unprepared for the type of limited war that took place in Korea ("this kind of war"). The author questions whether the citizen-soldier and the society from which it breeds were willing to fight and die for an intangible foreign policy in Asia. Originally published two years before a full American commitment in Vietnam (1963), the author warns that this type of conflict will become the rule rather than the exception and America had better train a professional force both physically and mentally to deal with such future conflicts.
Sounds rather prophetic. So this book is not just a recitation of history, but also goes on to draw conclusions based on this history as to how it impacts U.S. foreign policy:
The author is adamant in his conclusion: "A nation that does not prepare for all the forms of war should then renounce the use of war in national policy." He adds: "A people [America] that does not prepare to fight should then be morally prepared to surrender. To fail to prepare soldiers and citizens for limited, bloody ground action, and then to engage in it, is folly verging on the criminal."
This is the question I've been asking myself for the past several years: Do we really want to fight a war on terror? Do we want to commit the lives of our young men and women for this purpose? I'm sure it was true just after 9/11, I'm not so sure now. If we're not committed to this purpose, then it is, in the author's words "criminal" to have our soldiers in harm's way. If most of us don't know what the hell they're doing there, we need to bring them home until such time as we can figure out what their purpose should be. Note: Fehrenbach served as an officer during the Korean War, and wrote a number of other books, particularly on the subject of Texas history. He passed away not too long ago, at the end of 2013.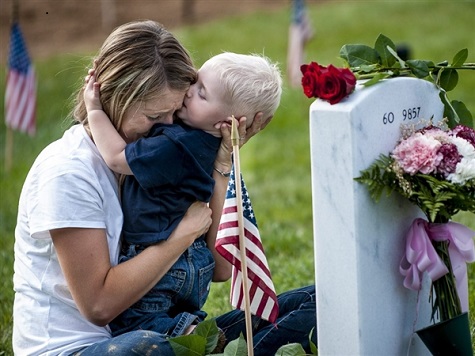 They shall grow not old, as we that are left grow old:
Age shall not weary them, nor the years condemn.
At the going down of the sun and in the morning
We will remember them.
From
For the Fallen
by Robert Laurence Binyon (1869-1943)
Garbage In, Garbage Out
The boss already covered this on Friday
, but it's book news, so I'm doing a repeat. It's look like Thomas Piketty's book,, that has had everyone on the
religious
progressive left shouting loud hosannas and singing praises to heaven ever since its publication, has used data that smells a bit off:
The data underpinning Professor Piketty's 577-page tome, which has dominated best-seller lists in recent weeks, contain a series of errors that skew his findings. The FT found mistakes and unexplained entries in his spreadsheets...there is little evidence in Prof Piketty's original sources to bear out the thesis that an increasing share of total wealth is held by the richest few.
We'll see how this develops. I remember the jubilation on the left when Michael Bellesiles' book
Arming America
came out, and then researchers started examining his supporting data, and the more that problems were found, the more his explanations grew increasingly lame, eventually descending to "the dog ate my homework" levels of inanity. Whereupon all of his left wing supporters, when they realized that the book could no longer be defended,
admitted their mistake and vowed that they would be more careful with such ideologically-laced research in the future
pretended the book never existed and moved on to the next progressive
cause du jour
. I don't know if Piketty's research is going to turn out to be as slipshod, but given the left's track record of latching on to dubious science (Carson, Erlich, Kinsey, Mead, etc.) I wouldn't be surprised if his data doesn't withstand close inspection, either. But, I could be wrong.
Trigger Happy
The British probably love running headlines like this:
US students request 'trigger warnings' on literature
. It probably just confirms their already-low opinions of Americans:
The request was formally made by the student government at the University of California in Santa Barbara, according to the New York Times, which yesterday also cited similar requests from students at Oberlin College, Rutgers University, the University of Michigan, George Washington University and other places.
The British don't think much of it:
"What do you decide is upsetting, and what actions does it leave you open to [if you get it wrong]? It's treating people as if they are babies, and studying literature is for grownups at university. You might as well put a label on English literature saying: warning - bad stuff happens here. Now, if you'll excuse me, I'm late for my mandatory Islamophobia sensitivity training."
Hey wait, how did that last sentence get in there? The point is, I think the Brits are far ahead of us on the politically correct BS, in particular, they've lately shown themselves to be world class pushovers in the face of aggressive Islamic cultural incursion, so I'm not sure their condemnation of American PC crap means much. But, in America, the PC crap does have its defenders:
Meredith Raimondo, Oberlin's associate dean of the College of Arts and Sciences, said that providing warnings was "responsible pedagogical practice", and that she objected to "the argument of 'Kids today need to toughen up'". "That absolutely misses the reality that we're dealing with. We have students coming to us with serious issues, and we need to deal with that respectfully and seriously," Raimondo told the US paper.
How about this: if it's too traumatic for some students to have to read grown-up literature written by grown-up authors for grown-ups audiences, they probably shouldn't be attending college. If they need assistance dealing with their life issues, they need to be at some place other than inside the American university system. And then it gets silly:
A draft trigger warning policy from Oberlin, quoted in Inside Higher Education, used Achebe's acclaimed text [Things Fall Apart] as an example of a work which might require a warning, saying the novel was "a triumph of literature that everyone in the world should read. However, it may trigger readers who have experienced racism, colonialism, religious persecution, violence, suicide, and more."
Colonialism? Really? How does that work? 99% of the human race would describe 'colonialism' as 'pretty much normal life that happens all of the time'. That's the second problem with 'trigger' warnings: there's virtually an endless number of them that could be extracted, kind of like those fast-spoken warnings at the end of pharmaceutical commercials: 'use of this product might cause dizziness-sore-throat-coughing-vomiting-diarrhea-blood-loss-hallucinations-depression-psychotic-episodes-uncontrollable-fapping-blindness-deafness-loss-of-human-speech-drowsiness-aches-pains-mental-retardation-sprains-heartbreak-of-psoriasis-and-methodists'. Bunch of crybabies.
British Library Online
Also from the UK Guardian
:
From the earliest known writing of Charlotte BrontŽ, a charmingly illustrated short story the Villette author penned for her little sister Anne, to Jane Austen's wry recording of an acquaintance's dismissal of Pride and Prejudice as "downright nonsense", the British Library has put 1,200 of its "greatest literary treasures" online in what is expected to become the biggest digital English literature resource.
You can find all these things on the British Library's
Discovering Literature: Romantics and Victorians
web page.
Gray's Anatomy
No, not the long-running TV show, I mean the classic medical textbook 'The Anatomy of the Human Body' by Henry Gray. This book, published in 1918, is known for its gorgeous engraved illustrations, over 1200 of them.
It is now available online
.
The Worst Book In The World
OK, so
this reviewer
claims to have found it. But he's not going to tell you what it is, or anything much about it. The reason?
And thus, while professional duty compels me to deliver judgment on the work at hand, I cannot in good conscience reveal the title, author, or any identifying details about its plot for fear that some perverse soul might be tempted to go out and buy it.
Alright, so the invitation here, I guess, is for the reader to play detective and try to figure out from the meager clues what book he's talking about. Either that or it's simply a parody of a book review, and there is no actual book. You decide.
Books By Morons
Moron commenter 'CTinDenver' wants everybody to know that his new science fiction novel,
Kali's Children
, has just been published. This weekend, it's going to be available for 99 cents on Amazon. A ship crash-lands on an alien world. The few survivors discover that all of the indigenous forms of life hate them and want to kill them:
From the red reeds that cover the land to the ferocious predators that fear nothing, every living thing on this world is highly intelligent... and utterly hostile. Violence is a normal part of life. Murder and war are nothing more than a means to acquire food. Kindness is unimaginably alien.

They must also keep their technology out of the hands of the barbaric monsters around them. For the planetís natives have learned that it is possible to leave their world, and out there among the stars is the most prolific source of food they have ever known: humans.
Sound like Harry Harrison's 'Deathworld' -- only more violent. 'CTinDenver' is also the author of other books, among them
Beyond the Sky
and
Seasons of Bliss
.
Books of Note
I picked this one up for later: a humorous "noir" detective novel,
This Doesn't Happen In The Movies
, now available for FREE on Amazon. From Kirkus Reviews:
The promising kickoff to Pawlish's comic mystery series, starring far-from-perfect PI Reed Ferguson. Pawlish earns high marks for plot construction, with twists and turns naturally unfolding as Ferguson, inexperienced but not incapable, feels his way through the case. A good-humored mystery series worth following.
I can't resist books when they give 'em away for free. Via
BookBub
.
___________
So that's all for this week. As always, book thread tips, suggestions, rumors, threats, and insults may be sent to OregonMuse, Proprietor, AoSHQ Book Thread, at aoshqbookthread, followed by the 'at' sign, and then 'G' mail, and then dot cee oh emm. What have you all been reading this week? Hopefully something good, because, as I keep saying, life is too short to be reading lousy books.