Sunday Morning Book Thread 01-19-2014: You Gotta Have Heart [OregonMuse]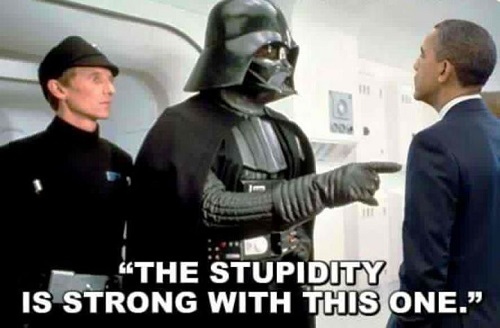 Dick Cheney Discovers The Lame Side Of The Force
Good morning morons and moronettes and welcome to the award-winning AoSHQ's prestigious Sunday Morning Book Thread.
He's Baaaaaaaak...
OK, so Dick Cheney has a new book out,
Heart
, which he co-wrote with his longtime cardiologist, Jonathan Reiner. It describes how he tears the still-beating hearts out of hippies and devours them while they are forced to watch. Har har. Actually, Cheney was born in 1941, which means that he was only 37 when he had his first heart attack. Yow, that's gotta suck. But it's not like it there was no reason for it. According to the
Weekly Standard review
of his book, in his early years, Cheney smoked like a chimney, ate poorly, and got no sleep or exercise. When his doctor told him he was a prime candidate for a heart attack, he refused to believe him. Until he had one.
In 1978, when Cheney suffered his first heart attack, he received essentially the same treatment President Eisenhower had had in 1955. Since then, cardiac medicine has been revolutionized, and Cheney has benefited from nearly every medical breakthrough. At each juncture, when Cheney faced a new health challenge, the technology was one step ahead of his disease. Cheney's story is in many ways the story of the evolution of modern cardiac care.
So there you go. The Weekly Standard review concludes:
In writing a book like this, with his vulnerabilities and unhealthy habits acknowledged quite frankly, Dick Cheney reveals a new public side. Perhaps this Cheney 2.0 can help counter the unfair-but-prevalent Darth Vader image he has among ideological critics.
Heh. This image is also cultivated, with glee, by his ideological supporters, particularly here at the HQ, based on the philosophy that it's better to be feared than loved. Also, to demonstrate that Cheney's critics are a bunch of pussies. I should email this Weekly Standard reviewer links to the several "True facts about Dick Cheney" threads we've had.
At a time when partisanship rides high, it would be interesting to see Dick Cheney and Michelle Obama team up to lend their voices and reputations to an event that supports healthy eating and living.
Yes, it would. That would be an interesting display of bi-partisanship. But, dude. This is the most partisan administration I have ever seen. Obama's idea of "bipartisanship" is both Democrats and Republicans agreeing with him.
That may not happen, but Heart will remind readers of Dick Cheney's humanity and his long service to the nation.
Considering all that's gone wrong with his heart, it's amazing that Cheney is alive at all. But you know that the orgy of hatred that will erupt from the left when his heart finally gives out for good is going to be epic.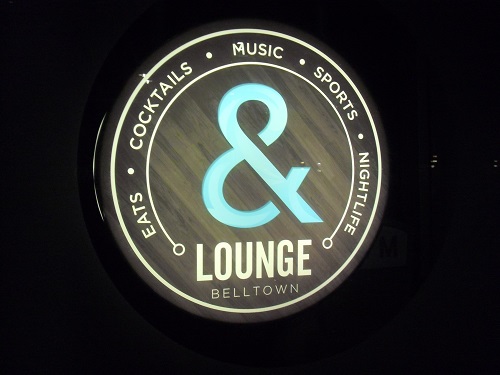 Where We AoSHQ Premium Members Get Our Ampersands
(Thanks to Sabrina Chase for the photo)
Books To Movies
Here is a list of 15 books set to become movies in 2014
. I haven't heard of many of them, but a few did catch my eye: The adaptation of the
first book in Veronica Roth's 'Divergent' series
is set for release in March. The main character is a teen-aged girl who comes in conflict with a totalitarian society, where people are grouped by personality types. It sounds like it could be 'The Hunger Games' of 2014. Another dystopian novel,
The Giver
, by Lois Lowry is about the conflicts that arise in a "perfect" society without pain or suffering. Featuring Jeff Bridges, Meryl Streep, Katie Holmes and Taylor Swift, this one will hit the theaters in August The adaptation of Gillian Flynn's bestselling thriller
Gone Girl
will star Ben Affleck and Rosamund Pike. From the Amazon blurb:
On the day of their fifth wedding anniversary, Nick's wife Amy disappears. There are signs of struggle in the house and Nick quickly becomes the prime suspect. It doesn't help that Nick hasn't been completely honest with the police and, as Amy's case drags out for weeks, more and more vilifying evidence appears against him. Nick, however, maintains his innocence.
The plot contains some abrupt twists that could make for an interesting movie. And speaking of dystopian societies, I thought
Child 44
by Tom Rob Smith looked very interesting:
Stalin's Soviet Union is an official paradise, where citizens live free from crime and fear only one thing: the all-powerful state. Defending this system is idealistic security officer Leo Demidov, a war hero who believes in the iron fist of the law. But when a murderer starts to kill at will and Leo dares to investigate, the State's obedient servant finds himself demoted and exiled.
Ha. See, there is no crime in the Soviet Union. None. We know this because Joseph Stalin says so, da? So Demidov has to go against the narrative and reveal some, uh, "inconvenient" truths. Tom Hardy, Gary Oldman, and Noomi Rapace will bring this book to life on the screen. And this is actually the first book of a trilogy.
Agent 6
is the sequel, and it concludes with
The Secret Speech
. And of course, the third
Hunger Games
movie,
Mockingjay
, will be released in November. Not mentioned in the article is Ridley Scott's adaption of the book of Exodus. I mention it because of it's eyebrow-raising casting choices: It will feature Christian Bale as Moses and Joshua will be played by Jesse Pinkman. Oops, I mean, Aaron Paul, the actor who played Jesse Pinkman in the recently concluded
Breaking Bad
TV series. Also, Sigourney Weaver as Tuya, whoever the heck that is. I don't know, this has the makings of a real stinkeroo, and I really don't trust Ridley Scott to get it right. But let us not be hasty, as a sentient vegetable once famously advised.
Story Bleg
Years ago, my high school English teacher, in order to illustrate a point, referred to a story that was about some young guy who took his first job as a menial laborer at (I think) a grocery store. On his first day, or shortly thereafter, he sees another employee being mistreated. This makes him angry, so he tries to fix the situation, and he is unsuccessful. Unwilling to be part of an organization where such injustice lives, he resigns his position and leaves. On his way out the door for the last time, he unties his apron and throws it down and then he observes "and then I realized that my life was going to be very difficult." Anybody know this story?
Books By Morons
Longtime moron commenter 'Jim' (who actually comments under a different nic) has a sci-fi novel coming out this week from Tor Books,
A Darkling Sea
:
On the planet Ilmatar, under a roof of ice a kilometer thick, a team of deep-sea diving scientists investigates the blind alien race that lives below. The Terran explorers have made an uneasy truce with the Sholen, their first extraterrestrial contact: so long as they don't disturb the Ilmataran habitat, they're free to conduct their missions in peace.
But of course, somebody goes and effs things up. A deep-sea guerrilla war erupts, cultures collide, and no one knows how it will all turn out. It's available
on Kindle
, too.
___________
Moron commenter 'red' recommends
Nightmare Range: The Collected Sueño and Bascom Short Stories
by Martin Limón. Limón's main character is
George Sueño, a young Mexican American army detective stationed on the US 8th Army base in South Korea in the early 1970s, the heart of the Cold War. George and his investigating partner, the rowdy and short-fused Sergeant Ernie Bascom, are assigned cases in which the 8th Army has come into conflict with local Korean law enforcement—often incidents in which American soldiers, who are not known for being on their best behavior in their Asian host country, have committed a crime. George Sueño's job is partially to solve crimes, but mostly to cover top brass's backside and make sure the US Army doesn't look bad.
It's available
on Kindle
, too. But the Kindle edition is currently more expensive than the paperback.
___________
A few weeks ago, some of of you morons recommended
The Black Prism
, the first book in Brett Weeks 'Lightbringer' fantasy series. Since they had a reduced price on the Kindle edition, I went ahead and picked it up. I must say I'm enjoying it very much. The system of magic in this universe is based on light and the different colors of the spectrum, and only some people are able to tap into and make use of it. One of the main characters is thrown out into the world when his entire village is massacred. Only he's no hero, but rather a clumsy, awkward fat kid who needs to grow up quickly and discover who he is. I'm a little more than half way through it, and both the story and the character development is good. They had a deal on the Kindle version at that time, so I got it for cheap. Now I see the paperback edition is $13.95. Really.
___________
So that's all for this week. As always, book thread tips, suggestions, rumors, threats, and insults may be sent to OregonMuse, Proprietor, AoSHQ Book Thread, at aoshqbookthread, followed by the 'at' sign, and then 'G' mail, and then dot cee oh emm. What have you all been reading this week? Hopefully something good, because, as I keep saying, life is too short to be reading lousy books.