The Morning Report — 5/25/23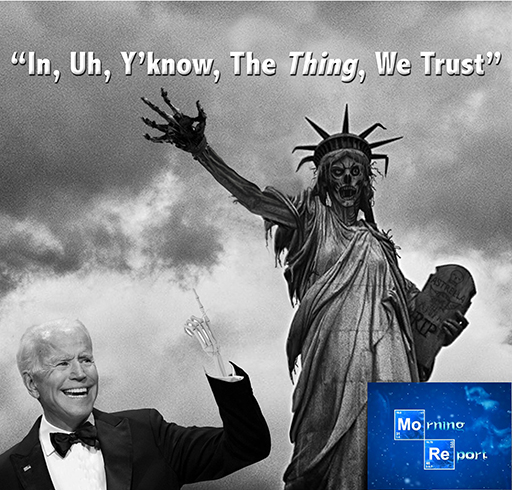 Good morning, kids. There's been much ink and pixels spilled in the past week or so with the release of the Durham Report, vis a vis its findings which both prove the fact that our law enforcement and intel communities conspired with our highest elected officials to sabotage their political enemies and worse, to recommend nothing be done about it. From useless schmucks like Sean Inanity Hannity who continue to insist it's a handful of bad apples that make the honorable rank and file look bad to decent pundits who in correctly identifying the FBI as a de-facto leftist/Deep State Stasi go all the way in calling for dropping a tactical nuke on the Hoover Building (rhetorically speaking, of course), they think that this will root out the corruption once and for all. Satisfying as that would be, at the end of the day, it's still the equivalent of treating leprosy with Bacteen. It's not that the FBI is corrupt. Or the FBI and the DOJ. Or the FBI, the DOJ and the IRS. All of it's corrupt.
ALL. OF. IT.
Biden launched his 2024 presidential campaign with an ad attacking Republicans for keeping a book featuring a 10-year-old performing sex acts out of schools. . . . . . According to Biden, whose [junta] had previously colluded to investigate parents rallying against sexualizing schoolchildren with graphic materials like these as domestic terrorists, anyone opposed to having 'Lawn Boy' in schools is a "MAGA extremist". While that assault on parents was stifled, under Biden, the Department of Education is launching a new attack. Last year, the Forsyth County School District in Georgia pulled "All Boys Aren't Blue", along with 7 other books from middle school shelves. It brought back all the books except 'Boys'. Now Biden is going after them. The Department of Education conducted a civil rights investigation accusing the school district of creating "a hostile environment for students based on sex" . . . . . .The school district launched its review after Mama Bears of Forsyth County made headlines by reading excerpts of the graphic materials being pushed on children at school board meetings. The materials were so shocking that the activist mothers were told to stop and one was banned from school board meetings. The Department of Education launched its investigation to aid supporters of sexualizing children, but found nothing to justify the false accusations of racial or sexual discrimination. But a mere lack of evidence of wrongdoing means nothing to a predatory woke bureaucracy. Even though no evidence to back up any civil rights violations was found, the DOE is not giving up. Its investigation letter contends that the act of screening books intended for middle school children for graphic sex acts "created a hostile environment for students" because "board meetings conveyed the impression that books were being screened to exclude diverse authors and characters, including people who are LGBTQI+ and authors who are not white." Just trying to protect children from pornography and racism is discriminatory, even if not a single discriminatory act can be shown to have occurred, simply because the local leftists say so. The Department of Education's position is that being accused of something by the Left is inherent evidence of guilt. And that there is no way to disprove that guilt. That's not just lawfare: it's cancel culture backed by the full ruthless power of the federal government. . . . . . The Department of Education, the NAACP, and the ACLU, and their corporate leftist allies, are well aware that they are using identity politics as a shield for brainwashing children with destructive racist and sexual ideas. And they are countering parental pushback by suing schools to intimidate parents into backing down and letting their children be destroyed. It is unlikely that this wave of lawsuits was not coordinated. Governments, corporations and charities are just fronts that leftists weave together into a single oppressive war machine. The parental uprisings in Florida, Georgia and South Carolina, along with the rest of the country, are being met with lawfare by some of the most powerful forces in the country, including the United States government, the ACLU, with assets of three quarters of a billion dollars, and Bertelsmann, a massive multi–billion dollar publishing monopoly, determined to crush them.
Now you understand what I meant when I said "all of it." Every office of every department of every bureau of every agency in Washington D.C., every blue state capital, every blue city and town hall and increasingly quite a few red states have become weaponized as tools of political repression. Whatever title is on the masthead of the stationery, it now takes on a completely Orwellian definition. All I have to do is write the words "Department of Justice" and if you got a simultaneous chuckle and aneurysm, then you get the point. The problem is that institutions, bureaucracies, systems and a functioning, thriving civil society are nothing without, as Adams said "a God-fearing people" to populate them and subsume their own personal political preferences to ensure their preservation. It is quite clear that the vast majority of people in the bureaucracy are not and do not. They are the source of the corruption. Oh for sure, there is likely a substantial number of people in government who are not openly and stridently supporters of the junta. But if these people go along to get along, then they're a part of the problem. The whistleblowers coming forward and enduring hell on earth while likely having ruined their lives (if not put themselves and their families in danger of physical retribution -
click here for Philip Haney who I believe was liquidated by the Junta for exposing Islamism in the US and thereby embarrassing the FBI
) are the exception but they are too few and far between. As someone once brilliantly said, "the system isn't corrupt because corruption is the system." This didn't happen overnight or with the coming of Obama or even in the wake of 9/11/01. This has been going on for decades, perhaps dating back to the end of the Second World War. The only reason we see it now is, ironically enough, with the emergence of Donald Trump in 2015. Say what you will about his accomplishments and his foibles. The greatest achievement and service he did for this nation was the exposure of this Corrupt-ocracy just by his mere presence and intention to drain the swamp. And that ironically was his greatest failing – not realizing that the swamp was the size of the Pacific Ocean and even deeper and darker by orders of magnitude. That too for many of us, myself included, was our greatest failing. And in that light, Ron DeSantis' announcement of his candidacy on Twitter actually broke the internet. All well and good, and sadly, not so good in that it brought out the beast in Trump. Forgetting that for a moment, even with the self-evident fact that America as it was, or as we thought it was or operated on the surface, is no more, we still have elections and the appearance of regular order, when we are so far removed from that it's frightening.
While that goes on, people are still being persecuted and rotting away as political prisoners.

Just the News reported that Christopher Grider, 41, a participant in the Jan. 6, 2021 protest at the Capitol has been sentenced by federal judge Colleen Kollar-Kotelly, a Clinton appointee, to 83 months (almost 7 years) in prison, followed by 36 months supervised release, plus restitution and a fine. Judge Kollar-Kotelly, 80 years old, is a senior judge on the DC District Court appointred by Bill Clinton. She formerly served on the FISA Court. Here are the opening paragraphs on the report of this vindictive sentence: "Christopher Grider, 41, of Eddy, Texas, pleaded guilty in December 2022 to two misdemeanors and was found guilty on seven counts related to his actions during the Capitol riot. U.S. District Judge Colleen Kollar-Kotelly sentenced Grider Tuesday to 83 months in prison followed by 36 months of supervised release and ordered him to pay $5,055 in restitution and an $812 fine, court documents show. "After entering the Capitol, Grider pressed buttons on a utility box and yelled, "Turn the power off!" prosecutors said. He also waved more rioters into a hallway outside of the House Chamber and then ran to the Speaker's Lobby door, where he pushed on the door and gave his helmet to another rioter, who proceeded to break the door's windows. 
"Grider was seen backing away from the door as people in the crowd yelled, "gun," before a police officer fatally shot Babbitt, officials said. Grider held his phone over a stairway to apparently try and capture a video or pictures of Babbitt as she bled on the floor. One might fairly infer that this harsh sentence was handed down because Christpher Grider dared try to get images of fatally wounded Ashli Babbitt "as she bled on the [Capitol] floor." The Grider sentence was disclosed the same day that Gov. Ron DeSantis announced his 2024 candidacy for president, and the day after Sen. Tim Scott declared his candidacy for president.  The concatenation of these events inspired the following thoughts -- First, that anyone seeking the 2024 GOP nomination for president pledge to review the sentences of the Jan. 6 political prisoners during the first ten days of this or her presidency and, pending pardons, commute every sentence to time served, and repayment of any fines or restitution extracted from these defendants.
That's for starters. In a sane world, Trump, DeSantis, Scottt, Ramaswamy and all the other candidates should issue a communiqué that states in unison their intention to do this, and much more. Sadly, that's a non-starter. Congrats to DeSantis, I guess.
CIVIL WAR 2.0: J-6 FBI FALSE FLAG "RIOT" & AFTERMATH, LEFTIST PERSECUTIONS, DEMOCRAT PUTSCH, AMERICAN DISSOLUTION
NOTE: The opinions expressed in the links may or may not reflect my own. I include them because of their relevance to the discussion of a particular issue. ALSO: The Morning Report is cross-posted at
CutJibNewsletter.com
if you want to continue the conversation all day. Follow us on Twitter:
@CutJibNews
Follow us on Instagram:
@Cutjibnewsletter
TIP JAR
:
Your support helps keep the lights on and is truly appreciated. Note: We are on Stripe, not PayPal.
Posted by: J.J. Sefton at
07:50 AM
MuNuvians
MeeNuvians
Polls! Polls! Polls!
Real Clear Politics
Gallup
Frequently Asked Questions
The (Almost) Complete Paul Anka Integrity Kick
Top Top Tens
Greatest Hitjobs
News/Chat