Quick Hits
Update: Transgender Killer Confirmed; Left Behind a "Manifesto"
Noted leftwing flake and frequent Allahpundit-linkee Aaron Rupar posted a completely faked, photoshopped image, supposedly a picture of a page from official Florida teaching materials. Again, it's completely fake, but that's how Aaron Rupar has always rolled.
It was linked by leftwinger and fake "historian"
Kevin Kruse, who also rolls that way.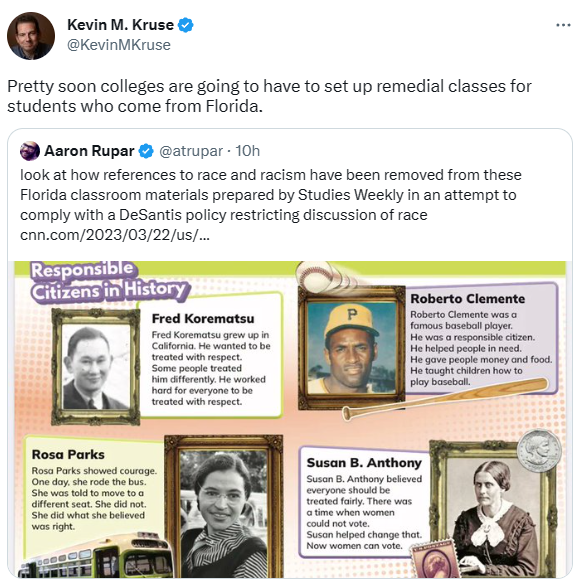 PoliMath
@politicalmath Two separate worlds, two separate sets of facts This image is fake, it is not what is taught in Florida schools Most on the left will never know this. It spreads in their social circles and becomes their truth
For Marxists, their propaganda is fact, and your facts are propaganda.
Agatha Christie is the next classic novelist whose words will be censored for the sake of "modern sensibilities."

Agatha Christie is the latest bestselling novelist to get the rewriting treatment for 2023 readers, according to a British newspaper. The bestselling novelist in the world, Christie created enduring popular sleuths Hercule Poirot and Miss Marple, and the Daily Telegraph reports that new editions of both these series have had original passages amended or removed by publisher Harper Collins. The Telegraph states that digital versions of new editions of the books written between 1920 and 1976 (the year of Christie's death) include text stripped of "descriptions, insults or references to ethnicity, particularly for characters Christie's protagonists encounter outside the UK." For example, in the book Death on the Nile -- published in 1937 and recently remade for the big screen by Kenneth Branagh -- references to "Nubian people" have been removed, as have several references to non-British characters' physiques. The word "local" replaces "native" A line in Christie's debut novel The Mysterious Affair at Styles which has Poirot commenting on a character being "a Jew" has gone. And Christie's narration and sections of dialogue uttered by unsympathetic characters have also been cut, according to the newspaper.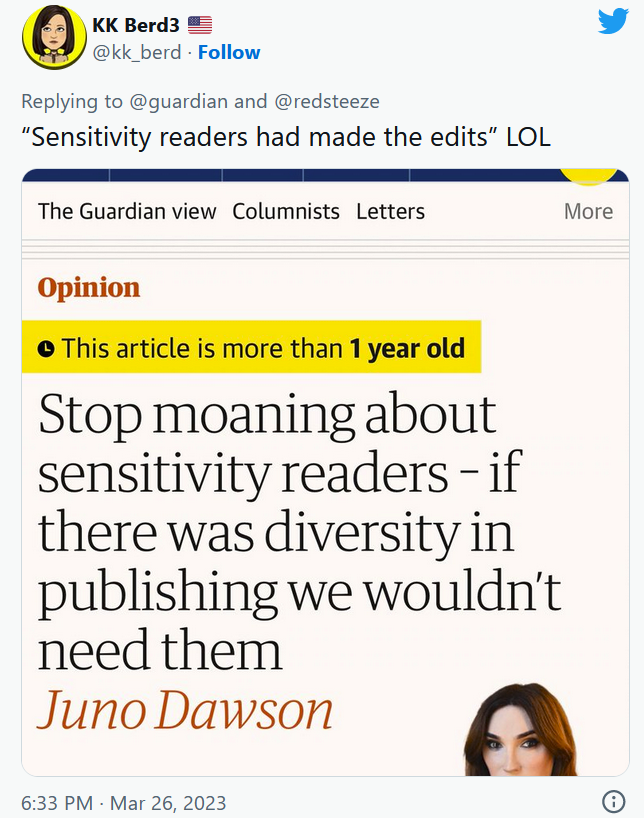 Equality 7-2521
@Prometheus_Ego Why is Ron DeSantis doing this?
Meatball Ron is always up to something. Has-been former writer Joyce Carol Oates, who Twitchy amusingly dubs
a "Twitter hot-take machine," says that we might as well censor Agatha Christie, because Christie wasn't a serious writer who wrote about "sociological realism."
Joyce Carol Oates
@JoyceCarolOates Agatha Christie is not revered as a stylist, nor as a writer reflecting sociological realism; rather, her plots are clever & usually provide some sort of "twist." changing her language will hardly matter as it would in a more literary writer (Twain, Faulkner).

What a smelly old witch.
Someone, I think maybe Jim Treacher, wrote "Artists against art" in response to this attention-starved spinster. Flashback, 2021: the American Booksellers Association joins the Hitler Youth and
figuratively burns a book which the Maoists have decided should never have been published--
Irreversible Damage
by Abigail Shrier. They apologized for sending copies of the book to booksellers, as they always do with books to interest booksellers in buying them. They promised to "do better" in screening which books may be promoted and which ones must be figuratively burned.
Update:
The transgender killer left behind a manifesto.
Lt. Col. Bearclaw, aka Alexander Vindman,
slanders again.
He claims that Senator Ron Johnson had been pro-Zelensky before he took a trip to Moscow and was, it is implied, there recruited as a RUSSIAN AGENT by Vladimir Putin.
Chuck Ross points out that Johnson went to Moscow in 2018, a year before Zelensky was elected President. So the claim that he supported Zelensky before his trip to Moscow is a false derogatory claim of fact, and therefore slander.
Cool story, but Johnson went to Moscow in July 2018. Zelensky wasn't inaugurated until 2019. https://t.co/sIn1fNl4fE -- Chuck Ross (@ChuckRossDC) March 27, 2023
These people need to just start being sued. Constantly. They think because the leftwing ecosphere they exist in supports and promotes casual defamations agaisnt the out-group, therefore it's legally acceptable. It's not. CNN claims that if you ever post a meme containing a black person, you're guilty of racial "minstrelry" and
a newly-discovered nanogrievance called "digital blackface."
See, if you post a meme containing a black face, that's you effectively putting on black face and pretending to be black. And that's racist.

Maybe you shared that viral video of Kimberly "Sweet Brown" Wilkins telling a reporter after narrowly escaping an apartment fire, "Ain't nobody got time for that!" Perhaps you posted that meme of supermodel Tyra Banks exploding in anger on "America's Next Top Model" ("I was rooting for you! We were all rooting for you!"). Or maybe you've simply posted popular GIFs, such as the one of NBA great Michael Jordan crying, or of drag queen RuPaul declaring, "Guuuurl..." If you're Black and you've shared such images online, you get a pass. But if you're White, you may have inadvertently perpetuated one of the most insidious forms of contemporary racism. You may be wearing "digital blackface." What is digital blackface? Digital blackface is a practice where White people co-opt online expressions of Black imagery, slang, catchphrases or culture to convey comic relief or express emotions. These expressions, what one commentator calls racialized reactions, are mainstays in Twitter feeds, TikTok videos and Instagram reels, and are among the most popular Internet memes. Digital blackface involves White people play-acting at being Black, says Lauren Michele Jackson, an author and cultural critic, in an essay for Teen Vogue. Jackson says the Internet thrives on White people laughing at exaggerated displays of Blackness, reflecting a tendency among some to see "Black people as walking hyperbole." If you're still not sure how to define digital blackface, Jackson offers a guide. She says it "includes displays of emotion stereotyped as excessive: so happy, so sassy, so ghetto, so loud... our dial is on 10 all the time -- rarely are black characters afforded subtle traits or feelings." Many White people choose images of Black people when it comes to expressing exaggerated emotions on social media -- a burden that Black people didn't ask for, she says. "We are your sass, your nonchalance, your fury, your delight, your annoyance, your happy dance, your diva, your shade, your 'yaas' moments," Jackson writes. "The weight of reaction GIFing, period, rests on our shoulders." Why digital blackface is wrong [C]ritics say digital blackface is wrong because it's a modern-day repackaging of minstrel shows, a racist form of entertainment popular in the 19th century. That's when White actors, faces darkened with burnt cork, entertained audiences by playing Black characters as bumbling, happy-go-lucky simpletons. That practice continued in the 20th century on hit radio shows such as "Amos 'n' Andy." Put simply: digital blackface is 21st-century minstrelsy.
... And yet even with that definition, it's hard to figure out exactly what is and isn't digital blackface. This is the challenge that Elizabeth Halford faces. Halford, a brand designer, wrote an apologetic essay in 2020 about how she made a meme out of Wilkins' "Ain't nobody got time for that" catchphrase and sent someone a GIF of the singer Beyonce repeating, "I'm not bossy, I'm the boss." "I've engaged in digital blackface," Halford wrote." I've laughed at people of color on the news facing horrifying crime and disaster and loss. I've appropriated Black trauma as punchlines and peeled their faces off to put on my own and say what I can't say, to make you laugh, or just because it went viral." Halford tells CNN she was bothered that she overlooked the context of Sweet Brown's interview. The woman had just experienced a tragedy. "I guess we find it funny, the way (Black) people tell their story with so much flair," she says. "but at the end of the day, one woman's apartment building burned down while she was in bed."
... Besides, Halford says, if she refrains from using any Black memes, she runs into another problem: "Those are the most effective, because White people are so boring," she says.
I'm glad that we're stamping out the serious racism of people posting pictures of black people to react to news, while ignoring the completely-unserious racism of constantly deriding white people.

Jackson, in her Vogue essay, acknowledges it can be hard to know where to draw the line. "Now, I'm not suggesting that white and nonblack people refrain from ever circulating a black person's image for amusement or otherwise..." she writes. "There's no prescriptive or proscriptive step-by-step rulebook to follow, nobody's coming to take GIFs away." But no digital behavior exists in a deracialized vacuum, she says. A White person can spread digital blackface without malicious intent. "Digital blackface does not describe intent, but an act -- the act of inhabiting a black persona," she adds. "Employing digital technology to co-opt a perceived cache or black cool, too, involves playacting blackness in a minstrel-like tradition.

So this is all cultural appropriation, huh? I can't wait until the Racial Grievance Development Squad reads a book and discovers which race is mostly responsible for the invention and evolution of computers and the internet, as well as meme culture generally. But they'll say you can't steal from White Culture --
because whites don't even have a culture.
Here's
noted documentarian of sociological realism in Peruvia,
Touré, dismissing the existence of white culture in a different context.
Toure
@Toure What about your white American heritage are you proud of @NorthernBelle1_
? It shouldn't be a hard question. Unless it is. https://twitter.com/NorthernBelle1

Denying that an entire race has any culture at all is a particularly disgusting and blatant form of racism. But this claim is made to allow black racists to cry about cultural appropriation while continuing to enjoy all the advancements that white culture has brought them. They just claim whites do not have a culture to steal from; all the things whites have done are just part of the common culture, available to anyone. But if you post a meme with Michael Jackson eating popcorn, you're engaging in 21st-century minstrelry.
John Kerry continues insisting that his private planes aren't contributing to climate change because he pays foreigners to plant some trees from time to time. He also claims that his private planes are commercial flights -- because he's chartering them. He's making the claim that only if a plane is in owned by you is it truly private. If it's a chartered jet company which charters flights for the ultra-wealthy, well, then they're engaged in a commercial, not personal, aviation enterprie, and that makes these flights "commercial."
On the other hand, French president Macron seems to be the victim of a false attack.
Apparently he took the watch off because he kept banging it on the table as he spoke. And the watch is not worth "80,000 euros."
It's an expensive watch, but expensive in the more reasonable range for a rich guy's watch, about 2,400 euros/$2,600.
It's a variation of this watch.

In fact, according to French media reports, the watch in question is made by the French manufacturer Bell and Ross, costs somewhere between €1,600 and €2,400, and Macron has brandished it in other public appearances and photo shoots. French news channel BFMTV debunked the €80,000 figure in its analysis, concluding instead that the watch is a variation of the Bell and Ross V1-92 Blue Steel, which typically sells for €2,400.