The Morning Report — 3/17/23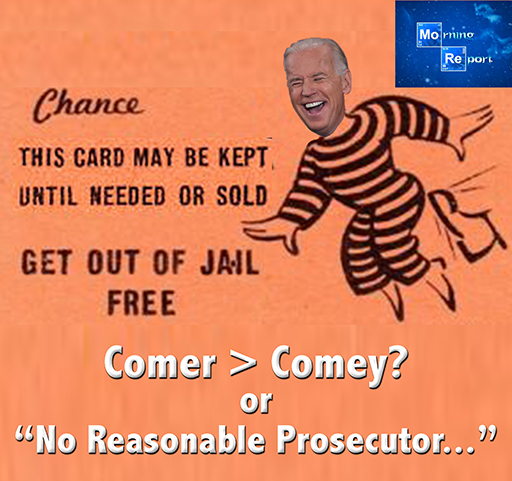 Good morning kids. Yet another one of those completely unsurprising, yet thoroughly enraging revelations comes as Rep. James Comer's – not ever to be confused with James Comey – committee confirms that
the phrase "Biden Crime Family" is indeed both figurative and literal
.
House Oversight Committee master-blaster Rep. James Comer (R-Ky.), who is digging — successfully — into the Biden family's alleged influence peddling, believes there may be more than half a dozen Bidens leeching cheddar from the tens of millions of dollars sent to family members by people with ties to the Chinese commies. "At the end of this, I think we're gonna see there are probably six or seven Biden family members who were involved in various business schemes around the world," Comer revealed to Fox News's Laura Ingraham. Comer did not name names, but he recently mentioned that a "new Biden" had dipped his or her beak — for the first time — into a $3 million payment sent to Hunter Biden lackey John "Rob" Walker. Walker received this payment from two people with ties to the Chinese Communist Party (CCP). He then distributed the cheddar to three members of the Biden family. Comer further stated that, though he had bank records in hand via subpoena, he had no idea what the $3 million payment was for. He wasn't done spilling Biden family secrets, either. He further told Ingraham:

So this just shows how deep the Biden family was involved in this influence-peddling scheme. It looks to me like these people, who are closely aligned with the Chinese Communist Party, sent $3 million to a shell corporation, then they turned around and split it three ways with a third going to the Biden family – three different family members for no apparent reason. They didn't invest it in a business. They just, it appears, stuck it in their pocket.

. . . Rep. Comer's Oversight Committee is a thorn in the side of the Biden family, but what can we expect to happen? Democrat fat cats — like the Clintons — always seem to walk away unscathed from allegations of wrongdoing. But this Oversight Committee investigation might be different. As per Comer, up to seven members — thus far — of the Biden family might be involved in the alleged influence-peddling scheme. And with the known links between the Bidens and tens of millions of commie dollars that Comer claims he has found, this might become too big to hide.On the other hand, does the nation really want to see the inauguration of President Harris? One thing we do know is that the Biden family is finally against the ropes. When—not if—they fall, the world will see the Bidens' ties to the Chinese commies who are trying to conquer us. I think the word for that is treason. According to my history books, commies don't go down easily. As their walls close in on them at this historical point in our nation's existence, we can only expect the bolshies to roll up their sleeves and fight their hardest.
Style points to author Kevin Downey Jr. for mentioning Kamala Harris and the phrase "go down hardest" in the very next sentence. But the salient point is what, if any, real punishment will any of these bloodsucking, criminal scumbags actually face? It's not merely that the entire governmental-judicial-legislative system is corrupt. It's that it's been this way to such an extent and for such a long period of time that it allowed someone like Joe Biden to actually lie, cheat and steal up the ladder for over 50 years now. And he's not alone, as even a cursory scan of Congress on both sides of the mythical aisle will indicate. We have a two-tiered justice system that is now weaponized to hound, persecute and crush anyone perceived as a threat to the 100-plus year revolution that overthrew America as founded, while at the same time letting everyone from violent criminals and Leftist political terrorists to Democrat fraudsters and cronies either completely skate or get a slap on the wrist so mild as to not even burst a soap bubble. Beyond merely (!!!) the now institutionalized/legalized voting fraud machinery that I can predict will not allow whoever the GOP nominee might be to win come Election
Season
2024-2025, even if he does manage to overcome it and win, the entire federal bureaucracy, state bureaucracies, most of the courts, the whorehouse propaganda media and now a large percentage of the formerly private sector will sabotage or commit overt acts of insubordination to stop any attempt to denude them of power and reverse course. That is, if Generalissimo Vanilli Milley doesn't stage a Democrat/RINO-led coup to arrest him and declare the election illegitimate in case the Joseph Stalin vote-counters accidentally come up short while unloading ballots from the trunk of Al Franken's '76 LeSabre. Along with Donald Trump, the most egregious and continuing example of political persecution that still turns my stomach when I think that this banana republic bullshit is happening right here and right now are the innocent non-violent January 6 protesters who were caught up in the Democrat/DOJ entrapment plot. Between the Ukraine war set to touch off World War 3 and the American banking system set to collapse under the weight of D-I-E, E-S-G and good old fashioned regulatory-induced greed and fraud and on top of the Junta's driving the entire economy off of a cliff,
this little reminder yesterday from the estimable Lloyd Billingsley got lost in the sauce, and it really shouldn't have:
With the "insurrection" narrative unraveling, readers may wonder what an actual armed attack on the U.S. Capitol might look like. As it happens, the 40th anniversary of one is coming up this fall.  "Listen carefully, I'm only going to tell you this one time," a caller from the "Armed Resistance Unit" told the operator at the Capitol switchboard on November 7, 1983. "There is a bomb in the Capitol building. It will go off in five minutes. Evacuate the building." A Senate document, "Bomb Explodes in Capitol," describes what happened.  The caller warned that "a bomb had been placed near the chamber in retaliation for recent U.S. military involvement in Grenada and Lebanon." At 10:58 p.m. "a thunderous explosion tore through the second floor of the Capitol's north wing." The device, hidden under a bench at the eastern end of the corridor outside the Senate chamber, "blew off the door to the office of Democratic Leader Robert C. Byrd."  "The blast also punched a potentially lethal hole in a wall partition sending a shower of pulverized brick, plaster, and glass into the Republican cloakroom." The adjacent halls were virtually deserted, so "many lives had been spared." Later that night, the Armed Resistance Unit called National Public Radio and proclaimed, "Tonight we bombed the U.S. Capitol." The bombers "purposely aimed our attack at the institutions of imperialist rule rather than at individual members of the ruling class and government. We did not choose to kill any of them at this time. But their lives are not sacred and their hands are stained with the blood of millions."  In a Smithsonian magazine article headlined "In the 1980s a Far-Left, Female-Led Domestic Terrorism Group Bombed the U.S. Capitol," historian William Rosenau outlined the group's back story. The Armed Resistance Unit was part of the May 19th Communist Organization, named for the shared birthdays of Malcolm X and Ho Chi Minh, and dedicated to the violent overthrow of the United States government. According to Rosenau, the May 19th Communist Organization was the "the first and only women-created and women-led terrorist group," with leaders including Judy Clark, daughter of high-level Communist Party officials, Marilyn Buck, and Susan Rosenburg. . . . . . Rosenberg was sentenced in 1985 to 58 years in federal prison, but through a plea deal she escaped additional time for aiding and abetting a series of bombings at the U.S. Capitol, the National War College, and the New York Patrolmen's Benevolent association. After 16 years in prison, the veteran of the May 19th Communist Organization caught a break. On January 20, 2001, his final day in office, President Bill Clinton commuted Rosenberg's sentence. That drew criticism from New York Mayor Rudy Giuliani, Senator Charles Schumer, and law enforcement officials such as Bernard Kerik. As the former New York police commissioner told Fox News, "I'm sure she would have killed every single one of us if she could have." The FBI and Capitol Police did not prevent Rosenberg and her comrades from bombing the U.S. Capitol. The bombing was an actual crime, an act of political terrorism, so no need for false charges, altering or withholding evidence, and so forth. On January 6, 2021, the FBI had agents and informers at the Capitol Building. As the video reveals, the Capitol Police welcomed Trump supporters into the building. As Julie Kelly notes, some entrants behaved badly but none packed firearms, set off bombs, or anything of the sort. No police officers died from injuries sustained on January 6, and officer Brian Sicknick died of a stroke. The only shots fired came from Capitol Police officer Michael Byrd, who shot unarmed Air Force veteran Ashli Babbitt, as Kelly explains, one of four Trump supporters to die as a result of excessive force that day. Others found themselves denied bail, held in solitary confinement, and smeared as domestic terrorists. So far, they haven't gotten any favors from politicians in the style of actual domestic terrorist Susan Rosenburg. In 2011, Rosenberg published An American Radical: Political Prisoner in My Own Country.
"Worst attack on our precious democracy (*vomit*) since the Civil War, Pearl Harbor and 9/11 combined!" "Tucker Carlson and Kevin McCarthy are traitors and liars!" By the way, those women were either an offshoot of or otherwise allied to or associated with the Weathermen, later to become the Weather Underground. That group was led by none other than Bill Ayers who was "just some guy who lived down the block" from Barack Obama. But let's not go there. "After all," to paraphrase Don Emilio Barzzini, "We are not conspiracy theorists!" Have a good weekend.
ABOVE THE FOLD, BREAKING, NOTEWORTHY
"Twenty years ago, we invaded Iraq at the counsel of detached wonks who have always been too impressed with themselves."
A Litany of Pride

"This professor makes an excellent point: Academia is now anti-enlightenment. It's all about ideology." (hat-tip to commenter MTF - jjs)
What I Learned When Students Tried to Cancel Me

Julie Kelly: "As we approach the third anniversary of 
'15 Days to Slow the Spread' there remains no accountability and no assurances that it couldn't happen again."
A Haunting Anniversary
NOTE: The opinions expressed in the links may or may not reflect my own. I include them because of their relevance to the discussion of a particular issue. ALSO: The Morning Report is cross-posted at
CutJibNewsletter.com
if you want to continue the conversation all day. Follow us on Twitter:
@CutJibNews
Follow us on Instagram:
@Cutjibnewsletter
TIP JAR
:
Your support helps keep the lights on and is truly appreciated. Note: We are on Stripe, not PayPal.
Posted by: J.J. Sefton at
07:39 AM
MuNuvians
MeeNuvians
Polls! Polls! Polls!
Real Clear Politics
Gallup
Frequently Asked Questions
The (Almost) Complete Paul Anka Integrity Kick
Top Top Tens
Greatest Hitjobs
News/Chat