THE MORNING RANT: Punching Back Against ICE Vehicle Bans; Yes They're Coming for Your Gas Stove; A "Conservative" Thinker Is Perplexed By Empty Grocery Shelves
Punching Back Against the Gas-Powered Vehicle Bans
Bravo to the Wyoming lawmakers who introduced legislation to phase out
electric vehicles
in their state by 2035. It's a brilliant move to highlight the fact that freedom-lovers must push back as blue states and the federal government roll out bans on gas-powered cars, which are the engine of freedom. In fact, this Wyoming legislative action is pretty much what I proposed back in 2021.
To Counter Blue State EV Mandates, Red States Need to Start Mandating Gas-Powered Cars [Buck Throckmorton at AOSHQ – 9/27/2021]
It is imperative that Texas, other oil-patch states, and all freedom-loving states (hello Florida) start fighting back. If New York can pass a law mandating that 100% of all new vehicle sales are EVs, then Texas (and Florida, and Tennessee, and Louisiana, etc) can pass laws mandating that no less than xx% - let's say 90% hypothetically - of all new vehicle sales in their states must be gas-powered vehicles.
The Wyoming legislation is not likely to get passed into law, but it is receiving extensive media coverage.
Wyoming Lawmakers Say They Got What They Wanted With Proposal to Ban EVs [ The Hill – 01/17/2023]
State Sen. Ed Cooper (R), a co-sponsor of the resolution, said in a phone interview that the resolution is meant to show that a ban on gas-powered vehicles is an "assault" on Wyoming's oil industries and their way of life. He said sponsors got what they wanted by provoking a national conversation about bans on gas-powered vehicles, and that an actual ban on electric vehicles would be "ludicrous." "I think the thought of an electric vehicle ban is truly completely ludicrous, but it's no more ludicrous than a ban on gasoline powered vehicles," he said.
That is pretty much what I said too.
"In a sane world, consumers in every state would have the freedom of choice to buy whatever types of cars they want. But sanity has been lost, so a mandate to sell gas-powered cars in red states is necessary to ensure that consumers will still have the choice to buy something other than EVs.
But if this new "national conversation" doesn't get the left to back down on their efforts to ban gasoline-powered vehicles, then we need to ban their precious electric vehicles. They picked this fight. Let them play by their own rules and suffer the consequences.
*****
Yes, They're Coming for Your Gas Stove
Speaking of the left's obsession with banning gas-burning consumer goods, there has not been a "walk back" from the left about their desire to ban gas stoves. After Richard Trumka (Consumer Product Safety Commissioner) proposed a ban on gas stoves, there was the expected outcry from normal Americans, followed by Trumka's "walk back," followed by much celebration among the gullible that we had successfully pushed back and that our gas stoves were saved!
Consumer Safety Commission Walks Back Gas-Stove Threat amid Backlash [National Review – 01/11/2023]
No, our gas stoves are not safe. This was the left's initial salvo to let us know that the process has started that will lead to a prohibition on gas stoves. When new gas stoves are banned by bureaucratic decree in a year or two, we will have been softened up and we won't even be surprised. After that will come the hard deadline to replace all existing gas stoves, along with a federal assistance program of course. Our awful media is doing its usual self-contradictory work on behalf of the left, simultaneously arguing that no one is coming for our stoves, while also supporting the proposed ban. Oilfield Rando captured it perfectly, as he so often does.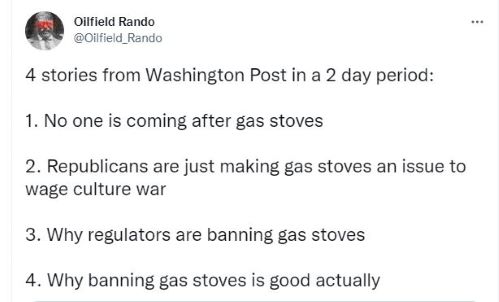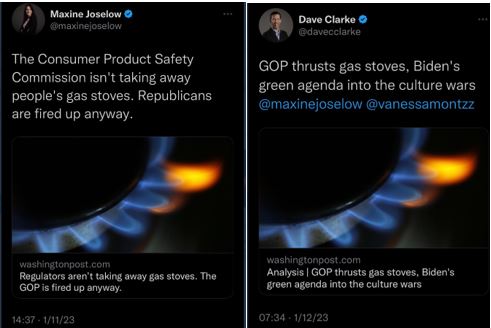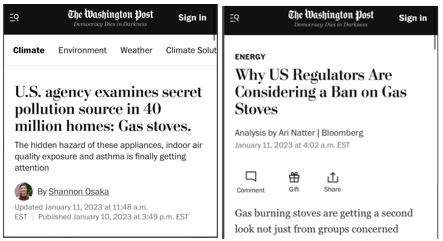 *****
Erick Erickson Ponders Empty Shelves
I'm not going to beat up on Erick Erickson for his transition from Christian conservative to "police-the-right" scold, I'm going to beat up on those of us on the right who ever thought he had any intellectual heft. This tweet almost makes me sad in its childish ignorance of economics.

"… so far removed from Covid."
I'm embarrassed for Mr. Erickson and I'm embarrassed that he ever had any pull in the conservative movement. Jesse Kelly, a brilliant man who takes immense pride in being a community college dropout, predicted back in spring of 2020 exactly what Mr. Erickson is puzzled about now. You can't just cut off "the invisible hand" of economic activity with a lockdown, then allow municipal officials to shut down "nonessential businesses", then pay millions of people not to work, then attack the fossil fuel industry which provides fertilizer and transportation, and then say, "OK, let's turn the economy back on," and then expect shelves to magically be full again. The functioning economy that was destroyed by our best and brightest had developed over many years to provide services, supplies, labor, transportation, etc at the wages and prices that would keep it all functioning. Many years of economic evolution led to the bounty of pre-Covid lockdowns. No person could ever design or command the economy to function as it did, but destructive, ignorant politicians had the power to quickly destroy it. And they did. Communists and Covidians think that shelves get filled when politicians give the command to allow it. So does Mr. Erickson, who is deeply puzzled why the shelves are empty despite our Covidian leaders giving the OK for economic activity to resume again after they had destroyed the economy. It's distressing, but shelves are often empty now because the golden goose of free market capitalism was killed by the Covid response. If government stays out of the way, and stops paying people not to work, and stops punishing farming and transportation, etc, etc, the shelves will eventually be full again. Eventually. But golden geese take a long time to evolve. (buck.throckmorton at protonmail dot com)
Posted by: Buck Throckmorton at
11:00 AM