The Morning Report — 9/28/22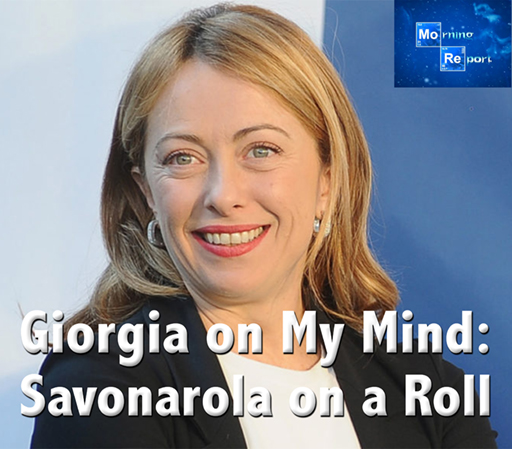 Good morning kids. Wednesday and if you needed an indicator that America as it was or how you imagined it is no more — as if stolen elections, organized political terrorism and official state persecution, rigged elections, an intentionally engineered economic collapse, censorship, and cultural dissolution and depravity didn't do the trick — maybe this might give you a hint that something is rotten in the state of Denmark. As a category 4 hurricane is bearing down on the Gulf Coast, Sponge-Brain Shits-Pants Biden spoke with a number of elected officials in the storm's projected path, but refused to talk with Ron Desantis. The putative "president" of the United States ignoring the governor of Florida as millions of citizens face a potentially massive natural disaster. Wow.
Finally, word came down from the Junta's mush-mouthed, Malveaux-muff-diving, mop-topped Marxist mouthpiece that the two finally did connect, though I imagine the conversation must have been a bit one-sided.
Perhaps that was the reason Biden was prevented from "talking" with DeSantis because the former's handlers feared the latter would make the most of what undoubtedly had to be nothing more than enduring the inchoate ravings of a demented vegetable. But I fear it's much more than just that. Florida stands in sharp contrast to the unnatural manmade disaster that is Democrat-controlled America. That is, the DeSantis miracle vs the Biden catastrophe of the past 20 months. Even worse to contemplate,
but given the blood-libeling from the Junta and its followers of red state America
, Biden couldn't be seen to talk with DeSantis on anything perceived to be common ground. During situations like this, politics is supposed to be completely out of the picture; at the water's edge during time of war, as it were. But we're now at war with each other. Take it a step further: Biden and the Junta
are actually rooting for Hurricane Ian
to leave behind the maximum amount of death and destruction in its wake, as a means to ding DeSantis, their perceived foe going into 2024. Worse, if it harms thousands of people whom they regard as lower than dog shit on the bottom of their shoes, even better. The Left has done this like clockwork whenever natural disasters hit red state American communities, mocking the concept of God's will, so you can bet your ass they're praying for a hit, to whatever golden calf, tree, or Moloch-du-jour they worship. I've often stated that post the stolen election of 2020 and overthrow of the last vestige of America as founded, we're in some sort of interregnum; a zombie-like state wherein we have the illusion of regular order even as everything crashes and burns around us. Take the notion of what is supposed to be a standard call between a president and a governor during a natural disaster and look at how DeSantis was treated. Now, put that in context with Joey's Independence Hall Nuremberg Rally speech wherein he condemned half the country as traitors and insurrectionists, a cancer that needs to be eradicated, "a clear and present danger." How the hell is Biden (if he even lasts that long) supposed to get up on national television walk to the middle of a stage and shake Ron DeSantis' hand before the first presidential debate? Now imagine instead of DeSantis, it's Donald Trump. As you ponder that scenario, there are encouraging signs everywhere, not least of which Ron DeSantis himself with his genius Alinskyite tactic of shipping illegal aliens directly to a Leftist heart of darkness and exposing them as the racist hypocrites they are. Another one that I don't want to get lost in the sauce are the flashes of sanity occurring on the European continent.
First, in Sweden and now in Italy with the election of Giorgia Meloni, the country's first female PM and more importantly, a Savonarola who is giving them hell over there. And as Harry Truman explained, "I don't give them hell. I give them the truth and they think it's hell."
"The issue of individual freedom, private enterprise in economy, educational freedom, the centrality of family and its role in our society, the protection of borders from unchecked immigration, the defense of the Italian national identity -- these are the matters that we preoccupy ourselves with." Of course, she's very firm on her beliefs and principles. As she said at CPAC 2022:

"We (conservatives) are proud of our identities, of what we stand for. We live in an age where everything it stands for is under attack: our individual freedom is under attack, our rights are under attack, the sovereignty of our nations is under attack, the prosperity and well-being of our families is under attack, our children's education is under attack. Faced with this, people understand that in this era, the only way to be rebellious is to preserve who we are, the only way to be rebellious is to be conservative. […] I see cancel culture fanatics in our institutions tearing down statues, tempering with books and comics, changing street names, accusing a shared history that they would like to rewrite. […] All of you in America and we in Europe, and our friends on all the other continents, are proud of our identities, of what we stand for. And we know that our opponent is operating globally, applying the same tactics and with the same ideology, to destroy our identities and what makes us who we truly are.  […] Only a few months ago, European bureaucrats wrote a document, hundreds of pages long, telling us that in order to be inclusive we have to exclude all references to Christmas, Jesus, Mary and that all Christian names should be removed from all communications."

Meloni concluded her speech with a quote from G.K. Chesterton, "'Fires will be kindled to testify that two and two make four. Swords will be drawn to prove that leaves are green in summer.' The time of that battle has come, but they will find us ready for the battle." . . . . . . It is well known that Meloni is not alone on this path. Apart from her closeness to Hungary's Viktor Orban, she is the president of the European Conservatives and Reformists (ECR), a political group in the European Parliament established in 2009 under the founding principles of the Prague Declaration. It includes Poland's ruling Law and Justice party as well as center-right parties on the rise in countries like Spain (Vox) and Sweden (Sweden Democrats -- which after the results of the 2022 Swedish general election is the largest member of Sweden's conservative bloc and the second largest party in the next Swedish parliament -- and Independent).
To be sure, there are significant differences between us and Europe's "conservatives" but putting aside the tortured appellations that have been abused and debased by so many, as well as differing world views between us and them, Meloni and others like her both here and abroad know and understand that the wolf is now at our throat. While the lights for sure are going out all over Europe, and here, the alarm bells are ringing loudly and it appears, I pray, more and more of us are responding. Please God.
CIVIL WAR 2.0: J-6 FBI FALSE FLAG "RIOT" & AFTERMATH, LEFTIST PERSECUTIONS, DEMOCRAT PUTSCH, AMERICAN DISSOLUTION
NOTE: The opinions expressed in the links may or may not reflect my own. I include them because of their relevance to the discussion of a particular issue. ALSO: The Morning Report is cross-posted at
CutJibNewsletter.com
if you want to continue the conversation all day. Follow us on Twitter:
@CutJibNews
Follow us on Instagram:
@Cutjibnewsletter
Posted by: J.J. Sefton at
07:27 AM