James Bond Producers: We're Going to Continue "Evolving" Bond "Just As Men Are Evolving," Showing More Emotional Growth and Offering "Meatier" Roles to Female Characters
Plus: Woke Hollywood Discovers a "New Movement"
Awesome. I know that's what every man is looking for in James Bond.
We love the New Soy-Filled Bond we've been getting.

Variety writes that Broccoli confirmed to them that the "humanizing of the once-womanizing spy and the ensuring of more fulfilling, meatier roles for the female stars of the franchise" done during her and her brother's handling of the franchise will "continue in the next films". "It's an evolution," asserted Broccoli, who in addition to serving as a James Bond producer is also the current director of the UK chapter of Time's Up. "Bond is evolving just as men are evolving. I don't know who's evolving at a faster pace."

Speaking of Woke Hollywood: OK, Groomers.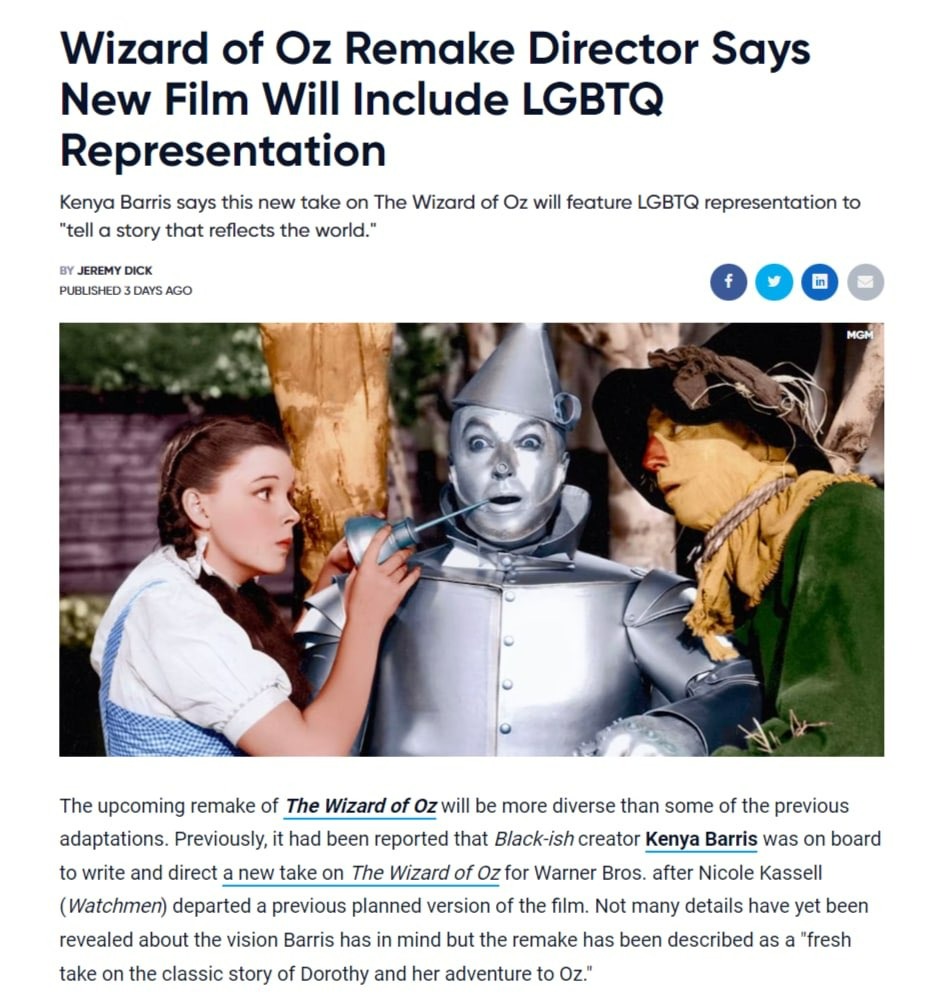 I mean, it has been historically understood to be a children's fantasy, but sure, let's make it for adult homosexuals:
A new Wizard of Oz remake is currently in the works by director Kenya Barris, who says that the new movie will feature plenty of LGBTQ representation. Barris also stated that the original movie was a reflection of what was going on in the world at the time, which was the Dust Bowl and The Great Depression, and now the current world events of LGBTQ representation will be one of the defining factors of his remake. According to Barris, "Now we're going to turn a mirror on where we're at right now and take disparate characters from the LGBTQ community, from different cultural communities and socioeconomic communities, and tell a story that reflects the world." This is certainly a different take on the Wizard of Oz, but one that many people are going to find quite exciting.
Actually, it's not as big of a deal that this is the "Gay Wizard of Oz" as you might think. As all these properties come out of copyright, there are going to be off-brand productions, like the
Winnie the Pooh horror movie Blood and Honey.
Once these things go out of copyright, anyone can make any version they like. They usually just can't use the proper name of the property, which is usually trademarked, because trademark, unlike copyright, can last in perpetuity. (The Winnie the Pooh movie will probably be sued into dropping the "Winnie the Pooh" part of the title, though they can still say it
in
the movie. They just can't identify the product by the trademarked name.) There's a
competing Oz remake which will be more faithful to the original, but without the music.
That version will be able to use elements that were created specifically for the movie -- such as the ruby slippers; in the novel, they were silver, I think -- because it's being made by Warner Bros., which made and owns the original. One of the reasons I was annoyed at the Gay Oz was that there are like 15 Oz novels and anyone with a brain in their head would be attempting to lay the groundwork for a long string of family-oriented, book-faithful (mostly) Oz-centered films. I imagine that that will be the goal of the "real" Oz project. So, there will be two different Oz movies for two completely different Americas. Does anyone get the feeling that we are splitting into two countries? What a smooth transition that was. Because WDWPro -- that stands for "Walt Disney World Professional," someone who says he's a Disney World insider with insider information --
says he spoke to a toy industry expert who told him the toy industry is now splitting between conservative and liberal.
Or woke vs. non-woke. Toys are major ancillary money-makers for Hollywood. And now that
Top Gun: Maverick
acquainted Hollywood with the crazy idea that masculine heroes and masculine virtues like patriotism, stoicism, courage and toughness could make money, the toy industry is splitting between the Woke and Post-Woke sectors.
A toy insider with major connections is reaching out to That Park Place again with impressive details. According to this individual, whom we have verified as being an expert within the industry, the toy market in North America is beginning to split into politically-based markets. The rise of "conservative entertainment" is how it is being termed with executives inside the industry, many of whom are bewildered by this "new thing." And what fits into this "conservative entertainment" segment of the toy industry? It may surprise you.

Actually it probably won't. But it will be fun to read anyway. So here are the "new criteria" defining the "new movement" of this "new type" of entertainment. It's so new you guys, you won't believe how new it is.
Here are some criteria that various studios and merchandising partners are working with in regards to what corporations believe is a new movement. And, according to the source, that's being driven in large part due to movies like Top Gun: Maverick having phenomenal returns that broke through the ceiling of what analysts believed was possible. * Patriotic * Military and law enforcement positively portrayed * Mostly if not all heterosexual, [redacted to protect site from algorithm damage] * No spotlight on alphabet issues
It's so new you guys. What an innovation it is, to have a two hour movie which doesn't focus on Alphabet Issues. I don't know what the redacted part is. Probably something like, "with actors who are the actual sex they're portraying, that is, no trans actors playing opposite gender."

* Marriage/family unit seen as positive institution; kids love and admire their parents, parents sacrificing for each other and their kids
It's like science fiction you guys. I think this might be the plan for a new Star Trek-style toy line you guys.

* Communities seen as unifying, institutions shown as positives * Multiple white males in cast, can be majority ; in leadership roles
Oh My God you guy the newness here, it's Future Shocking me.
* Feminine good looking women, masculine men * Hero archetype is intact * Fire arms not seen as inherently bad, can be shown as a means of protection
This may read like a parody, and maybe WDW Pro is getting punked, but WDW Pro is a legitimate journalist/blogger/muckraker. He himself would not spoof his audience.
In essence, this looks very similar to how the market dealt with entertainment and the United States at the end of the Cold War, during the eighties and early nineties.

Why yes it is -- it sounds very much like The Before Times. He writes that as one side of the toy market splits to market to "new movement," The Before Times market, the other side of the market will be liberated to chase the "old movement," the woke/alphabet people/feminist market that much harder.
Essentially, the market is doing what the market always does: it's searching for money. The problem in our current culture is that American is splitting into two distinct cultural groups... and there's no good way to unify those in media and merchandise. As a result, companies are going to begin separating their offerings into distinctly conservative and distinctly liberal properties. Sure, there will still be the Mickey Mouse brands that try to appeal to both sides, but as the source says, even Star Wars has been damaged by the bifurcation of the market.
Via Thinking Critical.
This is a toy guy, not a movie or TV guy, but he is part of the same schlock production chain that churns out this crap. He might not be in the center of The Media Blob, but he is part of one of its major Tendrils. His source has previously provided information on
how badly Marvel and Star Wars merchandise is doing in the marketplace
-- something that is confirmed by a lot of people -- and that the situation is so bad that
Disney is looking past its own brands, which are no longer top-of-line, to find the next "big thing."
They're even looking to acquire, maybe, the Next Big Thing out of Japan. Like, the next Transformers. Or a Manga property. Incredibly, Disney is now looking past Marvel to look for a
manga
property as its next cash cow. That's how well Phase 4 (or as Gary from Nerdrotic calls it, Stage IV) is doing.