As G4TV Slides Towards Bankruptcy, They Finally Fire "Frosk"
Okay we need a palate cleanser. That last thread was rough.
Here's the background for this story. A long time ago there used to be a cable channel called, I think, G4. It featured video game reviews. It also featured Olivia Munn, who was a fun and sexy girl, who understood her appeal was being fun and sexy, and enjoyed being in fun and sexy skits. They weren't usually funny, exactly, but it was fun to look at her.
I was only somewhat aware of G4 at the time, and I didn't even really know about Olivia Munn. When I did watch it, I watched X-Play, a videogame review show, which featured another sexy girl, who understood that sex appeal was part of her, um, appeal.
It was strange -- on rare occasions I would hear someone talking about the sexy girl on G4, and they would then say, "Olivia Munn." I was always like, "What? Who's that?
You mean Morgan Webb, don't you?
" It was only later that I discovered that
Olivia Munn was a real cutie-pie.
As you can see, G4TV rose to the top -- I mean, rose to about one third of the way down from the lower-middle -- of the cable pack by understanding that if young men like anything more than videogames, it's hot girls that flirt with them and pretend they have a chance. This is why videogame promoters employ booth babes. G4TV went out of business long ago, but Comcast attempted to bring it back as a zombie brand. They had Comcast's corporate backing and a lot of money behind them. I think they did have a cable channel, somewhere, but their main play was on the internet. I read that they signed Olivia Munn to come back -- they really needed that -- but she dropped out for some reason. Instead, they brought on... this creature.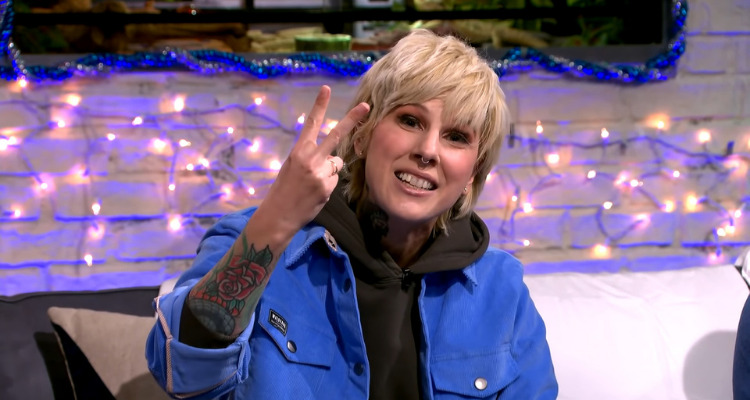 Obviously they were going in a different direction from Olivia Munn. Frosk is a loud, obnoxious SJW feminist without an ounce of humor in her. She is full of hatred and rants. She also sometimes works for China and defends China. G4 didn't get a lot of watches on YouTube despite the high budget and its promotion and brand name. And Frosk started to get criticized because despite having very dogmatic and firm opinions about
everything
-- like every leftwing feminist fatmouth -- she was a leftist SJW, by which I mean, she did not know what in the hell she was talking about. And I don't mean about politics. I mean she would make dogmatic pronouncements about basic things about games and game systems and get them completely wrong. You know, her supposed field of expertie. People would comment that she got them wrong, and she'd get angry. That spurred her to go on this tirade against
G4's viewers -- and remember, they didn't have all that many viewers.
She only briefly mentioned that bit about her getting a lot of things wrong, and then started insisting that everybody was always telling her how ugly and not-f***able she was, especially compared to the previous female hosts on G4.
Now, of course, being told that she's ugly and unbangable would be hurtful, and it's very rude to say something like that, but most people suspect that such comments were from a very small number of people, and she was elevating those comments in prominence in order to deflect from the valid criticism about her dogmatically ranting about this and that and being completely wrong about basic facts. The amazing thing was her defense: she decided to reveal that she shouldn't even be blamed for her errors,
because he didn't even play the games very much and didn't even write the scripts she read aloud on the air.
She announced that she had writers who played the games and wrote most of the script for her, and so they should be blamed. And she also revealed that that was true of
all
the G4 hosts, that none of them were primarily responsible for their reviews, and that none of them were playing these games except a little here and there to get a sense of them, but rather that the testers and writers were the ones actually playing the games and scripting the reviews, and the hosts were mostly just reading their scripts, with a little of their own commentary thrown in for spice. I mean... points for honesty, I guess. But it's a weird way to defend yourself for all of your errors.
Hey, these aren't even my errors! I have a team of people doing my homework for me! Blame these assholes for not doing my homework for me better!
She also shrieked that the prior female hosts of G4TV "were not here to be easy on the eyes for you" -- "Olivia Munn was not here to be easy on the eyes for you!" -- which just doesn't square with the prior evidence:
By the way, Munn hurt her knees badly on that. There was no padding under the pool and it was just concrete underneath. They really should have tested that before the show. But she didn't show the pain. She was a pro. She understood that, among other things, she was there to be easy on the eyes for the male viewership. A real pro. A
real
pro.
Cohost Adam Sessler -- that's that ugly-looking Gork that was standing next to Morgan Webb above -- gave Frosk the "clapping seal" applause for her Stunning and Brave attack on the audience.
Don't even get me started on this one. His entire Twitter thread is about how he wants to literally piss on his Republican relatives, and how he thinks all Trump voters should die.
It's just pages and pages of political hatred and very little about videogames and no promotion of his dying employer's website.
Since Frosk's rant, G4 has been hemorrhaging viewers and views, and therefore money. Last week, G4TV announced it was laying off staff. Gracelessly, rather than say a word of condolence her fellow employees who had just been fired --
and fired largely because of her selfish ranting
-- she instead chose to... flex, and brag that
she
wasn't fired. So take that.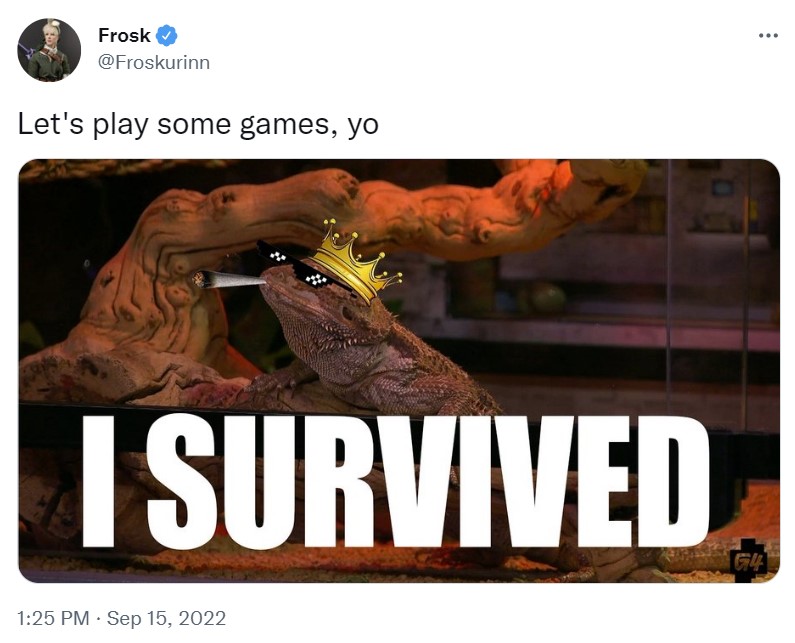 Well, it's now just a couple of days after that. I was just listening to the usual right-wing culture blogs today -- Yellow Flash, I think, for one. Or maybe Midnight's Edge. Anyway, one of them opined that they'd never fire Frosk, because she's "too protected." She's a woman, and she looks like her hair smells, and she's either some kind of lesbian or nonbinary or who the hell knows what. She has a nose-ring and a Problematic Hair-Cut. That should count for
something.
Well, when you're going bankrupt, no one's
fully
protected.

I will keep saying: SJWs, if you want to push your unpopular #Woke CRT poison on the public, you need to vote for Trump, or DeSantis. You need a booming Trump or DeSantis economy so that corporations are so flush with cash that they can limp along with the losses you're incurring them. In a Biden economy, you get fired. In a Biden economy -- in a recession -- they can't afford failure. They demand
profits.
I don't know what it's going to take before corporations
finally
turn away from woke propaganda. I don't know how many millions of dollars they will have to pour gasoline on to and set aflame before they finally realize that everyone hates wokeness. And I don't know how quickly I want them to realize it. I don't watch their horrible content any longer. But I am
extremely
entertained watching them lose millions and millions of dollars. Do you think the marketplace is being irrational in rejecting all of your beautifully elevated woke propaganda? Well, as Wall Streeters used to say: The market can remain irrational for far longer than you can remain solvent.
Update: Frosk is a lesbian.
She claimed:
"Straight men don't find me very attractive" -- Status:
True
so far -- "but let me tell you, I am the Brad Pitt of lesbians." Um... I don't think lesbians find this attractive. I mean, maybe some -- there is always someone out there for someone. But... I would not say this is "Brad Pitt level" generally-accepted-as-attractive wide appeal.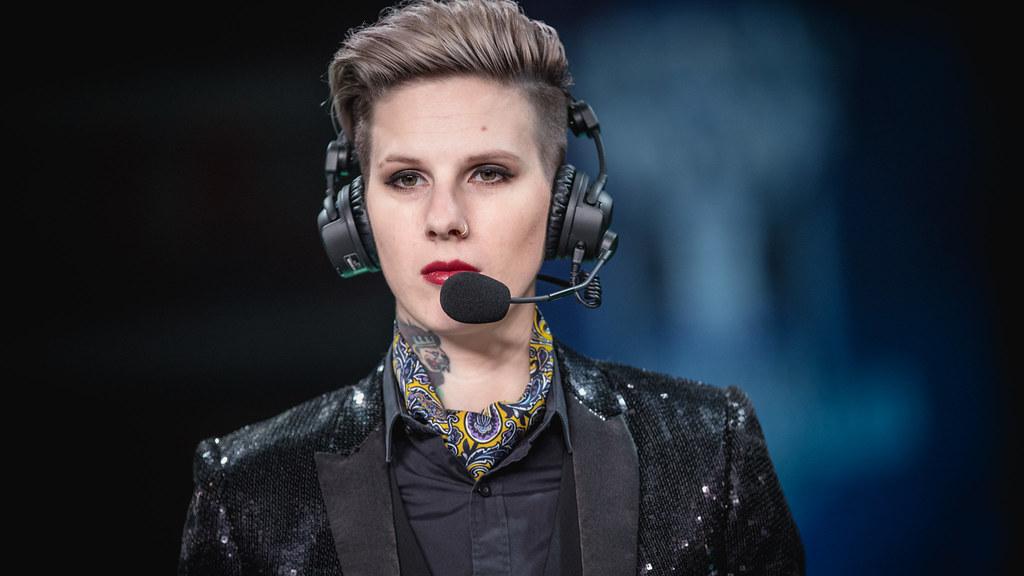 The only positive thing I can say is that... your ascot blends seamlessly into your neck-tattoo. I never thought I would write that, but there you go. See the right side of her neck. Her ascot blends smoothly into her neck tattoo. Is that a positive thing? I dunno. It's
a
thing though, certainly. Did she plan that? Did she get the neck tattoo to match the paisley ascot, or did she find a paisley ascot that just happened to match the neck tattoo? I dunno, it's a mystery. Or is her skin so sickly, new-chalk-shiny white it's just reflecting the ascot? One other positive thing: She had the guts to show up to Friday Night Tights and face down her critics.
(That's actually the absolute gem Chrissie Mayr doing her Froskbite impression. She has previously been linked for her Grace Randolph impression.)
The Rap Version,
thanks to pookysgirl.