Quick Hits
See the sidebar. Consider it a bonus Quick Hits entry.
Not-A-Recession Watch:
84 Off topic, the Atlanta Fed projected 2% GDP growth in Q3 at the end of July. Moved down to 1.5% at the beginning of the month. Moved down to .5% last week. Moved down to .3% today. Ten more days to go.
Posted by: Thomas Paine
Link here.
Latest estimate: 0.3 percent -- September 20, 2022 The GDPNow model estimate for real GDP growth (seasonally adjusted annual rate) in the third quarter of 2022 is 0.3 percent on September 20, down from 0.5 percent on September 15. After this morning's housing starts report from the US Census Bureau, the nowcast of third-quarter residential investment growth decreased from -20.8 percent to -24.5 percent. The next GDPNow update is Tuesday, September 27.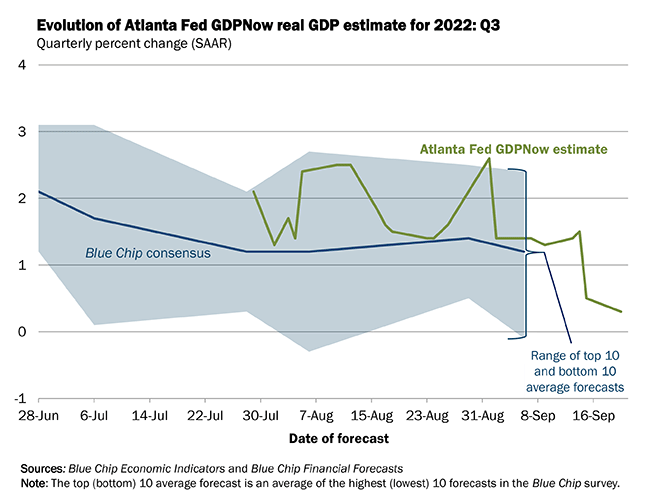 The Bidens were late to the Queen's funeral,
so they were seated in the "nosebleed seats," 14 rows back.
All because Not-President Joe need special accommodations in transport.
The leader of the free world was relegated to Westminster Abbey's nosebleed seats for Monday's funeral of Queen Elizabeth. President Joe Biden and first lady Jill Biden were seated 14 rows back for the service in what the British press described as the result of a complex seating plan devised under long-established protocols. Those with a better view included the president of Poland, the emperor and empress of Japan, other European royals and the King of Jordan.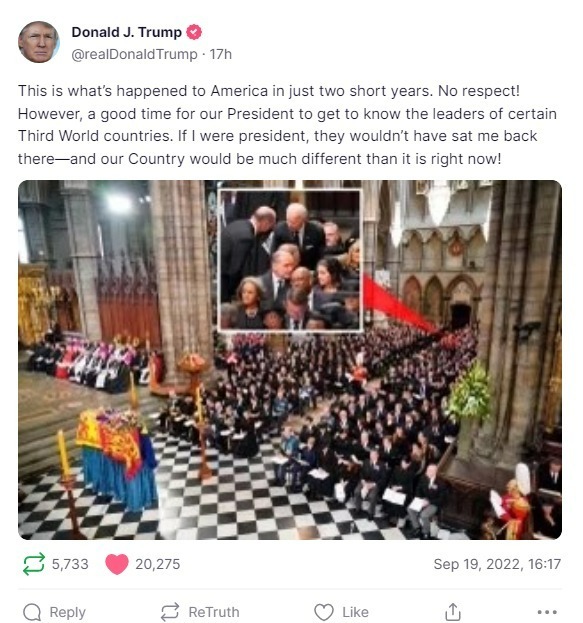 He got "stuck in traffic." Why didn't he leave earlier? Here's an idea: They didn't leave early because they know that Biden only has a certain amount of time, measured in 90 to 120 minutes, before he starts sundowning and showing obvious signs of mental infirmity. So they left late deliberately, because they couldn't take the chance of having Biden be caught in a place he couldn't easily escape from for hours and hours. And I think they
wanted
him near the back, where he'd draw less attention if he began sundowning. Bear in mind, he was jetlagged, so who knows when Sundown's sundowning would start. He also needed
a note-card to tell him what to write in the condolence book.
But he's the real president. He's totally fit for office.
Watch what he does!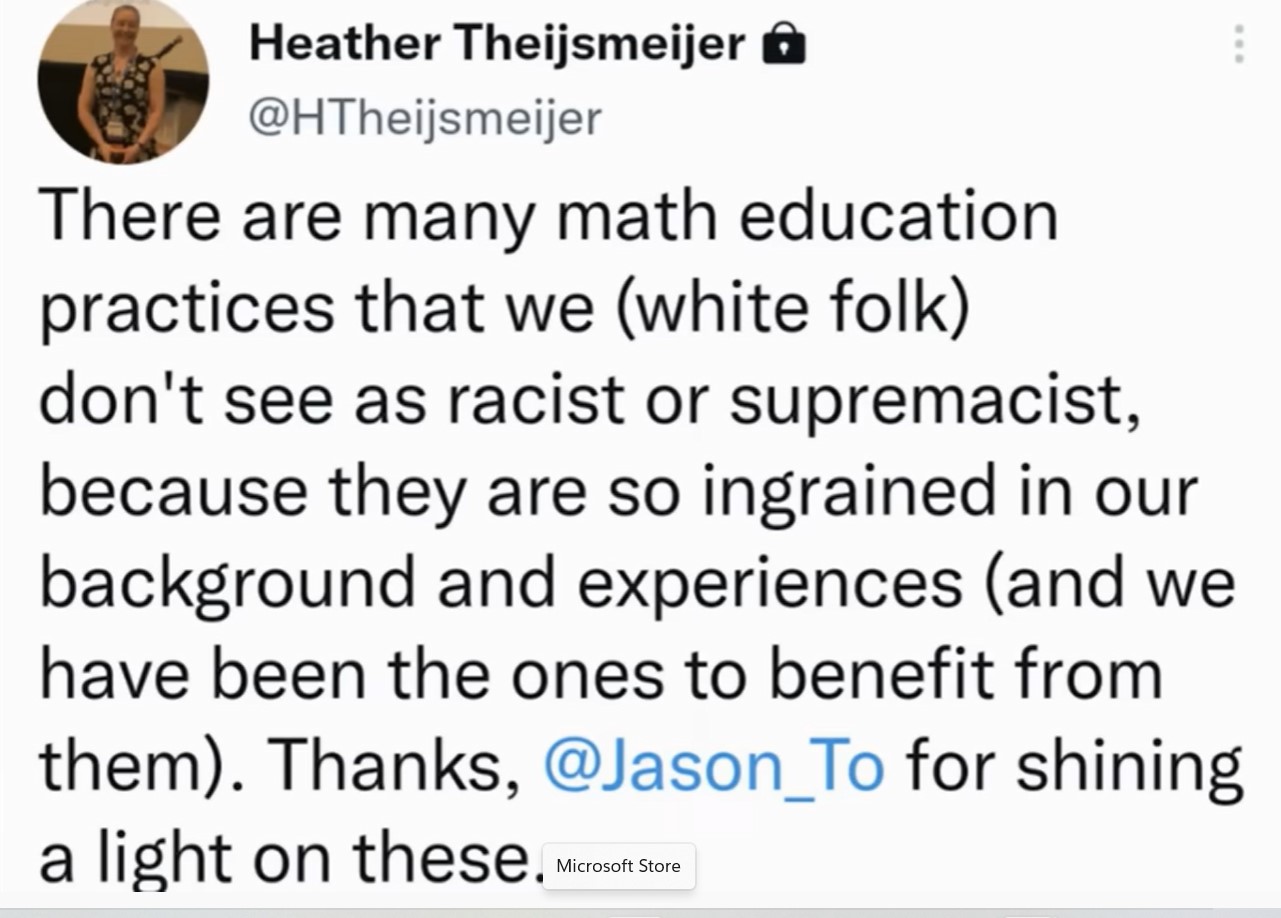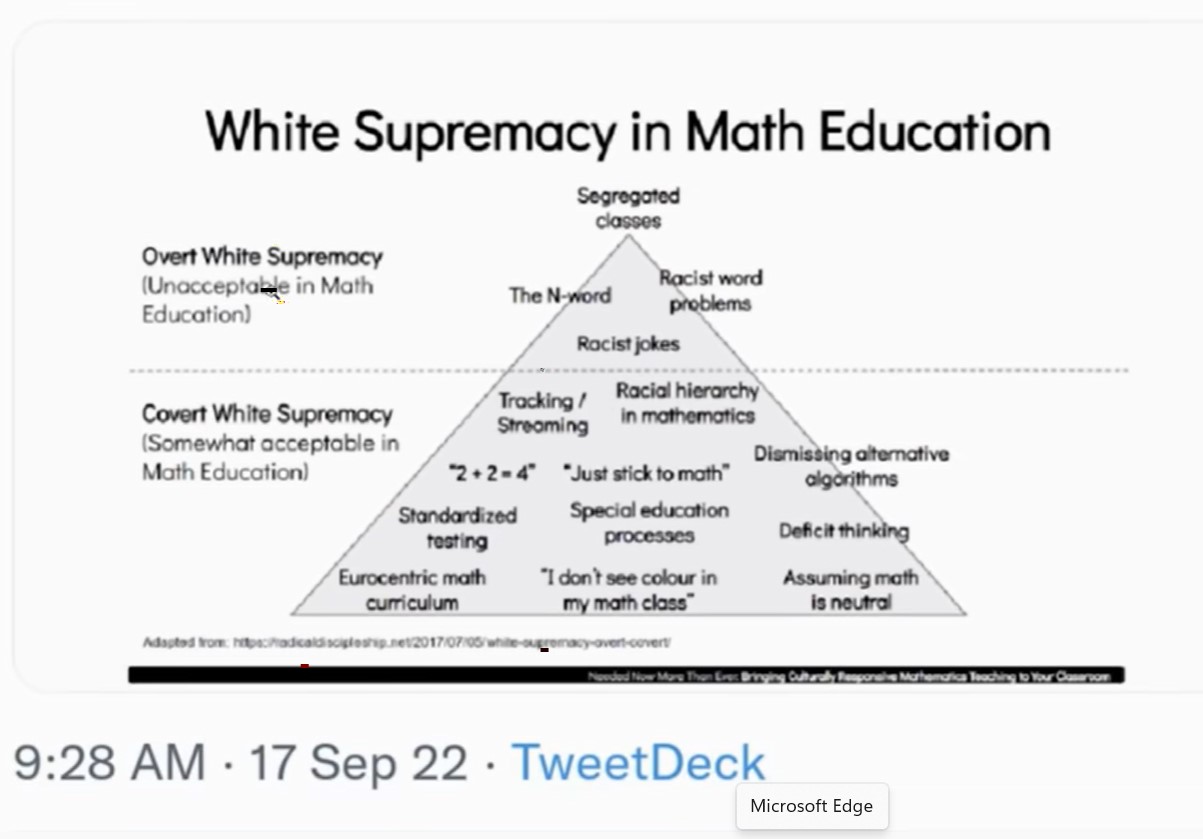 I had to screencap that from
SC Reviews
because
this genius protected sher tweets,
of course. "2 + 2 = 4" is "covert racism." "Standardized testing," in which all people at the same grade level are tested on the same subject matter because they're all being taught the same curriculum, is "racist"? Basically, having anything that you say is a definite right answer, or having any standards whatsoever, is racist, because some minorities will fail. And yes, it's because some
minorities
will fail. Some white kids will fail too, but, just like white people getting killed by cops or going to prison,
no one cares about that.
All norms of society are being razed to the ground for the sake of "not being racist." If you can't bring up the bottom-performers, you have to bring down the top performers. So we have to destroy all of math, science, medicine, and civilization itself so that "everyone is equal" in stupidity and failure.
I think I read about this a long time ago.
Josh Hawley asks Tamika R. Montgomery-Reeves, nominee to be United States Circuit Judge for the Third Circuit, about a report she prepared and signed her name to stating that portraits of white judges must be removed from courtrooms in order to avoid "identity threat."
She says she doesn't know what identity threat is and basically says she didn't read her own report.
Former Fox "reporter" Major Garrett:
We're 85% of the way to a civil war.
That far, huh?
Oh, and you're not going to believe this, but he says
it's Trump supporters' fault.
"It feels more dangerous than any I've encountered in covering politics at the national level since 1990," Garrett told host Margaret Brennan. "Stating what clearly happened in 2020, it wasn't a fraudulent election, no crime was committed. That doesn't mean you have to be happy with the result but one of the burdens of democracy is when you're unhappy with the result your obligation is to win the next election. Not slander baselessly the election you fairly lost. "We have a component of American politics that now wants to slander an election that was fairly lost," The Takeout podcast host said. "Because they're unhappy. That unhappiness does not entitle you to drag down American democracy, Margaret, because if we enter a phase in American life where either political party refuses to accept a fair and verified election simply because it lost then we will dismantle democracy bit by bit, before our very eyes." ... "That's what I am, what we are driving at when we talk about the coming contours of not a bloody civil war, but a procedural Civil War where we separate ourselves from another and the Union, the United States itself, bit by bit becomes to break- begins to break apart," Garrett said.
... According to Garrett, the snowball effect could completely dismantle American democracy. "The great fear I have, Margaret, is politics is a lot like the NFL, it's a copycat League, whatever succeeds, you replicate," he said. "On the right, in the Trump world now, the fastest way to social media, fame and fundraising is to deny the 2020 election. You don't think Democrats aren't watching that and may be tempted by the same social media and fundraising lure- that that has? They will be. That's why we have to stop it, back away from it, and say, not here, not this place. This part of our civic life is sacred. We're going to inspect it and respect it and accept the results."

They
will
be "tempted" to deny election results? Where were you in 2016 through 2020? Did Hillary Clinton respect the 2016 results? Did the #ResistanceMedia? Did the DOJ? Did the FBI?
Plot twist:
Some Martha's Vineyard residents are praising DeathSantis for sending the illegals, to raise the profile of the issue.
Fox News went to Martha's Vineyard to chat with the locals and found at least two that were impressed by the move. "I really praise him for doing that," said Elizabeth Bostrom. "Because it wasn't a stunt. I know the media's been saying it was a stunt." "But how do you get the attention of the administration?" she asked. "How do you get the attention of [Kamala] Harris who is supposed to be in charge of this? Fox News's interviewer asked if Harris has been a good border Czar. Bostrom scoffed at the question. "It's really a joke and everyone knows it," responded Bostrom. It gets better. Another resident actually brought up the fact that what Martha's Vineyard experienced briefly before it rid itself of the issue in the most hypocritical way possible is something that Texas experiences daily and in a vastly greater capacity. "How do you think the people in Texas feel that get thousands of them a day? We had a little taste of it with 50," said the unidentified man.
Video at the link (at RedState).
The planet is still going to melt though, right? White supremacy is still a greater threat than ISIS though, right?
I don't care, I would still
ruin
that: