Buh-Bye Liz Cheney, Northern Virginia's Bonus Representative By Way of Wyoming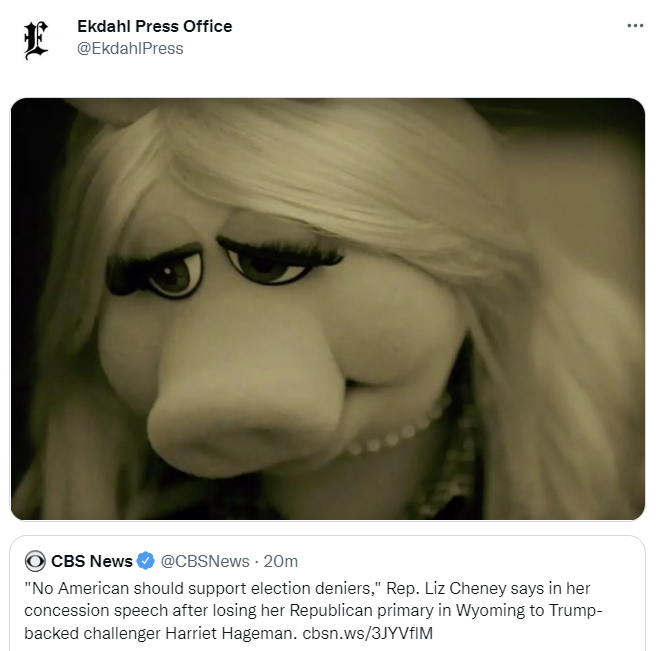 She lost by 38 points at last count,
66% to 29%. And that 29% included a huge number of Democrats rigging the vote by jumping into a Republican primary, as all the NeverTrumpers urged them to.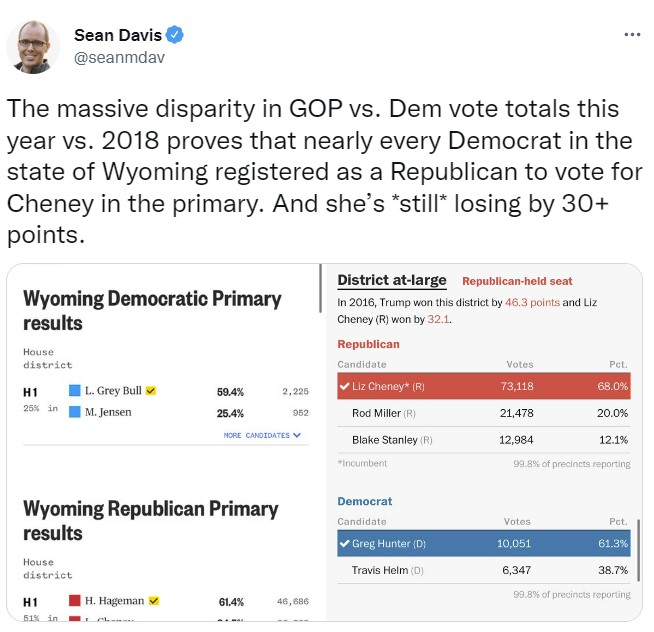 The Federalist:
Liz Cheney is no martyr. She's just another rich, entitled member of the DC Establishment.
When I first wrote that, I misspelled "rich" as "ritch" so you can tell where my head was at. This article was posted yesterday.
Rep. Liz Cheney is expected to lose by at least 20 points in today's primary in Wyoming. But she doesn't seem to really care. Long known in D.C. circles as hating interactions with Americans outside the beltway, representing Wyoming voters was not something she ever considered a particularly important aspect of her role in D.C. Listening to the corporate media and the D.C. establishment, one would think Cheney is history's greatest hero, a political martyr who put "principle over party," and who courageously stood up against Republican voters and their strong support of the party's most recent president, support which Beltway insiders find unseemly. ... She's not the hero that her media fans claim her to be. She's also not a martyr. This is not some brave Wyomingite who stood strong on principle after she failed to persuade her constituents to follow her. Cheney has always used Wyoming and the Republican Party for personal ambition and to push discredited and politically toxic foreign policy. She first tried to force herself onto Wyomingites in 2014, surprising actual Wyoming resident Mike Enzi by announcing her plan to primary him for the U.S. Senate seat. Her Facebook post announcing her run was geotagged from her actual home in McLean, Virginia, a place populated by government bureaucrats, defense contractors, and lobbyists. The jeans she wore to pretend she understood Wyoming values stained her hands blue because they were so new. She had to withdraw from that race in disgrace, but was elected to the U.S. House in 2016 after Rep. Cynthia Lummis resigned. She rarely went "home" to Wyoming, and was notorious for canceling events or simply not showing up to them.
Cheney quickly kneecapped Cathy McMorris Rogers to become GOP conference chair, but was ousted within years from that position. It wasn't just that she joined Speaker of the House Nancy Pelosi's plot to impeach President Donald Trump, but that she failed to be an effective conference chair, exploiting it for personal gain. Unlike McMorris Rogers, her predecessor, or her successor Elise Stefanik, Cheney didn't raise meaningful money for other members. Cheney helped spread false rumors about Russians paying bounties in Afghanistan, a story that was widely used by Republican opponents to harm Trump and his supporters. But she stood by and did little to nothing when Biden led the disastrous withdrawal from Afghanistan. Cheney is not a hero, and not a martyr, but a privileged child of establishment D.C., so reliant on her family name that her closing ad used the dynasty she was born into as a crutch.
Read the whole thing. Also,
she somehow she got crazy ritch (whoops, I did it again) on a $200,000 salary.
Rep. Liz Cheney's (R-WY) net worth ballooned from an estimated $7 million when she first took office in 2017 to possibly more than $44 million in 2020, according to analysis from the Center for Responsive Politics and her most recent financial disclosure forms. Depending on where she falls in the ranges in her latest financial disclosure forms, that could represent as much as a 600 percent increase in her net worth in just a few short years in Congress--a massive boom for an already-independently wealthy political scion of the powerful Cheney family which counts among its most powerful her father, former Vice President of the United States Dick Cheney.
Not only has she somehow increased her personal fortune by 600% in six years, but she also leaves Congress with a
$7.5 million campaign slush fund, provided mostly by rich out-of-state coastal progressives.
Breitbart rounds up
Sad! reactions from Democrats,
including this Literal Cvckold:

George Conway
@gtconway3d Whatever happens, @Liz_Cheney has won the general election for dignity, a race in which virtually none of her GOP colleagues could even compete.
Are you winning the general election for dignity in your marriage, George? Recent polling says you're losing and it's not even close. You'll be surprised that the Left Reverend French has taken the opportunity to speak of virtue, and also, coincidentally!, instruct you that he is fully possessed of the virtues he praises:

David French
@DavidAFrench Loyalty and honor are two concepts the Trump right is turning inside-out and upside-down. What does it mean to be "loyal" when an institution betrays its fundamental principles? True loyalty holds it to a higher standard
Eateth of my greasy dick, you ridiculous pompous posturing Pharisee. Kurt Schlichter subscribes to a different point of view:

Kurt Schlichter
@KurtSchlichter Cheney is a loser. She was rejected and it's because she sucks.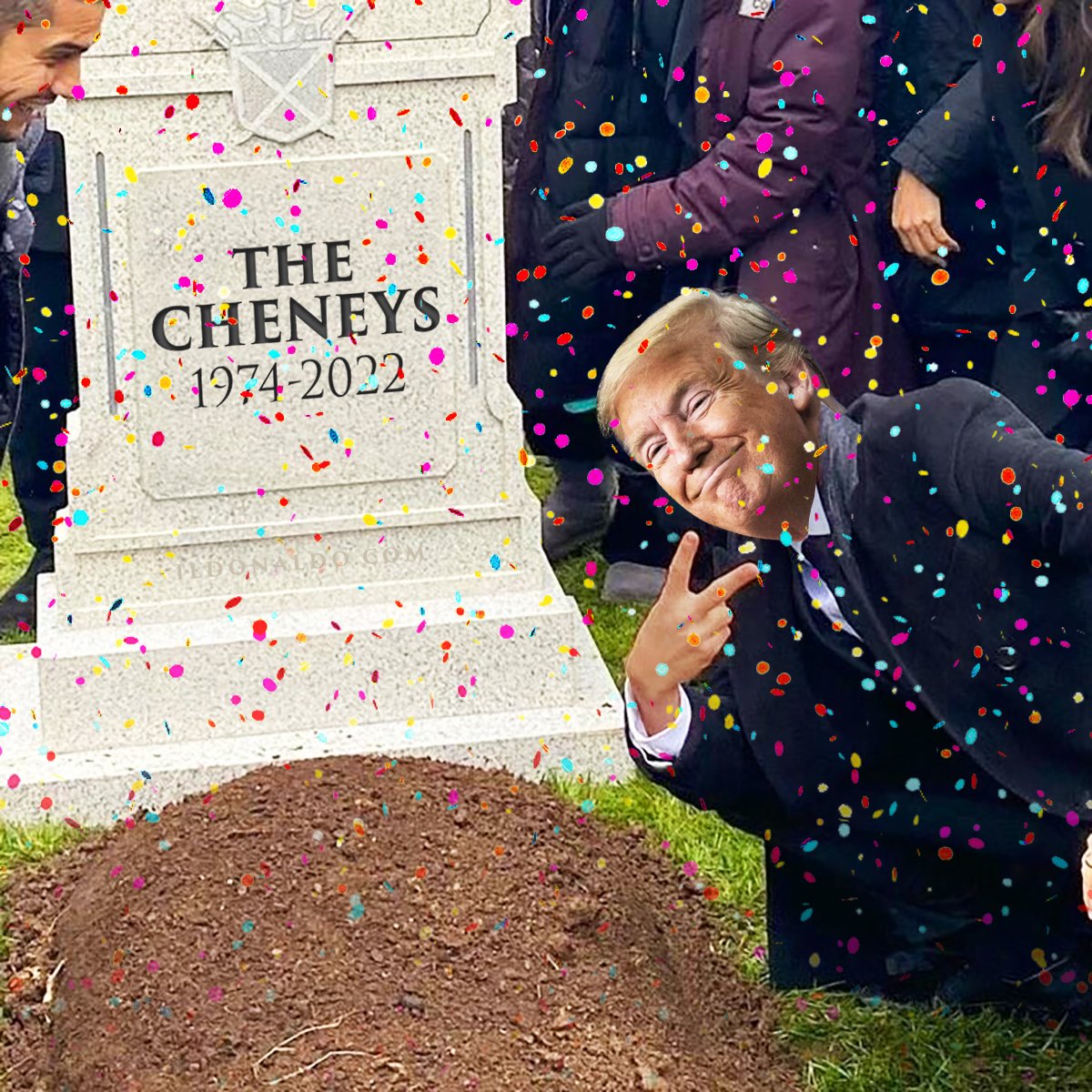 Even a Bushie says that Liz Cheney was doomed by her Trump Derangement Syndrome.
"What Cheney did is make it her entire life's direction. This is her one and only mission," Jennings said. "Kemp, Murkowski, they just sort of ignored Trump and they just sort of moved on with their lives and Kemp did win, it looks like Murkowski is gonna be okay, so I actually think there's a path out of challenging him and it's just not making it the center of your life. That's her choice."
By the way, remember when S.E. Cupp was cute? Check her out in that clip above. Six years of venomous Trump derangement and dopamine depletion is not kind to your looks or figure or... voice. She sounds like Brenda Vaccaro. Or someone who's old enough to have baby-sat for Brenda Vaccaro. (Or someone old enough to even know who Brenda Vaccaro even is.) S.E. Cupp's hobbies include shilling for Democrats, high-intensity interval snacking, and
GERD
.
Via Soothsayer, Clay Travis predicts Liz Cheney's next two years.
Well I never said it was a
hard
prediction to make.
#MuhDemocracy cries whenever Democrats lose elections.