Hillary Clinton's Lawyer: Say, If Trump Concealed, Removed, Or Destroyed Federal Records, He's Barred From Ever Holding Federal Office
Say... didn't Hillary Clinton conceal federal records (her email communications) and then, when their existence was learned of, destroy them using BleachBit?
Is Marc Elias narcing on his own client? No, of course not; he just understands that the law does not apply the same way to Democrats and Republicans. In the current configuration of this oligarchy-ruled Empire of Lies, at least. We'll see about the future.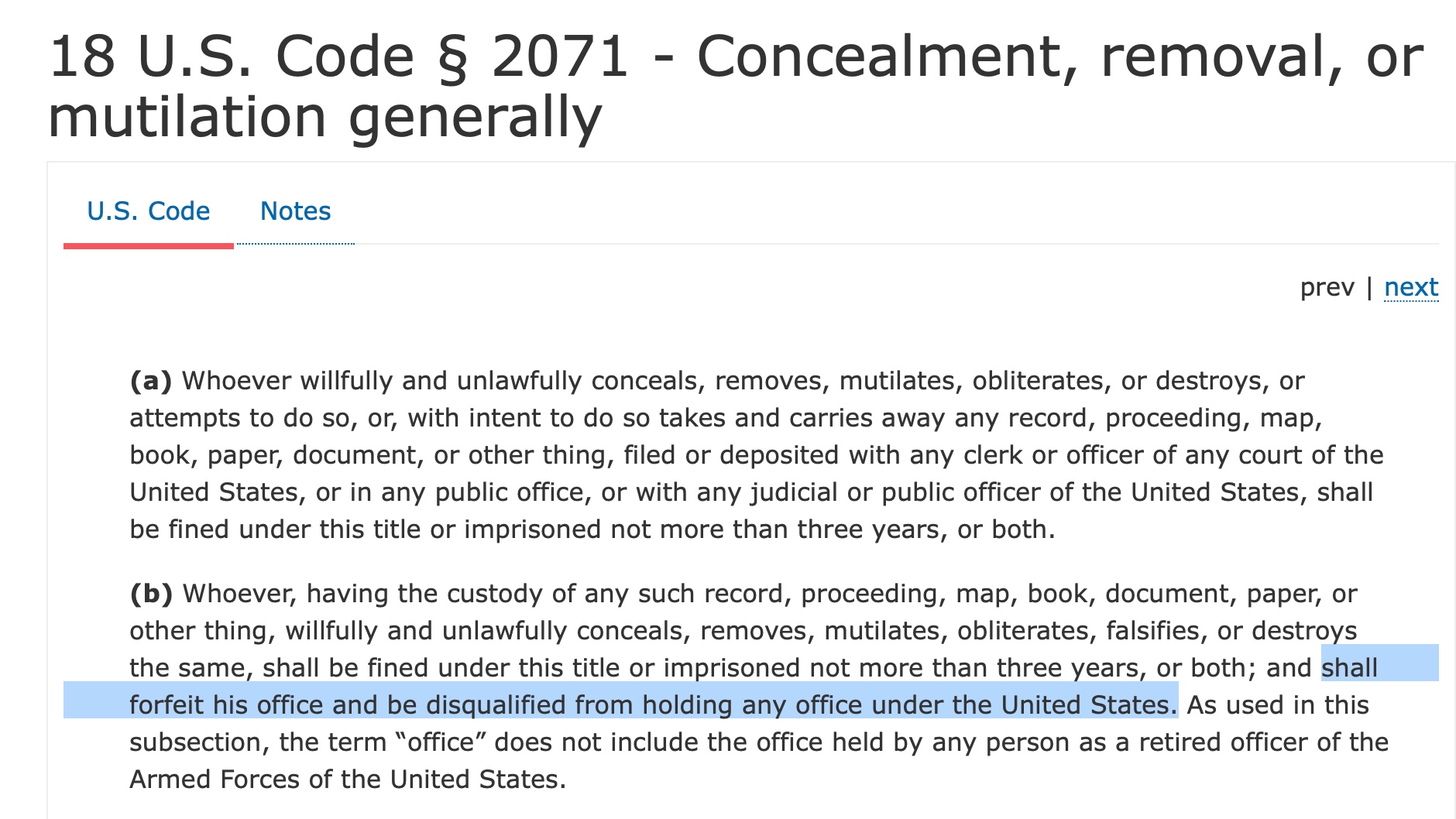 @marceelias The media is missing the really, really big reason why the raid today is a potential blockbuster in American politics. Yes, I recognize the legal challenge that application of this law to a president would garner (since qualifications are set in Constitution). But the idea that a candidate would have to litigate this is during a campaign is in my view a "blockbuster in American politics."
No, not really. Let me talk about the qualifications clause of the Constitution. It specifies that a president must be at least 35 years old and a natural born citizen and a resident of the United States for 14 years. The Supreme Court has repeatedly ruled that this constitutes the
exclusive
qualifications for eligibility to run for president. There is no requirement that he have a clean criminal record, for example. And it doesn't matter if a federal law claims that someone would be disqualified from office. The Constitution doesn't recognize that, and the Constitution trumps a mere law. This is, by the way, why you can never have congressional term limits passed. The Constitution also specifies the qualifications for congressmen and Senators -- what is it, age 25 for congressmen, 30 for Senator, and residents of the states/districts they represent? -- and the Court has ruled those are the
exclusive
qualifications required by the Constitution. They have ruled you cannot add to them legislatively by passing a law that says, basically, "And there's another qualification, that you cannot have served more than 6 years in Congress." To do that, you need to pass an Amendment, which would add another Constitution-level qualification for holding congressional office. So no, you can't disqualify Trump by charging him or convicting him with... anything. Via Ed Morrissey of the Salon Hot 25 approved blog,
the New York Times admits that researchers considered whether Hillary Clinton was disqualified from running for president in 2016 based on her own "removal" and "mutilation" of government documents.
Their conclusion? No, the Constitution is the exclusive determiner of qualifications for office.
The law briefly received a close look in 2015, after it came to light that Hillary Clinton, then widely anticipated to be the 2016 Democratic presidential nominee, had used a private email server to conduct government business while secretary of state. Some Republicans were briefly entranced with whether the law could keep Mrs. Clinton out of the White House, including Michael Mukasey, a former attorney general in the administration of George W. Bush. So was at least one conservative think tank. But in considering that situation, several legal scholars -- including Seth B. Tillman of Maynooth University in Ireland and Eugene Volokh of the University of California, Los Angeles -- noted that the Constitution sets eligibility criteria for who can be president, and argued that Supreme Court rulings suggest Congress cannot alter them. The Constitution allows Congress to disqualify people from holding office in impeachment proceedings, but grants no such power for ordinary criminal law.
Hillary Clinton's Corrupt Lawyer recognizes that, but then say that's not the point, of course: The point is weaponizing the Department of Justice against Trump is, as it's always been, not to get a conviction but just to throw so much mud on him that it destroys him as a potential threat to The Regime. And they... admit this. They're proud of this. They're proud to admit the DOJ and FBI are now engaged in an illegal, extraconstitutional operation to veto presidential candidates the Oligarchy and the Deep State which serves it do not approve of. Just as they've been doing since 2015. They didn't rig the 2016 election -- but they've been breaking every law and norm to "fortify" every election since then, to prevent a free and fair election from ever taking place again. The American people can "choose" a president -- but only from a Curated Selection of candidates the Oligarchy and Deep State have approved for them. Below: The Oligarchy and Deep State's last choice.