Sunday Morning Book Thread - 08-07-2022 ["Perfessor" Squirrel]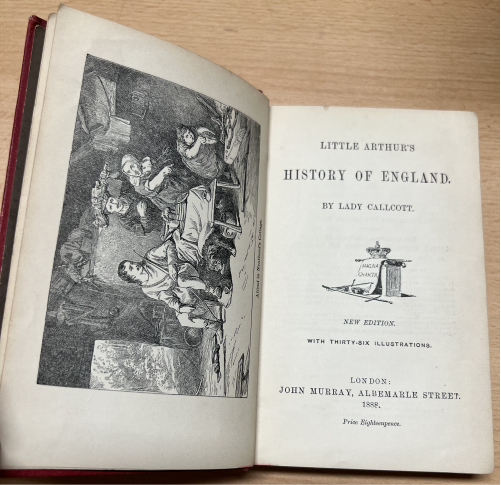 Welcome to the prestigious, internationally acclaimed, stately, and illustrious Sunday Morning Book Thread! The place where all readers are welcome, regardless of whatever
guilty pleasure
we feel like reading (sanity pills not included). Here is where we can discuss, argue, bicker, quibble, consider, debate, confabulate, converse, and jaw about our latest fancy in reading material, even if it's nothing more than the Haribo Sugar-Free Gummi Bears reviews on Amazon (ht:
Ciampino
- watch this video...you won't regret it!). As always, pants are required, especially if you are wearing
these pants
... So relax, find yourself a warm kitty (or warm puppy--I won't judge) to curl up in your lap, have a second scoop of ice cream with that birthday cake, and crack open a new book. What are YOU reading this fine morning?
PIC NOTE
A few months ago
(4-24-2022)
, I featured Baldwin's Book Barn as the library pic. Moronette vmom shared a picture of an interesting book purchased from said bookstore:

Hi Perfesser,
I want to share a book I found at Baldwin's Book Barn. They have a lot of really old books but I was charmed by this one.
It's Little Arthur's History of England by Lady Calcott, a new edition published in 1888.
I think it was meant to be a homeschool resource for mothers. I can just imagine a mom reading it to her young son by lamplight.
I imagine there are a lot of copies and editions of this floating around, as it was not expensive ($15)
vmom

If you have any pictures of interesting books, please send them to me! I'd love to showcase them as pics (either as the opening picture or as a section within the blog post).
++++++++++
WHAT MAKES A GOOD TITLE?
We had an interesting conversation in the comments last week about book titles. OrangeEnt posted the following:

So, coming near the end of a writing attempt, how does one think of a title? Posted by: OrangeEnt at July 31, 2022 10:09 AM (7bRMQ)

A.H. Lloyd chimed in as well, seeking feedback from the Moron Horde about a good title for his Chinese-themed book that he's currently writing.

I've crested 80,000 words and expect to finish the first draft...today? Really close to the end. At this point, the need for a title is not something I can continue to put off. Here's what I'm looking at. All have the same subtitle "A military history of China 2500 BC to 2020 AD." Eternal Empire (or China's Eternal Empire)
Tigers and Dragons
Tigers, Dragons and Maoists Posted by: Ace-Endorsed Author A.H. Lloyd at July 31, 2022 09:36 AM (llXky)

Naturally, the Moron Horde was up to the challenge, providing a number of suggestions. But this little exercise got me thinking. What makes a good title? How much are readers attracted to a book based on its title? I was attending an online conference this week and I selected all of the presentations I attended based solely on the title alone, though I did read the abstracts as well. But it was the title of each presentation that piqued my curiosity. This is something that I myself have to figure out on occasion as I also present at conferences from time to time. Titles matter. What are some considerations for a good title?


Do you go with a single word or a phrase? (EX: Metrics v. At the Gates of Rome)


How well does your title fit within the context of the story you are attempting to tell? (EX: ALAMO, which features a "last stand" scenario for human colonists on outlying worlds)


Is your title based on a major theme in the story? (EX: Devil You Know Better, an anthology of stories where the characters make deals with the Devil)


Does the title refer to the main character in some way? (EX: The Dragon Reborn, which refers directly to the Chosen One of The Wheel of Time)


Is a subtitle appropriate? (This tends to be more common in nonfiction than fiction, I think) (EX: How to Run a Marathon in 13 Years: How Hard would You Fight for Your Dreams?)


Are you writing a series of books that use a common motif in each title? (EX: The Case Lee series, in which the title of each book features a location central to the plot: The Texas Job, The DC Job, The Carribbean Job, etc.)


Or do you have some combination of factors that make the title significant and engaging for the reader?


Right now, I'm reading
Stalkers
, an anthology of horror stories where each story features the idea of "stalking" in some way. Why "stalkers" instead of "followers?" Probably because "stalker" has a much more sinister connotation. It evokes the idea of a serial killer going after prey in a methodical, meticulous manner without being detected, striking from the dark when the prey least expects it. Some of the stories are told from the point of view of the stalker and some from the point of view of the stalkee and some have both. What are some of YOUR favorite titles? And why?
++++++++++

++++++++++
WHO DIS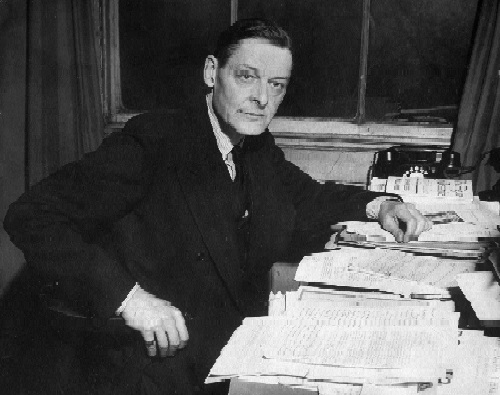 CLUE 1 - He was born and raised in St. Louis, Missouri and loved growing up there.


CLUE 2 - He was buried in Somerset, England, where a plaque commemorates him with the phrase, "In my beginning is my end. In my end is my beginning."


CLUE 3 - He wrote a book of light poetry, Old Possum's Book of Practical Cats which served as the inspiration for a play by Andrew Lloyd Weber.


++++++++++
MORON RECOMMENDATIONS

I'm currently reading a collection of short stories by Neil Gaiman, Trigger Warning. It has no "theme," he admits, but that's fine. He is very good: a short story about an "uninventor" that would have made a fine Twilight Zone, another about the elderly Sherlock Holmes raising bees in 1920s China, and a Doctor Who story about the beginning of Time. If you have not read The Graveyard Book, see to it smartly. It is one of those ultra-rare books where you want to go back and reread it after you finish! Posted by: Wolfus Aurelius at July 31, 2022 09:15 AM (c6xtn)

Comment:
Neil Gaiman is always a very fun read. He's skilled enough to defy most genres and just write interesting stories. Many of his stories fall into the category of "speculative fiction," which is a pretty broad term that can encompass both science fiction and fantasy as well as numerous related genres, such as magical realism. His
Sandman
graphic novel character is being adapted into a television show, but I'm somewhat skeptical that it will be any good. I didn't care much for the adaptation for Neil Gaiman's
American Gods
.
+++++

I found a hardcover copy of Grant Morrison's Arkham Asylum for $5 at San Diego Comic-Con several years ago. At the time that was an incredible price for that book. As I was browsing the rest of the stall, an announcement came over the loudspeakers that Morrison was signing books on the mezzanine. I don't normally go for signings, but that seemed too serendipitous to pass up. So I quickly paid for my book and headed upstairs, got it signed, and went back to finish browsing that seller's table. I could not find him. It was as if that vendor no longer existed. Posted by: Stephen Price Blair at July 31, 2022 09:37 AM (olroh)

Comment:
Cue
X-Files
theme music...Maybe the seller was there just to sell you that specific copy of that specific book. Have you gone on any exciting adventures? Possibly involving a rundown asylum for the criminally insane? That once housed a lunatic clown?
+++++

Your book questions always call up good memories, Perfessor. In my case, T.S. Eliot's Book of Practical Cats. I first came across Macavity in high school and since I'm 29, had never heard of Cats--and apparently neither had anyone else, because I couldn't find a copy of the full book. It came up in conversation with a boyfriend, who was on his way to England for the summer. He scoured the bookshops there, and found a copy--tiny, no pictures, not much more than a pamphlet--and sent it to me, with his own observations of each poem at the bottom of each page. Posted by: Wenda at July 31, 2022 10:22 AM (gPRZb)

Comment:
That's a pretty neat little story. I think the only poems I've read by T.S. Eliot are "The Waste Land" and "The Lovesong of J. Alfred Prufrock." I vaguely remember that the play
Cats
is also based on his poetry, but I have never seen it.
+++++

I read Normandy 44 and the Battle for France by James Holland. Holland focused not just on the front lines, but on the logistics and supply lines, which is something I never thought about that much. His descriptions of how quickly the Allies were able to move fresh troops, supplies, etc. to the front compared to the Germans, who by 44 were short of everything - men, oil, equipment etc. was interesting. Holland notes that while the Germans were rolling lots of new planes off the assembly lines (made with slave labor), they had lost so many well-trained pilots that the guys flying them were novices compared to the US Air Force and RAF. Most of those planes were bombed by the Allies before they ever took off and many of the rest didn't have gas to fly them. Holland said Hitler stupidly focused on things like the V-1 and V-2 bombers, which killed civilians but not one single combat troop. Posted by: Donna&&&&&&&&V at July 31, 2022 11:04 AM (HabA/)

Comment:
There's a saying in war, "Amateurs discuss strategy and tactics. Professionals discuss logistics." That is one of the strengths of the American military doctrine, the ability to move men and materials anywhere they are needed around the world on very short notice. I know a young man who joined the Army right after he graduated from college (he was in ROTC) and is now involved in logistical engineering. Another common saying is, "An army moves on its stomach." If you can't keep your troops fed, you'll have a much more difficult time achieving victory. Hungry soldiers are weak soldiers. Weak soldiers lose battles. More Moron-recommended reading material can be found
HERE
!
(340 Moron-recommended books so far!)
+-----+-----+-----+-----+
WHAT I'VE BEEN READING THIS PAST WEEK:


The Impossible Cube by Steven Harper -- Slightly wokish, but not overly so. Still a decent story about steampunk run amok in the Victorian era (1850s).


Crossroads of Twilight by Robert Jordan -- Book 10 in the Wheel of Time series. Probably the sloggiest of the books in the slog. Not much happens. The pacing should pick up considerably in the next book and then it's a nonstop race to the Last Battle for the final three books. I plan to finish the series in December.


Stalkers edited by Ed Gorman and Martin H. Greenberg -- An anthology of horror stories where each story features the idea of "stalking." Very creepy.


The Steel Breeze by Alistair Reynolds


That's about all I have for this week. Thank you for all of your kind words regarding my Sunday Morning Book Thread. This is a very special place. You are very special people (in all the best ways!). The kindness, generosity, and wisdom of the Moron Horde knows no bounds. Let's keep reading! If you have any suggestions for improvement, reading recommendations, or writing projects that you'd like to see on the Sunday Morning Book Thread, you can send them to
perfessor dot squirrel at-sign gmail dot com
. Your feedback is always appreciated! You can also take a virtual tour of OUR library at
libib.com/u/perfessorsquirrel
. Since I added sections for AoSHQ, I now consider it OUR library, rather than my own personal fiefdom...
PREVIOUS SUNDAY MORNING BOOK THREAD - 07-31-22
(hat tip: vmom stabby stabby stabamillion) (NOTE: Do NOT comment on old threads!)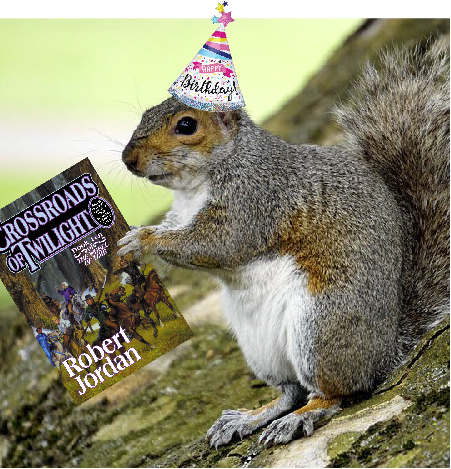 ("Huggy" Squirrel celebrates his 29th birthday today!)