Whistleblowers: One of the "Analysts" Who Declared the Hunter Biden Laptop "Russian Disinformation" Just Happened to be One of the "Analysts" In Crossfire Hurricane Who Vetted the Carter Page Warrant
Every time they have political dirtywork to be done, they turn to the same two dozen trusted partisan ringers they know will deliver the results they've all agreed to in advance and claim it's all "objective analysis."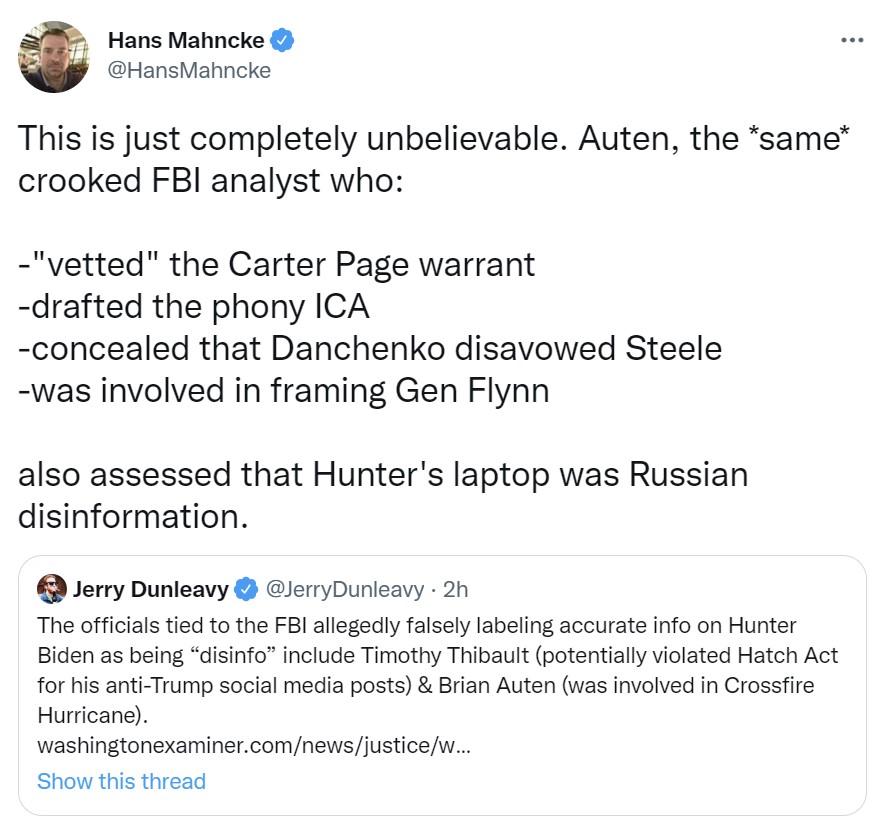 The ICA is the "Intelligence Community Assessment," the validating document cooked up by John Brennan to validate and add a an official government veneer to the conspiracy theory which had been cooked up by Hillary Clinton that there were "suspicious contacts" between Putin and Trump. And this same asshole -- who I guess is some kind of
French Davidian "Christian" cornpone conspiracist*
-- drafted that discredited hoax, and then, because he had done such stunning work there, was asked to interview Igor Danchenko, the leftwing analyst at the Brookings Institute who wanted a job in Hillary Clinton's Administration. And he found Igor Danchenko's claims... credible! Spoiler: they were later admitted based purely on baseless speculation and rumor or entirely fabricated. And because he had shown himself to be such a reliably credulous devourer of the sort of propaganda and conspiracy theory favored by John Brennan and Hillary Clinton, he was, of course, asked to judge the authenticity of the Hunter Biden laptop, because when you've got this kind of a track record, why not?! And he wasn't the only ringer they brought in.
Jerry Dunleavy at the Washington Examiner:

The FBI's investigation into Hunter Biden wrongly labeled verified evidence as "disinformation," agency whistleblowers claimed. Agents investigating President Joe Biden's son "opened an assessment which was used by an FBI headquarters team to improperly discredit negative Hunter Biden information as disinformation and caused investigative activity to cease," according to Sen. Chuck Grassley (R-IA). Grassley revealed the claim after his office received "a significant number of protected communications from highly credible whistleblowers" about the investigation. The Republican claimed one of the communications shows "verified and verifiable derogatory information on Hunter Biden was falsely labeled as disinformation."
FBI supervisory intelligence agent Brian Auten opened in August 2020 the assessment that was later used by the agency, according to the disclosures. One of the whistleblowers claimed the FBI assistant special agent in charge of the Washington field office, Timothy Thibault, shut down a line of inquiry into Hunter Biden in October 2020 despite some of the details being known to be true at the time. A whistleblower also said Thibault "ordered closed" an "avenue of additional derogatory Hunter Biden reporting," according to Grassley, even though "all of the reporting was either verified or verifiable via criminal search warrants." The senator said Thibault "ordered the matter closed without providing a valid reason as required" and that FBI officials "subsequently attempted to improperly mark the matter in FBI systems so that it could not be opened in the future," according to the disclosures. ... The whistleblower disclosures "appear to indicate that there was a scheme in place among certain FBI officials to undermine derogatory information connected to Hunter Biden by falsely suggesting it was disinformation," Grassley said. The new allegations, summarized by Grassley in a Monday letter to Attorney General Merrick Garland and FBI Director Christopher Wray, were previously unknown. The new information comes after Auten was involved in the Trump-Russia investigation, including interviewing Igor Danchenko, the alleged main source for British ex-spy Christopher Steele's dossier in 2017. Congressional sources confirmed to the Washington Examiner that Auten is the "Supervisory Intel Agent" from DOJ Inspector General Michael Horowitz's 2019 report on Foreign Intelligence Surveillance Act abuse.
... Thibault, who investigated corruption in the nation's capital, may have violated the hosta Act over his social media posts criticizing then-President Donald Trump and then-Attorney General William Barr in 2020, according to Horowitz last month.

* Actually, he appears to just be an advisor on "ethics" in national security, who
calls for the US to get rid of all of its nuclear weapons unilaterally
as a matter of Christian ethics. So of course that's the kind of leftwing Christian the Deep State would reach out to recruit as a ringer for an "analyst" in their anti-Republican/pro-Hillary, pro-Biden political dirty work. And what's a guy whose expertise, such as it is, is in Christian ethics doing "analyzing" stuff for authenticity, which has nothing at all to do with ethics, Christian or otherwise? Except to the extent that perhaps he felt that his leftwing conception of Jesus wanted Hillary and Joe Biden to defeat The Devil Trump?