Ace of Spades Pet Thread, June 18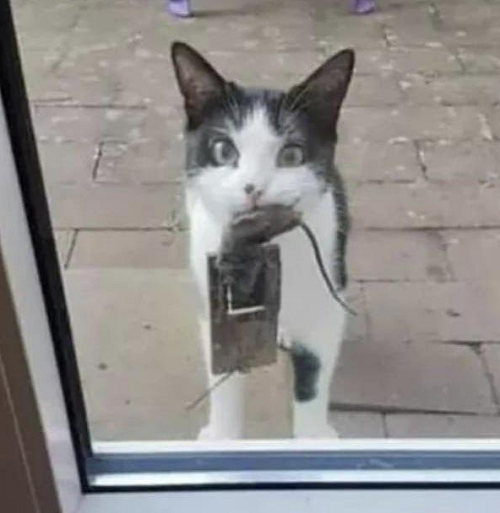 What would Father's Day Weekend be without a gift from Kitty? (Photos Courtesy
Misanthropic Humanitarian
)
Good afternoon and welcome
to this weekly respite from most of the outside "civilized" world --
the Ace of Spades Pet Thread.
Thanks for stopping by. Ask someone for a treat, kick back and enjoy the world of animals. Reminder:
For current events and politics, the Thread before the Gardening Thread (a couple of threads below) is almost always an Open Thread.
We also love our dogs, even on holidays: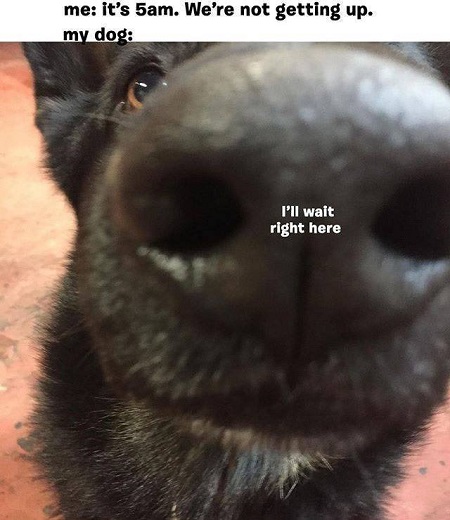 * * *
Pet Introductions
Yesterday, I met our neighbor's new dog. Not the neighbor with the pit bull who had 11 puppies and comes over for peanut butter sandwiches. This is a different neighbor. Their 6 month old pup, black and white, looks a lot like a pit bull, but she was afraid of me when I approached. She was on leash. As I talked to the neighbor and he reassured her, she calmed down. Then she wanted to jump on me. I don't think she knows many commands yet. So I have been thinking about pet introductions, both to people and to other animals. What has worked for you and what hasn't? Do you agree with the recommendations in this video about
introducing a cocker spaniel to a cat?
* * *
Meet The PetMorons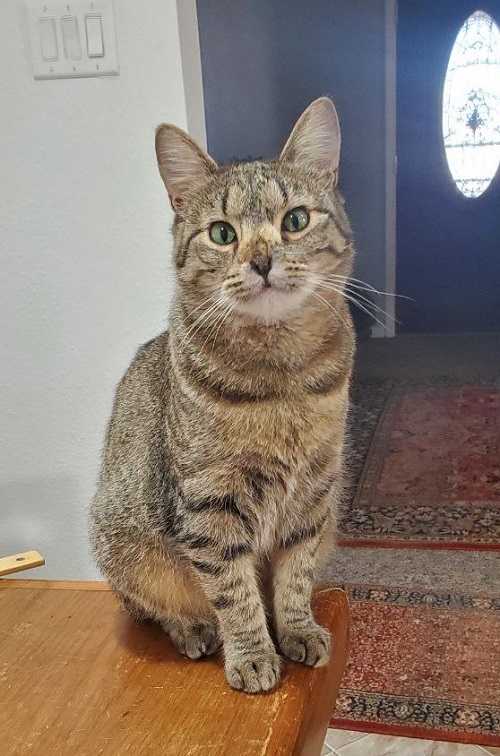 &&&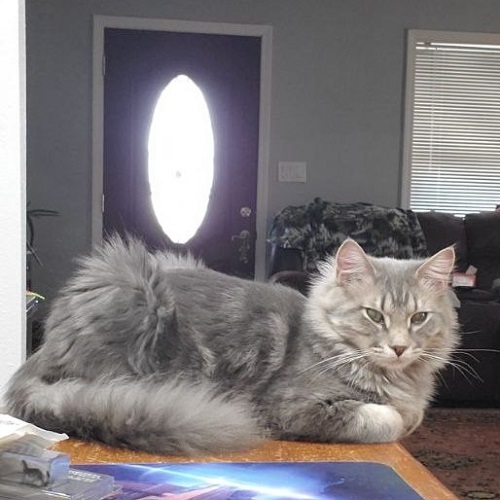 Long time lurker. Thought I'd send these pics of our two cats. The shorthair is Tiger. Fluffy kitteh is her boy, Ghost. My wife started feeding a family of 5 a couple years ago. After awhile momma cat disappeared and she kept feeding the kittens. Knew I was in trouble when she named them. LOL! The other 4 didn't make it to adulthood for...reasons. We figured Tiger got pregnant around 4-5 months old. I was gone for work and wife was gone for a couple months visiting family in Panama when Tiger gave birth. Don't know if she had more kittens. Ghost is the only one. I got home a couple weeks after she did and was introduced. This was the beginning of August, 2021. End of August after seeing 4 cats dead in the road we decided to TNR both of them. As you can see they're family now. We still can't pet them, but that's OK. They've come a loooooong way since we caught them. Tiger was a true feral. She's missing the very tip of her nose and has a broken/crooked tail. She's still a fighter and that won't change, but she is a sweety. Ghost is a boy. Always hungry. Always looking into things. And getting in trouble. Disclaimer. We're both dog people. Did not want cats. Ever. Wouldn't let them go for anything.
Ray
They don't look very feral.
* * *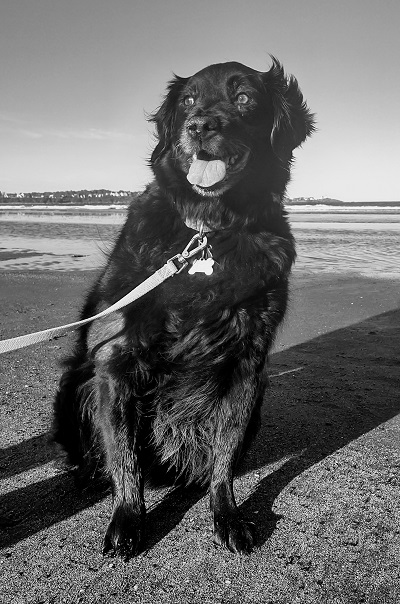 A sad update from May 21 from
Our Country is Screwed:
K.T. I submitted an entry a couple of weeks ago that our beloved Flat-coated Retriever Fenway was diagnosed with terminal cancer. We lost her two weeks ago. This picture was from her last trip to the beach - on one of her "best days ever" we shared. I know a lot of pet submissions are when a Horde member loses a pet. So for all us who have lost a pet and now have an emptier home, Mrs. OCiS found this poem by Millicent Bobleter in the "Chicken Soup for the Dog lover's Soul" book:
Here's part of the poem. Dog lovers may want to get the book:
Judgement Day On Judgement Day Saint Peter stands, A list of virtues in his hands. As all the souls in silence wait To see who'll pass through heaven's gate. "You'll enter first," he says, "if you Can swear your heart was always true. And you were constant to the end, A steadfast, loyal, devoted friend. Never spiteful, never mean, Unchanging through good times and lean. With no desire but this: to be Allowed to love eternally. . . .
Theology aside, it wouldn't hurt to evaluate whether we could more closely follow the examples set by our beloved dogs. How you must miss Fenway something terrible.
* * *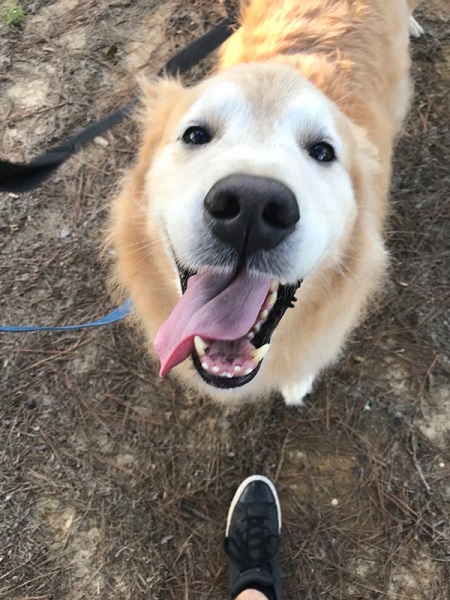 Hi, I've been lurking on Ace of Spades since the 2000's and never post. Have always enjoyed your pet threads. My Golden Retriever passed away suddenly this week. He was 11 years old. His name was Jake. He had to have been one of the sweetest creatures God ever made. He died at the vet's office. When I took him to the vet, he didn't seem too ill. The next day, the vet called me and told me to hurry over because he was crashing. I left right away but didn't get there in time. So he died surrounded by strangers and I didn't get to say goodbye to him. My heart is broken and I can't stop crying. When I got him, I knew he would go before me, but I didn't know it would feel like a family member died. You can post his picture if you like. This picture is from one of our trips to the park. He aways had a smile. Sorry to dump on you. Solex
So sorry to hear about the loss of your wonderful dog. A lot of us have an idea what it is like.
* * *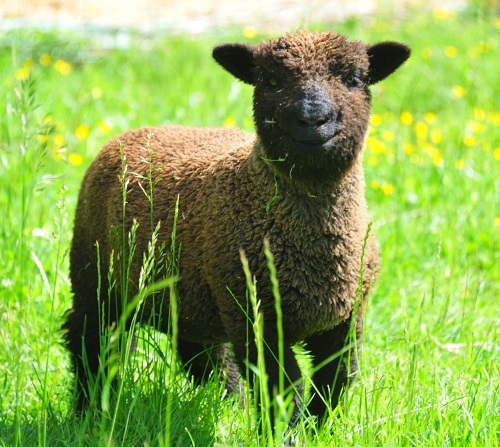 From
Rolf,
the above photo of a future wool hat.
Not mine, just a neighbor's lamb, and future provider of wool hats. Name of Sherman. Southdown Babydoll sheep. Take a break from cats and dogs (not that there is anything wrong with them). Cheers!
We appreciate this cute animal!
* * *
Love those PetMorons! Thank you for sharing your pets with us. We have a few couple left for next week.
If you would like to send pet and/or animal stories, links, etc. for the Ace of Spades Pet Thread, the address is: petmorons at protonmail dot com
Remember to include the nic or name by which you wish to be known at AoSHQ, or let us know if you want to remain a lurker.
Until next Saturday, have a great week!
* * *
If you start feeling nostalgic, here a link to
last week's Pet Thread, June 11.
Intellectual pets and great pet photos and stories. The comments are closed now so you won't accidentally ban yourself by trying to comment on a week-old thread, but don't try it anyway.
Posted by: K.T. at
03:27 PM