Saturday Gardening and Puttering Thread, August 21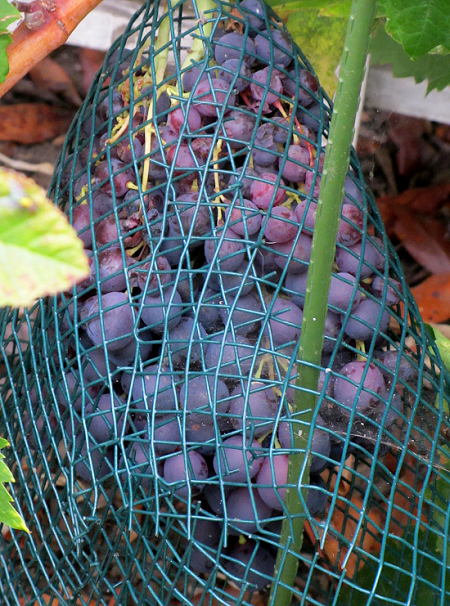 Hi, everybody! Fires and floods happening, but we persist. It is smoky where we are today. How is the weather treating you and your garden? Some members of The Horde are getting a harvest from their gardens now. Above, a close-up of a protective measure taken by
40 Miles North
to protect his grape harvest. From rodents.
Another squirrel lover
here.
The struggle continues. Growing good table grapes is really an accomplishment for amateurs, even in California. Below, more photos.
Grapes and Amaryllis at the same time? Yes, and it's the first time too:
These are true Amaryllis - "Naked Ladies" that bloom before the leaves appear.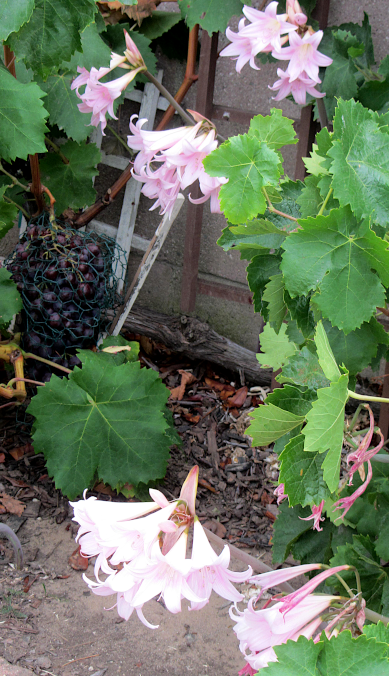 Poisonous. Don't put the flowers (or especially the attractive, immature seeds) on a serving platter with the grapes.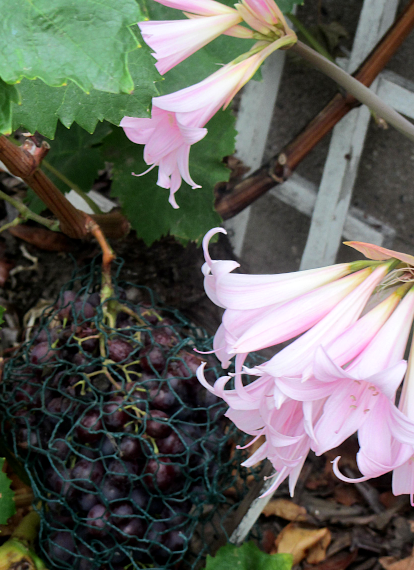 Here's the first bunch that I harvested. Really good this year.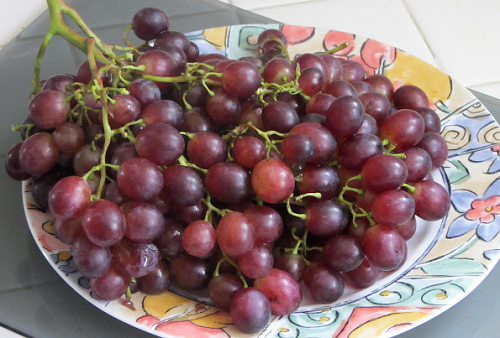 He has two vines.
The big vine spans about 50 feet now, and it climbs the neighbor's tree that would otherwise shade my yard. Awesome!
More Edibles
Hey KT, Just a small update. Here is a picture of the Jing Orange Okra that I am growing, Not really orange in my opinion but I guess Salmon colored Okra isn't that catchy. Pretty however.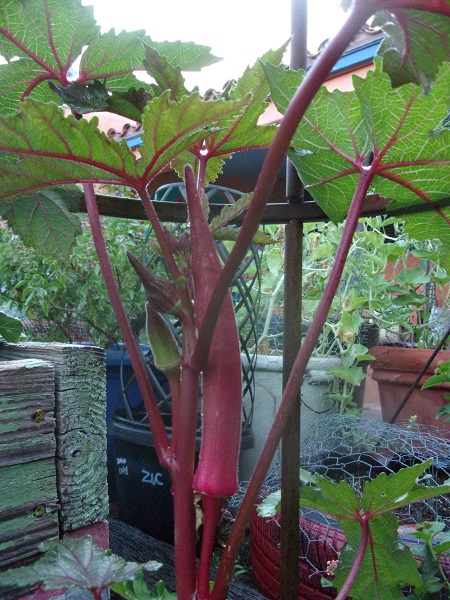 I am only getting one at a time so I haven't been able to do the Okra pickles that I was planning. Maybe I will get a bunch at once later in the month.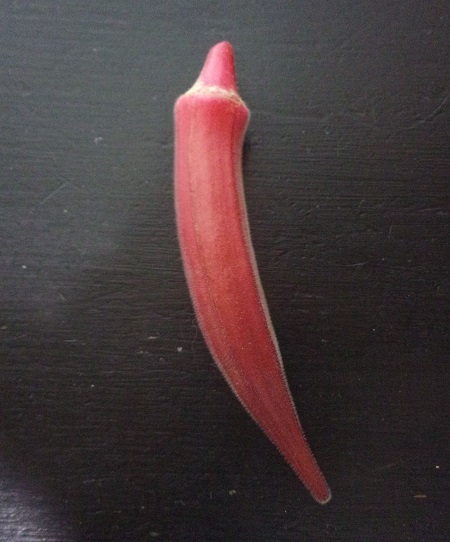 Also, picked a bunch of my Asian pears and am patiently waiting for them to ripen inside, which is what I read to do. We shall see. We have gotten rain every few days and my garden is in heaven, also it has been amazingly cool for August in Arizona. I started putting in my fall garden, turnips, kohlrabi, 3 kinds of kale, 3 kinds of lettuce, 3 new to me peppers, 2 kinds of bok choy, 2 kinds of cabbage, daikon radish, 2 kinds of regular radishes, and 3 kinds of tomatoes. Running out of room, but I still have to put in 3 kinds of beets but it isn't time for that yet. I realize I must have a thing for 3's but really that is just how it worked out with the seeds I had. Hope everyone has some rain, time to enjoy the garden and a vine ripened tomatoes in their future, Wee Kreek Farm Girl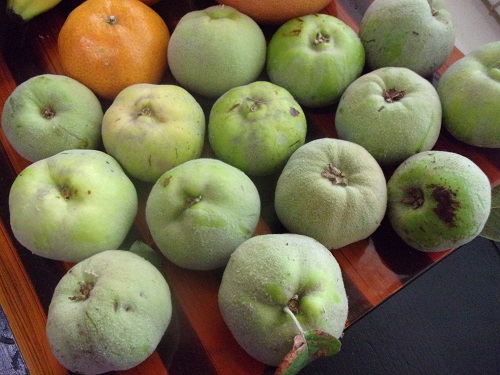 Wildlife
From
AZ Deplorable Moron:
Not Gardening; but critters found near my garden area. I've cleared out the junk surrounding the raised beds, now I get to get the weeds out and improve the soil. Lots of rain here (3.13 inches in 72 hours mid-week) and a good storm last night with more coming. When it rains it pours!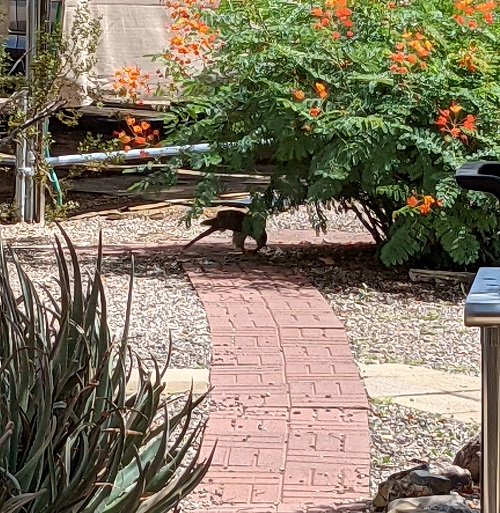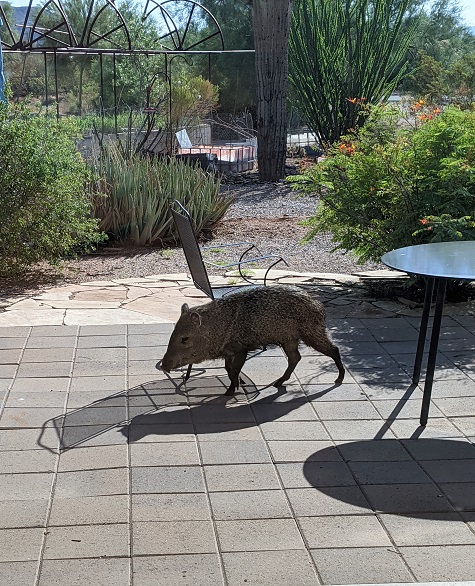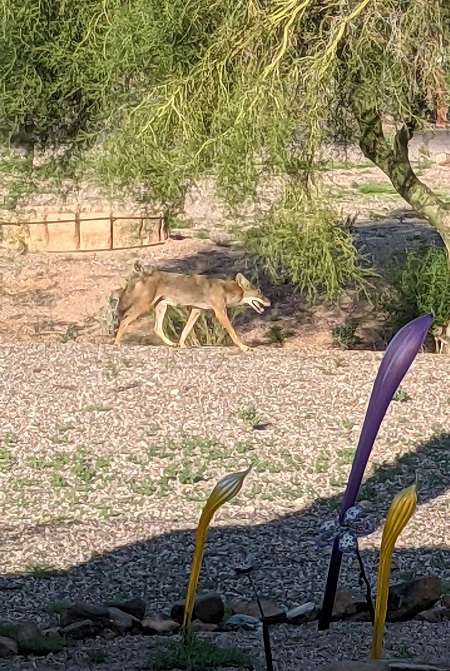 The Great Horned Owl comes in on hot days at dusk, lands in the water dish and then drinks for a bit. The rabbits in the yard 'freeze' until it flies off.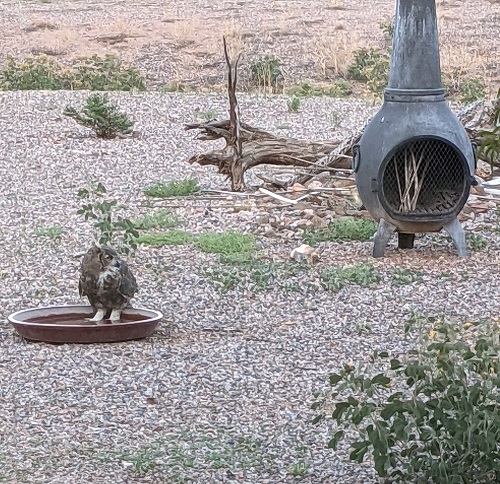 From
By-Tor
:
We saw this unidentified spider yesterday on our walk to school. Today he had a bee trapped in his web.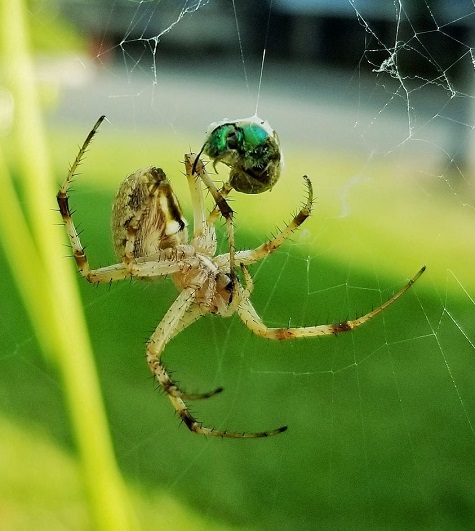 We saw our arachnid friend, who we have dubbed Spy-tor, again on our way to school, this time on a newly minted web. We have been informed that he is a Western Spotted Orbweaver.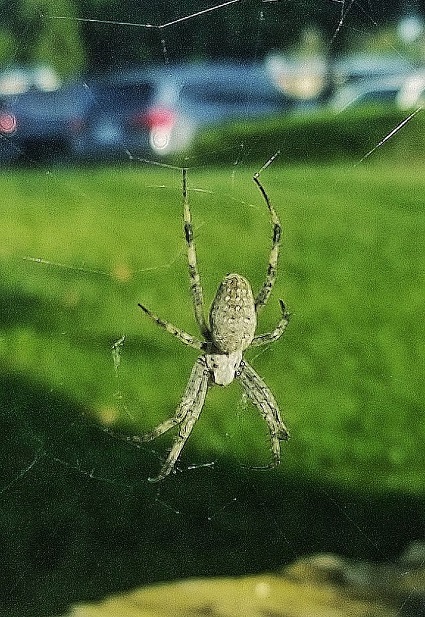 Last Week
We had some interesting comments about
Turk's Cap
for attracting hummingbirds. There are
two species of flowers which are called by this name.
Like hibiscus, these shrubs are members of the Malvaceae (mallow) family, which also includes okra and cotton. Either shrub is a great choice for Florida gardeners; they start blooming at the beginning of the summer and will keep going until the first frost. A staple of "old Florida" landscapes, they will add a cheerful pop of color at a time when many summer-flowering plants have fizzled out and cooler season plants haven't yet peaked. In both M. arboreus and M. penduliflorus, the most commonly found flower color is red, although pink and white cultivars exist for both species. Both M. penduliflorus and M. arboreus can be grown throughout Florida, although neither is native to the state. Most commonly, when people are talking about Turk's cap mallow, they mean M. penduliflorus. Thought to originate from Central or Southern Mexico, this plant is distinguishable by its downward-pointing, pendant flowers that are about 2.5 inches long. Described by many as looking as if they are just about to open, the folded flowers are a favorite of hummingbirds.
This is M. arboreus: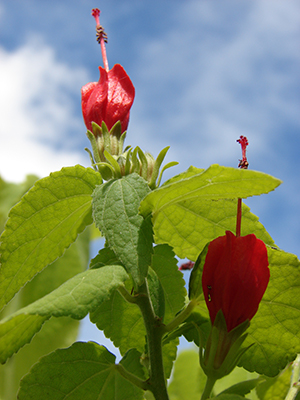 These are big shrubs. Gardeners where freezes make it impossible to grow them may want to try Rose of Sharon or
Hardy Hibiscus.
We saw some of those last week, too. Here's one with a hummingbird: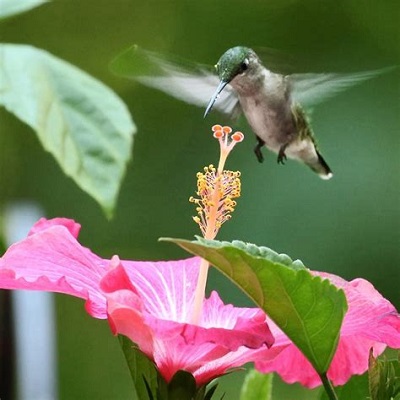 Professional Inspiration
J.J. Sefton
recommended this channel,
"Japanese Garden TV".
These are gardeners who know what they are doing. I really like the background music. Maybe I should have music like it going when I garden.
If you would like to send information and/or photos for the Saturday Gardening Thread, the address is: ktinthegarden
at that g mail dot com place Include the nic by which you wish to be known when you comment at AoSHQ,
unless you want to remain a lurker.
Posted by: K.T. at
01:21 PM