Saturday Gardening and Puttering Thread, July 31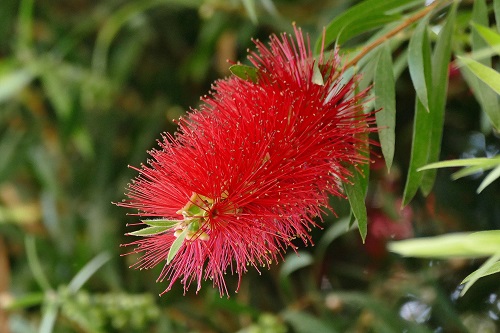 Hi, everybody! Hope you have had an opportunity this week to spend some time outdoors. It's very hot here, and uncharacteristically humid. Weather continues! The Bottle Brush bloom above is from
Neal in Israel.
Here in the States, hummingbirds like them. More on hummingbirds later. Some species of this plant are very heat and drought tolerant.
Edible Gardening
We got a detailed report from
Cumberland Astro:
Here's a 2021 garden update from me. It's been a good year for
tomatoes. Attached is a picture of my celebrity tomato plant which has apparently worked itself to death. I planted it early (mid-March) in a pot, brought it in during freezes, and by the time I put it in the ground in late April, it was already big and full of blooms, so I was able to get a head start. I've probably picked 25 tomatoes already from it, and there are many more on it right now. But it is done. I
guess it's like a salmon swimming upstream to spawn, and then die. Instead of Sweet 100 cherry tomatoes I planted Yellow Cherry tomatoes
this year. The vine has been very productive, but I am not a fan of the
fruit - it's way too mushy. I'm going back to Sweet 100s next year. My
pleasant surprise this year was giving "Park's Whopper Improved" a try.
While the fruit has not been "whopper" sized, the plant has been
productive and the fruit is very tasty. The final two tomato plants I
planted in early May were Jet Star and Rutgers, both of those are new to
me and they are putting out some nice looking fruit that isn't yet ripe.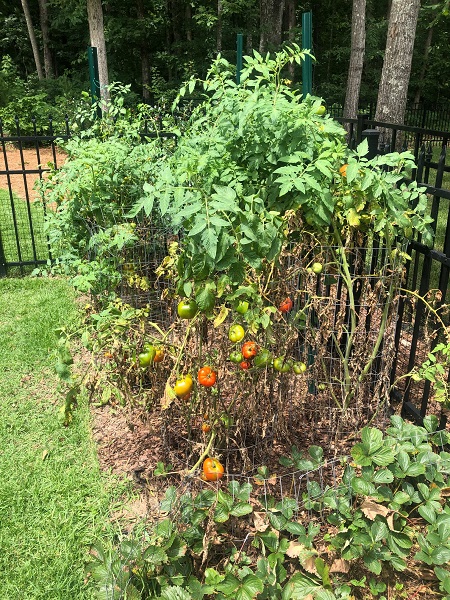 Over to the apple trees, my two dwarf apple trees planted as bare roots in 2017 produced a good amount of fruit this year. As a test to see if
I could stop the apple rustlers this year, I wrapped one tree in netting
and left the other unwrapped. The wrapped tree's fruit has not been
molested while the unwrapped tree has been stripped fruitless. Thanks for all you do at at AOS. I love your music selections in the
pre-Gardening thread. All the best
We may need to learn how to wrap those trees.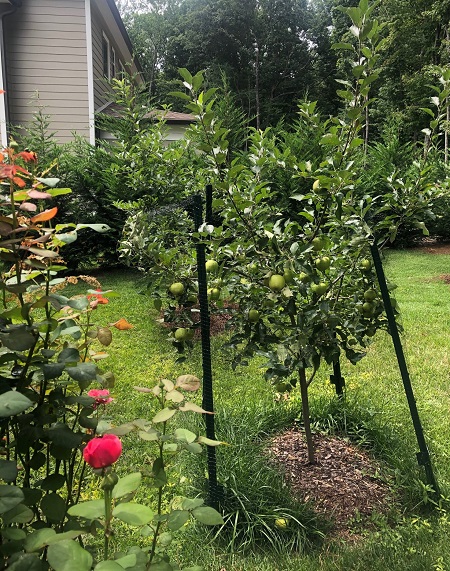 We got a report on
Nemo's
berry harvests last week. But there's more:
The grapes are also doing well, as you can see from the attached photo.
My curtain trellis is literally heavy with fruit! (I wish now that I'd
used 4x4s instead of 2x4s. Live and learn!) The netting is to protect
the grapes from the ravages of the bushy-tailed tree rats (aka
squirrels). I hope it works. Last year, I lost every single grape to them!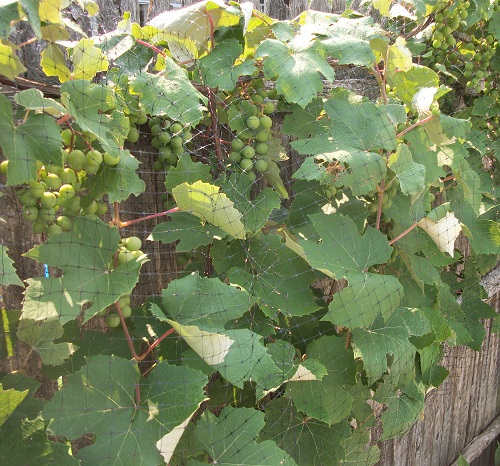 They look like Concords to me. Wonder if I'm right. Another method of critter control we will need a report on later in the season. Anybody have experience protecting grapes from rodent marauders?
Best Days
If you're into this sort of thing, the
best activities for today
listed by the Old Farmers Almanac include:
Jar Jams/Jellies Paint Dig Post Holes Mow to Slow Growth Advertise to Sell Ask for Loan
I think one advantage of lists like this is that they give one a little push to do things that one was going to do anyway. Some great posts are predicted here on Monday, a day for writing.
Houseplants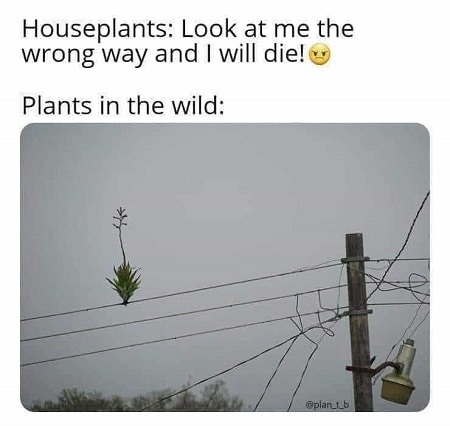 Below, a houseplant rescue operation on the windowsill in our shower. The original plant was a big Pothos -
actually a hard houseplant to kill
- which was exposed to some extreme conditions. Normally, we would just buy a new plant, but there is some special sentiment attached to this one. It is not ours. There was not much left of it after its crisis.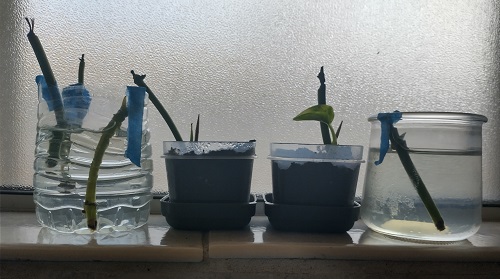 The little food containers from Dollar Tree worked out well after the first two leaf/root combos appeared. I made some drainage slots with a finely serrated knife where the side and bottom meet. The lid makes a nice coaster. Had to prop the cuttings up with toothpicks. The other cuttings are suspended with blue painter's tape in water spiked with a little Miracle Gro (less than 1/4 tsp. for 2 quarts of water). If you are interested in growing Pothos, here are
15 kinds.
One is a
different genus and species
than the others. There are more tips on growing these types of plants at the last link. I kind of like the look of that species.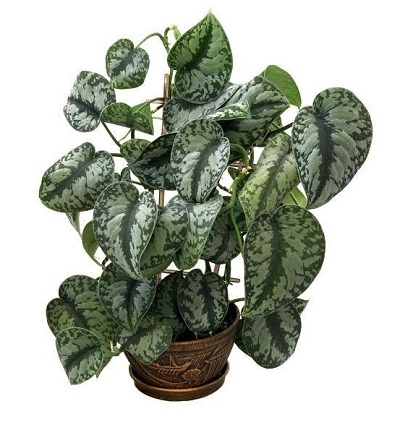 Re-potting a pothos:
don't let the roots strangle themselves.
Monsoon Season in the Desert
OK, so they're not like the monsoons on the Indian subcontinent. Still, they can be dramatic. Here in Central California, we typically just get some clouds left over from the desert rains, along with hot weather, though there have been a few thunderstorms in the mountains. In Arizona, various areas have received substantial amounts of rain. The monsoon seasons last year and the year before were disappointing to many. Here are some
big invertebrates
that people see more often during monsoon season. A "Bug Bonanza". Tarantulas, Jewel Beetles and more: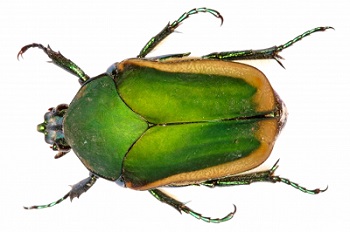 Fig Beetle
Wee Kreek Farm Girl's
protective organza bags for figs from last week are a good idea when there are fig beetles around. As noted in the description, these beetles really are noisy when they fly.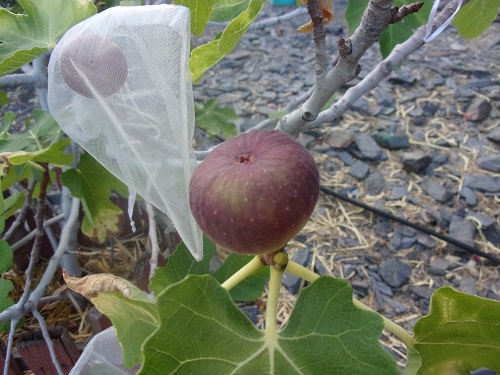 Since she took the fig photos, she has received some Monsoon rain:
We got 2 inches of blessed rain yesterday. My garden is SO happy right now. Threatening more tonight, fingers crossed.
More Denizens of the Yard and Garden
Proof that you don't have to live in the desert to have dramatic insects in your yard. From
TimInVirginia:
Thanks for the gardening and puttering thread. I don't have a garden to share pictures of this year, but I wanted to share a few pictures of creatures that have visited my yard. The first, as I learned from my friends on FB, is a dobson fly. It was about 4 or 5 inches long and decided to take a break from whatever hellish things something like that does, by perching on the outside of my garage. I have also learned that the larval form of this thing is called a hellgrammite. Very aptly named. The hellgrammites basically differ from the adult by having no wings or legs. And according to some folks I know, they make excellent bait for bass fishing.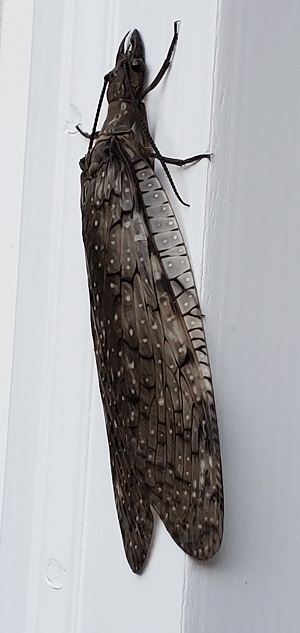 The second creature is some sort of wasp that was climbing up the outside of my sliding glass door. I have no idea what the green thing in its jaws is. Perhaps a piece of a plant, or a piece of some unfortunate other insect. Either way, I followed it until it disappeared from the top of the door. The pictures were taken with my Samsung Galaxy S10e. Thank you again for doing the thread.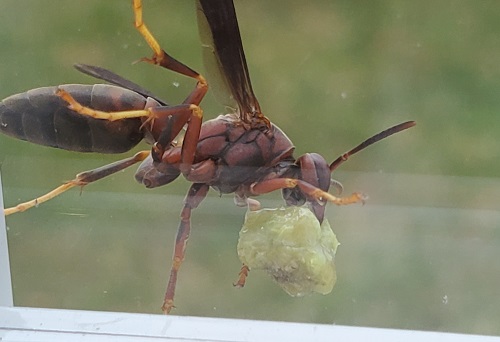 Dramatic photos!
Hummingbirds
I've been saving this serene scene from Diogenes since May, because a hummingbird goes with the story behind the photo:
Everyone seeks solitude in the back yard. But sometimes the front works too. A pleasant view and somewhere in those branches a hummingbird has her nest.
She must feel comfortable there.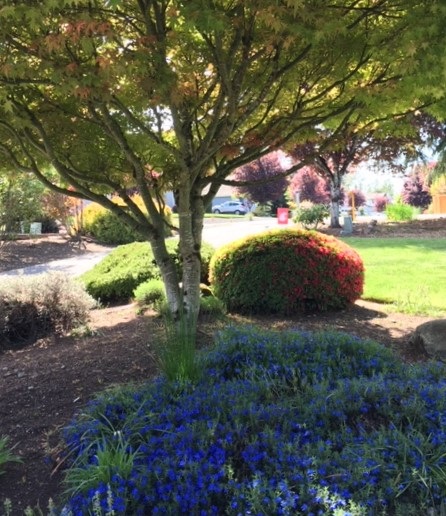 That was nesting season, but now it's a good time to plan for
migrating hummingbirds.
In addition to nectar plants and feeders, you can plan other aspects of a hummingbird habitat, such as water, safe resting roosting locations, etc. Put out some dryer lint at nest building time.
Hummingbirds are the world's longest distance flyers. As unbelievable as it may seem, some hummingbirds migrate almost 4000 miles each year between their summer homes and Mexico or Central America. Based on the length of their bodies, they beat out even the albatross for distance covered in body lengths. Good hummingbird habitat can make a difference in survival for them as they must feed frequently.
Hummingbirds are great learners. They will remember favorite plants over the years. Hawkins stated, "If they come once, they'll return. If you feed them you can start a chain that can last for years." Native plants also support small insects, which are an important food for hummingbirds, especially when they have young. Plantings that offer a variety of heights offer shelter and places to perch.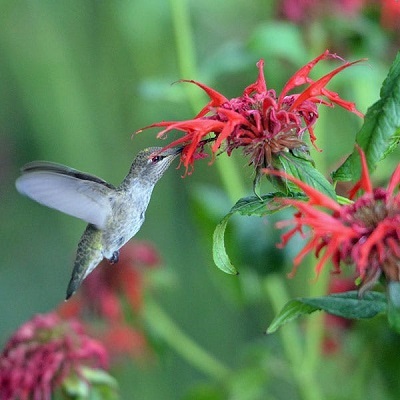 Jacob Kline Bee Balm with Anna's Hummingbird
If the Hummingbird Society were holding its festival this year, it would be in Sedona about now. They are
planning one for next year.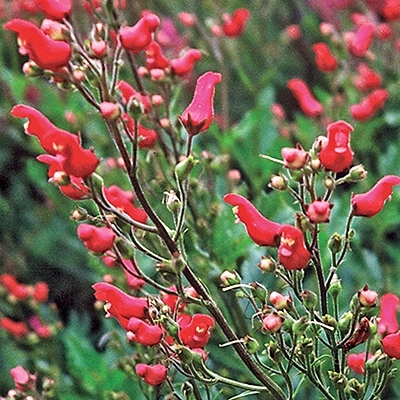 Red Birds in a Tree
If you would like to send information and/or photos for the Saturday Gardening Thread, the address is: ktinthegarden
at that g mail dot com place Include the nic by which you wish to be known when you comment at AoSHQ,
unless you want to remain a lurker.
Posted by: K.T. at
01:28 PM