Two of Three Trump SCOTUS Justices Have Already Turned Left – Let's Ditch "Originalism" And Seek Out Partisan Conservatism Instead
It's time to ditch the quest for "Originalism" as a principle of Supreme Court appointees. "Strict Constructionism?" There is no such thing. Two of the three Justices appointed to the Supreme Court by Donald Trump have already become semi-reliable liberal votes. Future President DeSantis (or Trump v2) - as well as every Republican President going forward - should screen Supreme Court nominees based on one criteria only – will he or she cast political decisions based on the desired outcome of conservatives. Precedent, media pressure, respect for legislative bodies, or even the direct language of the Constitution should no longer matter. All that matters is that Republican-appointed Justices will make decisions based on the political outcome that conservatives desire.
That is how liberal Justices are chosen. Questions asked of liberal appointees are not about legal doctrines or the constitution. Liberal SCOTUS appointees are simply asked to pledge their obedience to the left-wing political agenda. But wait, we conservatives are highly principled people. We believe in the original text of the Constitution, and we have the brightest legal brains at The Federalist Society screening judges for their adherence to originalism. If only. Unfortunately, the Federalist Society has failed repeatedly. It's about time to realize they are an elitist club that is hapless in screening the judicial philosophies of judges. Or maybe they are simply frauds like Conservative, Inc. and much of the recent GOP leadership.
Josh Blackman has a piece in Newsweek
that details just how quickly and frequently Brett Kavanaugh and Amy Coney Barrett have aligned themselves with the court's four leftists. (I'm including Justice Roberts as one of the court's leftists, although Blackman politely puts Roberts in the "the middle."
"But we should take seriously these warnings from Thomas, Alito and Gorsuch. They are sounding an alarm about Kavanaugh and Barrett. Both of these jurists, who are still very early in their decades-long careers, are already raising serious red flags."
In response to Blackman's column, Margot Cleveland of The Federalist (which is not related to The Federalist Society) tweeted this disturbing appraisal of Kav and Barret.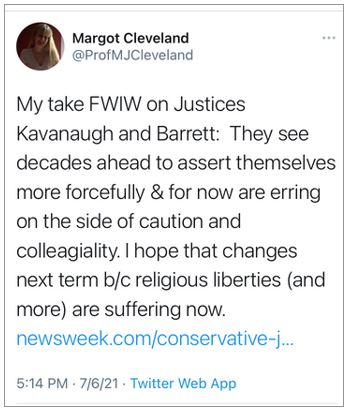 I fear that Professor Cleveland is correct, but there is nothing originalist about Kav and Barrett voting with the Supreme Court's left-wing Justices for the purpose of establishing collegiality or strategically positioning themselves to vote conservative in the future. By already making political considerations part of the decisions they make, Kav and Barrett have quickly abandoned any pretense of being strict constructionists. We should therefore expect that they will
always
compromise their alleged originalist principles for political reasons. And one day they will simply be reliable liberal Justices who somehow had the imprimatur of The Federalist Society…just like Roberts. And Kennedy before him. And Souter. Etc. For decades, conservatives have believed that originalist Justices would roll back liberalism and protect constitutional liberties. But who was chosen to ty to advance our agenda in the courts? Judges who went to the same far-left Ivy League law schools that produced our activist judicial adversaries. After countless betrayals, it's time to admit that originalism is a failed strategy, as is selecting judges who were maleducated at Ivy League law schools. Let's try this going forward…we first seek The Federalist Society's input so we know who NOT to choose for judicial appointments. Then the vetting process can be as simple as inquiring if the judicial candidate will reliably cast conservative votes and write conservative decisions, no matter what. When asked how he might vote in various scenarios, the perfect response would be, "I'd call Rand Paul and ask him, then I'd do what Rand told me." Or even better, let's completely forget about appointing trained judges to the Supreme Court (and lower courts.) Instead, let's start appointing staunch, reliably conservative activists to the Court instead. Kurt Schlichter or Ted Cruz would be much more reliable (and more intelligent) SCOTUS appointees than anyone The Federalist Society might come up with. No more Souters. No more Kennedys. No more Roberts. No more Federalist Society. No more originalism. (buck.throckmorton at protonmail dot com)
Posted by: Buck Throckmorton at
04:11 PM