Saturday Gardening and Puttering Thread, October 3, 2020 [KT]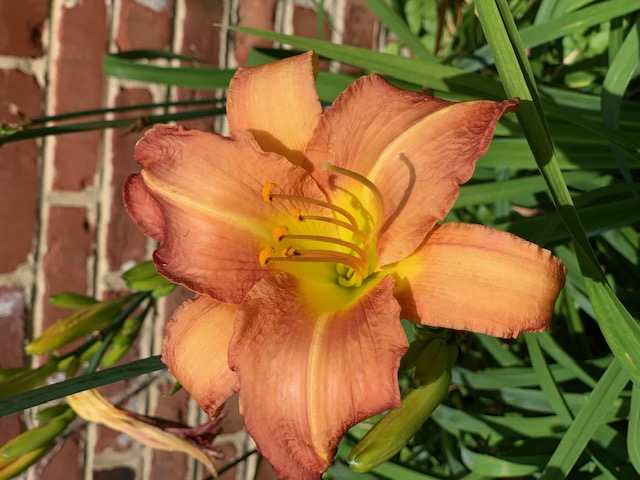 Hi, everybody! I think it's fall!
Hi KT.

These are my last photos of Hemerocallis blooms in our garden beds from this summer. We have nearly a dozen different varieties from several sources -- Viette Nurseries in Fishersville, VA, donated plant sales, and from previous owners of our properties -- spread around eight different beds that I am presently in the process of rearranging to create more organized and pleasing displays. All these blooms are from 2-1/2 to 3 inches across. I do not know the varietal names for most of them, unfortunately.

These two day lilies are prodigious bloomers in our beds. Little Grapette's subtle striations on its deeply colored petals are striking to see. The other plant is sturdy and solid in both its flower stalks and the blooms. It was on our property at our place in Sussex when we bought it over fifteen years ago and it has always come up strong and prolifically during the blooming seasons.

Thanks so much for hosting the weekly gardening thread. I have gotten a lot out of reading it.

Best regards,
Krebs v Carnot
Little Grapette: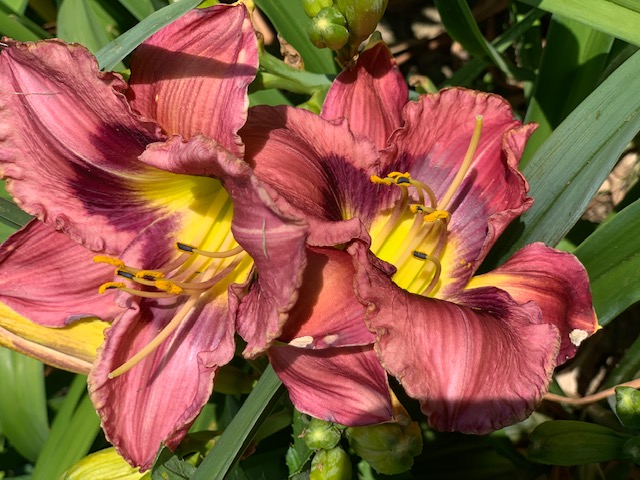 Garden Critters
From
Lurker Smitty:
Hello KT -
Always enjoy your gardening and nature threads - wish they were more often. Here in Scottsdale, AZ we have a small grove of pomegranate trees usually loaded with bird nests in the fall several of which are our "family bird" - the Mockingbird. Without fail, as temps start dropping we have youngins hopping all around the yard unable to fly either pushed from the nest early by siblings or forced out in the monsoons. When our kids were younger it was great to box up those who were in danger of our pups (or getting scooped out of the pool) and raise them indoors until they could fly feeding them mealworms, etc. We absolutely love these guys. Some find their loud flamboyant singing all hours a nuisance but not us. After decades of helping them, we are confident many of the friendly cheerful adults around us were once youngins in our care. Here is a pic of one of the chicks hanging out on our blooming Blue Plumbago. Thanks again for the threads, we've learned and enjoyed lots over the years.
That chick looks like it would appreciate your help. Love the Plumbago, too. Nice specimen. It's Cape Plumbago. Best in afternoon shade in Scottsdale, I would imagine.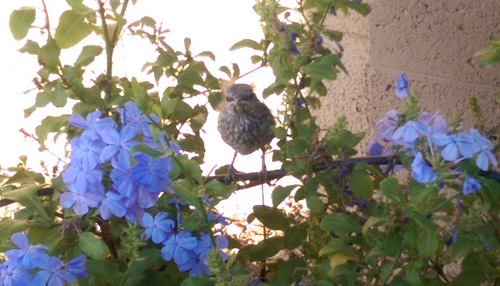 Travel
A friend visited the
Dallas Arboretum
Pumpkin Village. I think most of these are edible. But check your gourds and squashes if you want dual-use fruits. How many can you name?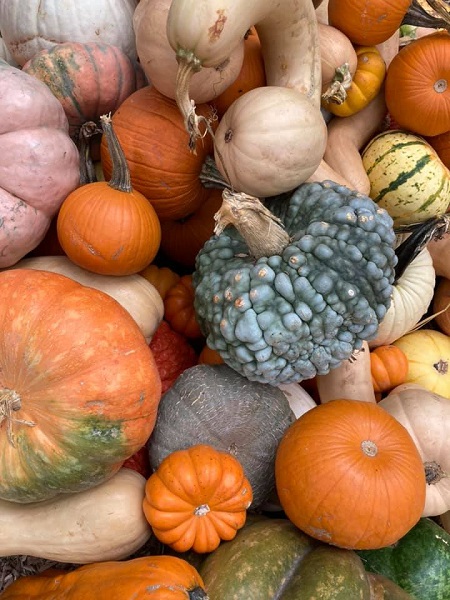 Larro
is in the Ozarks:
Beautiful chapel hidden away in Ozarks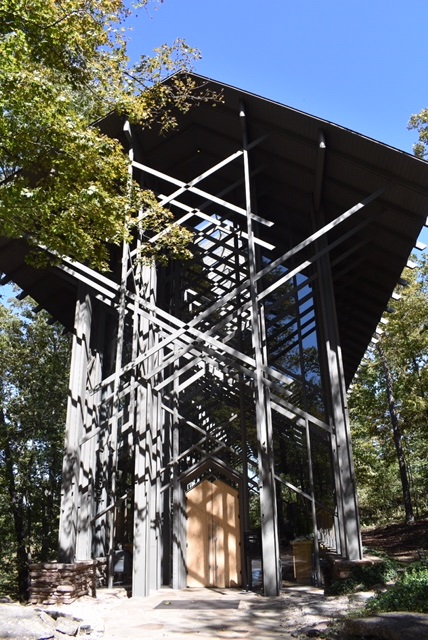 We first found this back in early 90s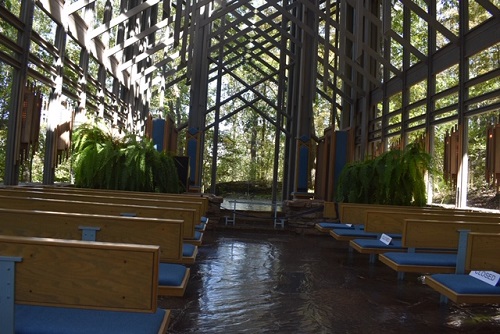 Inspired to replace your floor?
Close to Eureka Springs . . .
The fall colors are trying to start. The leaves are starting to accumulate on the ground.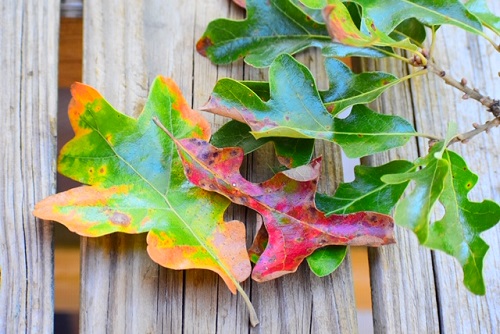 The Ozarks are beautiful all year round.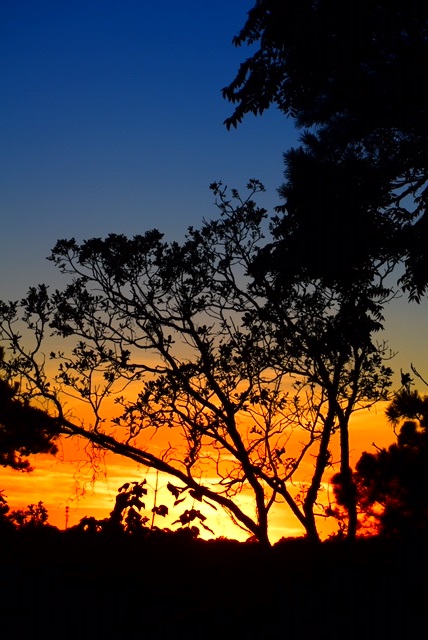 If you are up for a trip, Larro has a location for a lunch meetup in Branson.
Paula Deen's Family Kitchen.
Puttering
A friend of mine decided to try making a
Scrappy Quilt
for her grandson. Prepared to fit his interests. Like jungles and animals. These are some of the blocks. What do you think?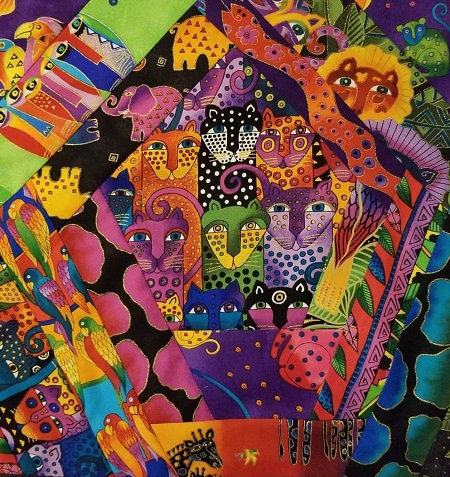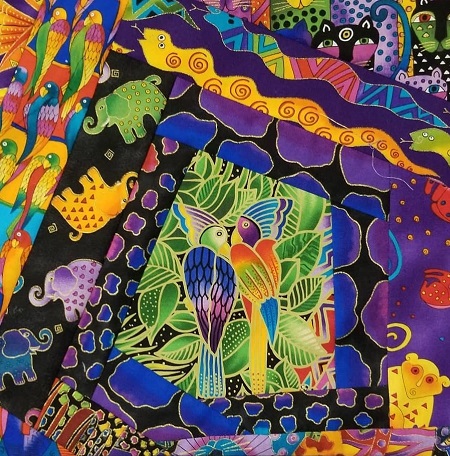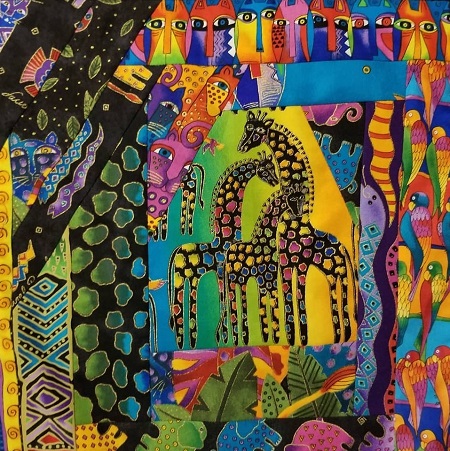 Music to Putter By
Gardens of The Horde
Diogenes
sent in a photo of his Sweet Autumn Clematis.
This is about two years along now. A replacement for one I lost in an ice storm several years back. I'm pretty pleased with it.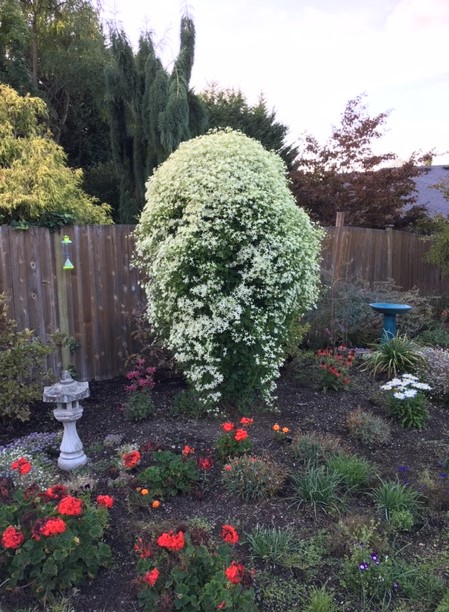 From Washington State to the Desert:
Is it puttering or gardening?
Hey Kt,
Been madly planting my fall garden. Trying some new things, a Swiss Chard called Perpetual Spinach, it is truly a chard but tastes like spinach, also supposed to last a few seasons. Also a Mustard green called Komatsuma Tendergreen, it is supposed to be tolerant of heat which I need here. Always on the lookout for garden containers or things I can plant in. On my neighborhood walk a few weeks ago I came across a sand pool filter with a sign that said "free- paint like a Christmas ornament but I immediately saw two planters. Got the truck and Mr. Wee Kreek and got it home. Mr. Wee Kreek did all the work on this so I take no credit other than spying it before anyone else and wanting to make it planters. Those are ceramic coasters covering the plumbing holes, we have had the coasters for years, perfect fit. One planter is planted with lettuce and the other beets. Tomatoes and peppers are finally waking up from the heat and putting out flowers again so hopefully I can send some pictures of a few weird peppers I planted when I get some fruit. Wee Kreek Farm Girl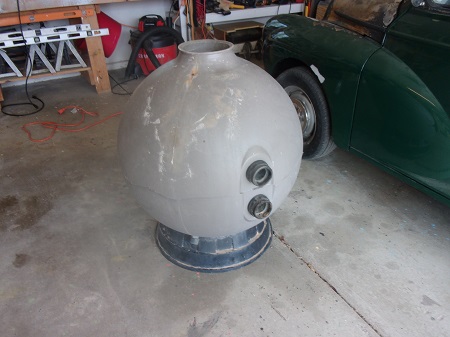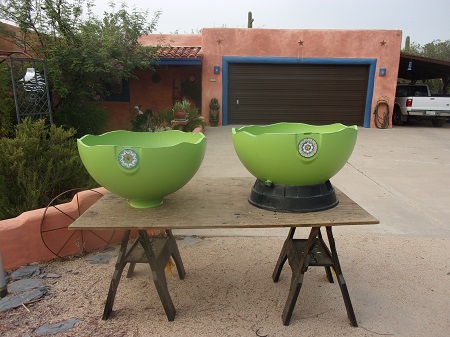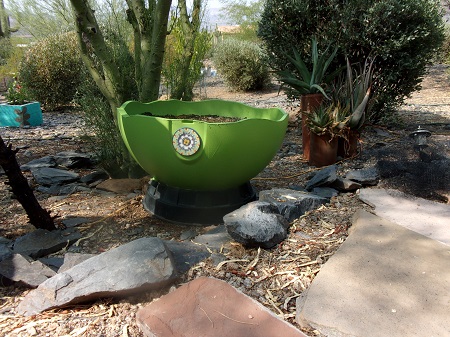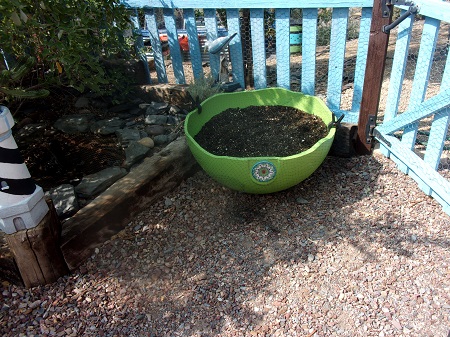 Intriguing planters. Do you have any questions for Mr. Wee Kreek? How did he do that? I like Komatsuma. If you would like to send information and/or photos for the Saturday Gardening Thread, the address is: ktinthegarden
at that g mail dot com place Include your nic unless you want to remain a lurker.