Ace of Spades Pet Thread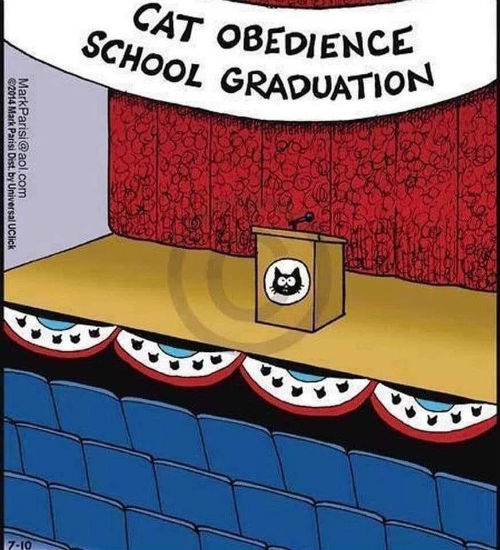 (H/T ALH)
***
Good afternoon and welcome to the almost world famous Ace of Spades Pet Thread. Take a break from your chores and enjoy the world of animals.
***
A Little of This. A Little of That.
Pet lover and all around great 'ette Shibumi submitted the following stories. Cute stories.
A prairie dog and a cat are very close friends.
Cats with attitudes, or dogs are just more considerate.
***
Is this the answer to one of man's oldest questions?
***
Meet The PetMorons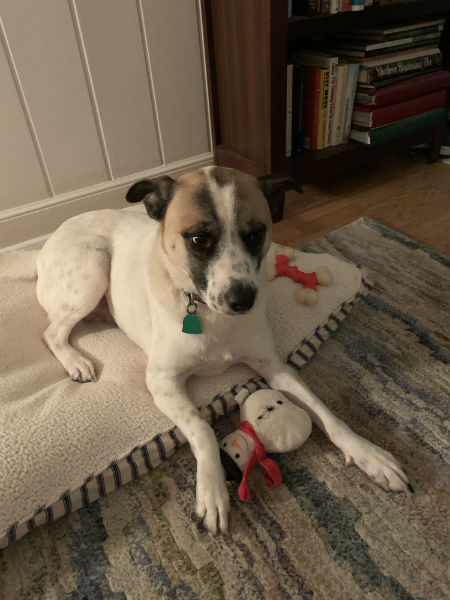 Hi, I comment on the book thread as CarolinaGirl but usually lurk on the Pet thread. This is Podrick, my sweet dog who is now about 4 1/2. I got him from the local Animal Protection League in 2017. The shelter said he was an Australian cattle dog mix, but whatever he is, he's the best boy ever. He has never climbed on furniture or chewed up a shoe, and gnawed just one book cover. He only barks when a stranger comes to door. Since mid-March he's enjoyed being my coworker at home and has a gentle way of nudging me when it's time for his mid-morning break. He's been a super quarantine buddy! (The name is from Game of Thrones ... the loyal squire. Perfect for such a good boy.)
CarolinaGirl
Thank you for stepping out of the world of books into the world of pets. Quite the cubicle mate you have there. Well behaved and cute.
***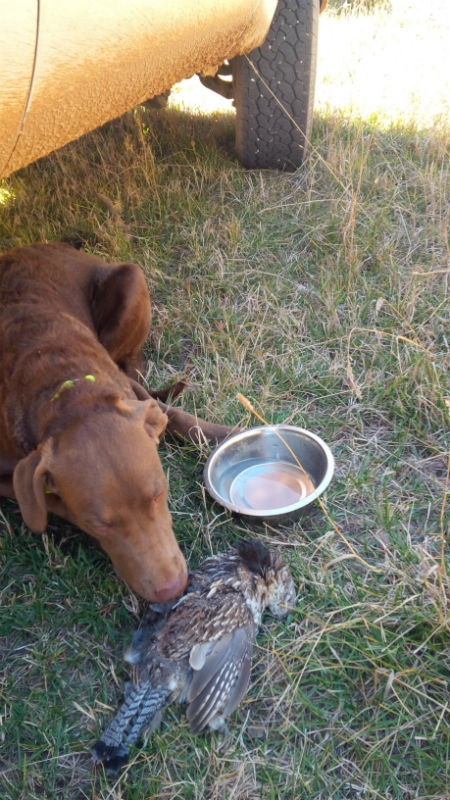 The young Chesapeake Bay Retreiver doing what he was born to do. - Paul
So what is the name of your pup? So you guys enjoy hunting for
rockets with wings
Ruffed Grouse. Good way to burn off puppy energy. Thanks for sharing.
***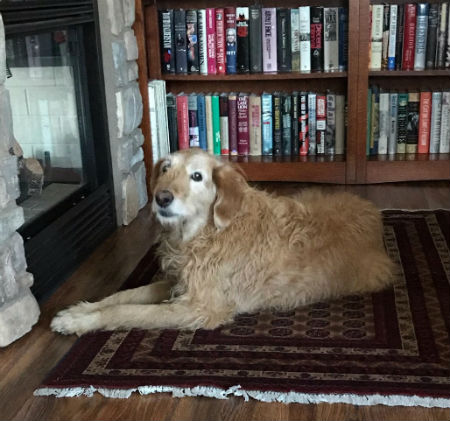 fFIIGMO here, frequent visitor, occasional commenter: Attached is a photo of our sweet Maylie (named after Mrs. Maylie in Oliver Twist), a Labradoodle unlike any other. She had issues (knee surgery, digestive stuff) but was absolutely a wonderful, loving soul. Just lost her 8/3/20 after almost 12 years. RIP sweet Maylie.
So sorry to hear of Maylie's passing. She certainly was a cute sweetie. Thank you for your contribution.
***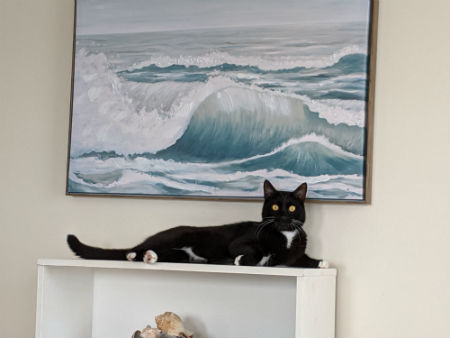 This is my boyfriend's cat Rascal. We recently spent a week at the beach and stayed at a pet-friendly 100 year old beach house rental. I had my two little chihuahuas Flynn and Cori with me, and my boyfriend brought along his pet cat Rascal, who's a lot bigger than the two dogs combined. Cori is 5 months old, and she and Rascal played chase and shared toys while Flynn watched complacently. Rascal is a talker and an indoor-outdoor kitty, and while he didn't really like the beach, he tolerated his confinement admirably. This was his spot when he wanted to get away from the dogs and look out the window at the beach. As you can see, he's very photogenic! Thanks, Bird from Georgia.
My goodness, traveling with 2 dogs and a cat? Brave souls you are. It sounds like a fun adventure was had by all. Thanks for sharing.
***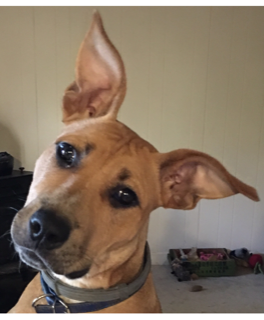 This is sweet River. She was living in a junk yard as a puppy when a rescue group picked her up. My son adopted her and she stayed at our house until he could move. My husband kept asking when he was going to come get his dog. Now we say to my son "you will never get this dog." We love her so much! She's smart, funny and just so adorable. Living in that junk yard made her clever and crafty, both traits that are irresistible.
Thanks for sharing her with the world! - Tracy
Tracy submitted her dog's photo and story a couple of weeks ago. Somehow my dogs goofed up the computer and River didn't get in. So let's try again. A wonderful ending to what could have been a sad story for River.
***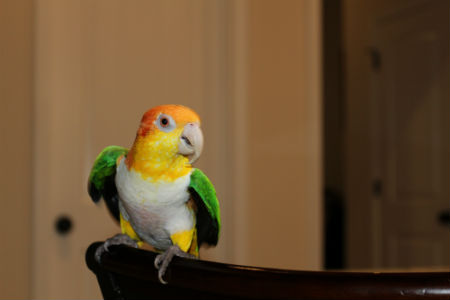 Don't see too many birds on the pet thread, so I would like for you to consider Peanut. He is a White Bellied Caique (type of parrot). He is about 9 years old and should live into his 40's. Peanut is similar a Marine in that he is fearless and loyal. I also have 3 cats in the house and they DO NOT MESS with the bird (they learned the hard way). Hope this makes the cut. Regards David
Of course a beautifully colored pet such as Peanut would make the cut. Sounds as if he is a badass. Cool. Thanks for your contribution today.
***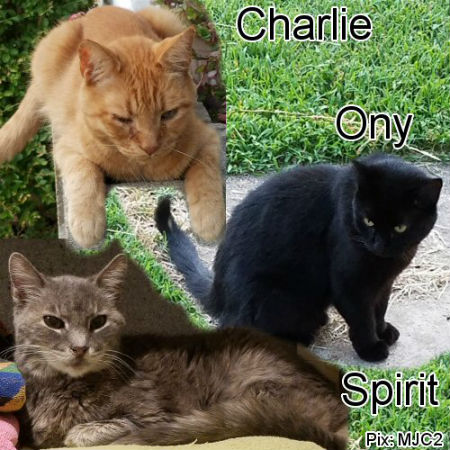 &&&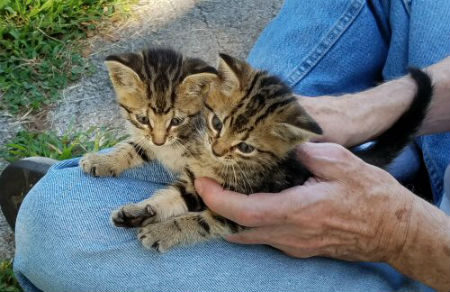 I've been threatening to send pix of our cats for so long! Finally got
around to it, but only after picking up two new cats!!
Photos credit: Milady Webworker. Pic #1:
Charlie, Ony, and Spirit are our three long-time housecats, about whom
I've often told stories on the Pet Thread. I've told their "how we got
them" stories in the past, but I will spare you today. They enjoy the
comforts of a big rural yard and lots of cushy inside places. Working
cats, as I often say, keeping the vermin down, and alerting us when
some critter gets in the house that they won't eat. Pic #2:
On Saturday before Labor Day, Milady and I made a rare trip to our
in-town "office," to pick up some things. As "fortuitous coincidence"
would have it, we found a family, heading through town, stopped for a
minute in our parking lot; their two young boys were trying to catch
the two tiny kittens who had come up to them. We joined in the ensuing
comic chase scene (worthy of the great Duck artist Don Rosa). Guess who ended up with the kits. Hint: not that traveling family. Not sure what will become of them. Today (day after Labor Day) we have
to decide. Our three cats were very rude to them, and we aren't really
in a position to take on two new kittens. Daughter and Son-in-Law took
them for a night while we were out of town, which became two nights
(heh! so far). Their dog really took to them. As did Daughter & SiL. To be continued. - mindful webworker
So a few days have lapsed since your submission came across our desk. Has your household increased to 5 cats? All beautiful creatures. Thanks for sharing.
***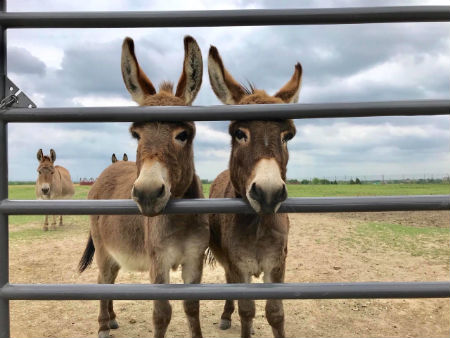 Meet Macie and Charlie Brown. This pair is inseparable and extremely adorable. Macie (light brown on face) is Miss Grace's daughter and a little more feisty. Charlie is a prince and follows Macie's lead. Both enjoy dressing up for the holidays, tummy and back rubs and lots of treats. It was really hard to narrow down which pictures to attach. Good luck picking your favorite! - MW in Texas
It was difficult to select one photo out of the 6 you attached. Those critters sure do act as if they are best buds. Thanks for sharing your unusual pets with us today.
***
This is the kitten who appeared in Publius' garage 3 weeks ago. He wasn't more than 6 weeks old then, and we have no idea what happened to his mother or siblings. We've named him Cato after Clouseau's sidekick, because he's an ambusher and an ankle-biter. He's already grown by more than 50% since then. Harli isn't happy about him, but he's fascinated by her and wants her to be his mommy. Today we couldn't find him anywhere, but he turned up napping in Publius' cap. Also, I have a question for the cat folks here: Harli needs a special diet for kidney function, and she doesn't like the Purina recipe. Does anyone have any tips regarding this? -Miley
It certainly appears that this little critter has moved into your hearts - big time. I hope there are people who can help out with your cat chow question. Does your vet have any ideas?
***
Once again the PetMorons are a wonderful and beautiful collection of creatures. Thank you for all of your submissions. The in-box is rather full. So please be patient while we get your submission. Hope you all have a great week!!!
Posted by: Misanthropic Humanitarian at
03:00 PM