Ace of Spades Pet Thread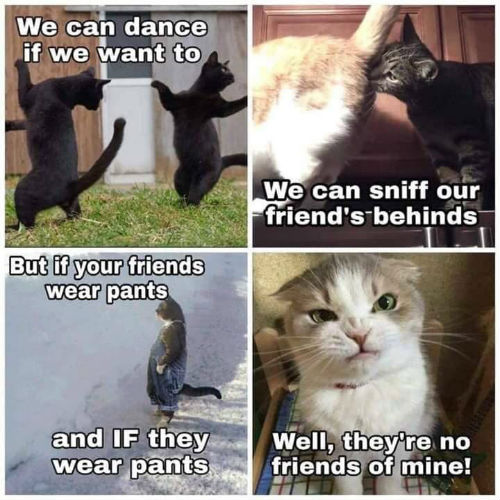 ***
Good afternoon and welcome to the almost world famous Ace of Spades Pet Thread. Take a mid afternoon break and enjoy the world of animals.
***
A Little of This. A Little of That.
Here's a painting I received from Sobek. I enjoy Blue Jays, very colorful especially in the winter months here at the Frozen Tundra. One of the visitors that I receive at our various bird feeders. Beautiful piece of work.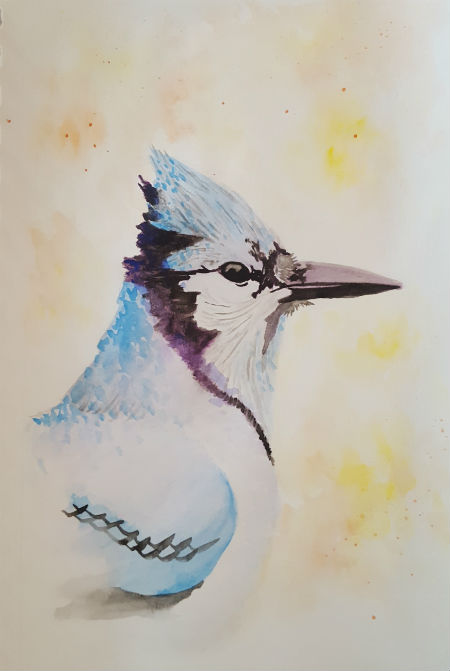 ***
As a parent I was happy my daughters never grew up to be strippers or attorneys.
I can add one more occupation, Pretend K-9.
***
We all get old,
Even our pets. Time flies by. Love those furry critters.
***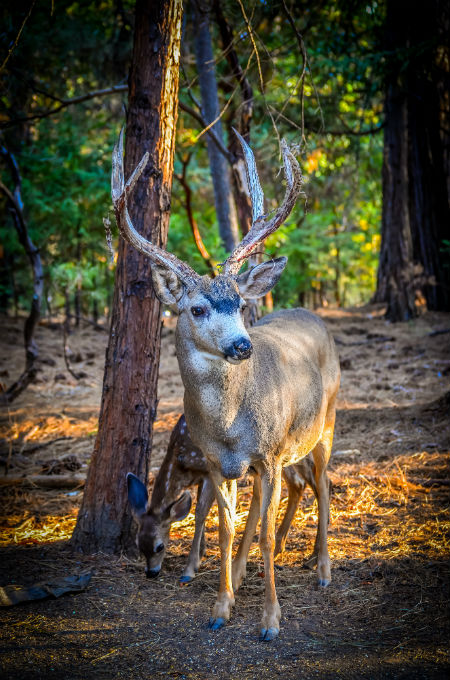 Hi,
Here's a shot I took of a Blacktail buck and fawn. Don't know if you can use it or not. I took the image in Eldorado National Forest last year. Sincerely, H.L.
A gorgeous photo. My research says this photo was taken in California. I'm not familiar with the Blacktail deer. Beautiful animal.
***
Meet The PetMorons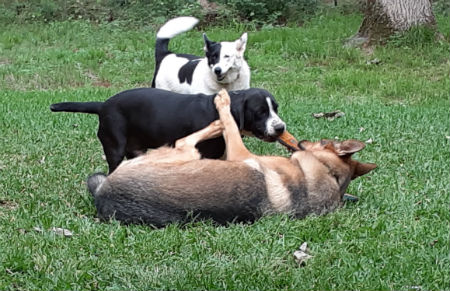 It's been seven months since I picked Reggie up off the side of the road. His hair has grown back, he's put on weight and been neutered. He's one of the gang as you can see. He and Maizy are duking it out while Kis is the announcer/referee. I keep expecting to hear "Llllllllet's get ready to rumblllllle!" If only he'd quit chewing stuff. Like remotes, bedspreads, sprinklers, chairs, tables... Bean Counteress of Rohan
Well he's not an angel after all, just your typical dog who enjoys keeping you on your toes. Great story, thanks for sharing the update.
***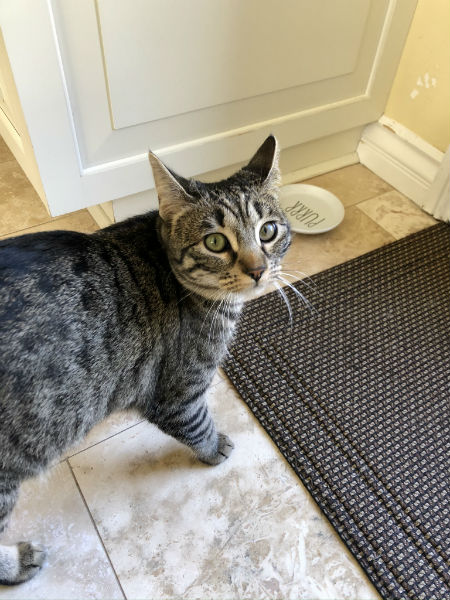 &&&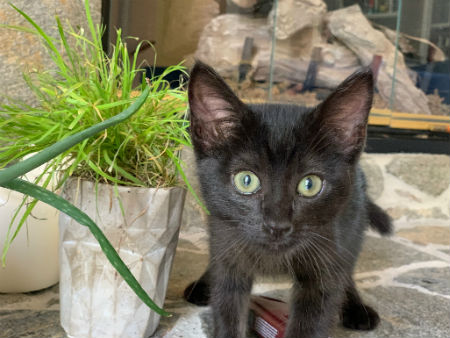 After we lost our beloved 17yo Maine coon giant cat to a coyote, our hearts began to heal when we adopted Olive our tabby. Thursday I decided she needed a friend and we adopted Fig, a 9 week little black kitty. Mostly because I love black cats. They actually get along great and play and groom each other. Better than I'd expect in a couple days! Pro tip: don't tell your husband you're getting another cat because he'll say no. Once he sees the little ball of fur in your house, you've won the war! Cheers!
Keena
Wow, how sneaky!!! We are happy to hear that it all worked out well, for you. Not to mention the kittehs. Thanks for the contribution today.
***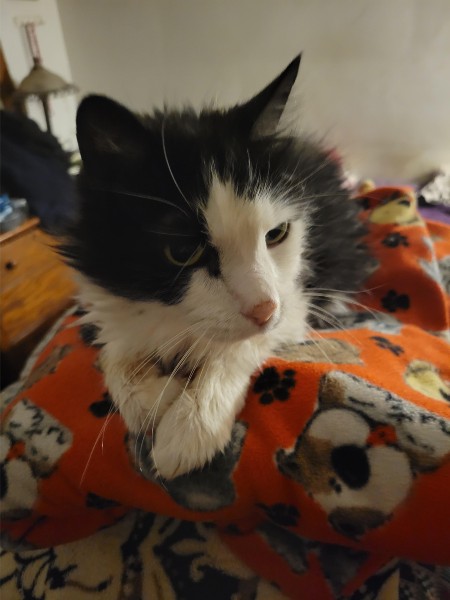 Hi Mis Hum, BifBewalski here. I lost my buddy, Splotchy, this week. Here's a recent photo of him.
It's kinda obvious that he's malnourished and under weight, isn't it? If he were here, he'd tell you so.
Splotchy, I miss you buddy.
After all these years it amazes me how much love we have for our pets. A moving story BifBewalski. So sorry to hear of your loss. Splotchy was a great buddy.
***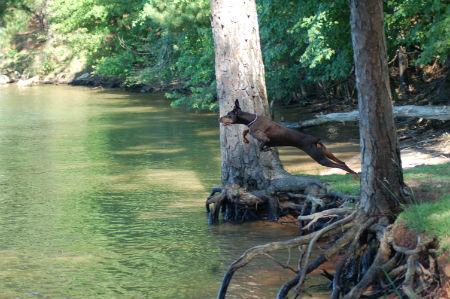 Ruby, who could barely dip a toe in water when we got her almost 2 years ago, has overcome any hesitation. She has proven to be a good swimmer and this past Memorial Day at the lake she discovered that leaping into the water is brilliant fun. So fun we joined a dock dog group. Picture is from her first practice a few weeks ago.
I look forward to Saturday's pictures and stories in the pet thread. Thanks for sharing ours. - Sue
Ruby appears to be quite the athlete!! It looks like you introduced her to a great sport. Thanks for the action shot. Very nice!
***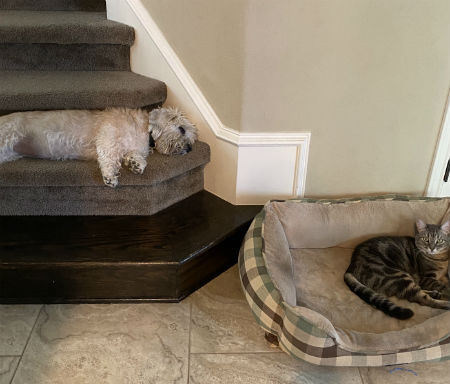 Here is my Dandie Dinmont Terrier, Millie, and my son's tabby, Poppy. I already bought Poppy his own bed... - Lin-duh
A quiet moment at the Casa Lin-duh. I bet that doesn't happen often. Great shot of the critters resting and scheming. Thanks for sharing.
***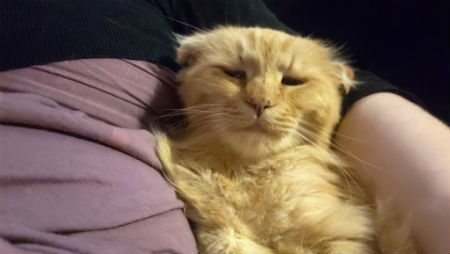 Meow, I would like to share with the Horde pictures of Maceo ("May-See-O"), the rescue cat my (now former) gf got from the S.F. SPCA a few weeks ago (they got him from Fresno, about 3.5 hours southeast from here). He had mast cell cancer on his neck which they removed though it may return. His ear flap folds are probably caused by ear infection scar tissue. He also had all but about 4" of his tail amputated due to trauma - probably some jerks yanking his tail. Apparently, his medical issues scared people off. Oh, yeah, and he's now a countertenor. My fgf said that even if his cancer returns and it's malignant, he deserves love for the rest of his life. He's skittish and has a very "demure" mew, but he very affectionate and touchy-feely. Because the hair hasn't grown out on his tail stump, I nicknamed him Fingerbutt. (I can do that because I'm his godfather and also I get to pay his medical bills.) He does love a lap. - SFGoth
Who says Morons don't have big hearts? A kitteh's Godfather? Nice job SFGoth. We appreciate the happy ending to a sad story. Thank you.
***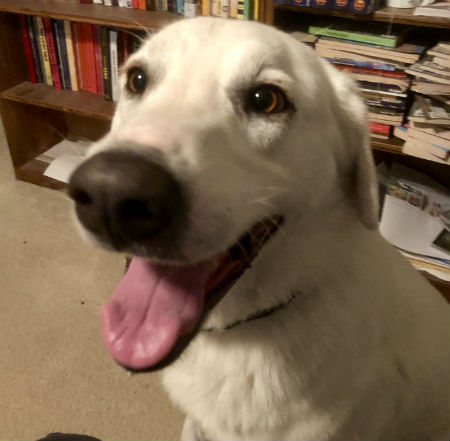 See pic of Buddy attached. I did a post on him
Buddy is a handsome lad. But, I do detect Thanks for the link for his post.
***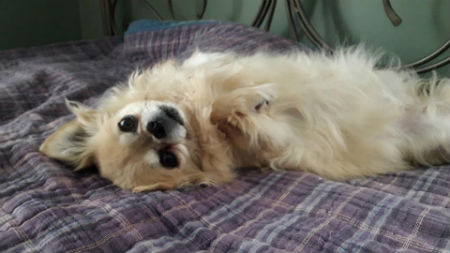 I'm sorry to say that Souris (Soo-ree) had a stroke last week and my wife had to have her put down. She has graced the pet page and will be greatly missed by all who knew her. Independent to a fault and as sweet a little dog as there ever was. She was nine and this was too soon and a great shock to my wife. See across the Rainbow Bridge little one.
My wife and our dogs are in Wisconsin and I am stuck in Canada unable to see them due to The Political Flu! - Regards Tom
What a shocking story Tom. 9 is way too young. Condolences to you and your wife. We hope you grace us with a photo of a new companion sometime in the future.
***
Thank you for your contributions today. Once again The Horde displays big hearts for God's creatures. If you have something you wish to share with us please reach out to us here at petmorons at gmail dot com. Here's hoping you have a great week!!
Posted by: Misanthropic Humanitarian at
03:00 PM