The Morning Report - 5/15/20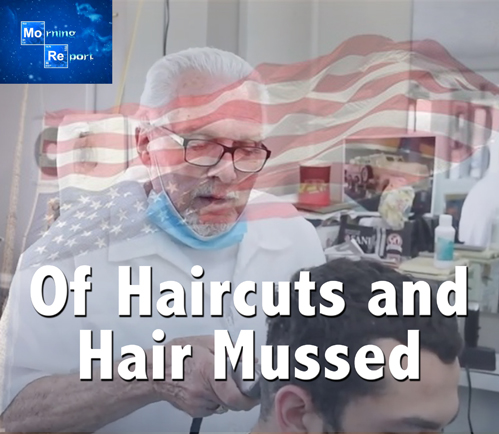 Good morning, kids. Friday, and another grim milestone of yet another day of America held hostage. There's just a torrent of unprecedented and heretofore unimaginable things going on that it's hard to get a handle on all of it. After two months of being forced into a state of siege on the ever-more-flimsy-by-the-day pretext of public safety, our economy is in ruins and the societal/political norms that defined an honor system to prevent totalitarian rule are all but evaporated.
The parallel yet closely intertwined stories of the General Tso's Sicken and what is now officially Obama-Bidengate underscore the fact that we are a nation at a crossroads.
When the [Chinese] coronavirus landed on our shores, communist China came with it. We have become part of a mass scale human experiment in government control and it turned out that stripping away our freedom wasn't all that difficult. Under the guise of concern for our health and well-being, tyrants came out of the woodwork. Our Constitution, our Bill of Rights, and our lives are being destroyed as the left solidifies and expands their oppressive powers. We've been herded around like cattle, threatened, isolated, confined, silenced, and arrested. You name it, it's happening... ... And while the lust for power underpins this shocking spectacle, it's wrapped up in the guise of "safety." Who could possibly question a doctor in a white coat touting such an idea? No good totalitarian regime would be without its idealized worldview to sell fools down the river. And so we've sailed, as our economy has collapsed, Americans have been controlled, law enforcement has complied, and people are bombarded with fearful messages every hour of every day - messages riddled with distorted information and lies, from bogus models to inflated mortality rates and everything in between, all of which serve to strengthen the left's case against Trump while corrupt hospital administrators rake in money from cooking the books on cause of death. But perhaps more than that, it's easier to control people who feel desperate and afraid... As for the oft-cited idea that we are at war with an invisible enemy, I would say, no, we are not. When nations go to war, they do so to defend their culture and way of life. Instead, we are destroying ours. But there is a war being waged. The left is determined to take this nation down and the perfect time arrived to go in for the kill. Maximum suffering, pain, and destruction is on the menu and they're serving it up every day as they plunge small towns, cities, counties, and states into protracted lockdowns and shifting goalposts. The scale of human suffering and the long-term effects of this are incalculable. They will not be seasonal, like a virus. They will be long-lasting. And the left cares not a bit...
Nailed it, right there. In fact, Carol Brown's essay is a veritable manifesto of the nightmare scenario in which we find ourselves. If you read or recommend nothing else today, this is the link to go for. Now more than ever, I'm struck by the fact that America's greatest attribute - its freedom - has always been its Achilles heel. Our enemies, both foreign and domestic know it. For well over a century if not really since the beginning of the republic (FYI, in 1789, not 1619), they have used it to gradually, and now seemingly all at once to destroy us from within. It warms the cockles of the heart to see Shelly Luther refuse to kneel before a hack-in-black demagogue and kiss his ring, and now 77-year-old Michigan barber Karl Manke tell Whitmer and her attack bitch Dana Nessel to FOAD. But the willingness for the citizenry of places like California, New York and Washington to just go along is frightening. Whether its Trump derangement, an ingrained Leftist mindset to trust government and fear freedom, which is the essence of American culture that they were taught to despise, and the concomitant hatred for real America which cherishes the latter and elected the former, or some combination of both, they are positively gleeful at what is happening to their fellow citizens, not realizing that it ultimately will happen to them. You can thank 50 years of brainwashing in the schools for that. We are a house divided. That's half of the equation required for divide and conquer. I believe we have reached the point where as some commenters are wont to quip "we are not voting our way out of this." If Trump should G-d forbid lose in November, it will be lights out America for sure. If he wins, which I believe he will even in the face of all of this no matter who his opponent will be, things could get very ugly and very quickly. Regardless of the outcome of November, I have come to the conclusion that with very few exceptions, every branch of government, the bureaucracy and the institutions we rely on to keep us safe are so completely corrupted and beholden to the Counter-American Revolution that elections really will not matter any more. The actions of Emmet Sullivan, along with that of Obama, Comey, Brennan, Clapper and all the rest make it painfully obvious. Despite perhaps as much as a third of the population not standing with us, I have postulated that we are ripe for that moment when as in 2010 when a fed up Tunisian shopkeeper decided to immolate himself and touched off the so-called "Arab Spring." Obviously the politics of that situation are way different, but as a metaphor/parallel, perhaps that shopkeeper is Karl Manke. Already, a large group of citizens interposed themselves and the authorities to prevent them from shutting him down. With the war of words escalating between the governor and AG and him, things could get interesting in Owosso, and from there, who knows? This situation is intolerable. I think the President is doing all he can, given the situation he is in. But this is one battle that he can't fight for us. We are going to have to fight this battle ourselves, for whatever definition of the word "fight" may be applicable. Mass, peaceful civil disobedience is my preferred choice. If G-d forbid it turns out to be that other thing, it will not be us who fire the first shot. But in the end, it only matters who fires the last one. Lift the lockdowns. Liberate America.

STRUGGLE FOR LOCKDOWN LIBERATION
President Trump encourages Pennsylvanians to demand their freedom, after Tony Evers was smacked down in court, Wisconsinites turn out in droves to celebrate, impassioned protestor in Minnesota, war of words and threats against Karl Manke escalate, Washington's Jay Inbreed demands ID to eat out but not at the polls, Michigan's legislature doesn't need the court to slap down Whitmer, Barstool Sports' David Portnoy's complaint goes viral, this "contact tracing" must be resisted, Riverside, CA sheriff will defy Noose-'em, Rush Limbaugh dead on about the Peking Pox being the same kind of fraud as global warming, you can swim but you can't surf?, the Other McCain weighs in on the madness, a call for Trump to get a new team of doctors to counter the lockdown mantra, a tale of two states, and looking back to today from 30 years in the future.
NOTE: The opinions expressed in some links may or may not reflect my own. I include them because of their relevance to the discussion of a particular issue. ALSO:
The Morning Report
is cross-posted at
CutJibNewsletter.com
if you want to continue the conversation all day. Follow us on Twitter:
@CutJibNews
REMINDER: The Clarence Thomas biography airs Monday at 9 on PBS. Don't miss it. See sidebar for details.
MuNuvians
MeeNuvians
Polls! Polls! Polls!
Frequently Asked Questions
The (Almost) Complete Paul Anka Integrity Kick
Top Top Tens
Greatest Hitjobs
News/Chat