The Morning Report - 12/20/19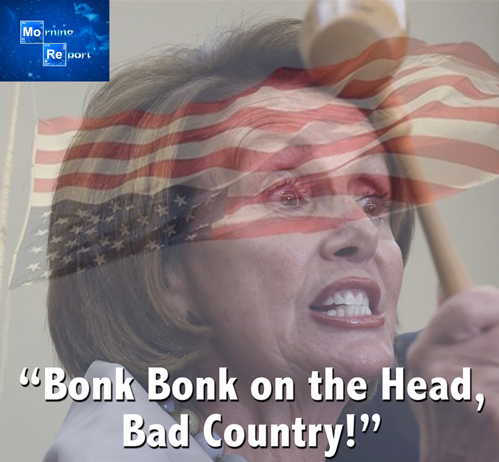 Good morning kids. The weekend is here and with Sunday the longest night of the year,
it's not the beginning of the winter of our discontent but the winter of our disgust.
As horrible as it was to endure what took place on Wednesday, which was the culmination of the previous three years (and in reality the past one hundred or more) with more to come, it is nevertheless equally depressing to know that there can never be a going back to any semblance or even thinnest pretext of comity with the Left. They want the country and they want us subjugated or dead. And that's being an optimist since the reverse is more than likely the case. Be that as it may, they have committed, IMHO, political suicide. I think before all of this, Trump stood a somewhat better than even chance of winning 2020 but now I think it won't even be a question of if he will win or even by how large a margin; the real question is how tremendous of a landslide will the victory be? The impeachment isn't necessarily the real reason for my prognostication (which might yet change since 11 months is an eternity in politics), but when you look at what was said last night at the latest train wreck camouflaged as a Democrat debate, it's merely the giant wooden spike into the undead heart of Dracula. But I'm getting ahead of myself. Beyond 2020/2024, things get a bit murkier. Despite the unreconstructed, pig-ignorant ravings of blowhards like Meathead Reiner and DeNiro, Trump will leave office at noon on January 20th, 2025. The questions are first, assuming that the era of Trump and the concomitant self-immolation of the Democrat party ushers in Republican control of government for perhaps as much as a further 8 to 12 years, will it be the same old GOP-e or a slew of Trump acolytes who will continue the transformation of the party and restoration of the republic? Second, given this ultimate act of sham impeachment, the combined no-longer-in-the-shadows Deep State/administrative state and their political wing of the Democrat Party (or its successor) is now completely unmoored from any legal restraints, let alone ethics or morality, the odds of them accepting banishment to the wilderness is slim to none. We know what they will do when (sadly) one day they do win a national majority (legitimately or otherwise). But if indeed they are wiped out for an extended period of time, in their eyes, since Trump is illegitimate, everything he and whoever and however many GOP-T (Trump) successors he has and what they collectively have or will have done and implemented, from laws and reforms to his remaking of the judiciary is or will be equally illegitimate. Impeachment is not the end, nor is it the beginning of the end. I think the fuse is lit for G-d knows what. Fasten your seatbelts.

SHAM-PEACHMENT FOLLIES
So, Trump is an existential threat that must be removed from office. So much so that the Dems have recessed for the Christmas holiday and Poligrip Pelosi has made it official that she will not send the articles of impeachment to the Senate for a trial until she is 100% certain she has rigged enough RINOs and other GOP dupes to convict Trump and thereby have him removed. Suggestion for Cocaine Mitch: Pull an ObamaCare - "deem" the articles as transmitted, convene the Senate long enough to throw the case out for lack of evidence, then go home for Christmans. Also, Sean Davis and Mollie Hemingway think that sitting on the articles is a disaster for her, Cocaine Mitch spits bullets at Pelosi and her machinations in a most eloquent, if not Mark Levin-esque style, rebuke, Jeff Van Drew makes it official and is proclaiming loyalty to PDT, Father of Rump Roast Clyburn is taking idiom lessons from Scoldilocks evidently, Cuck Schemer schemes to rig the trial, even the top impeachment witness claims there is no impeachment, Palsi maneuvers to muzzle House GOPers who protest, Tulsi the brave hits Palsi for sitting on the articles, and Dershowitz outright states that the delay is totally beyond the constitutional pale. Yup, big big blunder.
NOTE: The opinions expressed in some links may or may not reflect my own. I include them because of their relevance to the discussion of a particular issue. ALSO:
The Morning Report
is cross-posted at
CutJibNewsletter.com
if you want to continue the conversation all day. Follow us on Twitter:
@CutJibNews