Gun Thread: The Dried Stuff in a Basket in the Bathroom Edition [Weasel]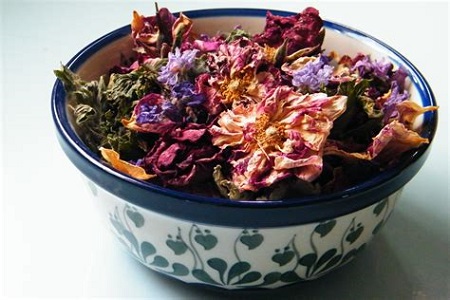 Flowery Dried Stuff
Well this past week I've been at the Texas MoMe, and should just be getting home about the time this thread goes up on Sunday. Since I will not have had much time for Gun Thread writin' over the last few days, what I'm going to do is post some stuff sent in by you all - kind of a big Mail Bag section for the week. Some will certainly recognize this as a half-ass effort, or perhaps even a quarter-ass effort, but I prefer to think of it as a potpourri of content! That's it! It's a
potpourri
of gun thread content! Let's get to it below, shall we?
First up is a field report from our pal Diogenes who sends us the following:
While attending the Washington Arms Collectors gun show yesterday I saw these really clever shivs. I didn't realize Bluebell had started marketing her products.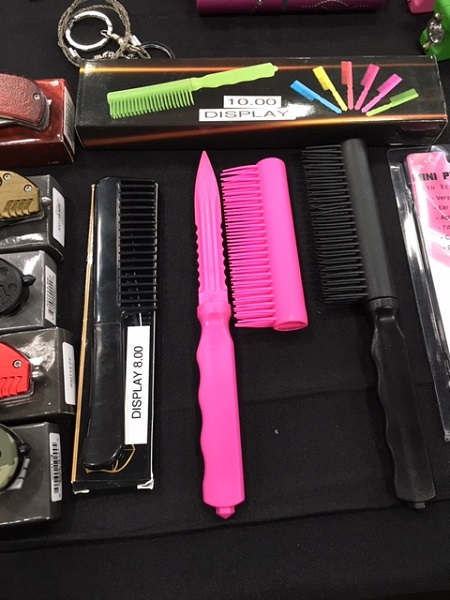 It's a Brush and a Shiv!
Nice find Diogenes! Bluebell has certainly captured some of the concealed shiv retail market. Word on the "street" is she's planning to introduce a new line this fall and a Shiv's 'n Beans Bistro is in the works for Spring!
*******
Next we have this nice submission from our pal
rocdoctom
who spotted this sign on a recent trip.
Not a sign you see everywhere. Eureka Nevada on Hwy 50...the friendliest town on the loneliest road in America.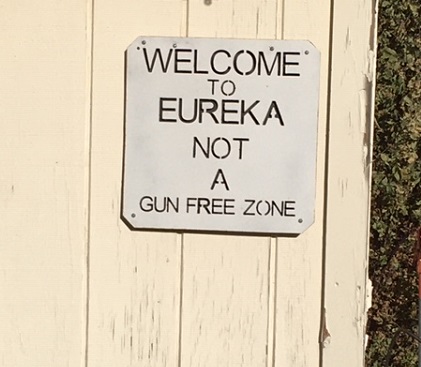 Eureka, NV is Gun Friendly!
Nice to know there are still some places in the United States that aren't filled with retards! Thanks rocdoctom!
*******
Next we have a range report from the SW Ohio MoMe from last weekend from our pal
ibguy
:
As prelude to the 6th(!) Annual SW Ohio MoMe a bunch of us met at the Vandalia Range & Armory. Our group included special guest Alton Jackson, the HQ's resident dead guy (buzzion), and a handful of others. Most had at least *some* experience with firearms, but buzzion was a virgin. Emphasis on *was*. Attached is a photo from his first-ever shooting experience (this with my Walther P22). He went on to shooting equally accurately with a 9mm and a 1911. Wow! Retired Buckeye Cop brought his amazing AR (chambered in .22). It was waaaay too much fun to shoot! And incredibly accurate. RBC explains: "It was a replica of the WWII-era Sturmgewehr 44 (StG 44) made by German Sport Guns chambered in .22 Long Rifle. The original StG 44 was the first assault rifle ever designed: the StG 44 has a lot of features that Kalishnikov copied directly into his AK-47 and Stoner adapted when he designed his Armalite 15 (AR 15), the basis of the M-16." Alton Jackson brought a replica 6-shooter (chambered in .22 Magnum). What a HOOT - *everyone* wanted a turn! Lurker Allan Y and his family also joined us (he and his wife and daughters have been MoMe fixtures from the very beginning). His HS sophomore daughter outshot pretty much everyone in our group - it was eery! We had a great time, and will definitely be adding this "extra" as a regular MoMe feature going forward.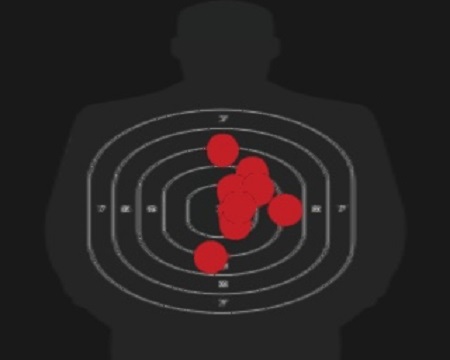 Dead Guy's Target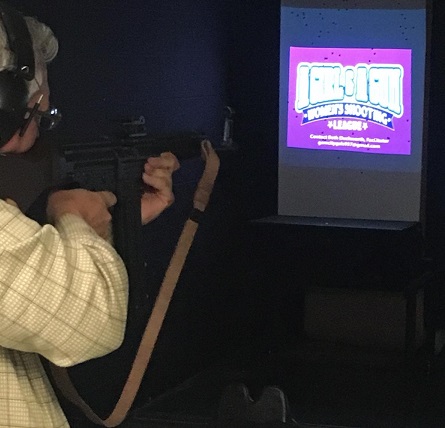 Retired Buckeye Cop Takes a Turn
Great report, thanks ibguy!! Sounds like a good time was had by all. And who would have thought a dead guy could shoot?!
*******
THANK YOU
I'd like to take a moment to thank all those who attended another spectacular Texas MoMe. It was the stuff legends are made of, and it was an absolute pleasure to meet and re-meet each and every one of you. Special hat tip and love for Ben Had, Rancherbob and CowHorseQueen - our gracious and super-fun hosts for the weekend. My God that was a good time. We cannot thank you enough!!!!! We did a lot of great shooting over two days, with a list of weapons too numerous to mention. Thank you to Jim Sunk New Dawn and Eromero for their help running the various ranges and all the others for bringing personal weapons and ammo for everyone to shoot! Please feel free to discuss all the shooting, or the now concluded 4th Annual TXMoMe in general, in in the comments below!
*******
Link-O-Rama
Outdoor Life: Most Notable Guns from Remington
Guns Magazine: 2019 Gift Guide
Ammoland: Ahnold and the Lever-Action Shotgun
Grand View Outdoors: Walnut Stocks
Shooting Times: Colt King Cobra Review
Handguns Magazine: Walther PPK/S Review
***Mail Bag***
Returns next week!
******
Please note the new and improved
gmail
account
morongunthread at gmail dot com
. An informal Gun Thread archive can be found
HERE
. If you have a question you would like to ask Gun Thread Staff offline, just send us a note and we'll do our best to answer. If you care to share the story of your favorite firearm, send a picture with your nic and tell us what you sadly lost in the tragic canoe accident. If you would like to remain completely anonymous, just say so. Lurkers are always welcome!
That's it for this week - have you been to the range?