Ace of Spades Pet Thread
Border Wall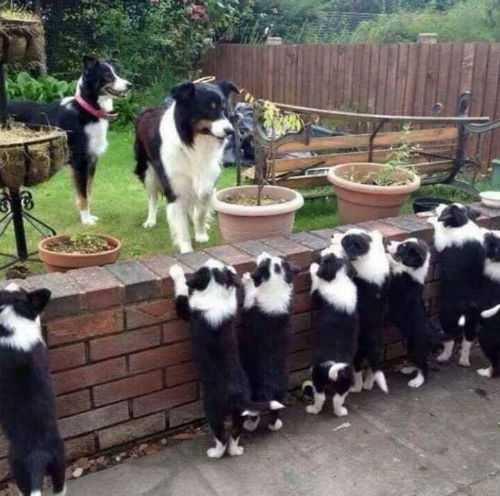 (H/T KT)
***
Welcome to the almost world famous Ace of Spades Pet Thread. Kick back and relax.
***
A Little of This. A Little of That.
There are plenty of disgusting people in this world.
There are also a great number of wonderful people as well.
A puppy who had part of his face blown off after abusers allegedly placed a firecracker in his mouth, has now undergone reconstructive surgery on his jaw. The one-year-old pup, known as Braveheart, was found in Sonora, Mexico, by an animal rescue team that contacted the Saving Huey Foundation to adopt him following his surgery. The damage caused by the firecracker was so extensive that he now has a prosthetic jaw. Needless to say, he was extremely lucky to survive the attack.
***
A cat who attends high school and has his own student ID.
"We tried to keep him as an indoor cat but he refused to stay in," Amber Marienthal told Good Morning America. Everyone at the school in on board, allowing the cat to roam freely in and out of classrooms. "We have never gotten a complaint," Marienthal added. "He sat on my lap and took a nap while I was taking my Spanish final," a student shared.
***
How a dog stole an author's heart.
H/T Hrothgar
It rained every day for three months, from late fall till spring. I'm sure a weak sun came out once or twice but never long enough to get used to. Mostly it was dank and cold, and the sky was low, like the ceiling of a coal mine, the clouds the color of asphalt. By March the low places ran with muddy water and washed whole lifetimes away, and storms tore up some parts of the South like they were held together with shoeboxes and glue. Things rusted that never had, doors swelled and jammed, and roots of hundred-year-old trees lost their grip in the liquid soil and fell under their own weight. It even caused a kind of moldering in the mind, an absence of optimism, like we had tracked the red mud into our finer nature. I have often heard old people in Alabama pray for rain, but never so hard against it. My mother began to see it as a sign, and it did seem odd, as the weeks slogged by. The weatherman offered no hope, night after night; he might as well have been a cardboard cutout with a fixed, final forecast, and the rains fell, till the end of the world. Or it might be it all just seemed that way, on the day a good dog died. The people who discarded her, who threw her away, called her something else, but we never knew that name. We called her Skinny, because she was two dogs high and half a dog wide. She was so lean, so long-legged and light, she seemed to glide without effort or even the pull of gravity when she flashed through the pines and the rocky places up high, running down a deer or just some distant sound, and she would sprint across a mountain to make sure a scent on the breeze presented no threat to her people, her porch, her place. She was just a stray that walked up one day in the yard, part redbone, foxhound, and a dozen other bloods, an old-fashioned, outside, Alabama brown dog that survived abandonment and starvation and bloody battles with coons and coyotes and wild dogs. We fed her and so she became part of the place, for seven years or more, till the hateful combination of a rare tick-borne disease and pneumonia—I blamed the constant cold and damp for that—finally killed her, early on a Sunday afternoon.
***
Meet The Pet Morons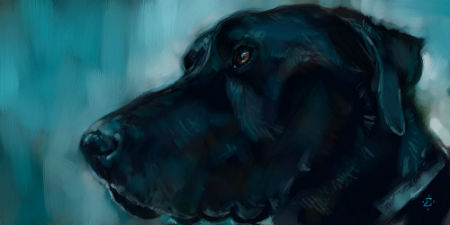 &&&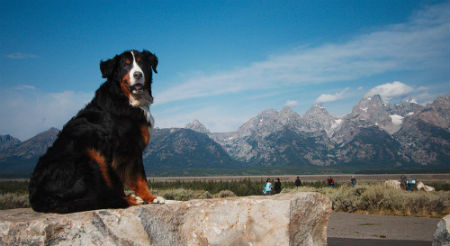 Steve here. Lurker. Occasional poster. Everyday AoS reader and pet portrait artist. I have two images. The first is a portrait I did of Boris, my good buddy, an English Mastiff / Black Lab mix. We had to put him down on August 28. He had nine great years and one crappy last one in which his body just gave up on him. The portrait is based on my last photo of Boris as we waited in our front yard for the vet to arrive. I bawl every time I look at it. The second image is Beorn, our Bernese Mountain Dog. I took it on a trip to Jackson Hole. The Missus got him up on that rock and as I took the photo people began crowding around me taking shots of their own. Beorn is very photogenic. I can tell he misses his older brother, but is adapting well to "Only Dog" status. Finally, I'd like to invite any of the Moron Horde in the Spokane / North Idaho area to come say "Hi" at the North Idaho Pet Expo at the Kootenai County fairgrounds on September 28. I'll have a booth near the main entrance, and will be doing demos all day for my pet portrait business, PetArtWorks.com
Beautiful dogs Steve, sorry to hear about your loss of Boris. Here's hoping for a long life for Beorn. Horde, Steve painted a portrait of our 3 Setters earlier this year. Gorgeous work. If you get a chance to visit him, you will not be disappointed.
***
Open Blogger Weasel submitted a short movie of
Weasel Dog.
***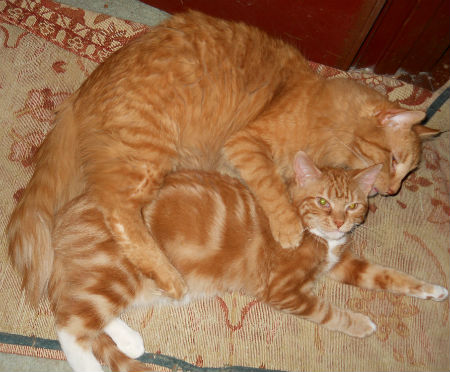 Tiny, by gp
Four years ago, I was sitting outside, cleaning the cosmoline out of a Serbian Mauser, when a red tabby kitten walked up to me, so he joined my family of indoor-only cats. Tiny was instantly adopted by my big orange Maine Coon Tom, who spent over a year teaching Tiny how to wrestle. Now Tiny is very sweet on Flash, who joined us last winter. Tiny is a talker, very active and alert, makes funny faces when he hears things, and gives powerful goat-level head-butts. I love my cats so very much, and I worry that they find good homes if anything happens to me. gp
What a cute pose gp and a heartwarming story. Great looking kittehs. Sound like they have quite the household. Thanks for sharing.
***
The In-box was pretty empty this week. Don't be shy Horde, you can send your pet related photos, stories, this and that to us here at: petmorons at gmail dot com. To those who contributed this week, thanks! Have a great week!!!
Posted by: Misanthropic Humanitarian at
03:00 PM
MuNuvians
MeeNuvians
Polls! Polls! Polls!
Frequently Asked Questions
The (Almost) Complete Paul Anka Integrity Kick
Top Top Tens
Greatest Hitjobs
News/Chat