Jury Duty (and Open Thread) [KT]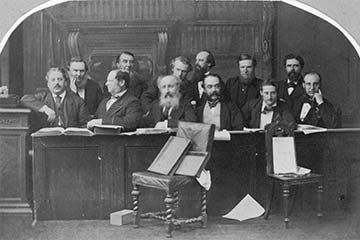 The history of jury duty
Why exactly are people randomly picked to serve on a jury? Wouldn't it be better to let legal experts decide important court cases, and not a dozen random strangers? Who came up with this system, anyway? The answer to that last question, like most, is the ancient Greeks. In the groundbreaking Athenian democracy created in 507 B.C.E., all court cases were decided directly by the people. Huge juries of 500 people or more were selected every day from a pool of roughly 40,000 adult male citizens to rule on everything from murder cases to neighborly squabbles. . .
A jury of 500 sounds a little unwieldy to me. What do you imagine that was like? The Magna Carta and the U.S. Constitution both emphasized the importance of juries. "Why" could be a good topic for the comments.
Today, U.S. federal law states that juries must be "selected at random from a fair cross section of the community ... wherein the court convenes." Hence the computer-selected names from a list of registered voters and licensed drivers. The law further states that "all citizens shall have the opportunity to be considered for service ... and shall have an obligation to serve as jurors when summoned for that purpose" . . . These two components of the U.S. jury system -- randomness and compulsory service -- combine to ensure that a jury is a representative sample of the community regardless of race, gender, political affiliation or ability to weasel out of jury duty.
My recent jury service
I was recently summoned to jury duty. I noticed a few changes from prior experiences, based on government ineptitude, mostly. I think. Maybe there are other factors. I wondered what the experiences of others were like. I started thinking about whether our jury system was serving the country well.
My first problem in my recent jury service was getting into the jury assembly room. A while ago, the county built a fancy new court building far removed from parking other than its own parking lot, which is inadequate on the days people are summoned to serve on juries. Mostly on Mondays. And it isn't easy to arrange transportation if you don't drive by yourself because you don't know how long you will be there.
The court is not real strict now about people showing up on time, which was a big deal in the past. Probably because you now have to figure out where to park, somewhere roughly a half a mile away or more, if you didn't arrive half an hour early. They don't give you any clues about the parking situation when you are summoned. "No Juror Parking" signs are posted at the jail, which is a little hike from the court building, but closer than other county parking. Once everyone was inside the jury assembly room, we were told not to park on private property. A little late for those kinds of instructions, don't you think? Speaking of "late", even though many people show up half an hour early or more, the county doesn't start processing them through the worse-than-airport security screens until about the time people are due in the jury assembly room. So there are still people lined up around two sides of the building when everybody is supposed to be in the jury assembly room. They hire outside private security even though they have bailiffs for the courts, to herd people before they enter the building and through the security screens. An hour and a quarter after reporting time, following computerized sign-in, they began reading lists of names assigned to various courtrooms. Bailiffs escorted these large groups of people out of the jury assembly room. There were vending machines for food and drink, restricted to a tiny snack area of the jury assembly room. Items seemed to come only in giant sizes so you would have to throw part of your snack away if you were called up to a courtroom. I was in a group that was to wait for a specific courtroom, but a bailiff did not appear before lunch. Another group had already been called to that courtroom. Other groups were called and led away to other courtrooms after my group was specified. Very confusing. I counted about 60 people in one of the other groups. I think there were more. Seems like a lot for one trial. After lunch, I noticed that not enough people had been dismissed during the morning to allow those who had a good chance of being chosen for a trial to find a place to park in the court parking lot, unless they drove hybrid or electric vehicles. Several people in my group, still assigned to the jury assembly room, did not return from lunch. Uh-oh. My group was dismissed a couple of hours later. I have no idea what was originally planned for that little group that remained in the jury assembly room after lunch. I was kind of relieved, because the last time I was called in, I was dismissed from a regular trial only to be chosen for a grand jury late in the day. But my recent experience was more bewildering than fulfilling or satisfying.
How does my experience compare to yours?
I wondered why procedures seemed clunkier in the fancy, spacious new building with the inadequate parking lot than they had been in the old, cramped building. They had security screens there, too. Not quite as extensive. Is it just because of government that things are worse now? At least they have changed the law in California so you don't have to call in for a week if you are not chosen for a trial the first day. Some places are trying to make the juror experience more pleasant. Pierce County, Washington has tried to add elements of a
staycation
to the juror experience. One judge thinks that
characterization is disrespectful.
Incidentally, 220 jurors were brought in for three serious criminal trials not long afterward. That's a lot of potential jurors.
Voir Dire and related issues
I also wondered about the large number of people in the jury pools as I sat in the jury assembly room. I don't think there were any spectacular trials expected that week. The guys sitting on either side of me seemed OK. One person near me in line outside the building I would not have wanted on a jury. Are we going overboard in allowing attorneys to select jurors for desired outcomes? Years ago, I was seated in a jury box before any questions were asked of jurors. There were not a lot of other potential jurors in the room. (The case was settled, so I didn't hear it). For the trial of the Dallas cop who shot the black guy in his apartment (thinking it was her apartment),
4,000 jury summons went out.
Starts to sound like ancient Athens. But these potential jurors were not called in to form a jury of 500 people. I was in the jury pool for an attempted murder case once. It was certainly no where near that big, even though the victim almost died and there were serious possibilities of bias in either direction due to related criminal activity by both the victim and defendant. I really thought I might be chosen for that jury. I think jury pools are bigger now, just in general. What do you think?
Ace
brought up another form of "jury selection" in a post about McCabe:
I don't believe anyone has ever authorized a change of venue based on the fact of very high partisan bias. So liberal politicos will always be tried in liberal areas, and they'll almost always be acquitted by Susan McDougal-style juries. And here's a good question: If our leftwing alleged fellow citizens will no longer do their duty as jurors and render verdicts in cases based on the facts rather than on tribal loyalties, do we really have a country any longer?

Titania McGrath
knows how to simplify jury duty:
I've just been summoned for jury duty. To save time, I've emailed them my verdict: Person of colour = innocent
White = guilty So much easier than actually turning up...
Psychology and Juries
On a more general note, both perpetrators and the general public are less inclined now than in the past to assume that criminals are responsible for criminal behavior. Murderers don't say "I stabbed him", now they say
the knife went in.
A similar attitude shows up in all sorts of ways in our lives now. Airplanes took aim at the World Trade Center according to that tweet from the NYT, for example. People have less appreciation for the connection between freedom and responsibility. And then there are the psychological manipulations which are common in the courtroom now - changing the focus to the defendant's childhood and such. How do you think these changes have affected the jury system? Things have changed in our society just since this song was a hit, which was before I knew what a hit song was, but not all that long ago for a civilization. It's not that people are never shamed by society anymore. It's that they are now often shamed and expected to accept responsibility more as representatives of groups, and sometimes for
ways of thinking,
than for specific criminal acts:
On the other hand, Glenn Reynolds pays a lot of attention to
prosecutorial misconduct
(including that by people like Kamala Harris) and the
protection of prosecutorial misconduct
in our criminal justice system. Though this protection is
not always foolproof.
And perhaps judges, law enforcement officials and prosecutors
should not profit
from cases that come before them. Which brings us back to some of the reasons we have juries. I guess I should put this up, too.
What have your jury experiences been like? Have you read about a jury that made an impression on you? Hope you have a great, jury-free weekend. Got anything planned? NOTE: This is the Thread before the Gardening Thread
Serving your mid-day open thread needs