Saturday Gardening And Puttering Thread, September 7 [KT]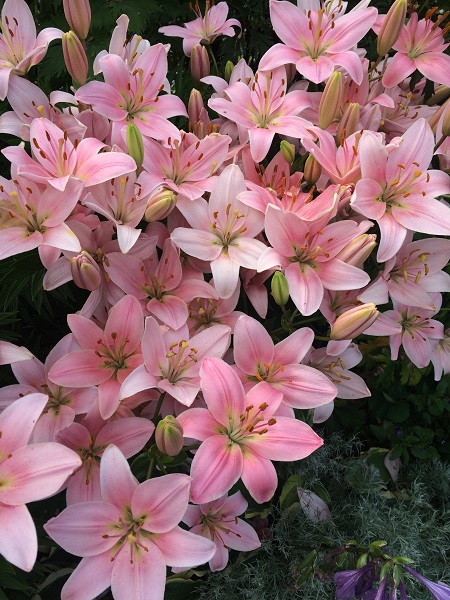 The great photo above is from
Jerry
in Anchorage, Alaska. Those lilies bloomed in August. Wish they had bloomed in August where I live. I could have used a color like that. They kept predicting that high temperatures would go under 100 degrees this week. Might make it today. But the weather was more worrisome in the East. Everyone OK?
Other COBs contribute Gardening and Puttering Content
Last week,
CBD went to the garden
for some exceptional vegetables. Rare for him. Any gardening pointers for
CBD
?
Weirddave
revealed a puttering topic, the:
unknown small part of the week.
Can you identify it without following the link?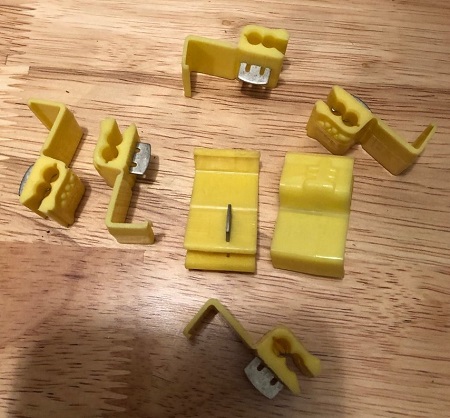 The Horde seems to be somewhat macabre lately. Last week's Gardening Thread featured two separate Corpse Flowers submitted by Moron Robbie and a new lurker-contributor. Then we learned about
another corpse flower
from
Misanthropic Humanitarian
(from the
Labor Day ONT.
) There are not many of these plants in the world. "The stench did not disappoint".
Hurricane and Carnivorous Plants
Our outdoor carnivorous plant specialist, Tony Litwin, has updated us on the aftermath of the hurricane in Florida. Following are a couple of photos of his more striking small carnivorous plants:
Just wanted you to know we made it here ok. Lots of limbs down but no major damage. We were very lucky here in Florida, with the Bahamas taking the brunt of it, and now the Carolinas are getting beat up badly, and the season isn't even over yet. Anyway, take care and be well and I'll be sending you pics again come spring. Until then...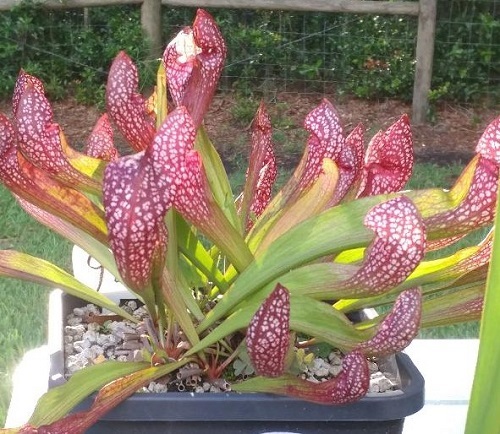 Sarracenia psitticina x S. leucophylla
Drosera capillaris
They look so inviting . . . .
The Edible Garden
From
GolfBoy:
Here's something from our harvest for the Horde to marvel at.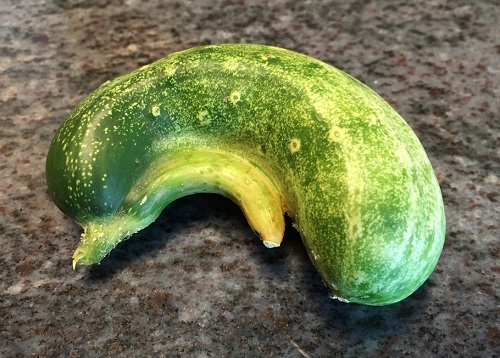 Also, a picture of a yuuuge spider web from our backyard.
That garden has an unusual guard. Goes with the unusual cucumber. From
Motionview:
Our first foray into gardening and we may have planted too many tomatoes. From seed, Northern San Diego County.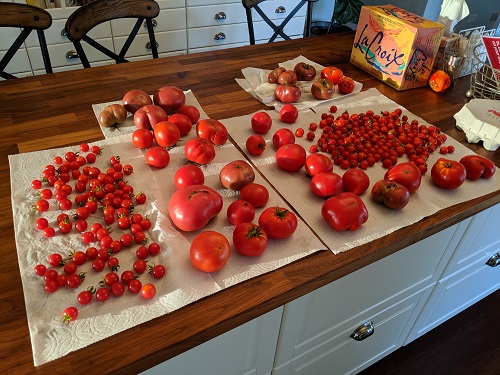 Congratulations on a great first crop! And from seed, too! Looks like you have enough tomatoes to make Gordon's salsa recipe. Check out the later comments from
last week's thread,
too. Update: See related chokecherry photo below.
Gardens of The Horde
From
Wee Kreek Farm Girl
in the low desert:
I wish I knew what cactus this was but I got it from a girlfriend who got it from a friend so I have no idea but the bloom on it is amazing, it reminds me of a starfish. It blooms this time of year and gets one every few days for about a month. Sorry not so many garden pics recently but it has been nothing but hot here and we have had no rain, no monsoon activity at all this summer and it has been taking a toll on my garden. Supposed to start cooling off next week and it is time to plant my fall garden so I am excited to do that.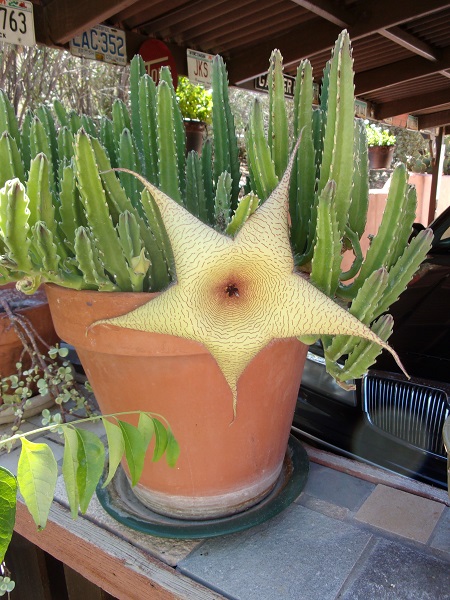 Zanne
sent in the following:
I must have thrown a peony plant off into the edge of the woods thinking it was dead. Then one day I looked across the yard,
saw a little bit of pink color and decided to investigate. The plant is about 3' tall and produces 3-4 buds every yr now. Love it!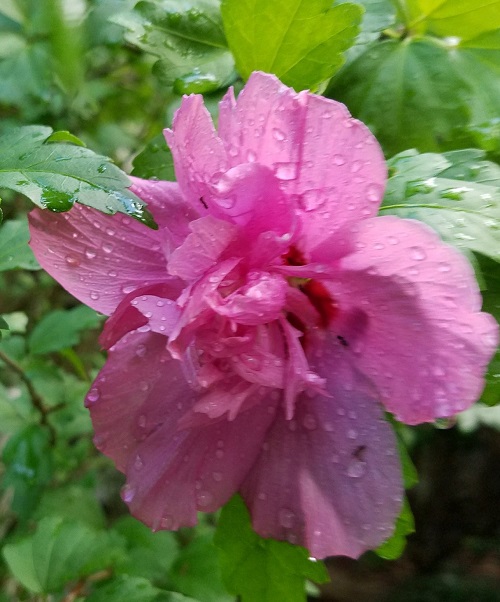 Unusual weekend around here. Pixy got a little cranky for a while, too. Check back later for more photos. Back again. Zanne also sent in the following photo from her neighbor's yard. The plant is about 10 feet tall. Recognize it? Clue: don't eat it.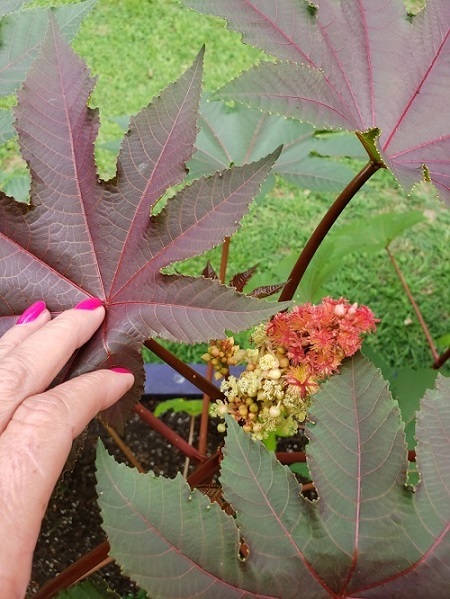 40 miles north
Corn poppy with festive tomato backdrop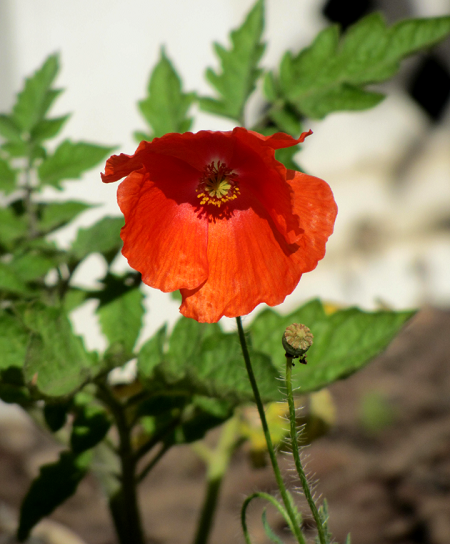 From the famous
Pat*
in Idaho. See detailed comment in last week's thread.
I keep forgetting about chokecherries as a crop. This looks like a banner year for them. Some of the clusters look a lot like grapes. (The chokecherry trees are part of the windbreak rows on one edge of our property.)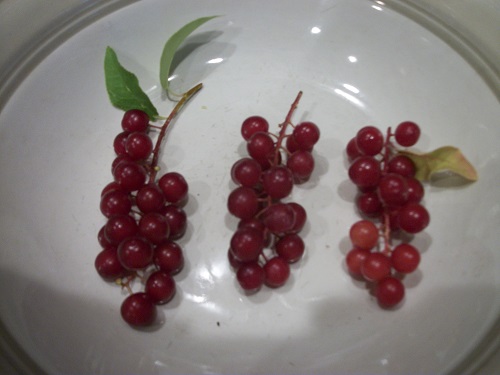 If you have sent in a photo but haven't seen it yet here, check back next week. If you would like to send information and/or photos for the Saturday Gardening Thread, the address is: ktinthegarden
at g mail dot com Include your nic unless you want to remain a lurker.