Thread before the Gardening Thread, June 15 [KT]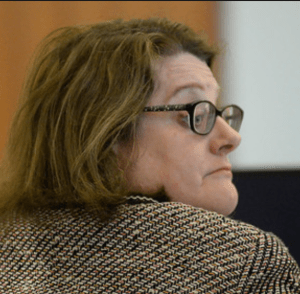 Serving your mid-day open thread needs
Happy Saturday!
The Oberlin Verdict
I am still impressed by this verdict against a social justice witchhunt. How about you? Legal Insurrection has done a great job of covering the trial.
William Jacobson was on with Tucker Carlson
last night, noting that a witchhunt like this could happen to anybody, even off-campus:
These are people who get up at 3 or 4 in the morning [to go to work] when Oberlin students are just getting home.
As Steven Hayward asked, "Will Oberlin learn its lesson?"
Short answer: No, they won't.
His long answer involves course descriptions from their department of "Comparative American Studies". Where the Dean shown in the photo above, who caused so much trouble for the school, previously taught.
What is comparative American studies? I suspect at Oberlin it means comparing the United States to Nazi Germany and finding the U.S. coming out the worse.
I like the title of his second "sample" course in this department:
Visible Bodies and the Politics of Sexuality
Hayward goes on to give us quite a bit of information about the Social Justice Warrior Dean who encouraged the witch hunt against the Gibsons. You would probably enjoy reading it at this point. The bit about antisemitism is quite disturbing to me.
But these details explain a lot about why
the jury hated Oberlin.
Do not send your kids to a school in this state of civilizational decline.
The fight against the left must continue
A
Democratic Socialist city councilwoman
has been elected in Denver who stated:
"I think that we're in late phase capitalism and we know it doesn't work and we have to move into something new, and I believe in community ownership of land, labor, resources and distribution of those resources," she continued. "And whatever that morphs into is I think what will serve community the best and I'm excited to usher it in by any means necessary."
Whatever that morphs into? By any means necessary? It is remarkable to me that someone with David Horowitz' background, the son of communist Jews whose family came from Russia, would write a book about the Left's current crusade to destroy Christianity. Focusing in particular on
LGBTQ bigotry:
Vice President Mike Pence and Trump's gay ambassador to Germany, Richard Grenell, are leading a Trump-inspired global campaign to end the criminalization of gay sex and gay relationships, but you would never know it from the hate that gay "civil rights" groups are directing at them. Pence has been singled out by leading Democratic presidential candidate Pete Buttigieg as a dangerous bigot -- not because he actually is a bigot but because he holds traditional Christian views of gay marriage, which offend Buttigieg and the gay vigilantes. When Buttigieg announced he was gay and introduced his husband in 2015, Pence went out of his way as the governor of Indiana - as Buttigieg's political rival -- to praise him for his public service as mayor of South Bend. Being able to hold opinions that others find offensive is called freedom of conscience or religious liberty, and is the most basic freedom we have as Americans, which is why it is stipulated in the First Amendment to the Bill of Rights. It is the most basic freedom because without the ability to hold dissenting opinions and express them freely you can't defend any of the other freedoms you have. The sin committed by Vice President Pence that gave Buttigieg the license to demonize and defame him was his signing of a bill to protect the religious liberty of the people of Indiana. . . .
I like this quote:
To totalitarian leftists, religious liberty is the freedom to worship according to the values you believe in, but not to advocate or live by those values; they have redefined tolerance as a mandate to force people to act against their beliefs if those beliefs are at odds with the prejudices of the left. These are anti-American ideas and they constitute a determined attack on America's pluralistic culture - a culture and respect they hypocritically demand for themselves but refuse to afford to others. These attacks have already corroded our national dialogue and created divisions so deep it is problematic as to whether in the long run our nation can survive them.
Music
So, the two last items got me thinking about Russia. Here's Tchaikovsky's 1812 overture, complete with cannons. If you are ready to get directly into the fighting spirit, you can start at 11 minutes. From the comments:
Friend: What instrument do you play?
Me: Heavy artillery