Ace of Spades Pet Thread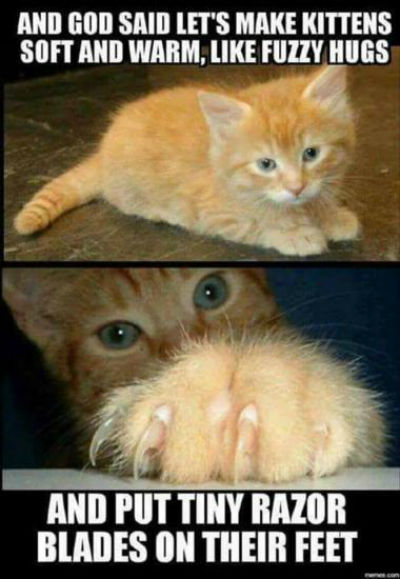 ***
Good afternoon. Welcome to the almost world famous Ace of Spades Pet Thread. Kick back, relax and enjoy the world of animals.
***
A Little of This. A Little of That
Dog, man's best friend right up to the very end.
Dog attends owner's funeral to say goodbye
Dogs truly are man's best friend.
***
I snickered.
I hope you do to!
Thanks to Hank Curmudgeon.
***
Meet The PetMorons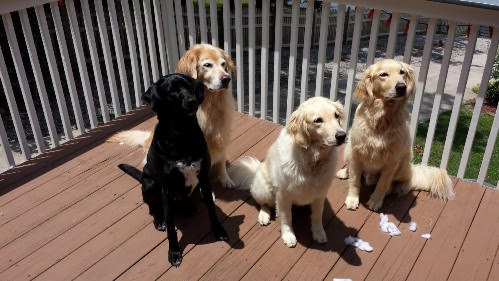 Hi Mis Hum, I finally got around to sending a pet pic. The attached is from left to right, Ben, Quigley, Morgan & Quinn. Ben (a Labrador / Great Dane mix) and Quigley (pure Golden) belong to my brother and his wife. They won't ever see them here at AoS because they are definitely not morons like us. Morgan and Quinn are our two insane Goldens. They are brother and sister and inseparable. Even though Quinn is bigger, Morgan is the boss, and quite the tomboy. They love to boat, swim and race along the trails along the Tennessee River. Regards, The deplorable lurkers from TN.
Quite the group. Just how in the heck did you get them to pose for this photo? Were you holding a T-R-E-A-T between your teeth? Thanks for coming out of the Lurker shadows.
***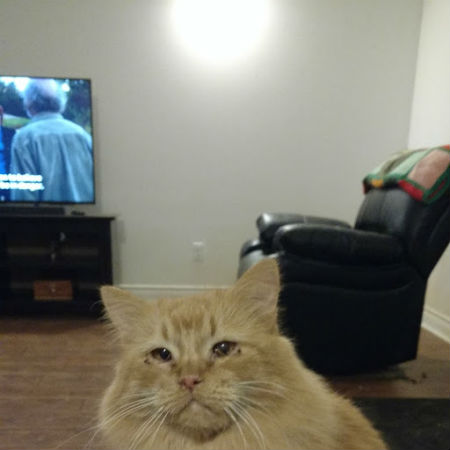 &&&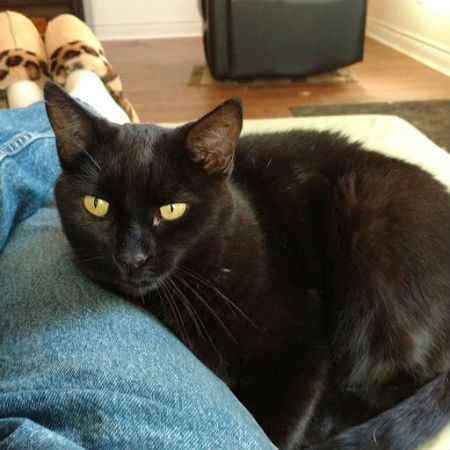 Didn't make last week's deadline for kitty pictures but here they are now. Both my cats are rescues; I got them both in Idaho. The little black cat, Ziva, is about nine years old and an assassin. She thinks she can take a hog. This is an unusual picture because she's not a cuddle cat. And photophobic. It's almost impossible to get a picture of her. She's really a low-maintenance cat and not demanding at all. She's about nine years old now. Ziva got stuck in a tree a few months ago and was up there for three days. She rode it out during a thunderstorm, which I thought would inspire her to get down but no. Had to cut the tree down to get her. It was a sad, scraggly tree so I didn't care.
The big orange cat is Seamus. His owners had six other cats, got a kitten, and dumped him at the shelter. He was nine years old then. I saw him at Petco and it was like he fired a tractor beam from his eyes. I had to adopt him. His original name was Mau Mau or some stupid thing and the shelter called him Danny. I thought he looked like a big mick so I named him Seamus. He's got some mild chronic health issues but nothing that costs vet money. He's the sweetest, most affectionate cat. He comes when you call him! Usually he's sporting a dog-spit punk look because he's Maizy's personal chew toy. He's about 12 now and never met a cat treat he didn't like.
What an adorable pair!! It appears they have hit the Lucky Kitteh Lottery!!!! Thanks for the submission and enjoy retirement.
***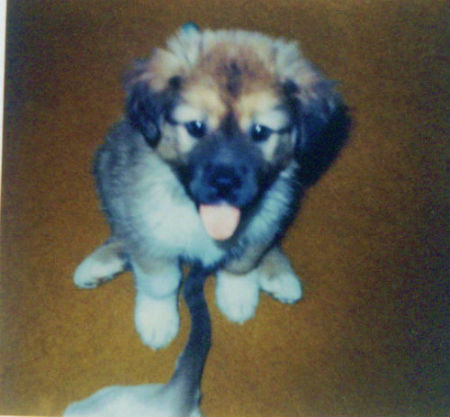 &&&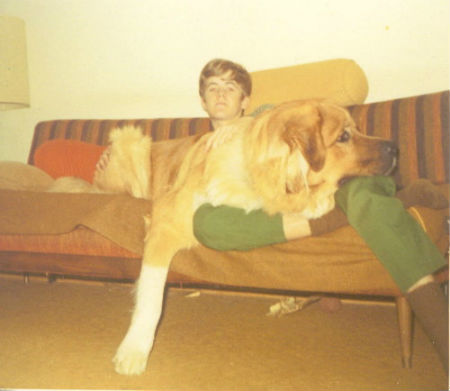 The first photo is my dog Bruno when he was a puppy. He was a St. Bernard/German Shepard mix and I think we got him late 1970. The second photo was about a year later in 1971 when I was a high school sophomore and he was huge. In 1972 he had to be put down because he bit the next door neighbor's kid on her hand. Didn't draw blood, just scraped her skin. I'll always believe she did something to him because he was never aggressive, just a friendly dog to everyone he met. Jake Holenhead
Hi Jake, thanks for sharing Bruno's story with us. What a huge lap dog he was. I doubt if that big sweetie did anything vicious. A sad ending for a beautiful dog.
***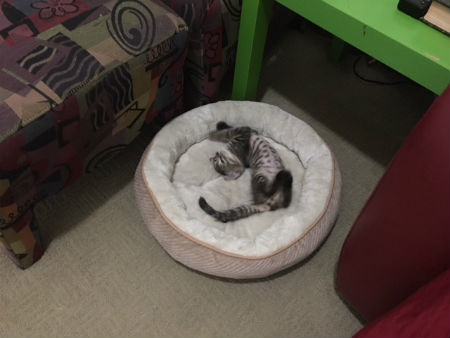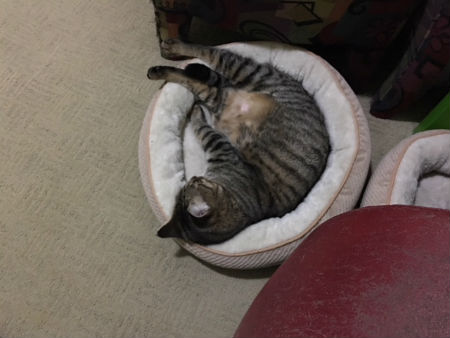 Bogie and Bacall were born on April 4th, 2018. These are before and now
pictures of Bogie. The kittehs sure grow up fast. - Nic- 'Can't resist temptation'
Yes, they do grow up too fast and leave too damn soon. The Horde appreciates Bogie's difficult life photos. Thanks.
***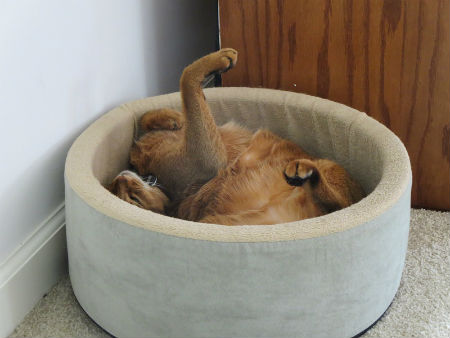 What, no kitteh photos? Well, you can never take a bad picture of an Aby, so here's another one of the Fabulous Miz Gizmo. This was not a stretch; I came around the corner into the living room and there she was, paw stuck up into the air. I thought for sure that Gizzie would move while I fetched the camera, but she was dead to the world and hadn't stirred. She actually stayed that way for about fifteen minutes. I guess there's nothing so comfy as the heated Cat Cup on a rainy California winter's day!-- Tankascribe
Talk about a comfy kitte Tankascribe. Looks like a miserable life there in California. Thanks for sharing with us today.
***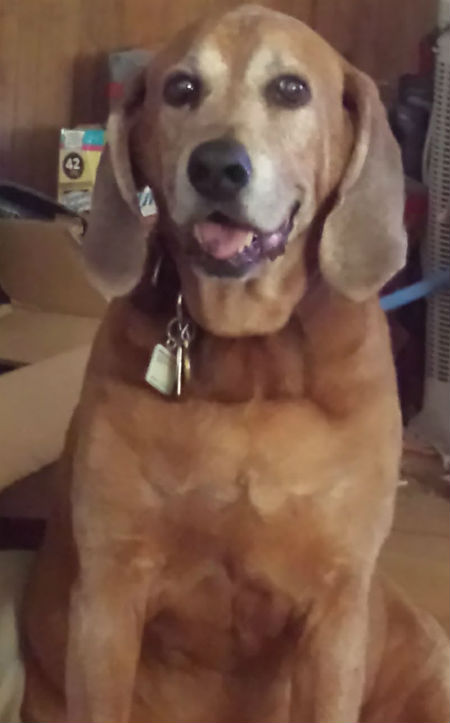 &&&
Don't have an AOS name. If I commented, I would use Capt Hilts (per The Great Escape). Long-time pet thread loving lurker. Pictures: Hank on 15th Birthday (Feb 14th) and younger Hank enjoying the Fourth of July. Hank is a Redbone Coondog who has the redbone's unique bay and loud voice. He has the other redbone traits of being destructive as a puppy and demanding attention. Hank enjoys other dogs, tolerates cats that he knows, and detests squirrels, possums, and raccoons. He likes getting out of the city (fenced yard) and visiting the house (acres of country with wildlife) on Lake Granbury. Hank has helped my youngest son deal with medical problems (cancer, neuropathy, others) that have disabled him. Hank is a beloved family member. Recently, Hank started taking Galliprant for arthritis. The medication works; Hank has regained his agility, ability to run, and desire to play. Wishing we will have him for many more years.
Personally Captain my hat is off to you. Hounds are an incredible challenge and a little loud. He is an a handsome dog and from the sounds of it quite the therapy dog as well. Thanks for submitting his story.
***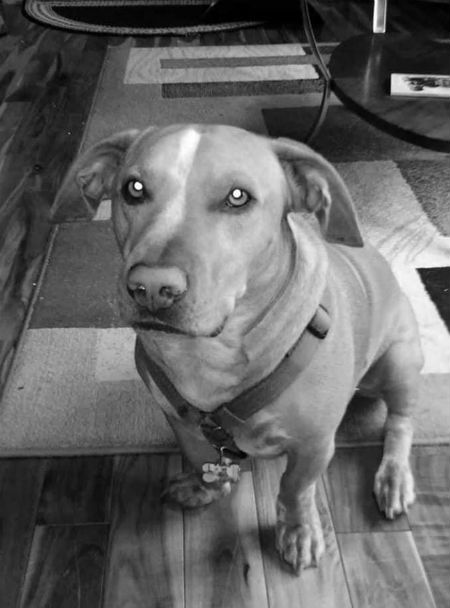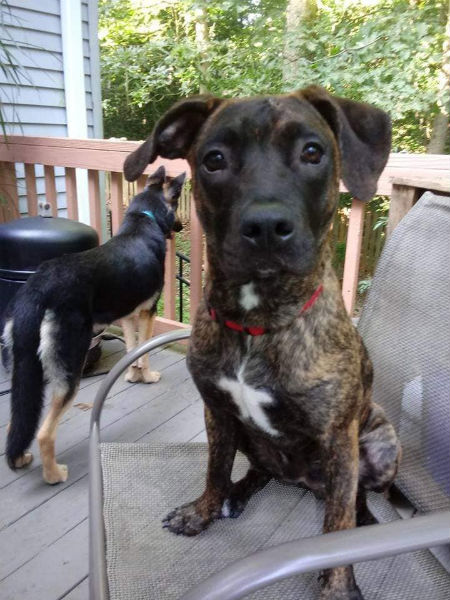 Our neighbor suffered a tragic loss last week. He came home from work to find his house fully engulfed in fire. He rushed in to save his three dogs, but was only able to save one. Linus and Harley died of smoke inhalation and toxic gases. RIP guys,-Chuck
Geez Chuck that's really a sad story. Please pass our condolences along to your neighbor. Hopefully he and his surviving pup are OK physically and coping with their loss.
***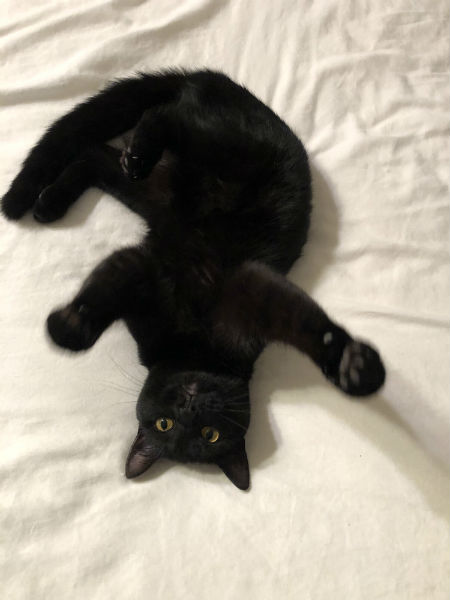 MisHum, this is the cat Mrs. E and I rescued from the intersection on 4July2018. She is pretty good after having broken back legs, yes. Full of piss and vinegar she is. Wanted to compare to the black kitteh Duncanthrax adopted at the Waco MoMe. - Mr. E
These MoMe's sound dangerous. Morons, drinking, shooting and pet adoption. Looks like she has made a fine recovery and probably used 3 lives in the making of this story.
***
Well, that wraps up another week here at the AoS Pet Thread. Thanks to all who submitted photos and stories. And thanks to the rest of you for kicking back from the real world for a little bit. Enjoy your fuzzies today and every day. See you next week. Don't forget the petmorons at gmail dot com in the event you have something you would like to share. Have a great week!!!
Posted by: Misanthropic Humanitarian at
03:00 PM