The Morning Rant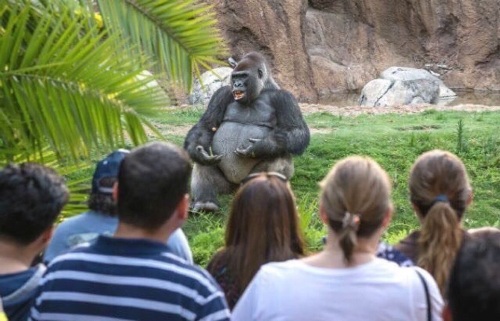 "Every time the progs lose at something, they start bellyaching about how it needs to be 'fixed'. By 'fixed', I believe they mean, 'rigged in our favor so our side wins all the time.' So recently progs are wondering why there are 9 SCOTUS judges and not some larger number. Some of them are even advocating that the Supreme Court be expanded to, say, 15 judges. Why would they argue this? Do they actually want President Pence to be able to appoint 6 more justices? Of course they don't, their proposals probably include some cockamamie provision wherein these new appointments are made by someone else, i.e. a Democrat. And, as progs watch helplessly as Trump is appointing a continuous stream of conservative justices who are in their early to mid 50s, the progs are also complaining about how unfair it is that judicial appointments are for life, and how the "founding fathers", whom they have never cared one whit about until now, would not have wanted this. Boo f*ing hoo. All of these are basically Calvinball objections made by sore losers to justify their abject electoral failures. Bunch of crybabies. And speaking of crying, whatever happened to those little children whom Trump forcibly separated from their parents at the border and locked into cages? Don't Democrats care about them anymore?"
This Is Sane:

From the Twitter 'Poorly Aged' Hall of Fame:

Don't Be Too Hard On Chuckie: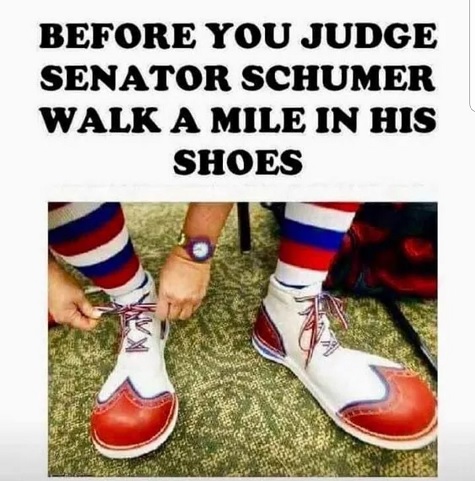 OK, This Thread Is Funny:
There are some funny (and sad, and infuriating...) stories here. Scott Adams used to do this sort of reader solicitation all the time back on his old blog from the late 90s and some of the stories are beyond belief. There appears to be no limit to human stupidity.
Flakka? Just Say No: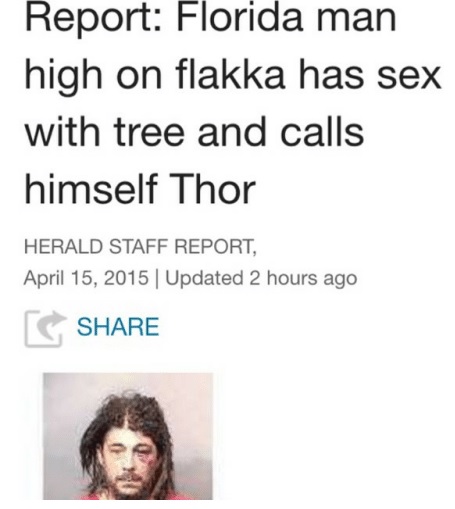 AoSHQ Weekly Prayer List
For submission guidelines and other relevant info, please contact FenelonSpoke, who is managing the prayer list. You can contact her at fenelon direction 18 circle 'a' gmail dot com (All one word, no spaces) If you see a prayer request posted in a thread comment, feel free to copy and paste it and e-mail it to her.
Answered Prayer: 6/26-Sharkman reports that little Danica Jane, who had been on prayer list, has had her last cancer treatment, after 3 months of chemo and radiation. She is cancer free, thanks be to God. Sharkman thanks everyone for their prayers.
Job related prayers: Donna&&&& looking for a job.
Requests for healing: 6/5-Muad'dib asked for prayers for healing for Syd, teen boy, who was in a serious ATV accident and needs prayers for healing. Having headaches and mood swings, etc. after concussion. Prayers for strength and comfort for his mom Kathi. 6/5-Hrothgar asked for prayers for his daughter-in-law, grandson, and granddaughter who are still dealing with the unexpected death of his son in October. Prayers for healing and strength and comfort. Let's pray for dear Hrothgar too! 6/8 Teresa-wife of friend of ibguy, Had double mastectomy June 12th. Stage 2 cancer. Will need chemo and radiation. Needs wisdom in contemplating what to do next. 6/8 Northernlurker- Niece's son Josh has behavioral issues. Then got a concussion and has been uncommunicative and staying in room, Prayers for healing in all ways. His parents need to be on the "same page" in dealing with him. NL also asked for prayers for a dear friend Pat whose wife died unexpectedly. 6/8-ibguy, Prayers for healing for Jenna, 34 daughter of a friend who was recently diagnosed with serious, advanced Multiple Sclerosis 6/11-From "Flounder" Mother-in-law needs continued prayers for healing. Has glioblastoma. 6/12-HalfAfrican's wife needs her blood pressure to come down or she'll need a kidney transplant. 6/15-Vic's wife had surgery and now home. Continue to pray for her healing and help with rehab related concerns after having larynx removed. 6/15-Sullas's dad having cancer treatments, Needs healing. 6/15-Insomniac has difficult and complicated family issues. Needs prayers for himself and his children. And prayers that important relationships won't be damaged and others would not exploit situation for their gain and others loss. 6/18-GGEoftheMoronHorde - son-in-law's younger brother found dead on Father's Day. No history of drug or alcohol abuse. No evidence of foul play. Prayers of strength and comfort for family and friends. 6/19-sumdumchief- has had been dealing with colon cancer for 2.5 years, Needs healing. 6/20-Grannysaurusrex (Lurker) needs healing for herself and family. 6/20-Beverly, Has dad dealing with senility. Also Beverly needs positive resolution for legal concern over malfeasance with financial issues by brother who is power-of-attorney for dad. Needs courage, strength, and God's wisdom. Brother needs spiritual healing and conversion, too. 6/20-Brent who does podcasts with AtC has unspecified health concerns. Needs healing. 6/20-Dave at BuffaloRoam, has hole in lung and cancer. Prayers for complete healing 6/21-Slapweasel's mother had a stroke June 21. Prayers for healing for she and family, and strength for Slap in caring for her. 6/25-Adobe Juan Kenobe-Mass in cheek, Had biopsy for mass in cheek June 25th. 6/25-Infidel, father has cancer and Alzheimers. Family needs prayer in very difficult situation 6/25-Mr.Feverhead, bill from IRS reduced. Is getting a port for cancer treatments put in July 2. Starts chemo for 6 months. Also Needs positive resolution of divorce from wife for best results for family. Appreciates all prayers from anonymous pray-ers. 6/26-USNtakim, prayers for he and family. Estranged brother committed suicide. Strength and comfort in dealing with difficult situation and feelings. 6/26-AnonymousPoster, asked for prayers for healing for John, who has metasticized melanoma and related cancers. 6/27-MissJean, had biopsy, praying for good results. Brothers and in-laws need help with finances and health issues. Difficult neighbor needs improvement in untenable living situation for neighbors. 7/1-Wenda, prayers for she and husband Husband is "failing". 7/4-TonyPetes' friend Sam has debilitating nerve issues as result of congenital disc problems in lower back. Sometimes is suicidal because of pain and needs healing. 7/6-Aelfheld's friend in hospital with congestive heart failure. Needs healing and strength to make necessary changes in behavior. 7/6-Captain Whitebread's friend B.A. going through difficult divorce. Needs peace, strength, wisdom, and help from above. 7/11-Hogmartin's dear friend's mother named Theresa in hospital with GI bleeding. Is stable but needs healing before she comes home. 7/11- ***Critical situtation*** Calm Mentor lost driving job with Uber because of insurance regulation changes because he walks with a cane and lacks some strength in his arm. Dire financial situation. Needs job. Very successful in inside and outside sales but hasn't been able to find work in his field. Lives in Northern Georgia. Any leads on jobs can be put in this thread or when he is on the board.
****Please note; For purposes of length I am trying to keep the prayer list to approximately five weeks. If you would like a situation to be placed back on the prayer list or have any updates please notify me at: FenelonDirection18 (at sign) gmail.com, Thanks, and thanks for being prayer warriors! Please remember the Prayer of St. Francis:
http://www.prayerguide.org.uk/stfrancis.htm
Posted by: OregonMuse at
11:23 AM
MuNuvians
MeeNuvians
Polls! Polls! Polls!
Real Clear Politics
Gallup
Frequently Asked Questions
The (Almost) Complete Paul Anka Integrity Kick
Top Top Tens
Greatest Hitjobs
News/Chat