The Morning Rant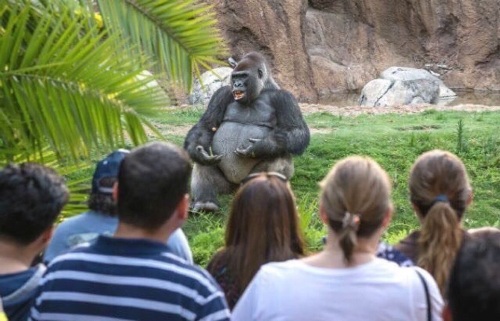 "So with Trump meeting with Whoa! Fat in Singapore, I'm being buried in an avalanche of whataboutism. That is, Trump haters on both sides of the aisle are squealing about how conservatives would be flipping out if Obama sat down with Kim. But this is one of those "all things being equal" false equivalencies. Because things are definitely not equal here. Trump has lots of experience negotiating deals; in fact, he actually wrote a book on the subject. Obama, on the other hand, was a feckless incompetent. Obama's idea of a deal was to suck up to the Iranian mullahs and give them truckloads of cash with which they could use to ramp up their military capacity and nuclear research. Also don't forget the Bowe Bergdahl fiasco where we gave up five big-league terrorists for one traitorous scumbag. In what universe is that a good deal? Trump, however, is negotiating from a position of strength: he's giving Li'l Kim reasonable alternatives after threatening to blow him up. There's an iron first in that velvet glove. The only contents of Obama's glove was a limp wrist and a sweaty palm."
So Abe Says To Merkel: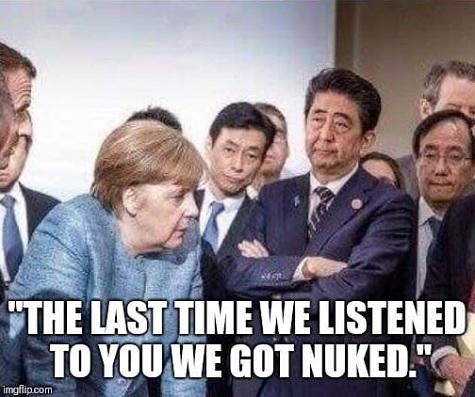 What Stage Is The MSM At Now?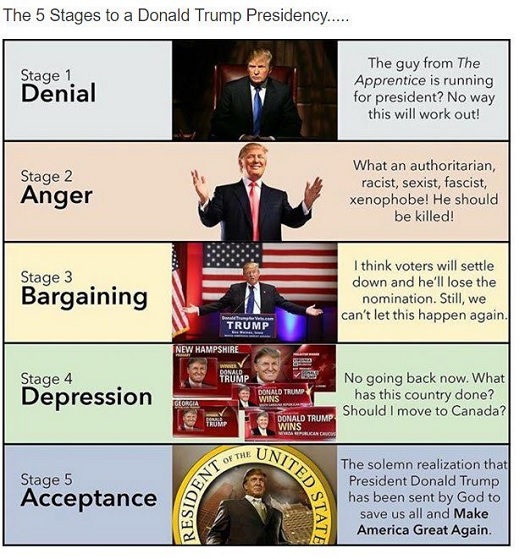 The Real Reason Hillary Lost: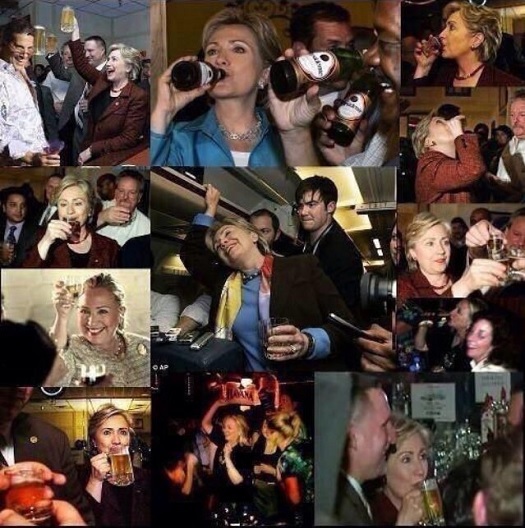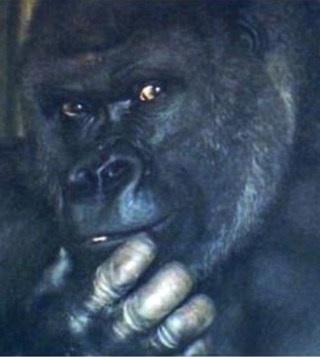 "Hmmm... No wonder Hillary had to be
tossed into the back of that van like a sack
of potting soil. She was probably tanked."
Because the World Does Not Have Enough Busty Female Clowns: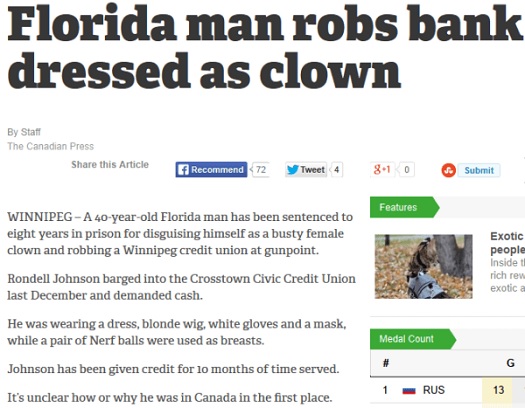 AoSHQ Weekly Prayer List
For submission guidelines and other relevant info, please contact FenelonSpoke, who is managing the prayer list. You can contact her at fenelon direction 18 circle 'a' gmail dot com (All one word, no spaces) -----------
Job related prayers: VoterMom needs a full time job she that can help support her family. Prayers for support for family and friends after deaths of loved ones: 5/18- Chicago Lurker-Friend Helene has died after a long battle with an autoimmune disease. Prayers for strength and peace for family and friends. 5/18- Prayers for comfort and strength for family and friends of ibguy's baby sister Joyce, after her death. 5/21 Jeff Bedard, a moron poster died on May 19th. Poster "red" asked "prayers for the repose of his soul, for his family, and the larger family of internet friends of his, Morons & 'ettes, and people at all the other places he posted over the years. Healing and financial related prayer requests: 5/1-Sullas's dad will have cancer treatment. Needs healing. 5/6-Insomniac has difficult and complicated family issues. Needs prayers for himself and his children. 5/8-Prayers for Backwards Boy and Backwards Gal, for all their physical and other needs 5/8-Laurel asked for surcease of pain of Sister-in-law affected by MS. SIL needs to reach out to friends so she's less alone. 5/8-Thing from Snowy Mountain, in need of healing for heart issues, weight concerns and high blood pressure. Also, needs a new and less stressful job. 5/9-Lurking Phineas, inoperable advanced prostrate cancer. Prayers for time with family, and to bear the effects of hormone treatments and radiation treatments and for success in treatments. 5/10-Lurker ("Curate"), needs healing from bile duct cancer and comfort for wife and married daughters and their husbands. 5/10-Captain WhiteBread, healing for mom who has heart issues. Needs resolution for $5000 hospital bill after his own heart surgery. Needs strength and hope. 5/15-Hobbitopoly, prayers for pop who needs healing after eye surgery. 5/17-Prayers for healing for Jakey, a 12 year old friend of a poster, Irra., Jakey has seizures and CP and is in a wheelchair and was in hospital. 5/19-Friend of "Mrs Leggy" named Diane- prayers for healing and in dealing with chemo, radiation, and upcoming double mastectomy and hysterectomy 5/19-Theresa, Daughter, of Bonkauth needs healing. Would like to keep job as Nurse Practitioner at Womens' prison if possible and not go on disability 5/25-JustWayne asked for prayers for healing of mother of his friend, Sandy. Her mother- Ann- has supranuclear palsy 5/30-ArnieFufkin-a lurker and occasional poster-likes to post on GAINZZ threads sometimes- asks for prayer for his friend and best man at his wedding who got quite ill while visiting Tasmania in February, Had acute pancreatitis, kidney failure and organ damage. Sill in hospital that has no internet access and so far away, Very weak. Needs healing 6/5-Muad'dib asked for prayers for healing for Syd, teen boy, who was in a serious ATV accident and is in the hospital. Prayers for strength and comfort for his mom Kathi. 6/5-Hrothgar asked for prayers for his daughter-in-law, grandson, and granddaughter who are still dealing with the unexpected death of his son in October. Prayers for healing and strength and comfort. Let's pray for dear Hrothgar too! 6/6 Mr. Feverhead-Needs healing from colon cancer an strength to face chemo. Prayers for he and he wife to complete divorce in ways that are best for children. Also prayer asked for friends Diane and Scott who recently experienced the unexpected deaths of their mothers. 6/6-Adobe Juan Kenobe-Mass in cheek, Has biopsy June 27th, Doctor didn't think it's cancerous, but " Adobe Juan" doesn't like knives. 6/6-Vic's wife is having surgery 6/14-Thursday. Coughing has affected breathing and damaged vocal cords. She is having a total laryngectomy and will be hospital 14 days. 6/8 Teresa-wife of friend of ibguy, Having double mastectomy June 12th 6/8-red1c4, Had tenderness and pain and swelling in breast. Not cancer, but "gynecomastia. Needs healing. Would like to thank God that condition is benign and also thank God for special care and concern of Candace-a mammogram technician who was there by the providence of God to give him needed assistance and care . 6/8 Northernlurker- Niece's son Josh has behavioral issues. Then got a concussion and has been uncommunicative and staying in room, Prayers for healing in all ways. His parents need to be on the "same page" in dealing with him. NL also asked for prayers for a dear friend Pat whose wife died unexpectedly. 6/8-ibguy, Prayers for healing for Jenna, 34 daughter of a friend who was recently diagnosed with advanced Multiple Sclerosis 6/11-From "Flounder" Prayers for healing for dear Mother In Law-in ICU

----------- I apologize for any errors. I am keeping the list to about five weeks simply due to space. If you would like someone to be put back on, please let me know. Please contact FenelonDirection18 (at gmail.com) for additions or changes. Feel free to copy and paste emails to her for Prayer Requests. Please remember the Prayer of St. Francis:
http://www.prayerguide.org.uk/stfrancis.htm
Posted by: OregonMuse at
11:23 AM
MuNuvians
MeeNuvians
Polls! Polls! Polls!
Frequently Asked Questions
The (Almost) Complete Paul Anka Integrity Kick
Top Top Tens
Greatest Hitjobs
News/Chat