Saturday Gardening Thread: Lookin' a little seedy [KT]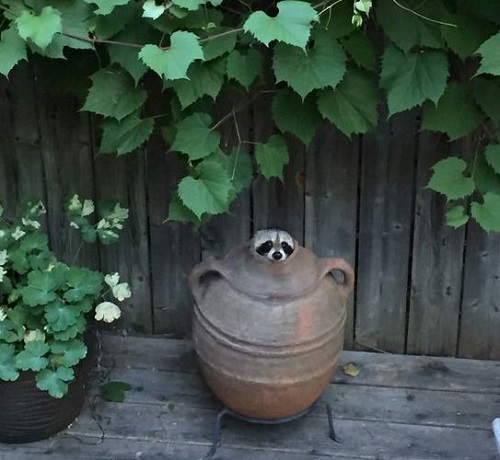 Where did that corn go?
Hello, gardeners and friends of gardeners. Today's pre-Thanksgiving thread was partly inspired, appropriately, by last week's Food Thread. It featured some foods with seeds, like
Avocados.
If you have an avocado tree, you may want to check out the
key to ripening avocados
from The Deplorable Jay Guevara. Leave a piece of stem. I have a question for the Food Thread: I'm still somewhat confused about whether or not refrigeration messes up further ripening of avocados. If so, at what temperature? If you are thinking about growing an avocado tree, let us know. Not a frivolous undertaking. Artisanal'ette presented recipes in the main post and also
in a comment
for pumpkin and sunflower seeds. She asked a question about the harvest season of those seeds. This set me off on the subjects of naked pumpkin seeds and seeds for little birds. More fun stuff below the fold.
Pumpkins with Naked Seeds
Artisanal'ette, some pumpkin seeds can be harvested now. Others may have already sprouted inside the pumpkins. There is a
vast array of pumpkins
in the world. They are basically squashes, from three different species, that someone decided to call "pumpkins". All pumpkin and squash seeds are edible, but most have a tough hull. Some are meatier than others. Still, you can toast the seeds with hulls and either remove the hulls with your teeth or eat them hull and all. But the seeds Artisanal'ette bought probably came from a naked-seeded pumpkin. Here is a nice summary on
How to grow pepitas.
Below, a photo of a traditional Styrian pumpkin with naked seeds.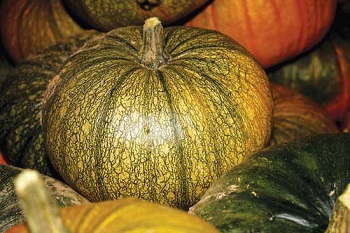 Territorial Seed now offers a naked-seeded pumpkin that looks like a "normal" orange pumpkin and that can be used in pies. Though their favorite in the pie category is 'Winter Luxury', which has netted skin. Going traditional this year at Thanksgiving? Here's how to make a Traditional 18th Century Pumpkin Pie from George Washington's Mount Vernon. No eggs?
Growing Sunflowers for Seeds
It may be a little late to harvest sunflower seeds for munching in much of the country unless you are a bird. Because the birds (or other critters) will already have stripped the seeds from the plants. But a lot of people leave some flowers to go to seed in the garden, like the

Maximilian Sunflowers
and other perennial types we have previously discussed. Note: Pollen-free varieties may not produce seeds. If you want sunflower seeds for human consumption, start with a cultivar bred for that purpose. The traditional ones are very tall with huge heads. Really fun for kids. Make a fort. But this summer I saw vast fields of very short sunflowers in the Sacramento delta (where I expected to see rice). The petals were already falling off. Here is a nice summary on
growing and harvesting sunflowers for seed
and on making suet cakes for birds.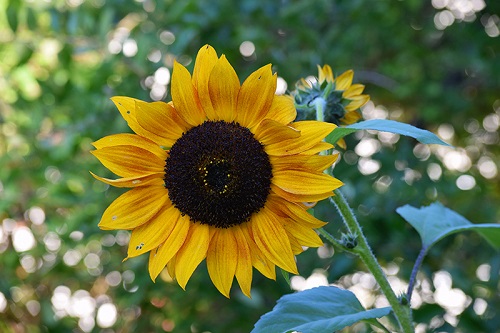 More flower seeds for little birds
When we did the post on
Illiniwek's mystery pond flower,
I don't think we noted that little birds pick over the seed heads in winter. You might like to review the post if you are thinking of planting some hybrid Heleniums in your garden. But don't comment on old threads. We've seen photos of butterflies on Illiniwek's wild Helenium flowers. Now it's time for the little birds to show up.
The helenium have given me a second bloom. I'm guessing some seed fell and as the pond level dropped it found a new place, which then bloomed later. Here is the browned first bloom ... really brown already.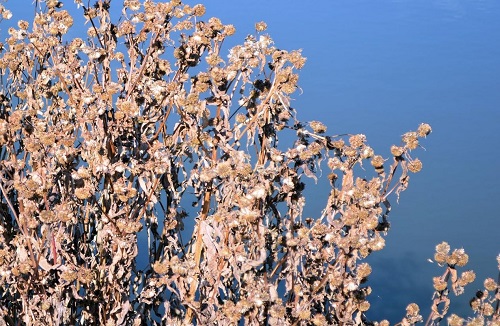 Then these came along, and are still blooming
the darker brown behind them are the old helenium. they ring most of the pond except where the cattails crowded them out.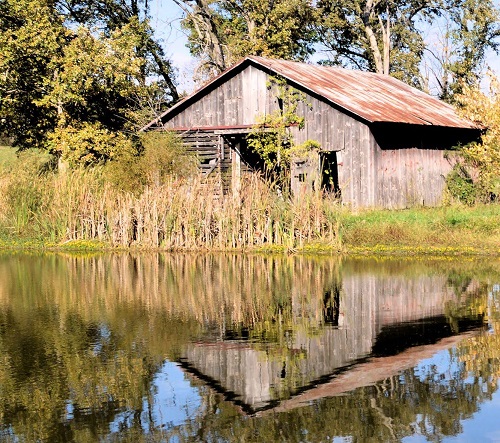 I see bird habitat there.
Safflower
JTB mentioned putting out safflower seed for little birds. It is a commercial crop around here, to make
Safflower oil.
There are apparently types high in monounsaturates and others high in polyunsaturates. I didn't know. The plants that are grown around here aren't too tall, but are spiny and miserable. You can buy garden types with varying degrees of thorniness. 'Zanzibar' is supposed to be almost thornless.
The Cherry Gal
sells seed of a thorny type for seed (requires a long season). She notes that dye from the petals are the original source of the term, "red tape". Thornless safflowers apparently produce fewer seeds than thorny types, though work is being done to develop the plant as a forage crop. It is also popular in Europe as a
cut flower, exported from Africa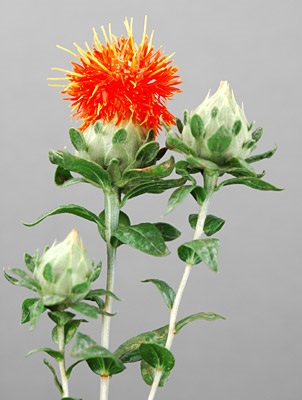 Here are some more
fun facts
about safflower. Safflower petals are sometimes used as a substitute for saffron. But don't go too wild with this herb. Plant extracts have adverse effects on
mouse testicular tissue.
Human testing has not been done.
Photos by the Horde and Friends
This fascinating photo is from GeoffB:
We always have hordes of English sparrows at our bird feeder but in the summer of 2014 we had an unusual one. A full albino. It was hard to get pictures as the feeder is right outside the sliding door and any movement inside causes the birds to fly away. This one best shows the albino sparrow. Taken through the vertical blinds and door glass.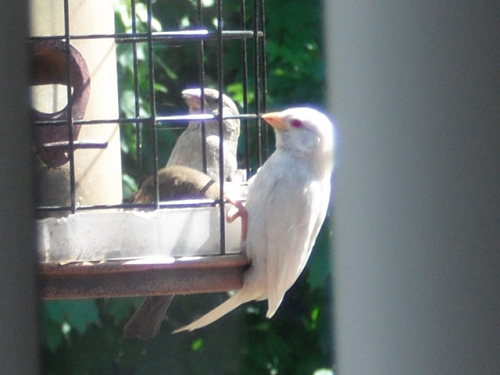 The photo below is the last bouquet of the year from my cousin's miniature rose bush. She's the cousin with the geraniums in her basement for the winter.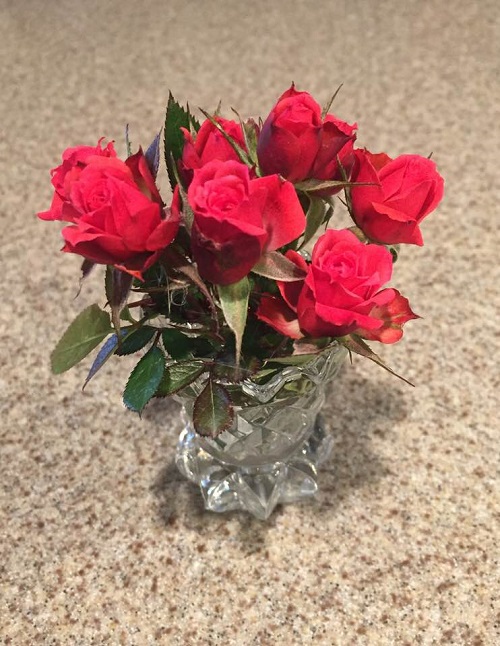 Don't forget to take a look a
Don's new orchids.
Or his other plant photos.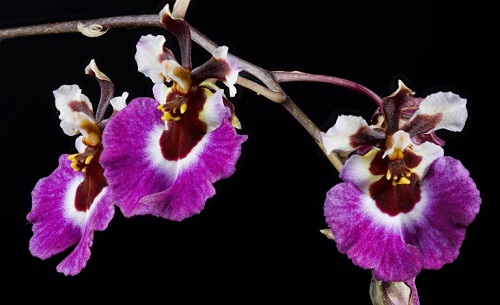 Gardens of The Horde
I harvested a little watermelon this week that grew from a volunteer seed in our front yard. The plant was already dead. The fruit was not bad, surprisingly. Anything going on in your garden? Have a great Thanksgiving week. If you would like to send information and/or photos for the Saturday Gardening Thread, the address is: ktinthegarden
at g mail dot com Include your nic unless you want to be a lurker.