Saturday Gardening Thread: Otherworldly Plants [KT]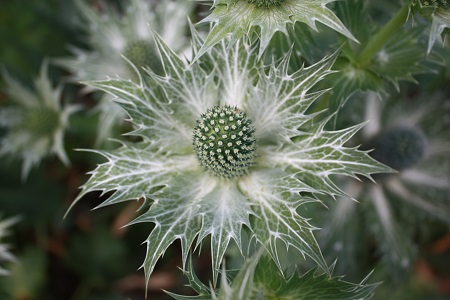 Hello, gardeners and friends of gardeners. Hope today's gardening thread will help get you tuned in to the Halloween spirit, one way or another. We have a ghostly legend, some Halloween veggies
(Halloween veggies?)
and other timely information. First, our real-life ghost. The plant shown above is known as "Miss Willmott's Ghost". The very rich, elegant
Miss Willmott
is reputed to have scattered seeds of this plant, Eryngium giganteum, in other peoples' gardens. The essay about her life from The Independent is interesting. Though this obsessive plant collector was blessed with gobs of money from her parents and a godmother, she was not given much business sense. She ended up broke. Not much is left of her gardens in England, France and Italy. Her name remains in the scientific names of several plants and the name of her British estate, Warley, in others. And we still have Miss Willmott's Ghost. The photo above is what Miss Willmott's Ghost looks like in less than full sun,
at Sissinghurst.
Take a look around the site at the link. Great information and photos from a Frustrated Gardener in the UK.
Miss Willmott's Ghost is usually a biennial, which means it blooms the year after the seeds start to grow. Sometimes it doesn't bloom until the third year. But it never blooms more than once. It self-seeds easily, so you can have blooms every year if you want them, though. Or maybe even if you don't want them. Don't know that everyone appreciated Miss Willmott sowing seeds in their gardens.
Some of our favorite nursery plants are biennials. Here's a little
pep talk on biennials
from The Telegraph:
If we could create our ideal seed-sowing conditions we would specify minimal drama: no treacherous warm spells followed by sudden and shocking frosts, no need to hover with heaters and horticultural fleece, no mass moving of seedlings in and out of shelter day and night. Almost precisely the opposite of the springtime conditions in which we do most sowing, in other words. . . . Annuals dice with the edge of winter and spring because they need to germinate, flower and go to seed all in one year. Biennials do the same stuff over two years, allowing us a little slack.
The photo above came via
Louis the Plant Geek,
in Brooklyn, who has a good rundown on growing Miss Willmott's Ghost in the USA, plus lots of interesting facts and several dramatic photos of the plant. He lists it as suitable for USDA hardiness zones 4-7. He recommends allowing this plant to self-sow among established plantings.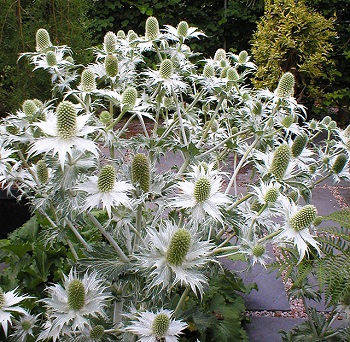 Although it may not be suitable for the Southeast, Sunset rates this plant as suitable for the desert (as if more spiny plants are needed there) and all the way to the coast in the West. It accepts more regular water than some of the perennial Sea Hollies. It will be taller and more dramatic in rich soil with ample moisture, and there is a chance of floppiness especially in part shade. It may not make it where winter soil is soggy. Here's a knockout duo if you're going for a cheery effect in a sunny spot,
Echinacea and Miss Willmott's Ghost.
The notes say that this low-maintenance combination is attractive to butterflies, hummingbirds and birds. Pest-free and disease-free. Drought and deer tolerant. Both flowers are good in cut arrangements.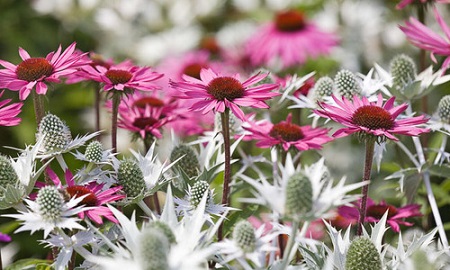 Miss Willmott's Ghost will collapse after it blooms, but the coneflower should keep blooming if deadheaded. You could keep the butterflies, birds and bouquets coming into fall by adding some
robust annuals
like Mourning Bride (Scabiosia) 'Black Cat' (or Back in Black), Cosmos 'Dazzler' and some dill.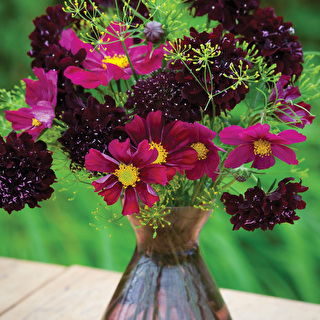 Vegetables for Halloween?
Once an uncle of mine offered scoops of mashed potatoes to young Halloween visitors when he ran out of candy, but I'm not suggesting that today. There may be some ways to have some fun with veggies on Halloween. Maybe even in the produce aisle if you are trying to decide what to grow in the garden next year.
Recognize this guy?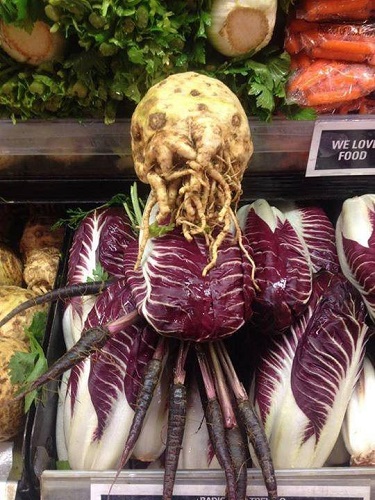 Anybody grow any of the veggies that make up our friend there? I think that top one is celeriac. I tried growing that once. Got some leaves but no usable root as I recall. Anybody else have better luck with the veggies shown here? Here's a novel use for eggplant, an
Eggplant Skull.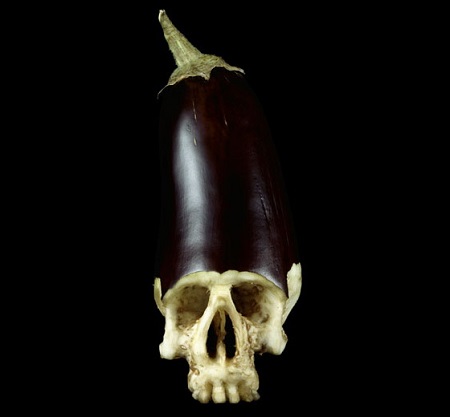 Paleo Halloween: Eggplant Impletata inspired by
Bram Stoker's Dracula.
The intermediate steps in preparing this stuffed eggplant recipe include salting it and allowing "bitter juices" to exit the fruit. "Not much of an issue with small eggplants from my garden". More on this topic next week.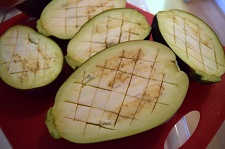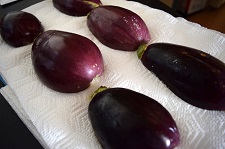 Falling Leaves
Anybody need a little good luck? Maybe worried that a member of the mainstream media might have put a hex on you? You might try
catching a falling leaf.
On Halloween. Or on another day.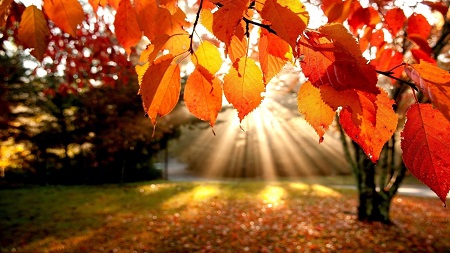 Delving into the annals of folklore, I discovered that in Cheshire it was said that to catch a falling leaf before it hit the ground on Halloween night entitled the catcher to make a wish. However there are many other versions of this little piece of autumnal lore. Most commonly, in many areas, it is simply considered lucky to catch a falling autumn leaf, and certainly this was the version that I was familiar with as a child growing up in the 1970s in the North of England. . . .
We had some good comments and equipment recommendations for dealing with falling leaves last week in the comments. Pat* noted that hard-to-mulch Sycamore leaves keep falling until February sometimes. Gradual leaf fall does not seem to be Gordon's problem.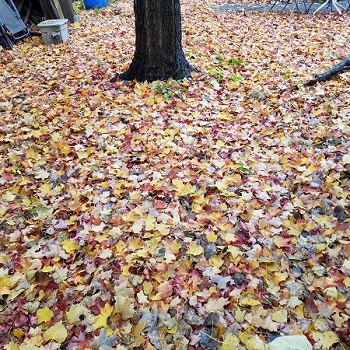 Halloween Photos
Sherpa_K2 sent in some spooky flower photos: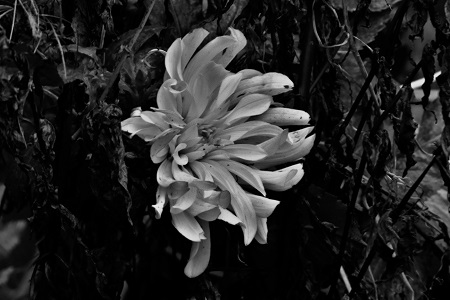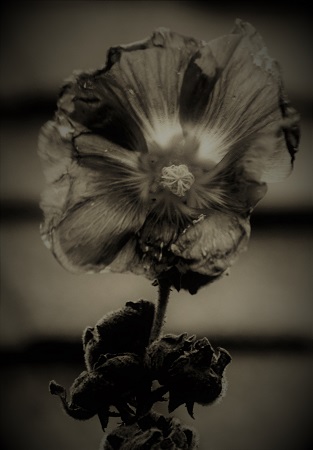 Here's a clue to how he did them: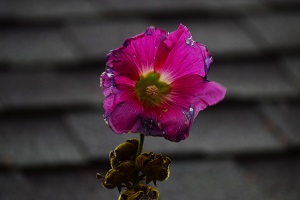 Gardens of The Horde
The smoke from the wild fires seem to have encouraged spider mites. Hosing off trees. We have pomegranates. Red Fuji apples are so-so this year. Pink Ladies will taste better a little later. Anything going on in your garden? I won't be around for comments until later today. Have fun while I'm gone. If you would like to send information and/or photos for the Saturday Gardening Thread, the address is: ktinthegarden
at g mail dot com Include your nic unless you want to be a lurker.