Saturday Gardening Thread: Get Away! [KT]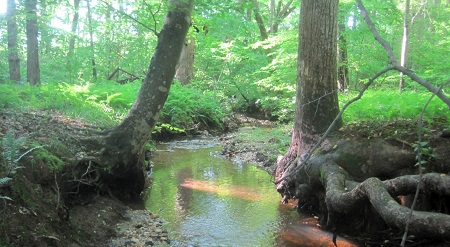 May in Texas
Lots of pretty photos at the link above. Some of the information from
last week's thread
on diseases spread by ticks and mosquitoes made one hesitant to go out in the woods. Last week we discussed deer. Deer ticks are problematic with regard to spreading disease. But they spend part of their life cycle on rodents. As suggested in the comments, today we have some content on squirrels and such. And on ticks and mosquitoes. And some plants.
Squirrels and other rodents in the garden
Some people are rather fond of squirrels. In Japan, there are
squirrel gardens.
Some specialize in particular species of squirrel, and some are sort of like squirrel zoos, with other furry rodents like rabbits and guinea pigs also roaming the grounds. Some of these facilities are kind of like petting zoos. Mitts or gloves are popular attire for visitors in those gardens which allow you to touch the critters. Many squirrels are bold even in the wild. Bet petting them makes them even bolder. Does the little guy below change your attitude about squirrels, or not? How about
this one?
If only they didn't grow up. And carry ticks and fleas.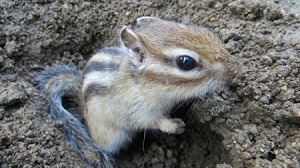 But squirrels and garden tomatoes don't mix. Neither do squirrels and tree fruit. And they can be destructive in other ways: eating birdseed, bird eggs and little birds, for example. Do you have a story? A successful control method?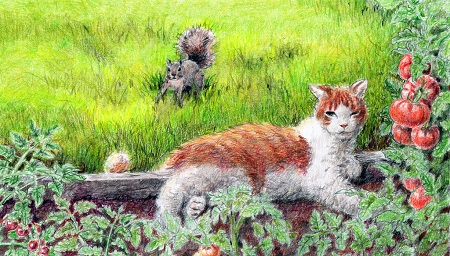 Keeping squirrels out of the garden
In these parts, ground squirrels and gophers are a bigger problem than tree squirrels. I keep thinking "hardware cloth" and raised beds. Our garden kittehs have caught a lot of gophers, but not ground squirrels, which used to drive the dogs nuts when we had a vacant lot next door. Maybe some people with tree squirrels in the neighborhood could keep tomato plants in their outdoor kitteh retreat. Would protect against birds, too.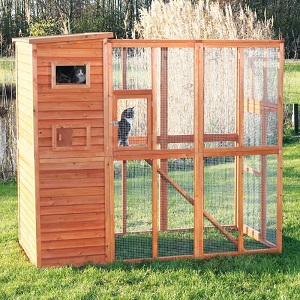 Available via the AoSHQ Amazon Store
Pest Reduction, Pest Repellents
This is kind of disappointing. How our CDC recommended (in 2015)
controlling the tick population
in your yard. With bait boxes for rodents, containing fibronil (the stuff in Frontline for dogs). I had read about the use of these boxes in the wild in connection with plague, but the details below do not make me want to rush out to buy this system.
the CDC developed and tested rodent bait boxes in field trials and found that they can reduce tick populations from 77 to more than 90 percent. To make them available to homeowners the CDC licensed the boxes to Tick Box Technology of Norwalk, Conn. Because they are registered with the Environmental Protection Agency as a professional-use product, the boxes are only available through licensed pest management companies. And they're not cheap; one box costs $50 to install and the average home needs between 5 and 15 boxes, says Marc C. Dolan, M.Sc., a senior research biologist for the CDC in Fort Collins, Colo. The 5-by-7-inch childproof boxes are anchored to the ground and need to be replaced after about 90 days with boxes that contain freshly treated wicks and new bait, so the cost for an average yard with eight boxes is $800 for one year.
Great. Is there something else homeowners could do to control pests in the garden? Why, yes. For both mosquitoes and ticks.
. . . your best bet is doing things that discourage mosquitoes from breeding in the first place. Keep your yard free of containers filled with water, such as gutters, birdbaths, tires, wheelbarrows, wading pools, and swimming pool covers. Clear away ivy and decaying leaves, because mosquitoes like cool, dark places. And because ticks like tall grass and lots of shade, it's best to keep your lawn mowed and free of leaves and other debris. . .
I DID learn some new things about insect repellents. The best-rated insect repellent from Consumer Reports last year did not contain DEET. It contained Picaridin (from the evil Bayer Corporation) at a concentration of 20%. Picaridin seems to have less toxic potential than DEET, though it can definitely be an irritant, sort of like black pepper. There was actually one "natural" insect repellent that also rated high in testing by Consumer Reports. The active ingredient is "lemon eucalyptus oil". Concentration seems to be important: The active ingredient is at 30%. And of that, about 65% is p-menthane-3,8-diol, which smells like menthol. Lemon eucalyptus oil
must be refined
to increase the concentration of this organic chemical. Refined quite a bit, actually. The primary essential oil from this tree is not "lemon eucalyptus oil". It is citronellal, the main component in citronella oil. It is also present in other plants including
Lemon Grass and Kaffir Lime leaves.
If you cook with one of these flavoring ingredients, you may be interested to know that this chemical has strong antifungal properties. Where hardy (which isn't a lot of places in the USA), lemon-scented gum is a tall, narrow landscaping tree with small seed capsules that can be planted close to walls or walks. Its botanical name has been changed from Eucalyptus citriodora to
Corymbia citriodora.
I don't know why. Here's a row of them in Perth, Australia. Notice that the sidewalk remains perfectly flat.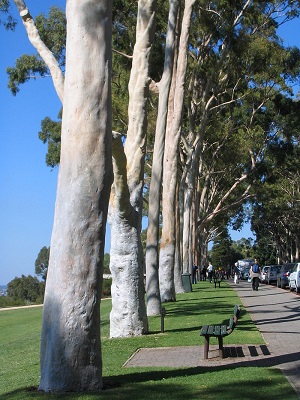 Photograph by Greg O'Beirne
Types of repellents to skip
include "all natural" ones and citronella candles. Though some of these products smell nice. So I guess if you want to grow those lemon-scented mosquito-repelling geraniums (pelargoniums), it should be mostly for the smell and the looks. This one seems to bloom more than most I've seen.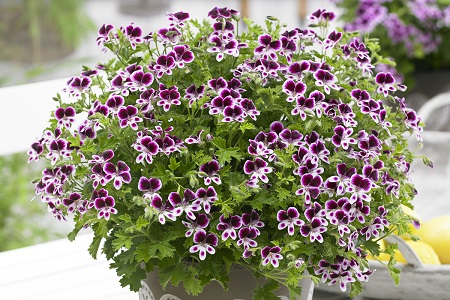 Mosquitaway 'Eva'
Gardens of the Horde
We've had some more mild days this week. hard to get used to. Apricots are on. Anything going on in your garden? If you would like to send information and/or photos for the Saturday Gardening Thread, the address is: ktinthegarden
at g mail dot com Include your nic unless you want to be a lurker.