Mid-Morning Open Thread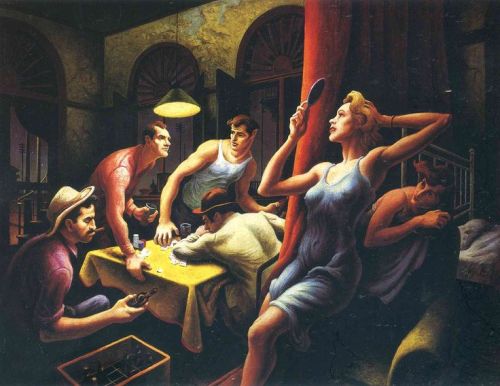 Poker Night (From A Streetcar Named Desire)
Thomas Hart Benton Strangely, I see some parallels with Caravaggio. The exaggerated musculature, the dark but vibrant colors, the obvious sexuality. Yeah...I'm a Moron.
From The Whitney Museum....
In 1947, Thomas Hart Benton was commissioned by Hollywood producer David O. Selznick to create an original painting based on a scene in the film version of Tennessee Williamsís Pulitzer Prize-winning play, A Streetcar Named Desire. The work was a gift for Selznick's first wife, Irene, a theatrical producer responsible for bringing the play to Broadway in the same year. Poker Night captures the sexual tension and violent undertones in the relationships between Blanche DuBois, a down-and-out Southern belle (holding up a mirror), her sister, Stella (leaning over the armchair), and Stella's husband, the hot-tempered, childlike Stanley Kowalski (wearing a white undershirt). It documents one of the play's most dramatic and memorable moments, when Blanche taunts a drunk and angry Stanley with her petty provocations and refined airs.