Sunday Morning Book Thread 05-07-2017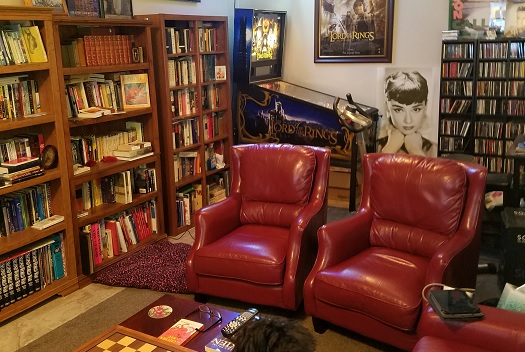 Library of Lurker SteveOReno
Good morning to all you 'rons, 'ettes, lurkers, and lurkettes. Welcome once again to the stately, prestigious, internationally acclaimed and high-class Sunday Morning Book Thread, where men are men, all the 'ettes are gorgeous,
safe spaces
are underneath your house and are used as protection against actual dangers, like natural disasters, or Literally Hitler, and special snowflakes do not last. And unlike other AoSHQ comment threads, the Sunday Morning Book Thread is so hoity-toity, pants are required. Even if it's
these pants
, which, I know flying the flag is a good thing, but I mean, come on, really?
Pic Note
This looks like a very nice library. I'd like to spend lots of time in it. There are some interesting items that you can see by clicking on it to see the larger version. I think the pinball machine is a great addition.
It Pays To Increase Your Word Power®
ANILITY
is the quality of being an old woman. Usage: "Hillary Clinton's fleshy jowls jiggled with anility."
Eating Their Own
Last week I made the claim that there was only one book I could find that dealt with the subject of fake hate crimes. But there are books on the subject of fake
rape
crimes, which are like fake hate crimes in that they are used to promote an item or items on the progressive agenda. And what's interesting about these books is that they're written not by conservatives, but by liberals who have managed to retain their sense of justice and fair play.
Unwanted Advances: Sexual Paranoia Comes to Campus
by Laura Kipnis, who, even though she had
bona fide
progressive cred, nevertheless found herself cast into the outer darkness because of WrongThink™ violations:
A committed feminist, Kipnis was surprised to find herself the object of a protest march by student activists at her university for writing an essay about sexual paranoia on campus. Next she was brought up on Title IX complaints for creating a "hostile environment." Defying confidentiality strictures, she wrote a whistleblowing essay about the ensuing seventy-two-day investigation, which propelled her to the center of national debates over free speech, "safe spaces," and the vast federal overreach of Title IX.

In the process she uncovered an astonishing netherworld of accused professors and students, campus witch hunts, rigged investigations, and Title IX officers run amuck.
More details of Kipnis' thought crimes are in
Cathy Young's review
of the book. Also here, in an article she wrote entitled
My Title IX Inqusition
. I feel sorry for her feeling like she's in a Kafka novel, but on the other hand, as a "committed feminst", she bears at least partial responsibilty for unleashing the nightmare forces that are now threatening to eat her alive. The second book,
The Campus Rape Frenzy: The Attack on Due Process at America's Universities
is by K C Johnson, the blogger who did yeoman's work reporting on another famous rape hoax,
Duke Lacrosse case
. He believes that
The frenzy about campus rape has helped stimulate—and has been fanned by—ideologically skewed campus sexual assault policies and lawless commands issued by federal bureaucrats to force the nation's all-too-compliant colleges and universities essentially to presume the guilt of accused students. The result has been a widespread disregard of such bedrock American principles as the presumption of innocence and the need for fair play.
Clearly, the Title IX star chambers ought to be dismantled. Actually, the whole DOE ought to be dismantled, but that unfortunately is not going to happen. I would like to think that all of this fake rape crap is going to go the way of the panic over
satanic ritual abuse
. But then again, SRA did not have the weight of progressive ideology behind it. If it had, it might be still with us. That's a frightening thought.
High Tech In The Old Days
Here is something that is a must for every library: eighteenth-century rotating table allowing readers to view multiple volumes at once. If it had a name, I don't know what it is.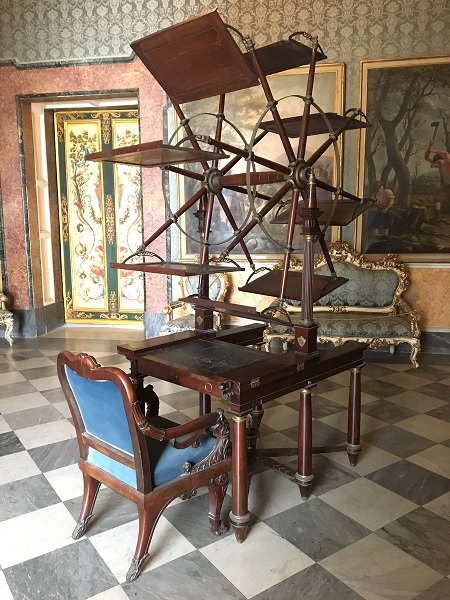 This actually might be useful even today. For example, if you're working on a research project, or maybe doing some translation work, where you have to go back and forth between multiple volumes rapidly, this might be just the thing to make the job a bit easier. And being a fan of "retro-tech" I think I might like it more than keeping multiple tabs open in a browser. After looking at a bit more, it actually looks kind of dangerous. But if you're a cat owner, think of the fun they'll have on it! Thomas Jefferson had a less intricate revolving book thing in his man-cave at Monticello, and I'll show that one next week. Pic stolen
from here
. (and thanks to
Dinah
, a lurking 'ette and one of my book peeps from Twitter, for bringing this to my attention)
Moron Recommendation
I'm going to post these recommendations from comment threads and let the recommenders speak for themselves, because lazy. Also, because I can't improve anything. First up, zombie likes one particular book by political scientist (and libertarian) Charles Murray:
I only own one book of his, called Human Accomplishment: The Pursuit of Excellence in the Arts and Sciences, 800 B.C. to 1950, and it is one of the greatest books ever written. Truly mind-blowing.

In the book, he quantifies the "accomplishments" of every scientist/inventor/artist in history, and also every culture/tribe/nation in history. With absolute unimpeachable impartiality.

Aside from the intensely fascinating factoids and stats littering every page, the book's unadvertised crushing conclusion is that 99.9% of "the modern world" was created by "Western civilization," and that the liberal "multicultural" fantasy is pure garbage. Literally every single thing we as humans think, do and have of any value on Earth today is due to the efforts and genius and advancement of Western civilization; and these advancements are not by chance, but by conscious design.

Posted by: zombie at May 02, 2017 02:45 PM (DQ4Fv)
Human Accomplishment:
The Pursuit of Excellence in the Arts and Sciences, 800 B.C. to 1950
is available on Kindle for $12.49.
___________
I'm reading a book "Paris In the Terror" right now which is quite riveting. There were plenty of French like Lafayette who admired the American revolution and thought that that is what they were getting. Lafayette hero-worshipped Washington and probably wanted to be the French Washington himself. The radicals - Marat and Robespierre - kept pulling the Revolution further and further to the left, so yesterday's revolutionaries became today's reactionaries. There were Girondians who wanted a fair trial for Louis XVI and a public referendum on whether he should be executed. The Jacobins nixed it because they knew the French people as a whole would not vote for the King's execution - and might even conceivably want him restored to the throne.

Charlotte Corday initially welcomed the Revolution. Her horror of the bloodshed that came after, much of it caused by Marat, made her a "traitor to the Revolution."

All subsequent leftwing revolutions have followed the French one.

Posted by: Donna and V. (sans ampersands at the present time) at May 03, 2017 12:25 PM (s7vJs)
Paris in the Terror: June 1793 - July 1794
appears to be out of print, but used copies are available for as low as $1.50.
Books By Morons
I didn't know author
Sarah Hoyt
was an 'ette who lurked here. But she is, and she does. She also has released a new novel, the next entry in her Darkship series,
Darkship Revenge
:
After winning the civil war in Eden, Athena returns to her calling, collecting powerpods with her husband Kit. Now weeks away from Earth, she goes into labor. To make matters worse, a strange ship attacks Athena and Kit's Cathouse and kidnaps Athena's husband. That ship is called Je Reviens. It's a named steeped in history—and not the good kind of history.
I asked Sarah if there was anything she wished to add that's not in the Amazon blurb and she said:
The only thing I can think to add is that this is a book about parenting. The book about parenting with the most explosions, pitched battles and spaceships you'll ever read.
And, as an extra bonus, in order to promote her new book, Sarah put a free short story up on her blog, which you can read
here
.
___________
'Ette Anna Puma has just published a new story,
Pinch of Larceny (A Tanya Winters Adventure Book 1)
:
Tanya Winters is a specialist, a High Value Asset Retrieval Expert. The CIA called Tanya a cat-burglar and immediately recruited her.

Now an independent contractor hired to retrieve for a museum the legendary sapphire called the Tear of Poseidon which was stolen twelve years ago.

Can Tanya and her cat-spirit companion Kucinta sink their claws into this job and return with the jewel?
Available on Kindle for 99 cents.
___________
Don't forget the AoSHQ reading group on Goodreads. It's meant to support horde writers and to talk about the great books that come up on the book thread. It's called AoSHQ Moron Horde and the link to it is here:
https://www.goodreads.com/group/show/175335-aoshq-moron-horde
.
___________
So that's all for this week. As always, book thread tips, suggestions, bribes, rumors, threats, and insults may be sent to OregonMuse, Proprietor, AoSHQ Book Thread, at the book thread e-mail address: aoshqbookthread, followed by the 'at' sign, and then 'G' mail, and then dot cee oh emm. What have you all been reading this week? Hopefully something good, because, as you all know, life is too short to be reading lousy books.
Posted by: OregonMuse at
09:03 AM