Saturday Gardening Thread: Going Feral [KT]
HAPPY WORLD NAKED GARDENING DAY, Horde! This celebration is open to gardeners and non-gardeners alike! More below the fold.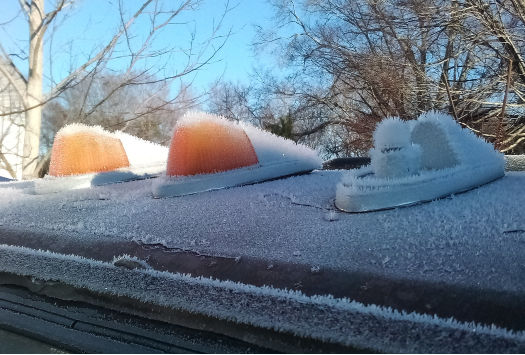 Panorama: Spring Spectacular Chez Browndog
Browndog sent in the inspiring photo above. It is his spring garden last year.
Chez Browndog has a Spring Garden. Lilacs, Wisteria, Quince (not shown), Cherry (behind the Pussy Willow Tree on the right), and bushes whose names are lost to the mists of time. The Wisteria have overtaken some Pines and use them trees as a scaffold to provide a display that wows the neighborhood...and I'm OK with that. The beds support Black Eyed Susans, Daisies, Peonies, Hydrangeas, and Hostas. We throw various pots of annuals throughout the terrace and front entrance. Not terribly exotic, but we're in WNY.
Thanks, Browndog. Now I want to visit your garden. The Wisterias are especially impressive.
As to the Wisteria, we have both White and Purple. The White blooms first and is more prolific. The Purple comes in almost after the White Blooms are gone. . .very odd that.
I'm not so sure that it is odd.
Different species of Wisteria
bloom at different times, and I think there is even more variation among their hybrids and cultivars. If your trees could support another vine, here is an exuberant duo,
Wisteria with Clematis montana.
Not everybody could handle these two. Wonder if Clematis montana goes feral in the woods like Wisteria does?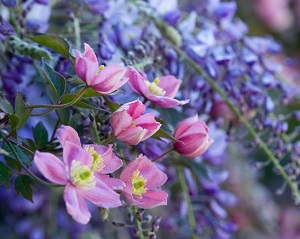 World Naked Gardening Day
Several alert members of The Horde have pointed out that today is World Naked Gardening Day. Thanks to all for the encouragement. I don't think it is a viable option in my yard. Neighbors would not understand. Police would not understand, either. But now that you know about this celebration, do you plan on gardening today in the altogether? They say this can form a psychic bond between you and nature or other gardeners. You might want to review these
tips from New Zealand
first. I thought the most important tip from the video was:
No power tools. Don't want to cut anything off!
Do you have other tips for naked gardeners? The top-rated city for observation of Naked Gardening Day is
Houston, Texas.
Did your city make the list of excellent spots for naked gardening?
What wasn't taken into account to obtain these rankings were: fire ants, mosquitoes, poison ivy, spiders and snakes, which gardeners despise even when fully clothed.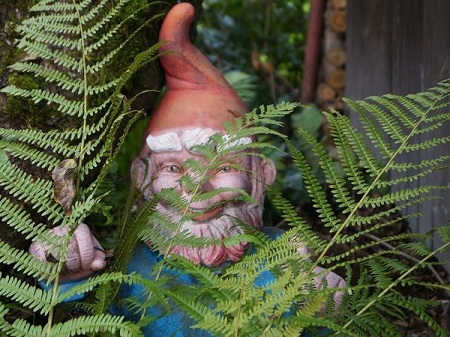 Observing World Naked Gardening Day
Ironically, World Naked Gardening Day falls on May 6, the day after Cinco de Mayo, so some of that behavior could be post-celebratory
A note on Flowering Quince
Some recent comments have suggested that pruning Flowering Quince would be a particularly poor activity for World Naked Gardening Day. Because the thorns are so wicked and scratches take a long time to heal. We have discussed
flowering quince
before. (Don't comment on old threads). Just a reminder that there are thornless cultivars of this early-blooming shrub, both short and tall. I used to have a little apricot one called 'Cameo'. This one is
'Pink Lady'.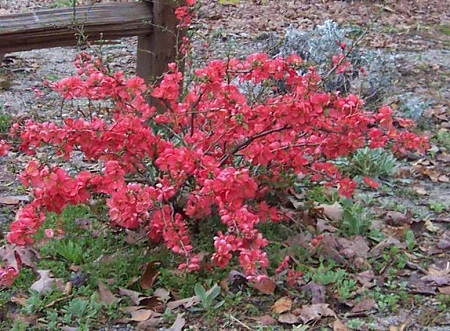 Some plants that may go feral
on another planet?
(Or in Heaven)? Last week, I read about a Wilderness Area in California where hunting feral pigs was allowed. Yes, in California. Actually, hunting feral pigs is encouraged in some parts of California because the pigs dig up native plants. There are some rather unassuming European plants that can go feral, too. But they can still be nice in the garden where not banned. They are both butterfly magnets. Does this plant: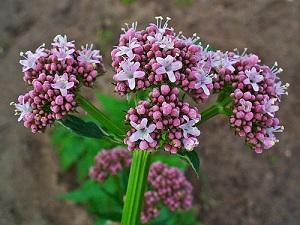 remind you of this? And if so, why?
Used since ancient times for its sedative and relaxing properties, Valeriana officinalis, commonly known as garden heliotrope, is native to Europe and Northern Asia, and its native habitat is marshes and river banks. Valerian grows from thick rhizomes, with 2- or 3-inch-long dark green, lance-shaped serrated leaves growing from a central rosette and a 3- to 4-foot-tall flowering stem with clusters of flower buds. . . . The foliage has a stinking, putrid odor, especially when handled or disturbed, but the flowers have a fragrance similar to cherry pie. The stinking foliage is as attractive to cats as catnip, and they will roll in the plants and tear them up if given the opportunity. You can sew up tiny pillows stuffed with valerian leaves for the cats in your life to enjoy.
Anybody out there into sewing tiny cat pillows to fill with stinky foliage? The roots are still used as a sedative to this day. Flower stems can grow 5 or 6 feet tall sometimes, and the flower stems may fall over if grown in the shade. It prefers cool summers and moist soil. It can be invasive where happy. Still, flowers that smell like cherry pie sound appealing. Valerian appears to be
one of the safer herbs
for human use. The basal rosette of leaves has an attractive, ferny look. Flowers come in white, pink or rosy red. This brings us to:
Keys of Heaven
Though she may not have known its identity, California Girl sent in a photo of a Valerian impostor sometimes known as "Keys of Heaven", along with the Balloon Flower she photographed outside a Catholic church in Wyoming. We talked about the
Balloon Flower
earlier. Don't comment on old threads. "Keys of Heaven" is kind of a pretentious name for the tough garden plant, Centhranthus ruber, which often naturalizes in the West. You can't sell this plant in Oregon or Washington. It does well in most parts of the West and many parts of the East, but does not like high humidity or damp shade.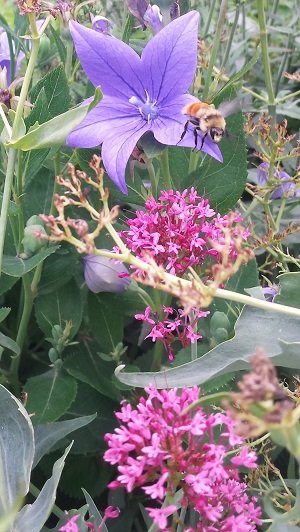 I am afraid that photo makes me want to deadhead some old Keys of Heaven seed heads. They have already let go of their little dandelion-like seed parachutes and look kind of scruffy.
You know you are a hard-core gardener if you deadhead flowers
in other people's garden. - Sue Careless
Other common names for this plant include Red Valerian, Kiss-me-quick, Jupiter's Beard, German Lilac and Pretty Molly. The
White form
of the flower used to be recommended by Sunset for low-maintenance day lily (and daffodil) borders. It blends easily with many other colors. I think it would also be compatible with Butterfly Weed (Asclepias tuberosa), another great nectar plant for butterflies. Especially
Hello Yellow.
Or maybe in back of some Scabiosia
Butterfly Blue,
one of the longest-blooming plants I have encountered.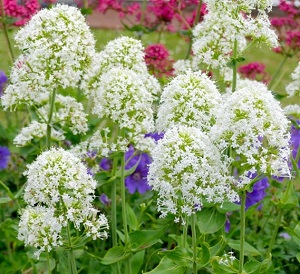 Keys of Heaven
comes in warm to cool red shades plus pink and white. Centhranthus ruber 'coccineus' is supposed to be especially long-blooming.
. . . this Mediterranean plant is favorite in Europe, embraced as a staple in grand estate gardens to cottage styled gardens. Its non-stop bloom-fest starts in June . . . But for me, the fact that it lures in butterflies who swarm to its nectar rich blooms made it an easy choice for my garden. . . Why more hasn't been done to promote this plant to new homeowners looking for high impact plants with low impact needs is a mystery to me. It's a perfect winning plant for someone new to gardening, that will build their confidence as it grows from strength to strength. . .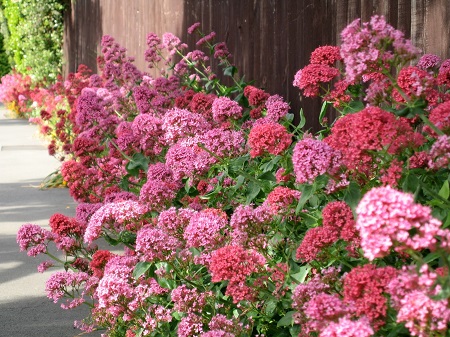 Red Valerian, or Keys of Heaven
Sweet Potato Science
It's getting to be about time for some people to plant sweet potato slips. Surprise!

Sweet potatoes are transgenic!
The first transgenic organism was not produced by a megacorporation. It was created by Mother Nature a long time ago. This phenomenon, in which an organism integrates genetic material from another organism of which it is not the descendant, is called horizontal gene transfer... and it's been going on for millions of years. The sweet potato is an example.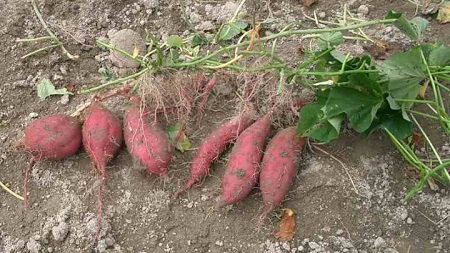 Gardens of The Horde
Well, we have hit the triple digits in the San Joaquin Valley. Not quite as hot today. Rain forecast in some spots. Hope the new levees in the Valley hold, because there isn't much flood control capacity in the Sierras. If only Jerry Brown had followed his Dad's Master Plan for water storage. Do you have good gardening weather today? Planting something new? Harvesting anything? Have a great weekend.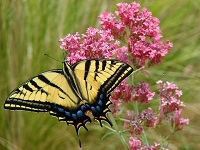 Keys of Heaven, with Swallowtail
If you would like to send information and/or photos for the Saturday Gardening Thread, the address is: ktinthegarden
at g mail dot com Include your nic unless you want to be a lurker.