Saturday Afternoon Chess/Open Thread 04-22-2017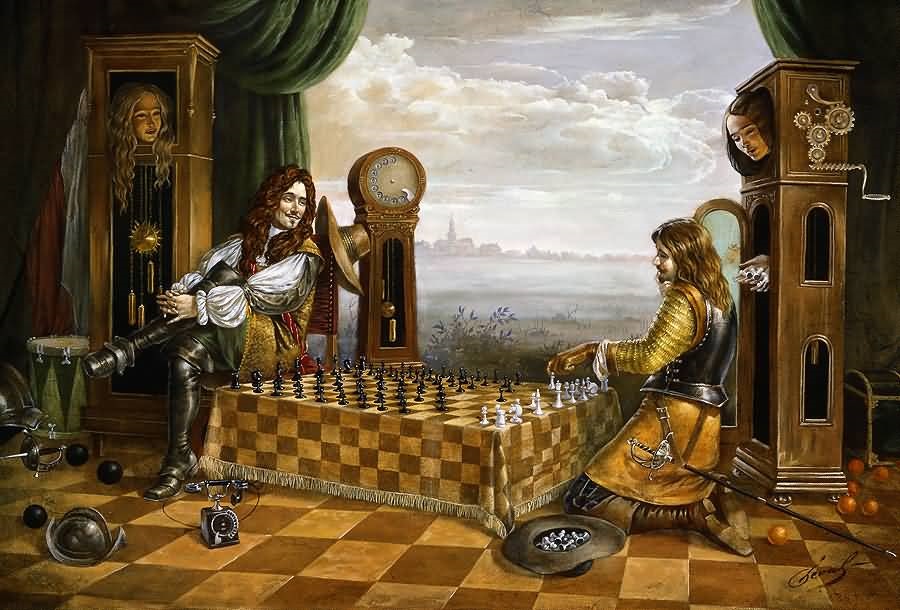 Michael Cheval - A la Guerre Comme a la Guerre
Good afternoon morons and moronettes, and welcome to the Saturday Afternoon Chess/Open Thread, the only AoSHQ thread with content specifically for all of us chess nerds who pay homage in the temple of
Caïssa
, goddess of the chessboard. And, for those of you who aren't nerdly enough for chess, you can use this thread to talk about checkers, or other games, or politics, or whatever you wish, only please try to keep it civil. Nobody wants to get in the middle of a
hockey brawl
on a Saturday afternoon. Except maybe Bruins fans.
Pic Note
I played around with Google's language translator, and the title of this week's pic could either be rendered "In War As In War" or "War and War", I'm not sure which. No doubt one of you morons more knowledgeable in French would be able to help out here. Also, there's a lot of detail in the painting that you'll be able to see a lot better if you bring up the larger version, which is only a click away.
Problem 1 - Black To Play
(224) Hint: Black can force a mate in 2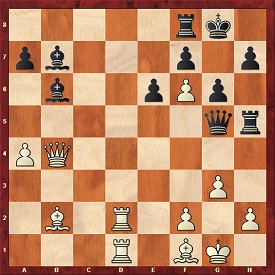 5rk1/pb3p1p/1b2pPp1/6qr/PQ6/6P1/1B1R1P1P/3R1BK1 b - - 0 1


Problem 2 - White To Play (194)
Hint: White wins material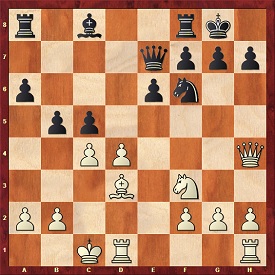 r1b2rk1/4qppp/p3pn2/1pp5/2PP3Q/3B1N2/PP3PPP/2KR3R w - - 0 1


Problem 3 - White To Play
(470) Hint: White can force a mate in 4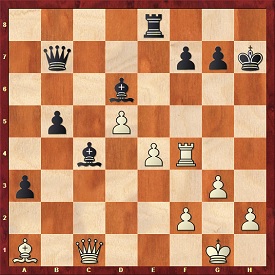 4r3/1q3ppk/3b4/1p1P4/2b1PR2/p5P1/5P1P/B1Q3K1 w - - 0 1


Hooked On Tactics
This is is an interesting article
by an author who describes her chess learning experience from the very beginning. Chess puzzles is what got her started, and it turned into an addiction:
I would spend an hour thinking about a single tactic. I would lose a hundred points in a day, or more, then gain them back. Eventually, I won more than I lost. I started to recognize patterns. Calculations became easier. The movements of pieces would flow into each other. I started to see the board as areas of energy, lines of tension. By June, eight months after I'd downloaded the app, my rating hit 2000.

I still could not reliably set up a chessboard for a game.
All of you n00bs should read this piece and be encouraged, when you don't see something and believe yourself to be an idiot. You're not an idiot. It just takes lots of practice.
Problem 4 - White To Play
(BWTC 5) Hint: White wins significant material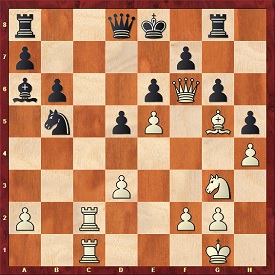 r2qk1r1/p4p2/bp2pQp1/1n1pP1Bp/7P/3P2N1/P1R2PP1/2R3K1 w - - 0 1


Endgame of the Week
(97) Black has a dangerously advanced pawn, ready to queen and win. It's White to move. Can he thwart this plan? Hint: White can draw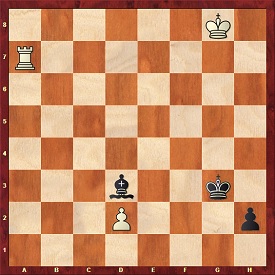 6K1/R7/8/8/8/3b2k1/3P3p/8 w - - 0 1


----------------------- And now for something completely different:
"No Fair, They're Hitting Us Back!"
Backstory: During the Easter weekend riots at Berkeley, one of the masked 'pantyfa' goons was caught on video using a bike lock wrapped in a towel as a weapon to assault people, and her badly injured several. Apparently, this aroused the ire of the 4chan entity known as '/pol/', and collectively, they succeeded in
tracking down and identifying the cowardly thug
.
This compilation video
of how they did it is amazing to watch. The fact that he was wearing a mask to conceal his identity turned out to be a fruitless exercise. And now pantyfa is peeing their panties: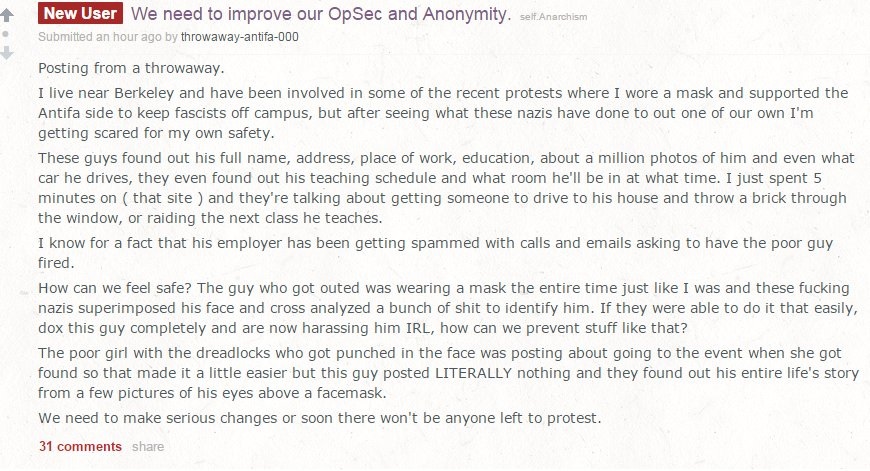 Click for larger version

There's something precious about a violent thug complaining about being made to feel unsafe. But is this a legit message posting from an actual pantyfa clown, or is a /pol/ prankster trying to moby up a little FUD among their ranks? I don't know for sure, but I did find the following item on
this reddit board
, and it seems that the bike-lock-wielding goon is not univerally admired:
I study law. The evidence gathered by chan alone, which will likely be presented, is serious. I haven't seen all of it, but they've found a lot more than just superimpose his face over the mask. Aside from personal questioning of whereabouts etc... It's police grade investigation which will make the judge's head spin.

The odds on this case are definitely not in Eric's favour. That said, if he is found guilty - Antifa will surely see a major influx of infiltrators gathering information.

I think it's time we have leadership, and start creating membership registries. In the future, there is a possibility that infiltrators will act violently to discredit us in the public sphere.

Edit: I just had a quick look into some of the information gathered on him. Police don't have the budget or time to conduct this level of investigation in GBH cases. Also, Eric Clanton might face a felony assault charge, possibly in the second degree. The victim bled from the head and appeared to be in a state of near-unconsciousness. Also a metal object is considered a dangerous instrument: when used to hit a person in the head. Although, I am not too familiar with American law, so I cannot be certain on the specifics.

Since Eric appeared to have heavily assaulted him on the head, with a metal object. Eric is very lucky the damage isn't serious. Because what he did was beyond stupid. I personally think it was a cruel and cowardly attack. That man didn't appear confront or assault Eric, or anybody in the crowd for that matter.

This isn't the first time something similar has happened. This surprise, cowardly attacking from a crowd with blunt weapons has got to stop. Because it will escalate, and then we are fucked. To speak a blunt truth... We know there's a good reason why only the smaller Trump supporters end up in hospital[from these hit and run attacks]. It makes us look like aggressive critters picking on cubs. I know the other side is guilty of it. But Antifa is taking the gold medal home from the media, for this behavior. Besides, it reinforces the other side's narrative and will radicalize more Trump supporters. We either learn to fight them like men(so to speak), or not at all.

This recent development is not good for us, at all. The biggest reason why Antifa is so successful in England is because we have the neutral public on our side. Although, English have a particular distaste for fascism and nazis. These tactics turned out to be a ten-fold consequence for eastern European Antifa a few years ago. The skinheads ramped up the violence, and they have a passion for violence.
Some observations: 1. 4chan is apparently doing the work that the police just won't do. 2. The part about pantyfa needing to start a membership registry? Heh. The British guy who wrote this item probably wouldn't know this, but that's opening them up to the possibility of getting hit with a RICO lawsuit, should there be an AG who is so inclined. After all, the only purpose for the existence of pantyfa is to hurt people and break things. A better example of a criminal organization would be hard to find. 3. I would think that smashing somebody in the head with a heavy bike lock is, no question, ADW. That's what the thug should've been arrested for. 4. I'm not recommending that anyone go out deliberately seeking trouble, but if you ever get attacked by one of those pantyfa cowards, I think the first thing you should do to defend yourself is go for the mask. Make sure anybody who happens to be catching it on video has a clear view of their face. The internet is forever. 5. The 4chan guys are doing the Lord's work. God bless them, every one.
___________
Solutions Update
Problem 1 - Black To Play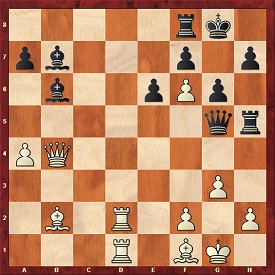 5rk1/pb3p1p/1b2pPp1/6qr/PQ6/6P1/1B1R1P1P/3R1BK1 b - - 0 1


In this position, both Black bishops are bearing down on the white king's position, as are Black's queen and rook. Meanwhile, White's pieces are kind of scattered around. With all of that firepower brought to bear, Black can afford to sac a piece to achieve a breakthrough. 1...Qxg3+!
2.Bg2 If 2.hxg3 then 2...Rh1#. But now it's 2...Qxg2#
Problem 2 - White To Play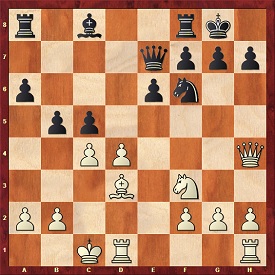 r1b2rk1/4qppp/p3pn2/1pp5/2PP3Q/3B1N2/PP3PPP/2KR3R w - - 0 1


White can pick up some material with 1. Bxh7+ Kh8 Not 1...Nxh7? 2.Qxe7 2.Be4+ Kg8
3.Bxa8 White being up a rook should be enough to win.
Problem 3 - White To Play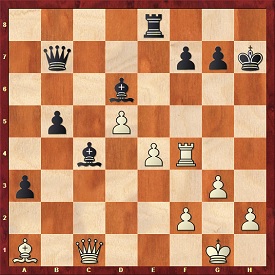 4r3/1q3ppk/3b4/1p1P4/2b1PR2/p5P1/5P1P/B1Q3K1 w - - 0 1


1. Rh4+! Kg6 Or, Black could try 1...Kg8, but it's still a mate in 4 for White: 2.Rh8+ Kxh8 3.Qh6+ Kg8 4.Qxg7# 2.Rg4+ Kh7 Of course if 2...Kh5 then 3.Qg5# 3.Rxg7+ Kh8
4.Qh6#
Problem 4 - White To Play
(BWTC 5)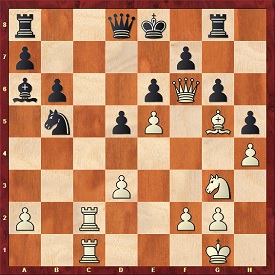 r2qk1r1/p4p2/bp2pQp1/1n1pP1Bp/7P/3P2N1/P1R2PP1/2R3K1 w - - 0 1


Even though this problem came from the Fred Feinfeld's classic book
1001 Brilliant Ways to Checkmate
, but in this case, there is no checkmate. At least, not a forcd one. 1.Rc8 Rxc8
2.Rxc8 And now the book solution is 2...Qxc8? 3. Qe7#, but there's no need to capture that rook. Instead, 2...Kd7 Black will lose material, but hey, it's better than checkmate. 3.Rxd8+ Rxd8
4.Qxf7+ Kc8 If 4...Kc6?, then there's a cute mate starting with 5.Bxd8 and then 5...Bb7 6.Qe8+ Kc5 7.Be7+ Kd4 8.Ne2+ Kxd3 9.Qxb5+ Ke4 10.Qb1+ Kxe5 11.f4# 5.Bxd8 Kxd8
6.Qxe6 Kc7
7.Qxd5 Kb8 White's material superiority should carry the day.
Endgame of the Week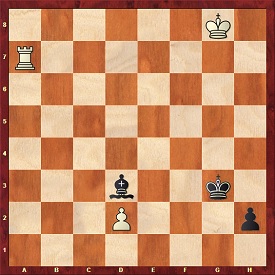 6K1/R7/8/8/8/3b2k1/3P3p/8 w - - 0 1


White is looking to draw. He can do this by trading his rook for the pawn. If he can do that, Black won't have enough material to win. So... 1.Ra1 Kg2 Trying to set up 2...Bf1 2.Kh8 This is the move that is perhaps hard to see. You think you don't have time for it, but you actually do, because Black isn't quite set up yet. 2...Bf1
3.Ra7 h1=Q+ No good is 3...Bd3 to stop 4.Rh7 because then 4.Ra1 and Black hasn't made any progress. 4.Rh7 Qxh7+ Forced. 4...Qg1 is insufficient due to the skewer 5. Rg7+ Kh2 6.Rxg1 Kxg1 and draw.
5.Kxh7 Bd3+
6.Kg7 Kf3 and draw, insufficient material Hope to see you all next week!
___________
Note: that cryptic line of letters and numbers you see underneath each board diagram is a representation of the position in what is known as "Forsyth-Edwards Notation", or F.E.N. It's actually
readable by humans
. Most computer applications nowadays can read FEN, so those of you who may want to study the position, you can copy the line of FEN and paste into your chess app and it should automatically recreate the position on its display board. Or, Windows users can just "triple click" on it and the entire line will be highlighted so you can copy and past it into your chess app.
___________
So that about wraps it up for this week. Chess thread tips, suggestions, bribes, rumors, threats, and insults may be sent to my yahoo address: OregonMuse little-a-in-a-circle yahoo dott com.
Posted by: OregonMuse at
05:05 PM