Sunday Overnight Open Thread (4/9/17) Tools Of Mass Destruction Episode
The Killer of Sunday Afternoons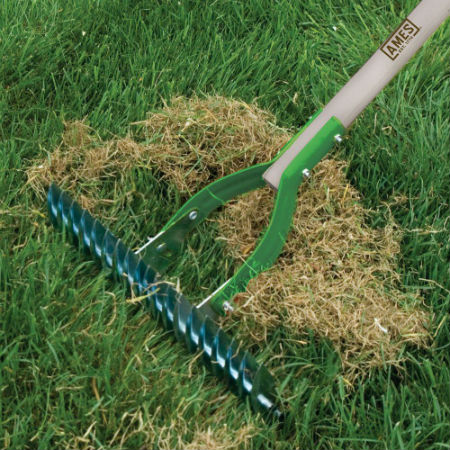 And His Accomplice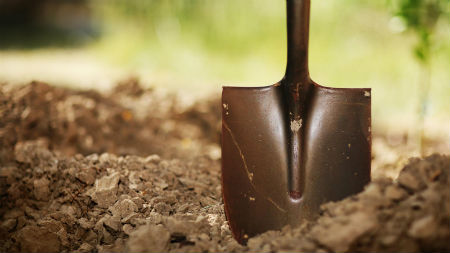 *****
Quotes of The Day
Quote I
I am unboreable in the great outdoors. P. J. O'Rourke
Quote II
Spending time outdoors makes you feel great. Elizabeth Hurley
Quote III
The old adage about giving a man a fish versus teaching him how to fish has been updated by a reader: Give a man a fish and he will ask for tartar sauce and French fries! Moreover, some politician who wants his vote will declare all these things to be among his 'basic rights.' Thomas Sowell
*****
Shit Death rolls down hill. 2nd in command of Hezbollah pisses off Iran. He winds up dead.

Much has been said and written about Iran's intended entrenchment in Syria and the way Tehran is investing extraordinary human and financial resources to help President Bashar Assad survive. Still, the story of the assassination of Mustafa Badreddine, the head of Hezbollah's military wing, illustrates with rare clarity the determination on the part of Iran and Hezbollah not to let anyone interfere with Iran's plans in Syria.
Wonder how much Obama-cash was used?
You Had One Job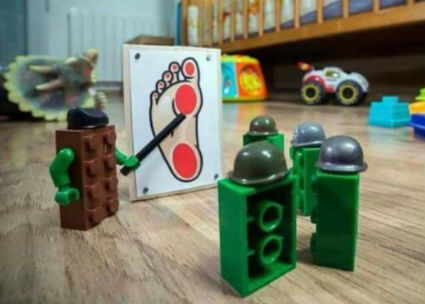 h/t Twitter & CBD Well, this is interesting. Transgenderism is a mental disorder.
*****
We all have one of these friends and/or family. You know the one, the one who is always late. The one who you say, "There is real time and there is _________ time.
The psychology behind the habitual tardy.

The way we are wired to manage time could be to blame A study from 2016 by Washington University psychologists Emily Waldun and Mark McDaniel looked into this theory, and described it as Time-Based Prospective Memory (TBPM.)
GAINZZZZZZ
Or not.
For cannibals, here's the caloric content of humans—it's just meh
Low nutritional value suggests cannibalism may be more socially motivated.
.......By rough estimates, eating all the skeletal flesh off a human—not including the organs—would provide about 32,376 calories. An optimally sized hunting group of 25 male Neanderthals or Pleistocene adults (anatomically modern human) could get about a meal out of that. But if the same group tracked down a boar or cow—which are less cunning and maybe easier to hunt—they'd have three days' worth of meals out of the skeletal flesh. The findings appear Thursday in Scientific Reports.
*****
Remember Bill Clinton, the peace maker? h/t MTF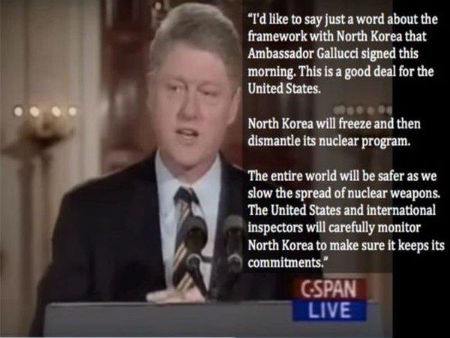 *****
The lame stream media didn't cover this.
Ukraine's largest munitions depot, went KA-F*CKING-BOOM.
h/t Hank Curmudgeon.
*****
The ONT Musical Interlude
April 9, 1989, Rolling Stone Bill Wyman announced his forthcoming marriage to 19-year old Mandy Smith. He revealed the couple had been dating for six years. via thisdayinmusic.com
April 9, 1983, David Bowie was at No.1 on the UK singles chart with the title track from his latest album 'Let's Dance', his fourth UK No.1 and featuring blues guitarist Stevie Ray Vaughan. The song introduced Bowie to a new, younger audience oblivious to his former career in the 1970s and was a US No.1 hit, Bowie's first single to reach number one on both sides of the Atlantic. via thisdayinmusic.com
*****
The ONT is torn about posting this asshole. However,
here is what America is facing in colleges.
Tweets from an account purportedly operated by Professor Lars Maischak call for Trump to "hang" in order to "save American democracy," and say the only "cure" for racist people is a bullet to their head. The account is not verified, although the bio and interactions between the user and other Twitter users indicate it belongs to the professor.
*****
Canadian dress codes just got changed.
The Canadian province of British Columbia has banned dress codes which require female employees to wear high heels at work. The local government ruled that these requirements are a health and safety issue, putting workers at risk of slipping or falling as well as long-term injuries to the feet, legs and back.
Do you know what is good for the feet, legs and backs ladies? Sammich making!!!!
*****
Do you have some synthetic kitty litter at the house?
That's a good thing. As it could save your cell phone.
As it turns out, one household item puts the rest to shame when it comes to saving your beloved smartphone. And if you're a cat owner, you're especially in luck… Saving your water-damaged smartphone could depend on one crucial item: synthetic "crystal" kitty litter. While it has long been recommended that you use rice in such situations, this works much better!
*****
Going to the caveman dentist was probably a nightmare.
No shit Sherlock, what was your first clue? And no, nevergiveup cannot chime in.
*****
Only a matter of time before there are Love Potion pills?
Anders Sandberg, a neuroethicist at Oxford University's Future of Humanity Institute, will discuss the role of romance drugs at an upcoming Institute of Art and Ideas conference "Love in the Time of Tinder". He says that while we can't buy romance pills yet, it's only a matter of years before they exist. His work combines neuroscience and philosophy to unpack the ethical consequences of such pills, and just how they'll fit into our lives.
Even as a bachelor, I would have preferred a cure of the Common Cold.
*****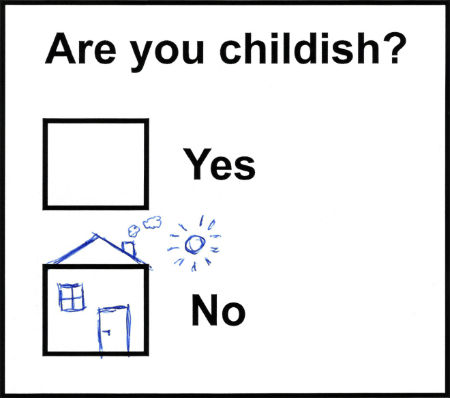 Funny test answer fails.
AoSHQ, a smart military blog.
The biggest guns in human history.
NRA instructor is tonight's
Genius Award Winner.
There are some really nice people out there, few and far between.
The Feel Good Story of The Day.
*****
Tonight's ONT has been brought to you by Special Bathroom Guests.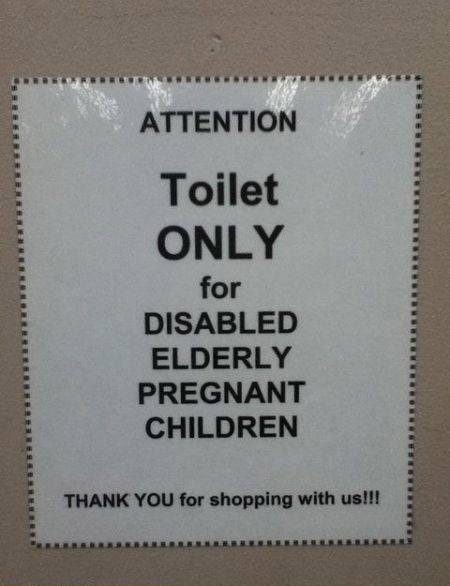 Notice: Posted with permission by AceCorp, LLC. Your monthly contribution of $19.00 will ensure you being short $19.00 per month.
*****
Top 10 commenters:
1 [604 comments] 'TheJamesMadison' [84.87 posts/day]
2 [344 comments] 'rickb223'
3 [315 comments] 'yankeefifth'
4 [304 comments] 'J.J. Sefton'
5 [303 comments] 'Steve and Cold Bear'
6 [288 comments] 'JackStraw'
7 [284 comments] 'ScoggDog'
8 [279 comments] 'Nevergiveup'
9 [270 comments] 'Lizzy'
10 [270 comments] 'Insomniac - sin valor' Top 10 sockpuppeteers:
1 [67 names] 'Nigel West Dickens ' [9.41 unique names/day]
2 [55 names] 'Steve and Cold Bear'
3 [47 names] 'Notorious BFD'
4 [43 names] 'andycanuck'
5 [42 names] 'Bertram Cabot, Jr.'
6 [36 names] 'Beach Barry'
7 [35 names] 'wth'
8 [32 names] 'Meremortal english,yes'
9 [32 names] 'Cicero (@cicero)'
10 [29 names] 'Mike Hammer, etc., etc.'
*****
Commenting Advice
The ONT is just that, an overnight open thread. There are plenty of topics every evening, or you can go off on your own topics. The main goal is to have fun. Lately the ONT has taken on an edge and quite frankly is not fun. I'm going to remind you what Ace has said about posting. Although he geared this thread about political commentary, this can also be applied to ONT commentary and topics.
This was once a place for actual discussion; it will be again. And I will ban those assholes who are incapable of behaving like elevated, educated, thinking people. You're too "angry" to discuss things? Don't give a fuck; not my problem. You're banned. Your problems are your problems, and your problems alone; your emotional problems and angry outbursts will no longer be acceptable blog fodder here. If this blog is too fast for you -- if people making arguments you might disagree with is just too painful for your mind to take -- well, there's lots of other blogs on the web; I suggest you try one that's more your speed. We here are pretty good commenters, and pretty good at discussion and at repartee; we're not going to be dragged down to a sub-moron level simply because that's the only level at which a sub-moron feels he can participate in a Real Life Political Discussion.
-- Ace August 26, 2015
Now, let's have some fun. It's The ONT Woot-Woot!
Posted by: Misanthropic Humanitarian at
09:29 PM