Mid-Morning Open Thread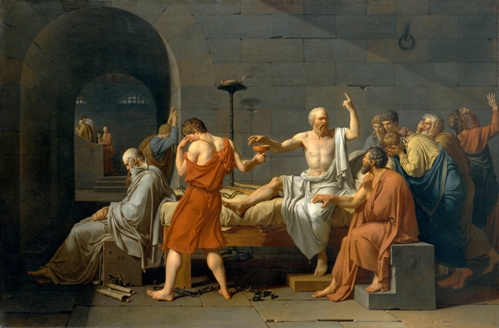 The Death Of Socrates
Jacques Louis David
He was a bastard, but a supremely talented bastard. Is there a better technician in all of art history? I looked through a bunch of his works, looking for some softening of his crisp, almost arrogant technique. But I didn't see any trend. I was hoping to make some sweeping comment about how his strident political stances eased as he grew older and wiser. Unfortunately I think he was an opportunist until the end...embracing the Revolution, and then Napoleon when the wind shifted. From
The Met's web site....
Accused by the Athenian government of denying the gods and corrupting the young through his teachings, Socrates (469-399 B.C.) was offered the choice of renouncing his beliefs or dying by drinking a cup of hemlock. David shows him prepared to die and discoursing on the immortality of the soul with his grief-stricken disciples. Painted in 1787 the picture, with its stoic theme, is perhaps David's most perfect Neoclassical statement. The printmaker and publisher John Boydell wrote to Sir Joshua Reynolds that it was "the greatest effort of art since the Sistine Chapel and the stanze of Raphael."
That's a tad too much hyperbole. The four Stanze in the Vatican are Raphael's greatest works, and grand in a way that even David couldn't compete with.