Sunday Morning Book Thread 04-02-2017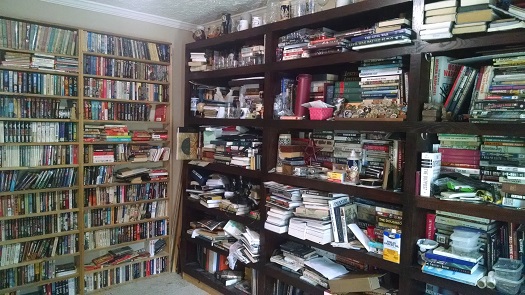 Library of Colonel Kurtz
Good morning to all you 'rons, 'ettes, lurkers, and lurkettes. Welcome once again to the stately, prestigious, internationally acclaimed and high-class Sunday Morning Book Thread, where men are men, all the 'ettes are gorgeous,
safe spaces
are underneath your house and are used as protection against actual dangers, like natural disasters, or Literally Hitler, and special snowflakes do not last. And unlike other AoSHQ comment threads, the Sunday Morning Book Thread is so hoity-toity, pants are required. Even if it's
these pants
, which look to be of the sort that Goldie Hawn used to wear on
Laugh-In
.
Children's Books
"What do they teach them at these schools?"

--C.S. Lewis, The Lion, the Witch, and the Wardrobe
Hey, how many of you are old enough to remember when the worst book we could possibly think to give to children was
Heather Has Two Mommies
? Well, those were the good old days. Because now there's
Jacob's New Dress
, and it's every bit as bad as you might think:
Jacob loves playing dress-up, when he can be anything he wants to be. Some kids at school say he can't wear "girl" clothes, but Jacob wants to wear a dress to school. Can he convince his parents to let him wear what he wants?
The progressive full-court press for even greater levels of public perversity proceeds apace. Sometimes I think this is like a drug they're addicted to: they need larger and larger doses to get the same high. Eventually, though, they're going to run out of perversity to promote, so then what are they going to do? I don't think this is a real book, or at least, I think it's
just somebody's experiment
. But the main character, a little boy, is told that his aborted sister, whom he imagines is sometimes there with him, is a "happy ghost". And then there's
The Pumpkin and the Pantsuit
, which, again, is an actual children's book, not an Onion parody, which claims to answer the question
"How do we explain the 2016 election to our kids?", this book is a cautionary tale of two big personalities who run against each other for the highest public office in the land.
In the cover art, the pantsuit is smiling and waving while the pumpkin is all shouty and rage-stroking. So you can see how this one is going to go. Hillary wants you to know that
she's a religious person
:
Abingdon Press acquired world rights in all formats to Strong For a Moment Like This—The Daily Devotions of Hillary Rodham Clinton, a collection of daily devotions written for the former secretary of state and the 2016 Democratic presidential nominee. Slated to publish on August 15, each of the 365 devotions are written by pastors who provided Clinton with spiritual support during the presidential campaign, including her pastor and friend, Rev. Dr. Bill Shillady.

"During the campaign, the emails from Bill were the first I opened each morning. They gave me strength," Clinton said in a statement released by Abingdon.
Can't wait. (h/t FenelonSpoke) Meanwhile, progressives are all, like,
WHAT WE DO NOW: Standing Up for Your Values in Trump's America
. Because for progressives, controlling the mainstream media, the entertainment industry, academia, and book publishing just isn't enough. They still feel stifled because of the existence of Donald Trump. This is a collection of essays written by an assortment of progressive nincompoops whose politics run the gamut from 'far left' to 'loony left':
Among the contributors are Bernie Sanders, Elizabeth Warren, Gloria Steinem, Paul Krugman, Robert B. Reich, George Saunders and Dave Eggers as well the heads of the ACLU, the NAACP, the Sierra Club, the Arab American Association, the National GLBTQ Task Force, the Freedom of the Press Association, and other prominent activists.
I'm sure they're just full of ideas whose time has come - and gone. I'm disappointed that Ruth Bader Ginsburg doesn't have one in there about
the glories of eugenics
. This one seems a bit premature, but
The Case for Impeachment
, by Allan J. Lichtmann, which claims to show
...exactly how the impeachment of President Trump might work by showing how his actions—past or future—make him uniquely vulnerable to impeachment proceedings.
This is really quite remarkable, saying that a sitting president will be impeached based on actions he hasn't done yet. That must be quite a crystal ball he's got.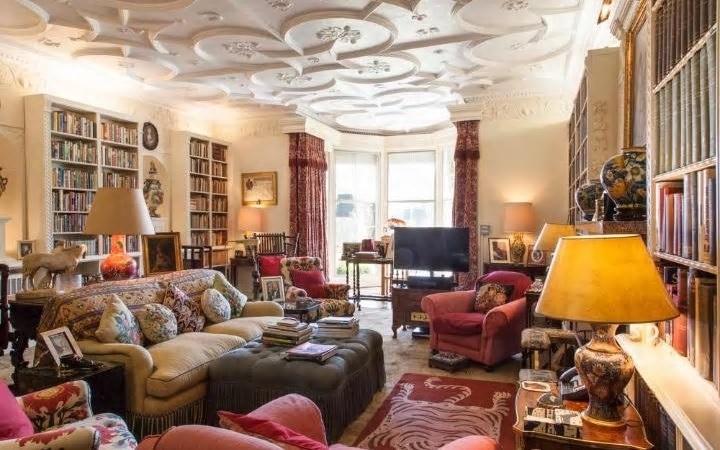 Renishaw Hall Library, Derbyshire, England
30,000 books and a Ghost
That's
some private library
:
More than 30,000 books, collected over hundreds of years, line the walls of Renishaw Hall in Derbyshire. This "house of books", as described by its owner, Alexandra Sitwell, was the inspiration for her ancestors, the literary Sitwell trio, siblings who established themselves as rivals (or pretenders) to the Bloomsbury Set in the Twenties and Thirties.
The article is chiefly about the eccentric goofballs who lived in the building. Not much to say about it, just wanted an excuse to put up another classy and luxurious library pic. (h/t to KT, she of the green thumb)
What Do You Do When The World Ends?
Answer:
save the books
.
In the hopes of protecting the world's most important books, a second 'Doomsday Vault' has been opened in the frozen Arctic wasteland of Svalbard, Norway.

The precious books will be stored in digital form, allowing them to survive the most extreme conditions, including nuclear war.
A *second* 'doomsday vault' for books? You mean there's another one? Actually no, they're referring to the
Svalbard Global Seed Vault
that was established in 2006 as a safeguard against agricultural disaster. So it's just like this seed archive, only for books. But, surprisingly, the books aren't going to be stored on digital media, but rather
Incredible new technology by a firm called Piql, will be used to store data as film, rather than hard drives, or other forms of storage.
Because
Magnetic storage media is short lived and best used for backups, while security and privacy issues make the cloud unsuitable for the purpose. It is estimated that 5% of the world's digital data requires secure, long-term preservation.
If I filled up a thumb drive and then just left it there, how long would it last before the magnetic properties essential for data storage start to decay? Years? Decades? Not good enough:
"Our goal has been to keep valuable digital data securely preserved and accessible for 500 years. Ensuring that the data cannot be modified or deleted is imperative in this context," explained Rune Bjerkestrand, managing director of Piql AS. "A true preservation solution must also secure future access independent of availability to specific technologies or vendors."
According to Piql
, data archived with their system is copied to "a true WORM (write once, read many) medium", making it impossible to modify or delete recorded data. However, the data is also searchable and fully accessable within an IT environment. Meanwhile, back at Svalbard:
The film will be stored deep inside a deep mine called Mine 3 that is frozen in permafrost, ensuring it keeps a constant temperature.
No word yet on what "important" books will be stored here as insurance against some future apocalypse. Presumably the books will be about how to grow stuff and how to build stuff and how to fix stuff, rather than diatribes against patriarchy and how gender is a social construct. (h/t JTB)
Moron Recommendations
Caught a recommendation from simplemind one one of my pro-life threads earlier in the week: The rec is for
Racketeer for Life: Fighting the Culture of Death From the Sidewalk to the Supreme Court
by Joseph Scheidler, a book which
...explains how a former Benedictine monk and journalism professor was drawn into pro-life activism and describes his part in the history of the pro-life movement in the United States. Conversations, protests, and battles with clinic directors, doctors, politicians, judges, media personalities, and even other pro-lifers are woven together in this engaging account of the efforts of Scheidler and other activists to publicize the horrors of abortion, influence legislation, and, ultimately, to save lives.
Scheidler, who has fought abortion ever since the passage of Roe v. Wade in 1973, was the defendant in a RICO lawsuit brought against him by the National Organization for Women. I'm not sure how they have the standing to initiate such a suit. RICO is a tool that fedgov invented to go after the mafia and other organized crime types, so this seems to be an overreach, but what do I know, I'm not a legal expert.
___________
Don't forget the AoSHQ reading group on Goodreads. It's meant to support horde writers and to talk about the great books that come up on the book thread. It's called AoSHQ Moron Horde and the link to it is here:
https://www.goodreads.com/group/show/175335-aoshq-moron-horde
.
___________
So that's all for this week. As always, book thread tips, suggestions, bribes, rumors, threats, and insults may be sent to OregonMuse, Proprietor, AoSHQ Book Thread, at the book thread e-mail address: aoshqbookthread, followed by the 'at' sign, and then 'G' mail, and then dot cee oh emm. What have you all been reading this week? Hopefully something good, because, as you all know, life is too short to be reading lousy books.
Posted by: OregonMuse at
09:05 AM