Sunday Overnight Open Thread (3/26/17) Skimpy Edition
Quotes of The Day
Quote I
Life sometimes gets in the way of writing. Jean M. Auel
*****
It did this weekend. Sorry for the skimpy ONT. Quote II
The most expensive hobby a rich man could have is a boat, and the second most expensive hobby he could have is a very old house. Barbara Corcoran
Quote III
Originality consists in thinking for yourself, not in thinking differently from other people.James Fitzjames Stephen
As we approach summer, travel plans take place. If you are into traveling and television This is for you. 10 places to relive your favorite TV shows.
If you spend thousands and thousands on a product, is it yours? Are you free to repair it on your own?
According to John Deere, you can't.
h/t Hank Curmudgeon
A license agreement John Deere required farmers to sign in October forbids nearly all repair and modification to farming equipment, and prevents farmers from suing for "crop loss, lost profits, loss of goodwill, loss of use of equipment … arising from the performance or non-performance of any aspect of the software." The agreement applies to anyone who turns the key or otherwise uses a John Deere tractor with embedded software. It means that only John Deere dealerships and "authorized" repair shops can work on newer tractors.
Tonight's Science Lesson.
*****
On this day in 1979, history was made.
In a ceremony at the White House, Egyptian President Anwar el-Sadat and Israeli Prime Minister Menachem Begin sign a historic peace agreement, ending three decades of hostilities between Egypt and Israel and establishing diplomatic and commercial ties.
Twitter. Aging.
Growing old tweets.
How many books do you have left?
The table below breaks down the number of books you'll have time for if you maintain your current reading habits. Twenty-five-year-old women, for example, have 61 years left to live according to the Social Security Life Expectancy Calculator. Assuming they live that long, average readers in that group have 732 more books to read in their lifetimes.....
Tonic. It goes wonderfully with Gin.
But does it go well with coffee?
The ONT Musical Interlude
Speaking of getting old.
March 26, 1965, The Supremes scored their fourth US No.1 single with 'Stop! In The Name Of Love.' The song was included on the Supremes' sixth album, More Hits by The Supremes, and was nominated for the 1966 Grammy Award for Best Contemporary Rock & Roll Group Vocal Performance, losing to 'Flowers on the Wall' by the Statler Brothers. The song was also honored by inclusion in the Rock and Roll Hall of Fame's permanent collection of the 500 Songs that Shaped Rock and Roll. via thisdayinmusic.com
*****
The story of Rachel Dolezal
Or Oingo Boingo Harika Shaniqua or whatever she calls herself these days.
In her heart, she's still a misunderstood black woman. Rachel Dolezal — who convincingly passed as an African-American civil rights activist in Spokane, Washington, until her inarguably Caucasian parents outed her as white in 2015 — is now stepping back into the spotlight in all her bottle-bronzed, afro-hair-extensioned glory.
Navy Seals are tough, physically and mentally.
How do they become mentally tough?
Mental toughness is a state of mind. Anyone can develop the mental toughness of a solider without being part of the military. Mental toughness is resilience—the ability to stick to something regardless of the obstacles in your way. It's about being goal oriented, always trying to improve, and being dependable and consistent. I believe mental toughness is fueled by either a dedication to self or a dedication to a higher cause. Ideally it is both.
Masturbation is natural. Sometimes unless you're a
Genius Award Winner.
School lunches, ugh except for this
Feel Good Story of The Day.
Tonight's ONT has been brought to you by the Road To Nowhere.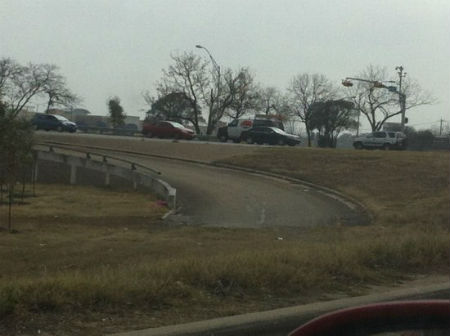 Notice: Posted with permission by AceCorp, LLC.
Home of the quantity not quality ONT.
The Little Blog That Could. Top 10 commenters:
1 [572 comments] 'TheJamesMadison' [80.35 posts/day]
2 [459 comments] 'J.J. Sefton'
3 [397 comments] 'Insomniac - sin valor'
4 [362 comments] 'rickb223'
5 [303 comments] 'Steve and Cold Bear'
6 [302 comments] 'Cicero (@cicero)'
7 [289 comments] ' E Depluribus Unum-'
8 [289 comments] '#neverskankles'
9 [277 comments] 'JackStraw'
10 [267 comments] 'Nevergiveup' Top 10 sockpuppeteers:
1 [76 names] 'Steve and Cold Bear' [10.68 unique names/day]
2 [45 names] 'Duncanthrax'
3 [44 names] 'Joe Biden'
4 [43 names] 'Mike Hammer, etc., etc.'
5 [37 names] 'Rick in SK'
6 [36 names] 'Cicero (@cicero)'
7 [34 names] 'Notorious BFD'
8 [30 names] 'an indifferent penguin'
9 [27 names] 'josephistan'
10 [26 names] 'Cicero (@cicero)'
h/t Maetenloch
Posted by: Misanthropic Humanitarian at
10:02 PM